Best Deep-Dive Course Into Aged Domains
Learn how I've used aged domains to build and merge content sites to 6 & 7-figure valuations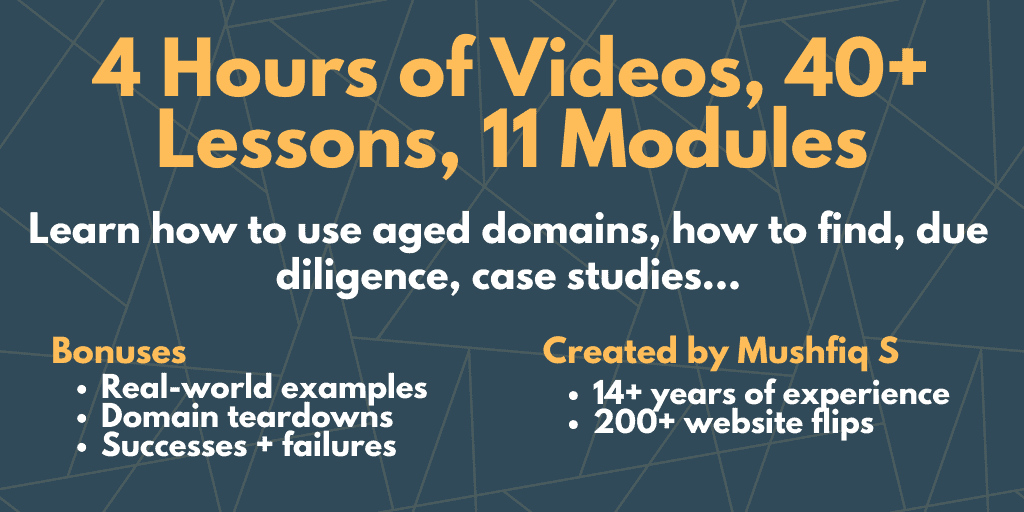 Exclusive Course Bonus: Receive $200 credit to use towards an aged domain purchase on Odys marketplace!
What's in the course?
Detailed videos covering the best scenarios to use aged domains, where to find aged domains, due diligence, and much more
Includes 5+ real-life case studies, where I cover the theory/plan, the implementation, and the results
Why do I need it?
Maybe you've heard of success with aged domains, but did you know that most are failures?
With this, you will get a deep dive into the concepts, processes, and mindset to fine-tune your aged domain strategy
How do I get it?
This is a video-based course with 4+ hours of recordings
Get access to the video course for one-time payment: Full access
What's Covered In The Aged Domain Course?
This course is 14+ years of experience boiled down into actionable and organized videos. No fluff. Actionable content guaranteed.
Concept of using aged domains
Good vs bad uses cases
3 strategies of using aged domains
Frameworks for 301 redirects
How to find aged domains (marketplaces, auctions, etc.)
How to perform due diligence
Red flags you should be aware of
5 successful uses of aged domains (case studies)
Failed sites on aged domains
Bonus #1: how I merged multiple aged sites to build The Website Flip to a 7-figure valuation
Bonus #2: over-the-shoulder walkthroughs of how I vet real domains
Bonus #3: how I got traffic within 3 days of resurrecting an aged domain
Bonus #4: $200 credit for any aged domain purchase at Odys Marketplace
The course is organized into 11 modules. There are 40+ lessons total with over 4 hours of recordings. It's jam-packed!
6 Reasons To Get The Course Right Now
Lock in the price while it lasts. Lifetime access.
Instant access to 4+ hours of videos
You could spend countless hours learning about aged domains from non-expert sources, or you can access this actionable and organized course today.
Real Due Diligence Reviews
Get exclusive access to live due diligence reviews of aged domains for sale from auctions and marketplaces.
Made specifically for content websites
Every course lesson is fine-tuned to help you learn how to discover hidden gems, vet, and implement aged domains in your niche website strategy.
For Beginners and Experts
This course will help beginners understand the A to Z of using aged domains. For experts, it provides strategies for rapidly growing your existing portfolio. It's for everyone.
Free updates on newly added lessons
Stay up-to-date with new lessons, case studies, and teardowns that get added.
100% money-back guarantee
Not satisfied? We will refund your purchase in full. No questions asked.
The Full Course Syllabus
This course will help you master aged domains for niche sites. Here's how…
Introduction
19 mins
| | |
| --- | --- |
| What are age domains? | 4:46 |
| Expired vs aged domains | 2:24 |
| Pros vs cons of aged domains | 5:30 |
| Good vs bad uses cases | 3:09 |
| What's an aged site? | 2:26 |
How To Used Aged Domains
11 mins
| | |
| --- | --- |
| Build new authority site | 2:59 |
| Redirect to existing site | 3:10 |
| Build microsite then merge | 3:46 |
Redirect Frameworks
13 mins
| | |
| --- | --- |
| Homepage redirect (The Wildcard Approach) | 3:27 |
| Category redirect (The Silo Approach) | 3:24 |
| Merger article redirect (The M&A Approach) | 3:42 |
| Variations of the 3 strategies | 2:47 |
How To Find Aged Domains
22 mins
| | |
| --- | --- |
| Aged domain marketplaces | 3:52 |
| GoDaddy Auctions | 5:28 |
| ExpiredDomains.net | 8:18 |
| Domain Searching Tools | 4:26 |
Due Diligence
34 mins
| | |
| --- | --- |
| Investment Criteria | 6:14 |
| 6-step Due Diligence framework | 27:45 |
Setting Up Aged Domains
27 mins
| | |
| --- | --- |
| Performing an audit | 16:42 |
| Setup aged domain | 1:21 |
| Setting up 301 redirects | 9:00 |
Due Diligence Teardowns
40 mins
| | |
| --- | --- |
| 4 live teardowns of aged domains | 40:00 |
Successful & Failed Case Studies
79 mins
| | |
| --- | --- |
| Authority Site: $10K/mo dating site from GoDaddy auctions | 4:30 |
| Authority Site: B2B niche | 3:50 |
| Domain Redirect: aged domain to a niche site | 6:39 |
| Site Merger: DNGeek.com to TheWebsiteFlip.com | 38:45 |
| Site Merger: FlipFilter.com to TheWebsiteFlip.com | 7:26 |
| Failed site in the kitchen niche | 17:11 |
Case Study: Instant Traffic with a B2B Niche Aged Domain
I found an aged domain on an aged domain marketplace that aligned exactly with an affiliate offer that I was already a partner for.
I bought the aged domain, put a website with 10 articles, performed the 301 redirects, and let it sit. Usually, it takes weeks to months for traffic to come (if done right).
In this case, I was ranking top 5 for all of my keywords in a few days. Here are the last 30 days' traffic chart:
Learn how to find, build, and grow websites on aged domains in this deep-dive course
A Word From The Creator
Hey, Mushfiq here! I have been buying, growing, and selling content websites since 2008. I've sold over 200+ websites with multiple six-figure exits.
I organized and created this course to share insights into how to use aged domains the proper way without shortcuts. I've been using aged domes for the last several years and have built/sold multiple 6 figure profit-generating websites.
This course is my years of experience summarized into actionable lessons. I teach you the basics of aged domains, how to source and vet them, and advanced use-cases and frameworks.
My expertise has been recognized by the top websites, podcasts, and YouTube channels in the industry. Here's a selection of them: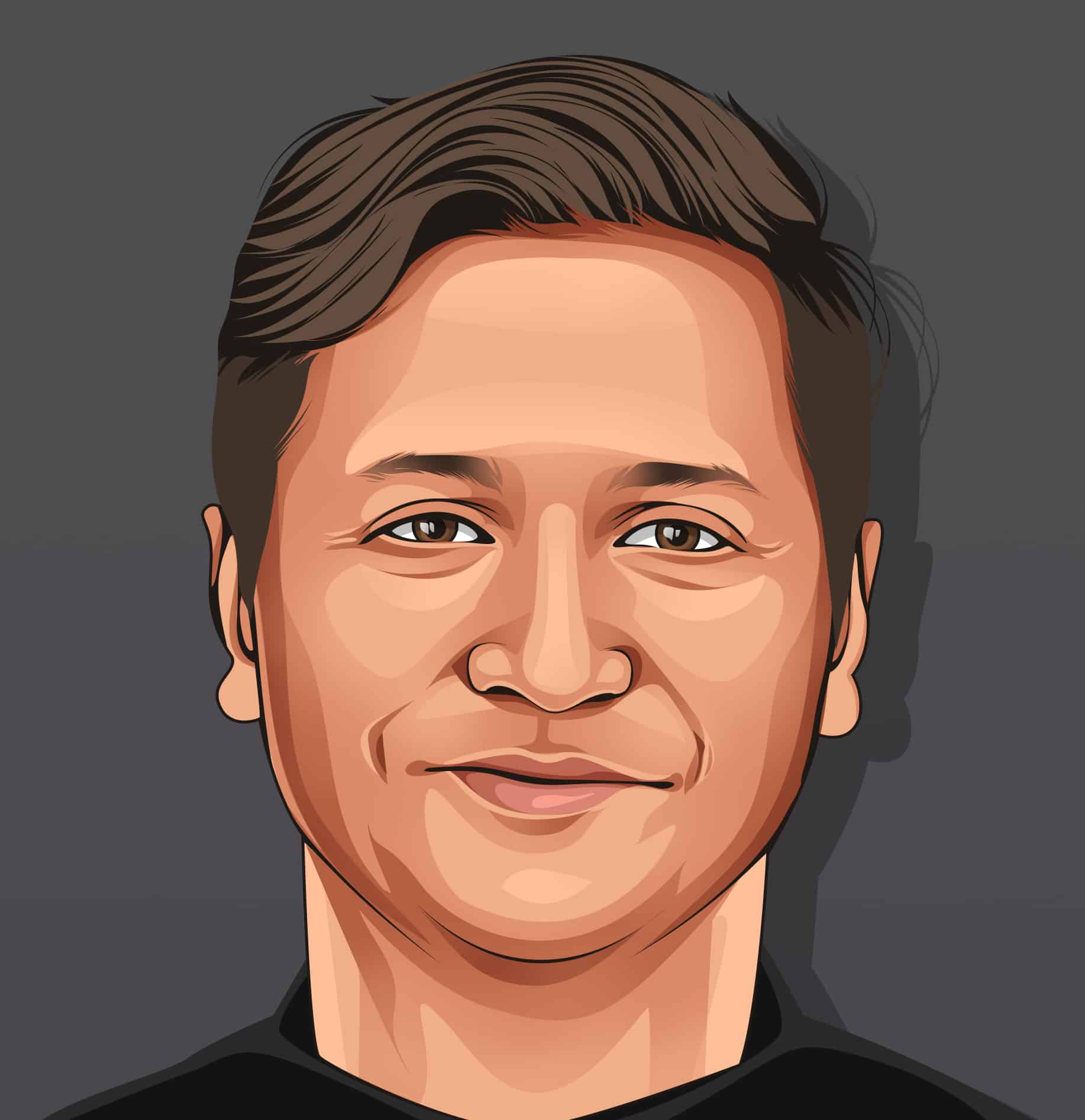 Lifetime Access – $100 OFF!
Get The Course on Aged Domains
Tap into multiple years of expertise buying and building content websites on aged domains.
How I used aged domains to reach 6 & 7-figure valuations
4+ hours of lessons
Bonus: 5+ real-life aged domain implementations
Bonus: live due-diligence teardowns
Bonus: case study "traffic within 3 days"
Bonus: access to Website Flip Club Facebook group
Lifetime updates
Guaranteed to give value or 100% money back
Exclusive bonus: $200 credit towards Odys aged domain marketplace
$490 $390, one time.
Frequently Asked Questions
Can I view sample lessons before buying the course?
Sure! Here is a selection of two lessons out of 41 total for you to preview.
What are aged domains? [4:46]
Authority Site: $10K/mo Dating Site [4:30]
Who is this course for?
This course is both for beginners and experts.
For beginners, the course will walk you through the beginning concepts all the way to aged domain implementation. You will learn the terminology, where to find sites to buy, how to do due diligence and valuations, and more.
For experts, this course can act as a standardized framework for you to systematically use aged domains to build a portfolio.
In addition, both beginners and experts will find immense value in the live aged domain due diligence videos.
How is the course structured?
This is a deep-dive course into the world of aged domains. The included topics are:
Module 1 [The Introduction]: deep-dive into basics of aged domains
Module 2 [How To Use Aged Domains]: deep-dive into use-cases
Module 3 [Redirect Strategies]: ways to perform aged domain redirects using 301s
Module 4 [Finding Aged Domains]: using marketplaces, auctions, and tools
Module 5 [Due Diligence]: red flags to look out for on an aged domain
Module 6 [Setting Up Aged Domains]: process of doing an audit, setting them up, and redirects
Module 7 [Due Diligence Teardowns]: live teardown reviews of actual aged domains
Module 8 [Successful Use Cases]: real-life case studies of successful aged domains in use
Module 9 [Failed Use Cases]: real-life case studies of bad uses of aged domains
The course has been designed such that you could theoretically start at any module. However, it's in your best interest to go sequentially.
What's the format of the course?
The course consists of video recordings walking you through the concepts with examples and case studies. In addition, some lessons include a combination of video plus written content.
What if I fall behind?
A common concern many people have when signing up for a course is that they will run out of time or fall behind.
That is not possible with this course because it is self-paced. You can finish it in a few days, or take your time with it. Whether it takes days, weeks, or months, it does not matter. You will always have access to the course.
I don't know anything about aged domains, is this for me?
Yes! This is the getting started course on aged domains. It's designed to take someone who has limited knowledge to understand the intricacies of building out revenue-generating content sites on aged domains.
If you are brand new, you will get value.
How do I get access and what happens after I sign up?
This course is completely online-based.
Once payment is made, you will be instantly enrolled in the course platform and can start learning right away.
Isn't everything in this course online for free already?
This is a fully comprehensive course teaching you the real ins and outs of using aged domains.
You won't find anything as comprehensive on YouTube, or blogs. While you may find things here and there online for free, it won't provide you with the full picture.
Do I get discounts on your other products?
Yes! Inside the course, there are exclusive discounts to EasyWins.io, a database of 120+ strategies to 10X your site's growth, EasyDiligence.io, a due diligence dashboard and database of questions, and The Course on Website Flipping.
These products are not necessary to be successful but they do help in the journey.
How to redeem the $200 bonus to Odys marketplace?
The Website Flip has partnered exclusively with the premier aged domain marketplace, Odys Global. They have 2,000+ aged domains in inventory ready for you to buy and build websites on.
After purchasing the course, you will receive an email outlining how to redeem the $200 credit.
The credit is for both new and existing customers.
I have another question…
No problem! Use the chatbox on the bottom right of the page or send an email to contact@thewebsiteflip.com