This week's deals feature 4 websites for sale from Empire Flippers and Flippa in the gardening and pets niches, and 2 websites from our private Facebook group in the finance and tech niches. We also cover an aged domain in the tech niche from Odys.
For domains, we share findings on 5 aged SEO domains and 7 branded domains live at GoDaddy auctions.
---
Summary
Niche: Tech
Source: Odys Global (see listing here)
Age: 2014 (9 Years)
Listed Price: $6,390
Ahrefs
Notable links: GSMArena.com, TrustedReviews.com, GottaBeMobile.com, NotebookCheck.com
Site History
This domain was used by a tech news and review blog that focused on smartphone news and specifications.
It received links from many high-authority tech sites for its coverage of smartphones.
Here's what the site looked like:
Growth Blueprint
Smartphones are a very popular topic with millions of people searching for information each day about the latest models and troubleshooting issues with their phones.
The history and relevant backlink profile of this domain provide a good opportunity to build a niche site focused on smartphone specifications and troubleshooting.
Here's what I would do:
Publish articles about the tech specifications of the latest smartphone models.
Publish articles comparing specifications of similar smartphone models (e.g., "pixel 6a vs google pixel 7 specs" has a KD 1 and volume 900).
Publish guides on how to configure specific tech products (e.g., "how to configure wifi on X").
Publish guides on how to troubleshoot issues on smartphones (e.g., "Google Pixel hotspot not working")
Look for similar tech product keywords to cover like smartphone backup devices, portable smartphone chargers, smart watches, etc.
The main monetization opportunity would be affiliate links to smartphones, accessories, and related devices. Display ads could provide a good additional revenue source.
---
---
Summary
Niche: Pets
Source: Flippa (see listing here)
Revenue: $1,454/mo from AdThrive, Amazon associates, and alternative affiliates
Ahrefs
Due Diligence Dashboard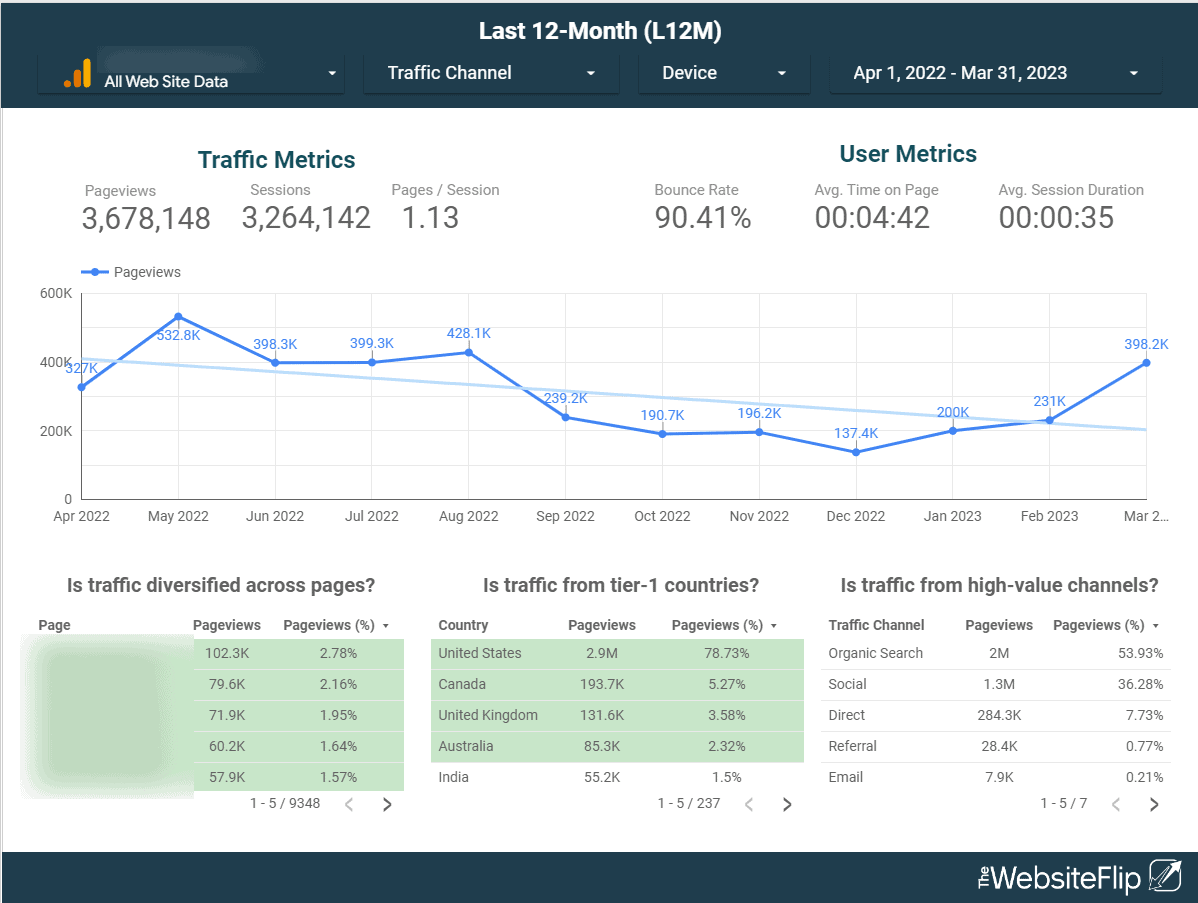 Growth Blueprint
Highlights
Over 780 articles have already been published.
Solid backlink profile with 1.5k referring domains including Newsweek.com, WomansDay.com, and PetHelpful.com
Ranking for more than 33k keywords
There are two digital products available in the form of ebooks.
Over 1,200 people are subscribed to the email list.
Revenue is decently split between display ads (76%) and affiliate revenue (23%).
Setbacks
The website experiences volatile traffic, with fluctuations of more than 20% occurring almost every month.
An abundance of "shallow" content like 50 articles about "can chickens eat X"
The owner merged two additional pet sites to it using 301 redirects.
Easy Wins
Do a thorough content analysis consisting of content pruning, merging underachieving posts, and optimizing posts hit by the update or stuck on pages 2-3 of Google SERP for its top keyword.
While there are sufficient CTAs, it makes sense to use the affiliate tracking tool Lasso to track the performance of individual CTAs.
Reach out to brands in this niche and set up more private affiliate deals or sponsorships.
Takeaway
I analyzed a sister site of PetsVills.com (with a similar domain name) a while back. At that time, I didn't know that the owner had built another site in a shoulder niche.
The recipe is working here too – many decently written articles surrounding a few types of pets coupled with decent on-page SEO and solid E-A-T elements.
The difference here is that this site was merged with two redirected 301 domains, further improving the backlink profile and redirecting some traffic to the site.
Traffic is a bit volatile with surges and drops from 20-30%. For example, in February it dropped by 25% but then grew by 15% in March.
If you have experience with the pet niche, there are easy wins such as creating more high-quality content and finding and managing new/better affiliate deals.
One outside-the-box idea is to create a directory/board where people could submit their pets for sale, pet sitting, etc.
Overall, the pet niche is evergreen, and this one targets exotic pets where competition is lower than that of dog and cat niches.
---
7-Year-Old Gardening Site Making $14,760/mo on Empire Flippers
Summary
Niche: Gardening
Source: Empire Flippers (see listing)
Profit: $14,760/mo from Mediavine display ads and affiliate commissions
Asking Price: $646,379 at a 47X multiple using a 12-month average
Ahrefs
Ahrefs
Growth Blueprint
Highlights
Around 1,000 articles already published
Strong link profile with over 7.5k referring domains including Realtor, TastingTable, and Mashed
Email list of around 10k subscribers
Writers agreed to continue working on the site after the sale.
Active social media profiles with a combined following of 320k
Traffic is well distributed amongst top pages.
Traffic sources are well distributed between organic (58%) and social (34%).
Setbacks
This niche is highly seasonal, peaking during the spring to autumn season with average high-season traffic of around 17k per day, while winter season averages are as low as 4k per day.
Affiliate only accounts for 8% of total revenue.
Many top pages are listicle articles that could be easily replicated by competitors or AI.
There are redirects from 3 domains, but the listing only mentions a secondary site.
Easy Wins
Given the high authority of this website, there are many alternative monetization methods available such as paid newsletter sponsorships, brand-sponsored posts, and private affiliate deals.
Add more affiliate CTAs on relevant pages (e.g., affiliate links for plants, seeds, and gardening tools).
Publish buying guides for gardening tools and related products.
To attract more traffic during the winter months, consider writing more content about hydroponics, aquaponics, and other indoor plants.
Create a complementary YouTube channel where you can discuss topics popular on your site.
Takeaway
This is a great-looking authority site in the gardening niche. If you're in this niche, you've probably stumbled upon it.
While the niche is highly seasonal, traffic numbers are high. 92% of revenue comes from Mediavine, while the other revenue comes from affiliate partnerships. Seasonality and the dependence on display ads revenue are the biggest setbacks.
The site has social media accounts on Facebook, Pinterest, and Instagram with 320k total followers. There is also a 10k mailing list that could be used for discovering new revenue streams.
Other easy wins include creating a YouTube channel covering the niche and adding more content about winter-related gardening topics.
---
🚀 Off-Market Sites
The Website Flip runs a Facebook group where sellers can list sites for sale. Here is a selection of a few sites:
$91/mo Personal Finance Niche Site: 5-year-old site earning $91/month L12M average via Adsense. The asking is $3,100 at a 34X multiple.
$23/mo Tech and PC Niche Site: 1-year-old site earning $23/month L6M average via Amazon Associates. 100 articles published. Asking price is $1,200.
---
🚀 Aged & Brandable Domains
Aged domains currently bidding from $22 to $7,100 at the time of writing.
Branded domains bidding from $32 to $5,300 at the time of writing.
---
---
👉 Additional Resources
Make sure to perform detailed research and due diligence when acquiring any domains or websites. Here are resources you should read up on: