This week's deals feature 4 websites for sale from Flippa and Empire Flippers in the education and electronics niches, and 2 websites from our private Facebook group in the sports and audio niches. We also cover an aged domain in the local events niche from Odys.
For domains, we share findings on 6 aged SEO domains and 6 branded domains live at GoDaddy auctions.
---
Summary
Niche: Local events
Source: Odys Global (see listing here)
Age: 2007 (16 Years)
Listed Price: $4,140
Ahrefs
Notable links: TechCrunch, CBInsights, VulcanPost.com, Crunchbase (nofollow)
Site History
This site was used for a local directory for small businesses that offered deals similar to Groupon. It was named one of Asia's top 10 apps at Accelerate 2010 and raised over $4 million in investor funding.
Here's what the site looked like:
Growth Blueprint
This descriptive domain name provides a good opportunity to rank for keywords related to shows near a location (e.g. "comedy shows near me").
Here's what I would do:
"Shows near me" has many related keywords that are low competition. Research the best opportunities and publish pages for large cities (e.g., craft/car/bridal shows near [City] in 2023).
Publish listicles of music/film/food festivals in [City]
Publish listicles of bars/restaurants with live music in [City]
Answer questions about specific Broadway shows, concerts, orchestras, etc.
Use a data API like SongKick to create pages with current event information for a specific city and date (e.g., Music in [City] Today)
The best monetization opportunity for this niche is affiliate programs that sell event tickets. Many event ticket sellers offer an affiliate program including Vivid Seats, SeatGeek, and StubHub. Display ads can provide a good source of additional revenue.
---
4-Year-Old Hobby Site Making $1,747/mo on Empire Flippers
Summary
Niche: Hobbies/Electronics
Source: Empire Flippers (see listing)
Profit: $1,747/mo from Mediavine, Amazon Associates, and other affiliates
Asking Price: $75,122 at a 43X multiple using a 12-month average
Ahrefs
Due Diligence Dashboard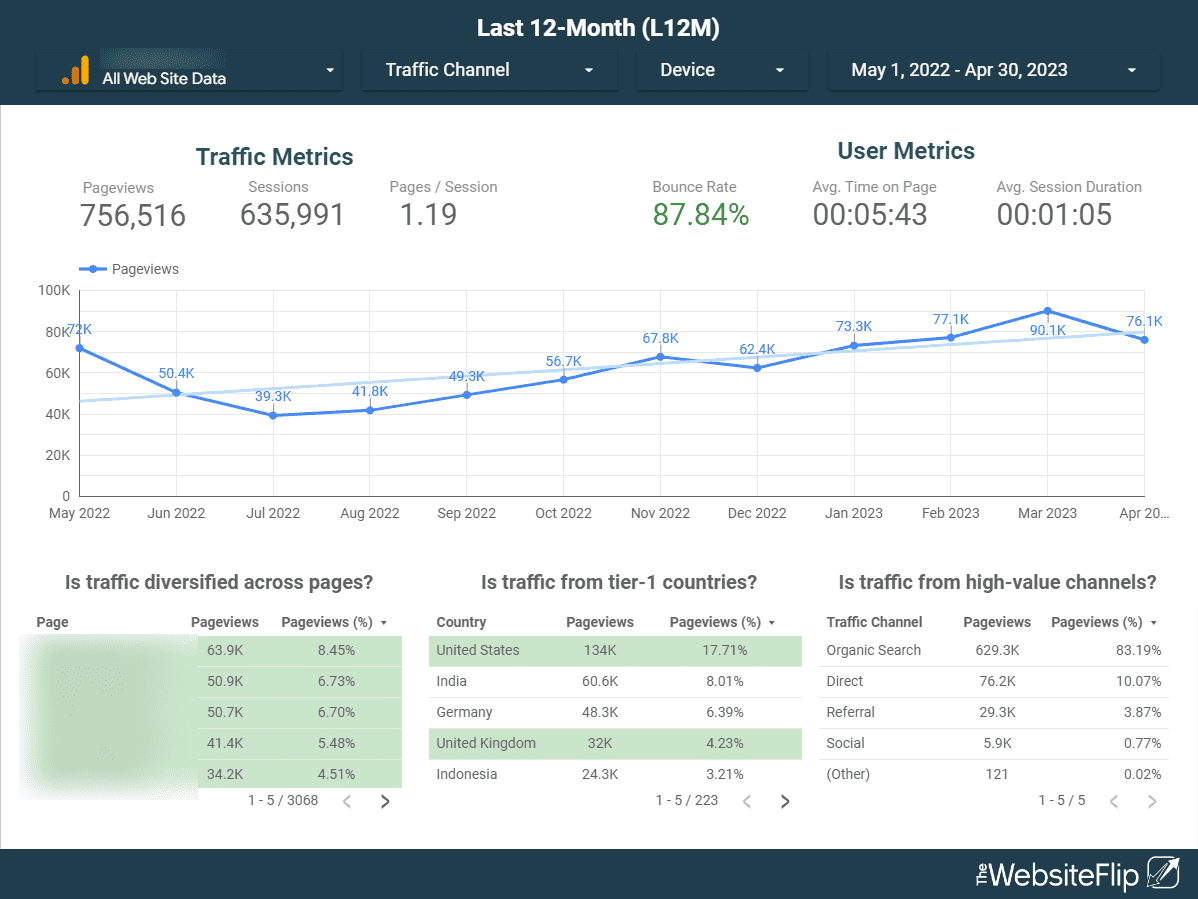 Growth Blueprint
Highlights
High quality and highly specialized content with high average time spent on page at 05:44
The traffic has been stable during the last 24 months.
Excelleng sub-niche that is growing year over year
Setbacks
Due to its limited size, expanding into similar shoulder niches within the industry would present a challenge.
The affiliate CTAs are not effectively designed, resulting in a decrease in potential affiliate revenue.
No social media accounts related to the site
The niche requires authors with technical tech expertise.
Lack of EEAT signals like author boxes and an about page
Easy Wins
Considering the high quality of the content, it is a logical step to create YouTube tutorials based on the best-performing content
Given the presence of small retailers and manufacturers within this niche, it would be beneficial to reach out to them and propose customized affiliate deals.
Add Amazon native ads to all content. With an average word count of 3,500 words, it will not affect user experience.
Takeaway
This impressive site focuses on the small electronics sub-niche, boasting a collection of 110 high-quality written articles.
Over the past two years, the traffic has remained stable, while the revenue has seen growth due to a switch in display ads provider from Ezoic to Mediavine.
To enhance the affiliate revenue, optimizing the appearance of the CTAs and pursuing custom affiliate deals would be beneficial.
Additionally, considering the lengthy average word count, integrating Amazon native ads can further maximize revenue potential.
With the presence of numerous comments under each article, establishing social media accounts for the site, with a particular emphasis on YouTube, would be a smart strategic move.
---
Summary
Niche: Education
Source: Flippa (see listing here)
Revenue: $657/mo from Google Adsense
Ahrefs
Growth Blueprint
Highlights
Over 1,600 articles and news pieces have been published covering education niche
Built on the well-established education domain that was previously offering an online tutoring service
Includes a Facebook page with 40k followers
Ranking for more than 7k keywords
Setbacks
Monetized only by Google Adsense
Content is mostly news articles which can become outdated.
The traffic for the site experienced fluctuations, with a significant peak occurring in August 2022.
The site has been inactive for more than 6 months.
Facebook page has low engagement
Traffic spiked to 931k pageviews in August 2022 but hasn't exceeded 16k pageviews in any month in 2023.
Listing only shows annual revenue and not monthly revenue for recent months with lower traffic.
Easy Wins
The site has been inactive for more than 6 months. In this scenario, I would recommend replacing Adsense with Ezoic as the monetization platform until the site achieves a monthly visitor count of 50,000 or more.
Apply to numerous affiliate and lead generation opportunities in this niche starting with Udemy, Coursera, and Skillshare.
Publish new content about college applications as you can expect a traffic boost during the college application season.
Prune stale content not getting any clicks/impressions in the last three months.
Takeaway
This intriguing site within the education niche carries a hefty price tag.
It was launched on an expired domain seven years ago and offered a direct tutoring service, connecting tutors with students. While the exact details are unclear, the current seller took over the site two years ago and embarked on an extensive content publication campaign.
With a substantial Facebook group and a significant number of articles, the site attracts approximately 10,000 to 15,000 visitors per month.
As the site is currently monetized solely through Google Adsense, there are several logical and easy wins to enhance its revenue potential. These include switching to a different display ads provider and exploring numerous affiliate offers within the education niche.
Additionally, the site can focus on creating fresh content while gradually phasing out older content.
It is worth noting that the site benefits from a solid backlink profile, with links from reputable sources such as MSN.com, TheGatewayPundit.com, and Phys.org.
---
🚀 Off-Market Sites
The Website Flip runs a Facebook group where sellers can list sites for sale. Here is a selection of a few sites:
$767/mo Sports Niche Site: 2-year-old site earning $767 per month L12M average via Ezoic and Amazon. Built on aged domain with 241 published articles. Averaging about 27k pageviews per month. Asking price is $25,320 at a 33X multiple.
$70/mo Audio Equipment Niche Site: 9-month-old site earning $70 per month L10M average via Ezoic and Amazon. 221 articles published with about 4k monthly traffic. Asking price is $2,100 at a 30X multiple.
---
🚀 Aged & Brandable Domains
Aged domains currently bidding from $125 to $2,550 at the time of writing.
Branded domains bidding from $345 to $8,700 at the time of writing.
---
---
👉 Additional Resources
Make sure to perform detailed research and due diligence when acquiring any domains or websites. Here are resources you should read up on: