We analyze a 9-year-old music site, LedgerNote.com, which receives 145,000 organic traffic per month (Ahrefs estimate). The actual traffic is much higher at a self-reported 2.5 million visitors per year.
This site is interesting because it covers a broad range of music topics including music equipment reviews, listicles of top music artists, and tutorials for creating music.
The site has done a good job of finding popular informational topics in the music niche while also covering commercial topics like the best music equipment for hobbyist music creators.
When reviewing this site, we identified several areas of opportunity that could significantly increase traffic and earnings and grow the site into a more valuable online brand.
This is what I cover in this report:
Website overview
Major highlights
Competitor overview
Easy wins to increase revenue and/or traffic
Actionable takeaways you can apply
Let's get into it!
---
---
✅ Website Overview & Highlights
The website has had steady growth since starting in 2014 and reached a peak of 204K traffic in October 2022.
Traffic declined starting in October 2022, which correlated with the October 2022 Spam Update.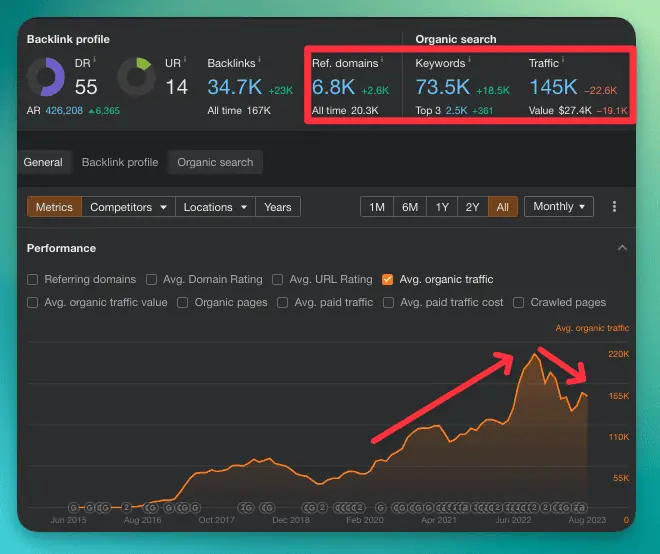 The site has a strong link profile with nearly 7k referring domains including an impressive number of links from high authority sites. This helps the site compete in search results for many medium difficulty keywords in the music niche.
The site was started in 2014 by Jared H., a musician who displays expertise with guitars and music production in his YouTube videos and writing.
The name of the site cleverly refers to the ledger lines in sheet music that display notes outside the standard 5 lines of the musical staff.
Initially, the site focused on guitar and music equipment guides and later expanded into popular music topics like listicles of the best artists in a specific music genre (e.g., best rappers of all time).
Ledger Note has been able to build a strong presence on Pinterest with 3 million monthly profile views per month which likely generates thousands of website visits.
While the website uses the fast and clean Bamboo child theme for Trellis, it looks bland compared to other music industry online magazines like Pitchfork and Billboard.com.
The site's title uses regular text instead of a logo, which doesn't help the site's credibility.
We think a magazine-type layout would better fit this site and make it more credible for both visitors and potential linkers like journalists.
Highlights
6,800 referring domains
About 400 published articles
Pinterest account with 2k followers and 2.6 million monthly views
Why is this site winning?
Strong link profile with many high authority links from sites like HowStuffWorks.com, Yamaha, and Wikipedia
Many listicle articles on popular music industry topics that rank high on Google and generate a lot of traffic
Buying guides and reviews for music recording equipment that demonstrate strong subject matter expertise.
Top 3 Competitors
Here are similar competitors targeting many of the same keywords:
MusicGrotto.com – A very fast-growing music site with 2.1 million organic traffic (Ahrefs).
MusicIndustryHowTo.com – A general music site with listicles of songs that receives about 1.2 million organic traffic (Ahrefs).
Chartmasters.org – A data-driven information site focusing on the most popular streaming music artists with 65k organic traffic (Ahrefs).
Let's get into the easy wins to grow this specific website.
---
🔥 5 Easy Wins To Grow This Website
There are opportunities to grow this brand significantly. I break down the following easy wins:
Add relevant affiliate links to informational articles
Remove prices from product boxes
Publish statistics pages to earn passive links
Expand content based on keyword research and analytics data
Improve EEAT and credibility signals
Let's get into it!
➡️ Win #1: Add Relevant Affiliate Links to Informational Articles
This site has several informational listicle articles that receive thousands of visitors per month.

Articles about music artists could have relevant affiliate links and product boxes added where the visitor can buy relevant music albums, artist memorabilia, or concert tickets (Seat Geek, StubHub).
For example, the "Best Bands of All Time" article could have a call to action button with the text "View Albums by [Band]" that links to an Amazon page for each band.
Articles about learning guitar like the popular "How to Build Guitar Calluses" page could link to online guitar lessons like Jamorama and Infinite Guitar (both offer a 50% affiliate commission).
There are several tutorials on learning how to produce music like "How to Start Producing Music as a Beginner" that could link to courses about music production like the MasterClass by Timbaland on music production or the Noiselab Music Production Bootcamp (50% lifetime commissions).
➡️ Win #2: Remove Prices from Product Boxes
One way to increase clicks on Amazon buttons is to encourage the visitor to click to check the price of the item.
If the price is already shown on the product boxes, some visitors will not click the link because they already have the information they are looking for.

The button text should be something like "View Latest Price" instead of "View", which is a stronger call-to-action.
With Amazon affiliate links, the goal is to drive people to Amazon since you will receive commissions on any qualifying item put into the shopping cart within 24 hours.
This site could also seek out direct affiliate partnerships with brands that can offer a higher commission rate than Amazon's 6% on musical instruments.
Some product images in popular tutorials like "How to Setup a Home Recording Studio" do not have a call-to-action button to let the visitor know they can buy the item or learn more.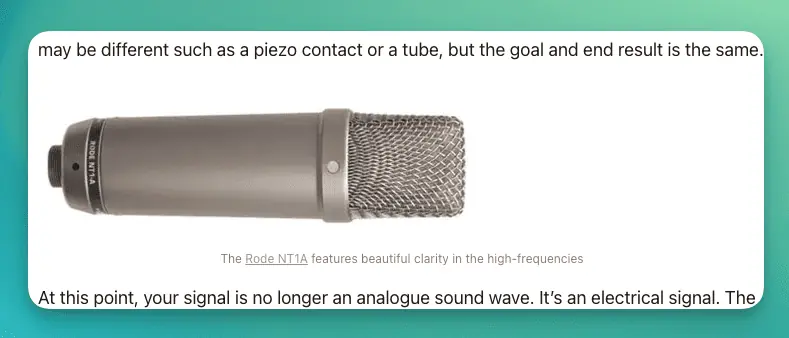 More affiliate clicks can be generated by adding a CTA button that stands out near the image. Another option to increase clicks is to replace the image with a product box.
➡️ Win #3: Publish Statistics Pages to Earn Passive Links
The music industry is full of data and statistics that can be curated into articles that earn links passively.
Statistics pages are one of the best ways to generate passive links, a strategy Brian Dean uses effectively at Exploding Topics with pages like "How Many People Use Bitcoin" (885 referring domains) and "Number of ChatGPT Users" (613 referring domains).
To help journalists find the statistics easily, Brian uses a large quote box that displays the main statistic for the page.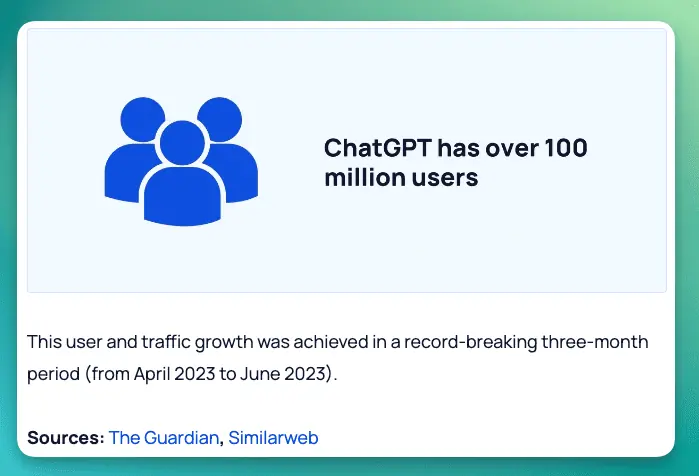 To increase link authority, this site could create articles based on music industry statistics that journalists and content writers would commonly search for. An example could be "How Many People Pay for Music Streaming Services?".
We found one statistics page on the site titled "The 10 Most-Streamed Artists of All Time on Spotify" that earned about 165 referring domains.
This is one case where you will want to look for examples of high keyword difficulty pages in Ahrefs because it may indicate that it is easy to generate links for the topic (since many people are citing the source of the statistic).
Ahrefs keyword difficulty is calculated by analyzing the number of referring domains of the top 10 ranking pages so you can check the Ahrefs difficulty of music statistic keywords to find examples of statistics pages that are generating a lot of links.
➡️ Win #4: Expand Content Based on Keyword Research and Analytics Data
There are currently about 400 published articles on the site. Based on the recent posts on the home page, this site appears to be focusing on updating existing articles rather than publishing new articles.
Since the site has a strong link profile and already ranks well for several different music topics, there is a lot of opportunity for traffic growth by expanding content aggressively.
Here's how we would approach finding keywords to target with new content:
Review the pages receiving the most clicks in Google Search Console and generate ideas for variations of topics already generating substantial traffic (e.g., publish more articles similar to "top X bands of all time").
Look for keywords in Google Search Console receiving a lot of impressions that are not targeted directly in an article.
Create a list of similar or competing sites in a Google Sheet and review their top keywords to find promising topics to add based on keyword difficulty and volume.
Enter competitors into Ahref's Content Gap tool to find topics that competitors are ranking for but are not covered on your site.
Generate ideas for content templates that can be scaled with many variations (e.g., "10 best bands from [city]").
Publish test articles on promising topics with low or zero search volume then check if impressions and clicks in Google Search Console are higher than expected. Use this test data to decide whether to publish more articles about these topics.
➡️ Win #5: Improve EEAT and Credibility Signals
This site could improve on-page elements to demonstrate better experience, expertise, authoritativeness, and trustworthiness (E-E-A-T) to help the site acquire more high authority links from journalists and increase the trust of visitors who land on the site.
When visitors first land on the homepage, it doesn't look like a "leading-edge music magazine" as Ledger Note describes itself.
Switching to a premium magazine layout would improve the first impressions of visitors as well as journalists who are looking for a credible source to cite.
Another way to quickly increase credibility is to add a professional logo to the top navigation instead of plain text.
They can also add a "Featured On" box to show social proof of the high authority sites already linking to the site like Yamaha.com, HowStuffWorks, Ars Technica, and Grunge.
Their competitor, MusicIndustryHowTo.com displays a nice "Featured On" section on their home page:

The About page is missing photos of the authors which can provide transparent information about the people behind the website.
Articles are missing a byline with the author name and author bio box with a photo and information about the author. As an online magazine, readers expect to see information about the author.
With a well-branded domain name, Ledger Note has the potential to become a valuable online brand with a website design refresh.
---
👉 Actionable Takeaways
Here are actionable takeaways that you can apply to your niche website today:
Look for opportunities to add relevant affiliate links to informational articles.
Remove prices from product boxes to increase clicks on affiliate links.
Publish statistics pages for passive link building to increase link authority.
Publish test articles on relevant low volume keywords then check Search Console impressions for accurate search volume.