This week we analyze a 2-year-old spirituality website, AngelicalBalance.com. This site is currently listed for sale on Motion Invest for $182k.
The site receives over 450,000+ pageviews per month (Google Analytics) and earns $5,400 per month from Raptive display ads only.

The owner has done a great job with publishing 1,100 well-written articles and a handful of simple mini-games on popular spirituality topics. The site covers topics such as dream interpretations, the effects of moon phases, and the spiritual meaning of things like animals and numbers.
Interest in astrology topics has been growing significantly in recent years and is trending higher. The global astrology industry is expected to grow from $12.8 billion in 2021 to $22.8 billion in 2031. 27% of Americans say they believe in astrology and this results in millions of daily search queries.
As a site that is currently available for sale, we analyze the strengths and areas that could be improved to help grow this brand to even higher earnings.
This is what I cover in this report:
Website overview
Major highlights
Competitor overview
Easy wins to increase revenue and/or traffic
Actionable takeaways you can apply
Let's get into it!
---
---
✅ Website Overview & Highlights
This site has had incredible growth, exceeding 450k monthly pageviews after just 2 years without using any redirects or aged domains. Ahrefs shows just 83k monthly traffic, which suggests that these topics are more popular than what the Ahrefs keyword volume suggests.
About 23.3% of pageviews over the last 3 months come from a mini-game called Yes or No Oracle (176k pageviews). Featuring a nice user interface, users can pick one of the cards to receive a yes or no answer to their question.
Additionally, the owner has another similar site in the spirituality niche which can be found by looking at Raptive's sellers.json file. The second site appears to have less traffic and covers some of the same topics.
As a fairly new site, the link authority is relatively low despite a couple thousand referring domains (DR 31). The owner states they have done minimal active link building for the site.
According to Ahrefs, organic traffic increased rapidly in the first year before dropping by about half in August 2022. This correlated with the August 2022 Helpful Content Update. Traffic has been steady since about February 2023.
The site was started in 2021 by Jorge Silva, a writer with a self-proclaimed passion for spirituality. Although the About page is pretty generic, E-E-A-T is not as important in the spirituality niche where a lot of the information is subjective.
The site is well-designed with a clean layout and fast-loading pages. The logo is one thing that could be improved to look more like a top-tier brand in this niche.
Highlights
Over 2,000 referring domains
A handful of well-designed mini-games
A 100,000 subscriber list for push notifications
Why is this site winning?
It published over 1,000 articles in a short time (2 years)
It covers many low-competition keywords that are not covered by many sites
Top 3 Competitors
Here are similar competitors targeting many of the same keywords.
SpiritualUnite.com – A spiritual info site covering similar topics to AngelicalBalance.com with 125k Ahrefs traffic.
SpiritualDesk.com – A young spiritual info site with low DR and 179k Ahrefs traffic.
Uniguide.com – A spiritual info site focusing on the spiritual meaning of animals with 236k Ahrefs traffic.
Let's get into the easy wins to grow this specific website.
---
🔥 5 Easy Wins To Grow This Website
There are opportunities to significantly grow this brand. I break down the following easy wins:
Create more mini-games
Add affiliate programs
Expand social media presence
Improve link profile by building more links
Build an email list
Let's get into it!
➡️ Win #1: Create More Mini-Games
Some of the most successful content on the site are mini-games using simple programming and nice animations. One mini-game accounts for over 50,000 pageviews per month.
These games are useful to visitors who are looking for a quick fortune-telling. The games are engaging and can be played over and over, which encourages visitors to come back to the site.
These mini-games set this site apart from a standard text-only content site and can attract natural links.
Potential mini-games or tools that could be added to the site include a magic 8-ball fortune telling, mood ring, luck meter, ask the genie, and zodiac sign compatibility calculator.
➡️ Win #2: Add Spirituality Affiliate Programs
Currently, the site is almost entirely monetized with display ads with Raptive. Adding affiliate links can increase the earnings of existing content.
There appear to be some affiliate links added to the popular mini-games. They link to a service called Purple Ocean that provides online fortune readings from a psychic advisor for $10. However, there is an opportunity to add additional affiliate links.
People interested in the spiritual meaning of different things are likely interested in related products like crystals, jewelry, and home decor that are associated with spirituality.
To add additional revenue, they could place product boxes on informational content about relevant products. A good fit would be Energy Muse, an e-commerce store selling crystals and jewelry for spiritual wellness. Energy Muse offers up to 15% commissions on sales.
Many spirituality-related products on Amazon can be recommended with product boxes. These include products like tarot cards, healing crystals, astrology books, and spirituality-related home decor.
There are also spirituality-related information products with affiliate programs like "The Cosmos with Love" which pays a $327 commission per sale.
➡️ Win #3: Expand Social Media Presence
Currently, the site lacks a social media presence with a very small Pinterest account, no Facebook page, and no YouTube channel. As a result, this site is dependent on organic traffic from search engines.
Other sites in the spirituality niche receive significant traffic from social media sources so this could be a great opportunity to grow.
The Minds Journal, a popular site that covers spiritual topics, has a Pinterest account with 10 million monthly views. This site gets a ton of social media traffic with a self-reported 60 million annual visitors despite a comparably low 134k organic traffic (Ahrefs).
Here are the types of images that The Minds Journal posts on Pinterest:
Another site in this niche, Forever Conscious has a Facebook Page with 225k followers. They post monthly astrology forecasts that get a lot of engagement and shares.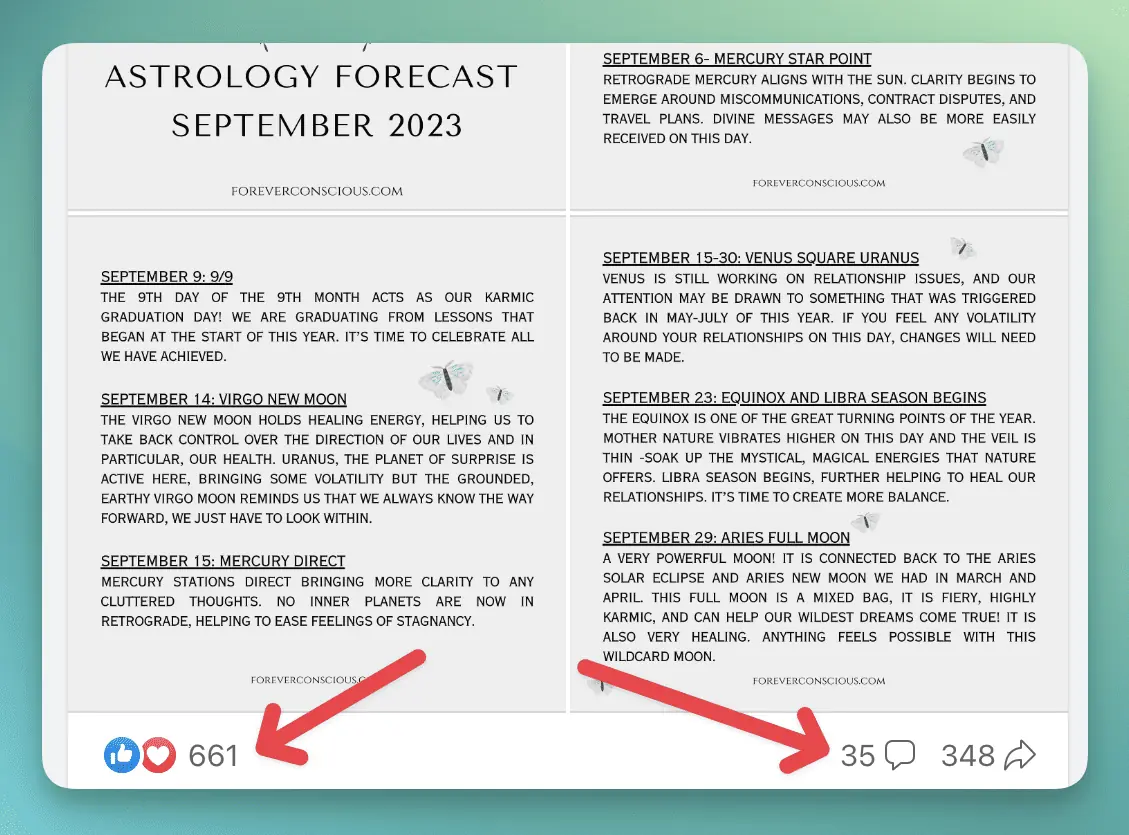 These examples show that this niche can work well with social media content. Investing in the growth of a social media audience for this site can provide a good supplemental source of traffic and reduce the impact of Google updates.
➡️ Win #4: Improve the Link Profile by Building More Links
The owner states that the only link building that was done was 10 guest posts when the site was first getting started.
Although the site has done a good job of acquiring links organically, it can improve its rankings against competitors with a stronger link profile with more high authority and astrology-related links.
They currently have a lower Ahref's domain rating than several competitors which suggests that there is an opportunity for improvement.
| | | |
| --- | --- | --- |
| URL | DR | Referring Domains |
| UniGuide.com | 44 | 2,400 |
| SpiritualUnite.com | 40 | 1,300 |
| AngelicalBalance.com | 31 | 1,800 |
| SpiritualDesk.com | 20 | 461 |
Some potential link building ideas that we think would be effective for this site include:
Monitor Help a Reporter Out for astrology queries and respond to them.
Create visually appealing graphics about astrology (e.g., the spiritual meaning of different animals) and make it clear that the images can be used with attribution.
Reach out to lifestyle blogs or sites and offer to contribute interesting astrology content. Astrology is a topic that can be combined with many niches (e.g., astrology for pets, astrology for careers, astrology for parents).
Create statistics pages that provide data about the astrology industry (e.g., "how many people believe in astrology").
Reach out to sites that are linking to outdated information about astrology and suggest a current version from AngelicalBalance.com.
Hire a VA to go through links of competitors and identify sites that should also be linking to AngelicalBalance.com.
Create more astrology mini-games or small tools (as mentioned above).
➡️ Win #5: Build an Email List
Astrology is a topic that people seek regular updates about such as daily horoscopes, monthly astrology forecasts, and interpretations of the moon phases.
Building an audience via email can keep visitors engaged and coming back to the website. It can also increase the valuation of the site by adding additional revenue sources.
With an email audience, this site can create additional revenue sources like sponsorships, affiliate links for astrology services or products, and even its own info products.
With nearly half a million pageviews per month, a large email list can be built fairly easily with some well-placed CTAs and popups. The site was able to build 100,000 subscribers for push notifications so a similar sized email list is definitely possible.
---
👉 Actionable Takeaways
Here are actionable takeaways that you can apply to your niche website today:
Mini-games and small tools are a great way to generate traffic and links, a strategy few niche sites take advantage of.
Analyze competitor's social media profiles to understand social traffic potential and to find ideas for effective social media content.
Although it is tempting to skip, link building is a worthwhile investment to help a site grow much faster.
Leverage large organic traffic by building an email list to boost earnings and increase the valuation of the site.