Not every website flip is a success. Even when the bare numbers show a profit on the sale, sometimes there's more to the story than the final net profit.
This case study is about the recently failed website flip of my health niche site that I bought for $10,000 from Flippa in March 2021, and why I consider a $16,000 flip (with $6,000 profit) in October 2021 a failure, and what lessons can be learned from this experience.
I cover the following:
Recap of niche site metrics
Detailed website flip process
Reasons this was a failed flip
Process changes I am making
Let's get into it!
---
$16,000 Exit But A "Failed" Website Flip? Why?
This flip wasn't a failure because I lost money. Quite the opposite, the exit price means I enjoyed a $6,000 profit on this flip.
The numbers show revenue growth:
L6M when purchased: ~$300 from digital products and Amazon Associates
L6M when sold: $446 added Ezoic into mix, improved monetization
The site was sold at a 36X multiple of the average monthly income. This is a good multiple, but the improved income wasn't enough to make up for:
Amount of time invested
Work invested into revamping this site
Money invested for new content
Lost time/effort that could have gone elsewhere
When it comes to following the website flipping framework, we want to find distressed assets where we can increase earnings, find easy wins, and optimize to create a major profit that is worth the time and effort.
This site became an example of why one needs to take into factor the work and time investment required to optimize a site.
Let's break down the details.
---
High-Level Metrics When I Bought vs Sold
Let's compare.
Metrics When Buying The Site…
For more details on why the site was purchased in the first place, make sure to read the first case study update.
Here is a high-level recap of the site:
Purchased on Flippa for $10,000 via a buy it now in March 2021
Sub-niche within the health vertical; solving a major pain point for many people
AHREFs DR 7
Expertly written content with 45 published articles
Receiving ~20K pageviews/mo
Includes a 250-page e-book, backend database for users to find info
Includes 2 checklist PDFs given away for free
Diversified traffic to top pages (9% to top page)
Pinterest account with 36k monthly views (no active management)
Metrics When Selling The Site…
Website Traffic Metrics
Here is the EasyDiligence.io dashboard for this site. Traffic was relatively stable when sold.
---
5 Step Website Flip Process Broken Down
1. How Much Is My Website Worth?
To understand the valuation of the website, I needed to put together an operating P&L (profit & loss). When selling a site, the P&L considers ONLY the operational costs. The growth (capital) costs are not factored into valuations.
Why is this? Because the growth costs are not figured into the final selling price when determining website value.
The average monthly income is based on set costs the buyer would need to provide such as hosting. What you put in to grow the site is not part of that equation.
Here is the operating P&L for this site that was sent to the interested buyers:
Calculating Listed Sale Price
According to the website valuation framework, the equation to calculate the sale price is as follows:
Last-6-month's profit (L6M) x Monthly Multiple (MM) = Website Valuation ($)
Where L6M is the average profit and the MM is the monthly multiple based on the market. This will vary based on a few factors but generally falls between 30X to 40X depending on the niche with 35X often accepted as a general average.
2. $16,000 Valuation → Listing Site For Sale
The $16,000 valuation came from a 36X multiple. The reason for 36X was because this site did have some special factors that I believed increased its value to potential buyers.
These included:
Digital products
Multiple revenue sources
Multiple very high-quality backlinks
The backlinks were strong enough that many brokerages would have listed the site at a 40X multiple, but that would have extended the time it took to get a deal done and I wanted a quick sale.
Despite angling for a quick sale, and promoting this to my newsletter and Twitter where I knew there were many active website buyers, it took two months to sell. There just wasn't a lot of interest in the topic, and that translated to little interest in the site.
Even as a good deal with very tempting backlinks optimized to move fast, this was not an easy sell.
3. Back And Forth Negotiations With Buyers
There were multiple buyers interested throughout the buying process, but most potential buyers backed out. That meant multiple hours invested in answering questions, providing information, or providing responses to due diligence inquiries for every single buyer reaching out.
This went on with potential buyers for two months before the right buyer actually came along and made the purchase.
Each of those interactions would add up to many hours of time being spent providing data, answering questions, and looking to entice a potential buyer to close the deal.
4. Setup Escrow.com Transaction
Once a committed buyer was located and received the information needed to commit to the purchase, at this point the Escrow.com transaction was set up to protect both involved parties.
This is an easy step, especially when I've been through as many of these website flips as I have at this point.
A safe escrow company like Escrow.com should always be involved to protect both parties in a transaction.
You can take a look at my Escrow guide for step-by-step instructions on how to set up a transaction if this is something new to you.
5. Transfer Site and Close The Deal
Once the money was safely in Escrow under contract, which can take a few days, then the technical aspects of the website transfer came into full swing.
I helped answer questions, give support, and provide any help needed to help make the transfer process smooth and problem-free.
---
6 Personal Reasons Why This Was A Failed Flip
Despite selling at a higher amount than what I bought the site for, this was still a failed flip. Let me show you why then go into what lessons I learned.
1. Actual P&L = Loss of $960 Across 6 Months
This P&L includes both operational and growth costs.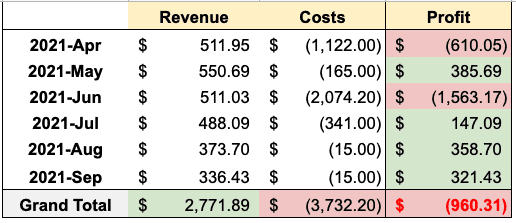 I needed to hire writers to create good content for this site and because of the niche I needed niche-specific writers who were registered dieticians to meet YMYL requirements Google would want to see.
Specialty niche writers mean even on a site like Upwork, you're looking at 15 cents a word. That means even a small number of articles become expensive.
When the actual cost for content and other expenses to improve the site are figured in, it actually comes out to a loss of $960 across all 6 months of ownership.
That means I didn't make money while holding the site as expenses outpaced revenue.
2. Invested 50+ Hours of Our Time
A lot of my time, and the time of my team, was spent improving and ramping up this site.
The site needed a major redesign, and this meant converting the site from Elementor to GeneratePress to get a much faster site with a better user experience.
Aside from the redesign, Ezoic was added to the site and ad placement optimized, existing content edited, expanded, and reformatted, new content was added to the blog, and on-site interlinking all ate up additional hours.
On the SEO front, we worked with Niche Website Builders to set up a Skyscraper link building campaign in addition to manual outreach efforts to different niche blogs for links. They built 24 links over two months, which was excellent.
This led to over 50 hours invested between my time and my team's time that was spent trying to ramp up this site.
3. No Easy Win Growth Curve
When I buy a site I'm looking for an exponential growth curve. I'm not interested in slow, steady, moderate improvements, but I want to see exciting explosive growth.
Sure the site grew to 40% higher but for a fast flip, I want to see 300% to 1,000% higher. My original due diligence told me this growth curve was possible, but it didn't emerge.
When you're used to seeing explosive growth in the hundreds of percent, seeing a mere 40% is disheartening.
This caused me to lose interest in the site during the revamping process.
4. Traffic Increasing But Revenue Decreasing
This doesn't happen often, but it was another challenge with the site. The revenue went down even though traffic went up.
This is especially clear with the digital product, which tells us there's something wrong with our optimization setup.
This could have been due to:
The funnel
The conversion setup
Ezoic siphoning off sales for ad clicks
A combination of all these factors
That's not only demoralizing but takes a lot of time, testing, and energy to find the problem and fix it.
At that point, there were many more exciting projects showing more potential for myself and everyone on the team to spend their time on.
5. No Personal Interest to Grow the Site
The health niche is one that just doesn't excite me personally. It's very competitive, quality content from experts is really expensive, and so without those early wins my personal interest waned.
Especially when compared to what else was on the table.
6. Other Projects Took Our Interest (and Time)
Every other website being worked on at that point was showing better returns.
For example, I bought an engineering tutorial site that was unmonetized with 100,000 pageviews of traffic per month. This created solid cash flow from month one simply by placing display ads.
There was huge explosive growth on multiple other sites. Sites where I wasn't paying for premium expert content, and yet was still getting better results.
Those projects were not only more fun, but they were a better use of time and resources for all of us.
---
3 Changes I Am Making To Ensure NO Repeats
This was a failed website flip in my book, but it did teach some valuable lessons. These will help guide my business to make it more streamlined in the future.
1. Focus On Niches That Interest Me
I've done over 180+ website flips at this point and it's safe to say that especially early on most of them were niches that weren't interesting to me day-to-day. I saw easy wins, exploited them, and would grow revenue to flip the site.
After so many, it's important now for personal interest to be part of the equation. Especially as I tackle more competitive niches or projects.
For me, this includes shifting more B2B vs B2C, even though it's a more competitive space. However, I'm willing to put more time, energy, and personal effort into topics or projects that interest me.
2. Focus On More Concrete Easy Wins
Some easy wins are very concrete "home runs". This would be a site with 50,000 views a month in traffic but no display ads. Simple math tells me this would lead to a major revenue increase from month one.
In this project, there wasn't enough traffic to increase Ezoic revenues that much. Looking back, I was relying more on projections than what was already there for the taking.
The traffic that existed there just wasn't enough in the beginning.
3. Calculate Time Commitments Before Acquiring
I didn't estimate the time requirements before tackling this project.
If ten hours of my time on one site can lead to $10,000 more when the flip takes place, that needs attention over a site that takes 20 hours of my personal time and leads to $1,000 more.
Before diving in I try to look at the time commitments:
How much work will need to be done to capitalize on the easy wins?
Will the work be done by me, my staff, or mostly freelance hires?
This is now an important part of my process to make sure a potential website flip is profitable before committing.
---
Actionable Takeaways
There are several actionable takeaways you can take from my experience with this (by my standards) failed website flip.
Here they are:
Interest Matters: Focus on topics that you're interested in. Don't pick something that's boring to you.
Look for Easy Wins That Are Interesting: Some people really enjoy the SEO side of easy wins, others love to optimize the top-performing pages. Focus on easy wins that move the needle and keep your interest.
Calculate Time Commitments: Figure out how much time a project is likely to take.
Be realistic. Job, life, family, kids, other projects – these all matter when figuring out how much time you can realistically dedicate to a potential website flip.