I acquired a new website! This website will be a public case study for newsletter subscribers only. Each writeup will have hidden content available to subscribers.
I've never done a public case study so this will be new. I hope that you will find value in following along, seeing live what's going on, and how I do things. The website is small in terms of deal size so if it does not work out (i.e., spammers perform negative SEO attacks, or I fail), it won't impact me financially.
I purchased this site on April 10, 2021, for $10,000 via Flippa Buy It Now. The case study will be shared monthly with detailed revenue and cost reports, traffic metrics, what was improved, and plans for the next month.
In this first writeup, I will cover:
Website summary, purchase multiple, traffic
Due diligence process at a glance
Why I purchased the site
Easy win plans for improvement
Let's get into it!
---
📊 Website Summary
Here is a high-level summary of the acquired website:
Purchase price: $10,000 on Flippa via Buy It Now
Niche: Health (Acne)
AHREFS DR: 7
Referring Domains: 339
Backlinks: 2,100
Monetization: Digital Product, Amazon KDP, Amazon Associates
Age: May 2018
Email list: ~3,500 subscribers
Assets: 3 digital products and a backend food database
This site is focused on all things acne. It educates the audience on how to minimize acne naturally as opposed to taking medication. It was owned by a person that had acne breakouts regularly. He wrote all of the content which is extremely well-researched with references to medical journals, high-authority posts, news articles, and more.
The owner also created high-quality digital e-books and PDFs; a total of 3. One of them is a 250-page e-book that he started selling on the site in February 2021. The rest are given away as lead magnets.
Acquired at a 55X Monthly Multiple…
As for revenues, the numbers were as follows:
L1M: $393
L3M: $321
L6M: $180
L12M: 110
I paid $10,000 for this site. The industry typically uses a L6M average. Based on that, I paid a 55X multiple.
Why would I pay this multiple? The owner launched their digital product in February and since then they have generated $300+ per month. This puts the multiple at a 33X; much more reasonable assuming I can keep it at those levels or higher.
Traffic Overview: Last 12 Months
The traffic of the website is primarily from Google. The traffic metrics over the last 12-months are shown below:
The bounce rate for the site and session duration is extremely healthy. The average time on page is upwards of 7 minutes; as in, an individual is reading the article for an average of 7 minutes. They are extremely engaged.
In January 2021, the old owner did a revamp of content adding more data, research, graphics, and more to about 10 articles. This caused a significant boost in traffic as seen above.
---
👉 The Due Diligence Process
When I do due diligence, I am looking at the raw data of the website, P&Ls, earnings screenshots, domain history, trademarks, and much more.
While it's impossible to cover everything about due diligence in this case study, I will cover the high-level steps.
High-Level Due Diligence Questions
Here are some of the questions I think about when I look at a deal.
Website URL: Is the URL brandable? Are there any trademark/copyright issues?
Traffic Trend: Which direction is traffic trending? Stable, upwards, or downwards?
Toxic Links: Any easy-to-spot toxic links?
Monthly Earnings: How much does it earn monthly? Is there room for growth?
Monetization Sources: What are the monetization sources? Are they scalable?
Visitor engagement: what's the time on page/session, page views per session, and bounce rate?
Top traffic pages: is traffic diversified throughout various pages?
Niche difficulty: what's the difficulty of keywords in the niche?
Niche seasonality: is the niche seasonal leading to cash flow seasonality?
Exact Steps Followed With Seller on Flippa
Here is a summary of the 24-hour process from when I found the deal to when I bought it.
Found the site on Flippa
Reached out to seller immediately 1-2 hours after it went live asking for Google Analytics guest access and also asking to the point: "what's your buy it now"?
Performed my due diligence sniff test; sniff test passed!
Start asking seller questions
Validate the seller's answers via requests for screenshots, data metrics, and third-party tools (e.g., AHREFs)
Perform further due diligence looking at anchor text, backlink profiles, keyword rankings with how monetizable those keywords are using AHREFs
Perform "easy wins" analysis to see what improvements can be done quickly
Submitted counteroffer to the seller's desired buy it now price, negotiated back and forth, and then closed via Flippa Escrow
After the site was in Escrow, the deal took 1 week to close.
Streamlined Due Diligence Dashboard (Work In Progress)
As someone who looks at many deals a week, I spend too much time in Google Analytics looking at the same data for each deal. To streamline, I built a Google Data Studio dashboard that pulls in Google Analytics data of a specific deal I am reviewing.
This dashboard does the following:
Pulls in the relevant data

Highlights red flags (in red)

Highlights excellent metrics (in green)
Allows to filter for dates and see if any red flags
Allows to filter traffic channels and/or devices
For each data source the tool reviews, it cross-correlates the raw metrics to my "proprietary" due diligence metrics signaling a bad deal. This allows you to at a glance see if the deal has any common red flags. A huge time saver!
For this deal, here is the work-in-progress dashboard:
With the L12M metrics, only two red flags popped up on this deal! The first is a large influx of direct traffic and the other is paid search traffic. The rest of the data was on par with industry averages!
The direct traffic was due to email traffic plus Google AMP traffic that gets categorized as direct in Google Analytics. The owner received a $100 voucher to Google Adwords and thus tried to drive paid traffic; this was stopped when the credit ran out.
The deal was analyzed with the above process, questions, and dashboard. It passed my due diligence!
---
🙋 Why Was This Site Purchased?
Here are my high-level reasonings.
Growing Keyword Positions: 83% Keywords in Positions #11-#100
I like to see a healthy "keyword position" chart in AHREFs. Primarily, am looking for stable or up-trending positions, and also a large bulk of keywords on positions #11-#100.
Here is the AHREFs chart:
Having many keywords in positions #11-100 in an upward trend provides the following benefits:
With better on-page (internal links, UX) and off-page SEO (backlinks), these keywords can move up to positions #1-#10
New content is starting to rank
Google is "liking" the site
Diversified Traffic To Pages: 9% Traffic to Top Page
You do not want to have a site where most of the traffic is going to 1-3 pages. You want a site that is diversified across many pages. This specific site has no page more than 9% of traffic. This is a win.
Check out the Google Analytics screenshot: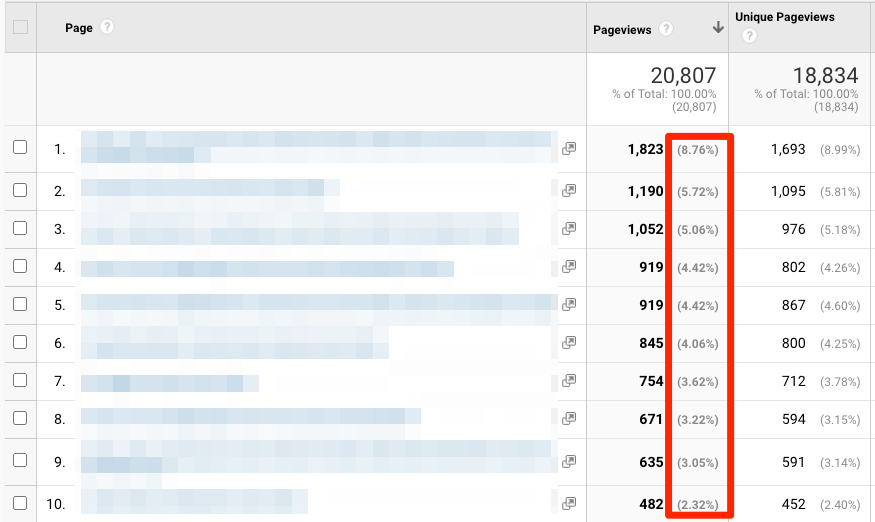 3 Major Revenue Streams
The site had 3 major sources of monetization:
Digital products
Amazon Kindle Direct Publishing (KDP)
Amazon Associates
The previous owner wrote a detailed e-book which was sold on the website and also repurposed into a Kindle e-book and listed in Amazon KDP.
In this niche, there are many opportunities for monetization with high cost-per-action payouts. For example, recommending various supplements that have high payouts would be ideal. I will explore this over the course of this case study.
Unique Digital Assets
The site comes with additional assets such as:
Two digital "cheat sheets" in PDF format
E-book
The e-book is partnered with the database and is being sold at $29.99. This generates approximately 10 sales per month without conversion rate optimization, or any copyrighting. The previous owner has done well to obtain product-market fit and now it's my job to optimize.
Included Member Dashboard
The previous owner created a member dashboard with custom code and a searchable database backend where people could find different foods and their impact on acne. This is a unique offering with future potential.
Here is what the member dashboard looks like: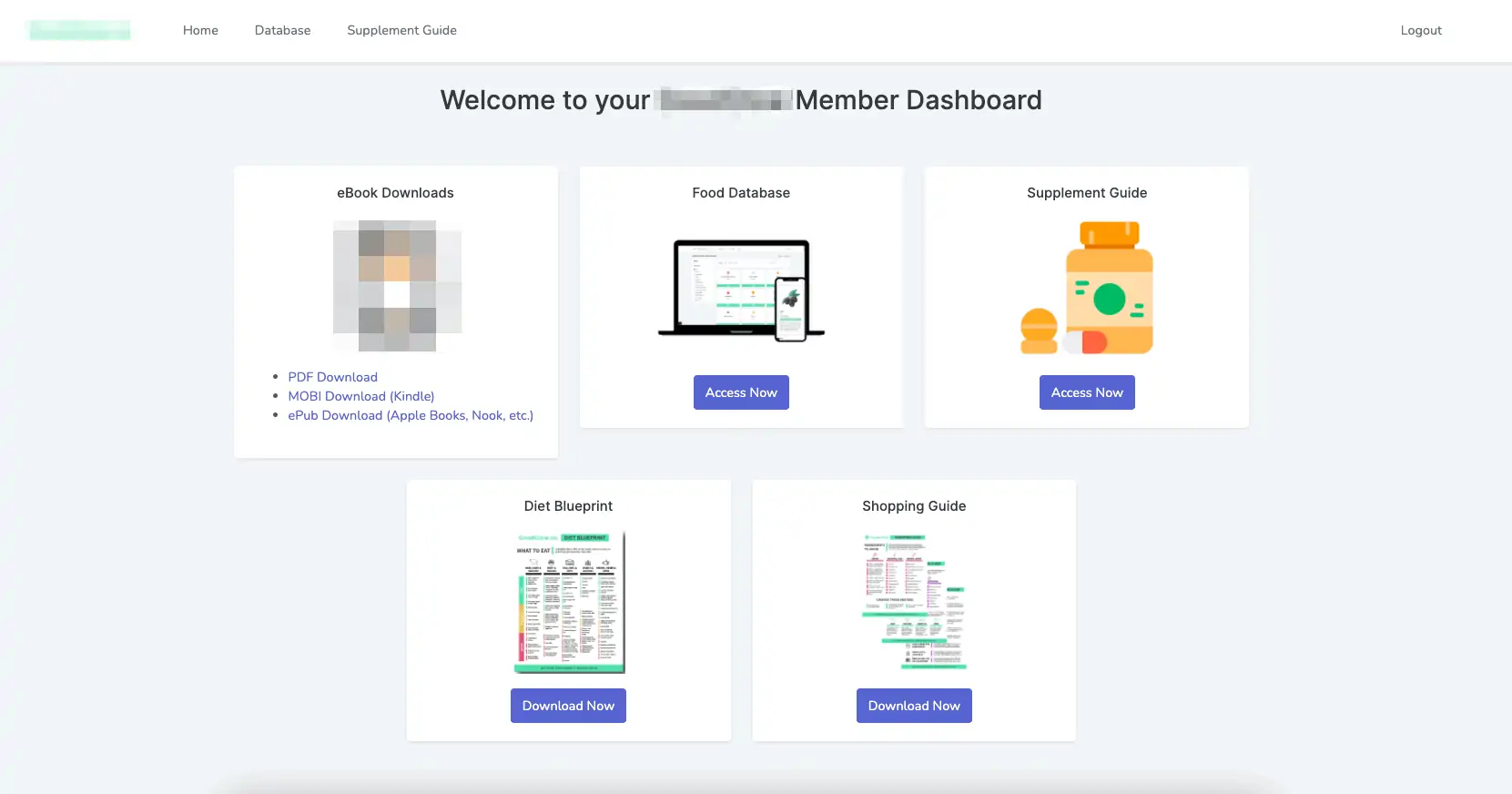 Here is what the food database looks like: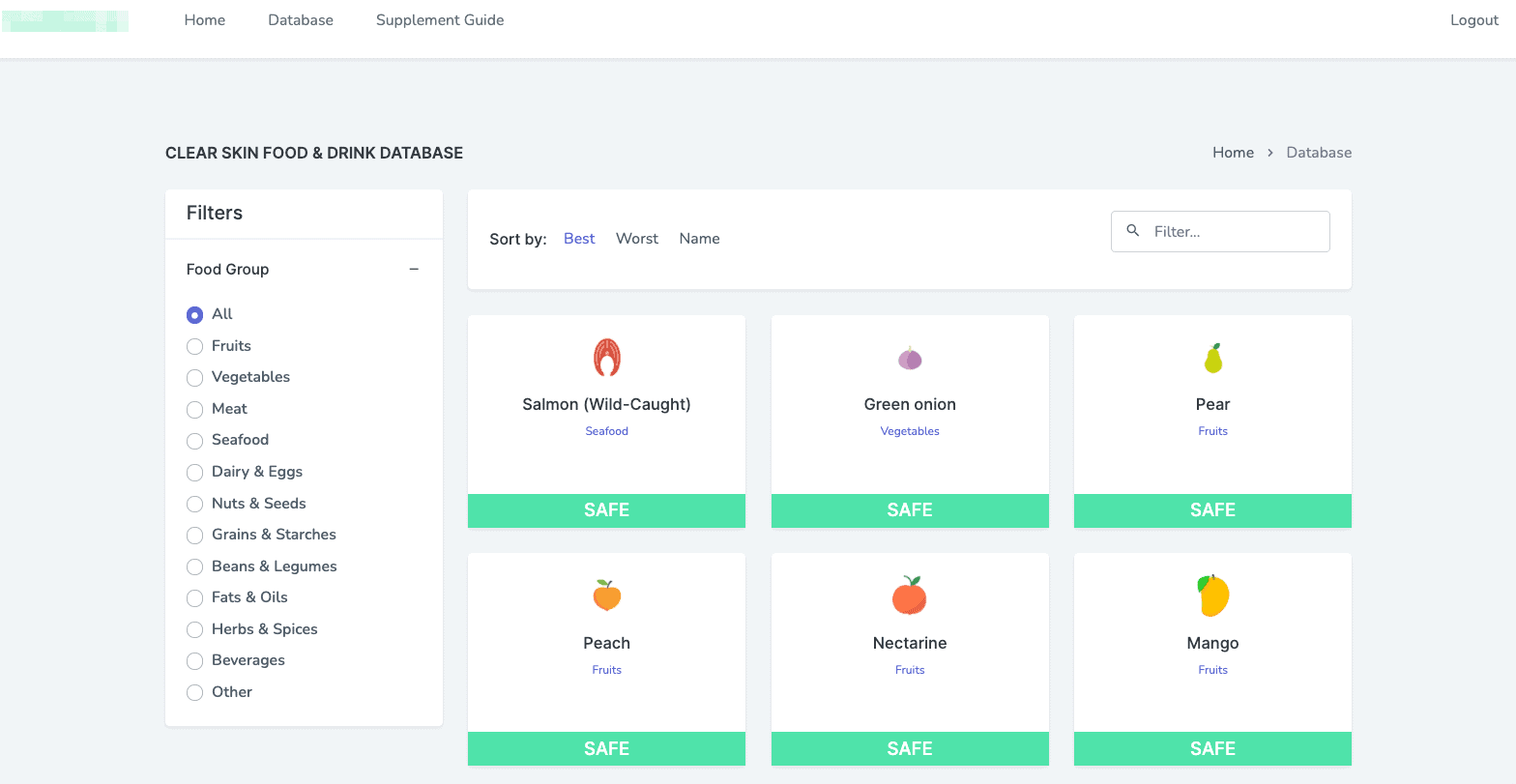 These are true assets to the business which I can repurpose into content, or upsell with more value-add services over time.
Growing Email List: ~3,500 Subscribers
The two digital "cheat sheet" PDFs are being used as lead magnets to collect the email addresses. The emails are then placed in only a 2-email sequence; this is not ideal and should be a much longer sequence.
I purchased this site because of the niche partnered with the email list. The goal is to over time develop an email sequence that nurtures the audience such that they purchased the digital products.
---
💸 "Easy Wins" Improvement Plan for April
The website was acquired on April 10, 2021, and the plan is to revamp the site by end of April. This revamp improves the site's foundation for growth.
1 Week Post-Acquisition: Improve Foundation, Stabilization
The goal here is to improve the "tech stack" of this website. This included the following:
Setup on Cloudways server
Setup Cloudflare
Removed 30+ plugins
Updated plugins and themes (test to make sure it all works)
Implemented WP Rocket, Short Pixel, Link Whisper, WordFence, ManageWP
I like to get the foundation as strong as possible within 2-3 days after acquiring a site. This is because the worst thing you can do is add more features, content, etc. to a poorly performing foundation.
Simultaneously, I spend time streamlining and stabilizing the revenue streams. This includes:
Digital products are sold using the Easy Digital Downloads plugin. Need to reintegrate the Stripe account for payment processing.
Change over Amazon Affiliate tags; the site is using Amazon short links
Optimizing Amazon KDP account
The process was easy since there were only a few revenue streams.
2-3 Weeks Post Acquisition: Easy Win Opportunities
I like to buy sites with traffic and easy win opportunities. This site has traffic and monetization options in place which leads to natural easy-win opportunities.
Here is a shortlist of the quickest of easy wins to improve traffic and earnings:
Improved call-to-action buttons in callout boxes (light green color, change to bright red color, larger font, add icon)
Implement Amazon AAWP plugin with product boxes, and comparison tables
Internal linking between articles using Link Whisper plugin
Implement display ads; the only option is Ezoic so may wait until May after the Google Core Web Vitals update occurs
Research FAQs content

and add to articles; no FAQs exist
The sellers of sites usually do not do content updates due to lack of focus, interest, among other reasons. At the same time, Google loves freshness. The way I give articles an initial boost is to add FAQs sections. This site has no FAQs within articles so that's an easy win.
Outsourced Tasks
The tasks I will be outsourcing completely include:
Pinterest management to a VA
Creation of an email sequence to an email copywriter
Content writing
Redesigning site with GeneratePress and Generateblocks; remove Elementor site designer
---
👉 Wrap Up: Follow Along On This Case Study!
That's a wrap for this writeup covering the details of the acquisition and what easy wins I will be implementing immediately.
As stated, this will be a public follow-along case study. Make sure to join the Website Flip Club Facebook group where day-to-day discussions will take place.
Stay tuned for the next update!