The public case study site earned $511 in June 2021. The focus in June was to acquire an aged domain (done successfully), perform SEO tweaks, and add more content.
Here is what I cover in this update:
Site recap, highlights, and setbacks
Site revenue and cost breakdown
Acquired an aged domain for a redirect
Started Shotgun Skyscraper link building using Niche Website Builders
Plans for July 2021
For the previous update in April and May, check out this post, or check out all the posts here.
---

➡️ Website Flip Status
On April 9, 2021, the asset was purchased for $10,000. The site at that time was earning $180 per month on average over the last 6-months (L6M). This equated to a 55x multiple.
The new L6M average for the site is now at $422 (previous L6M was $343).
📈 Site Recap
For more details on why the site was purchased, make sure to read the first case study update. Here is a high-level recap of the site:
Purchased on Flippa for $10,000 via a buy it now
Sub-niche within the health vertical; solving a major pain point for many people
AHREFs DR 7 with a few quality backlinks
Expertly written content with 45 published articles
Receiving ~20K organic pageviews/mo
Includes a 250-page e-book, backend database for users to find info
Includes 2 checklist PDFs given away for free
Diversified traffic to top pages (9% to top page)
Pinterest account with 36k monthly views (no active management)
📈 June Highlights
10 new articles published
Acquired and setup aged domain to redirect to site
Optimized post SEO titles using data from Google Search Console
Redesigned all pages in GeneratePress from Elementor for faster page speed
Started Niche Website Builder's Shotgun Skyscraper Link Building service (see below)
📉 June Setbacks
Traffic has been down-trending
Lower revenues from e-book sales than typical months
---
📊 June 2021 Website Metrics
Last 12-Months Google Analytics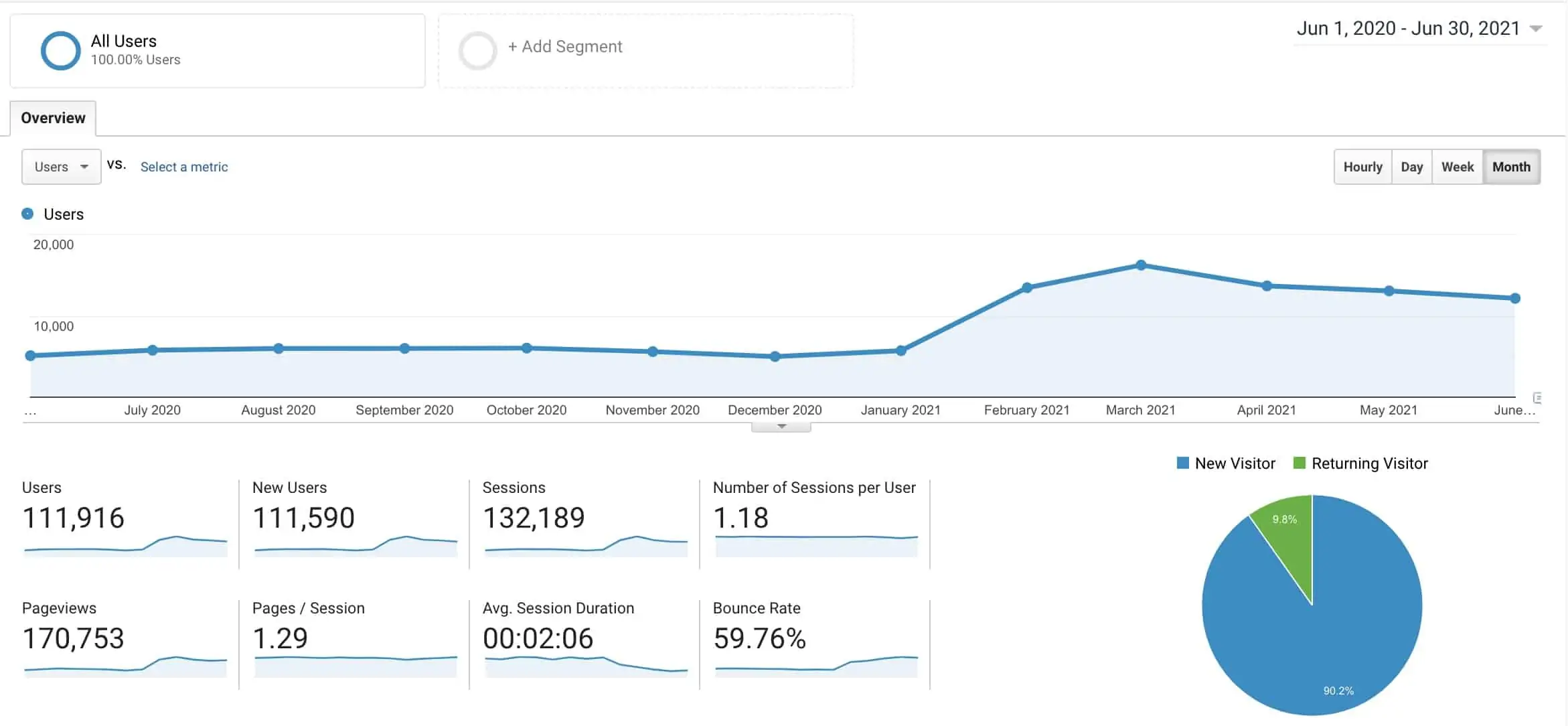 Revenue Breakdown
Here is the breakdown of revenues for the past 3 months. In June, Ezoic was operating for a full month and their algorithms getting more optimized. E-book sales from Amazon Kindle program and direct on-site dropped.
Cost Breakdown
Here is the cost breakdown for June:
Aged domain: $1,104
Content: $637
Hosting: $15
VA: $318
Total: $2,074
I have two writers for the site: (1) a registered dietician who charges 10 cents per word, and (2) a native English writer at $55/article fixed. The native writer wrote 8 articles for the site, which were primarily to topically match content with the aged domain (see below).
---
🚀 SEO Improvements
Acquired and Redirected a DR 31 Aged Domain
Through GoDaddy auctions, I found an aged domain in the same exact niche with topical and backlink relevancy to my site. Here are the domain metrics:
AHREFs DR: 31
Referring Domains: 376
Domain age: May 2004 (17 years)
Example backlinks: Wikipedia, WikiHow, How Stuff Works, Bustle, Livestrong, and more niche relevant backlinks plus EDU links
Domain source: GoDaddy Auctions
Domain cost: $1,104
The main reasons for buying this domain was:
Old website on the domain matched one-to-one with my site
Inner pages on the domain matched closely with similar content on my website
Existing backlinks on the domain were impossible for me to obtain
To perform the redirect, I did the following:
Created a press release page to redirect the homepage
Redirected individual pages to 1:1 exact match pages on my site
Wrote 5 new articles that were on the old site but need to be on my site, then did redirects
Nonperfect match pages redirected to specific category blog pages
Catch-all redirect to 404 pages for everything else
This technique was covered in my guide on how to redirect aged domains to niche sites. The strategy can be visualized as follows: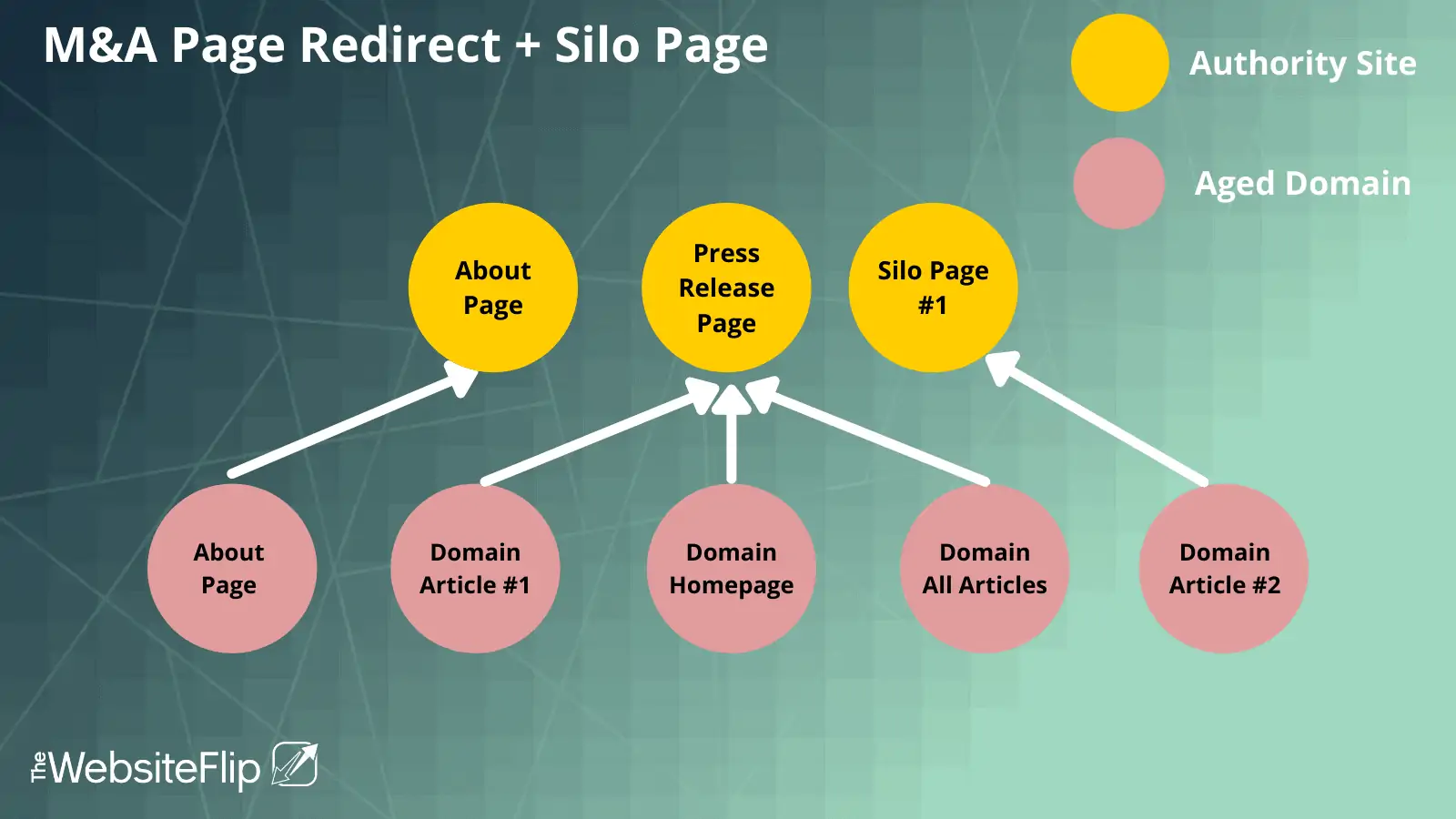 The domain redirect was set up on June 21, 2021. The site will need to be monitored for a few months to understand how it performs.
Used KeywordChef.com to find low hanging fruit keywords
KeywordChef is a new keyword searching tool that hit the market recently. I was an early beta tester of the tool. The powerful aspect of this tool is the ability to use "wildcard" operators. For example, I could use seed keyword terms like "Does * cause [TOPIC]". In [TOPIC], you can place your niche topic, e.g., acne.
Here is a screenshot for a search I did: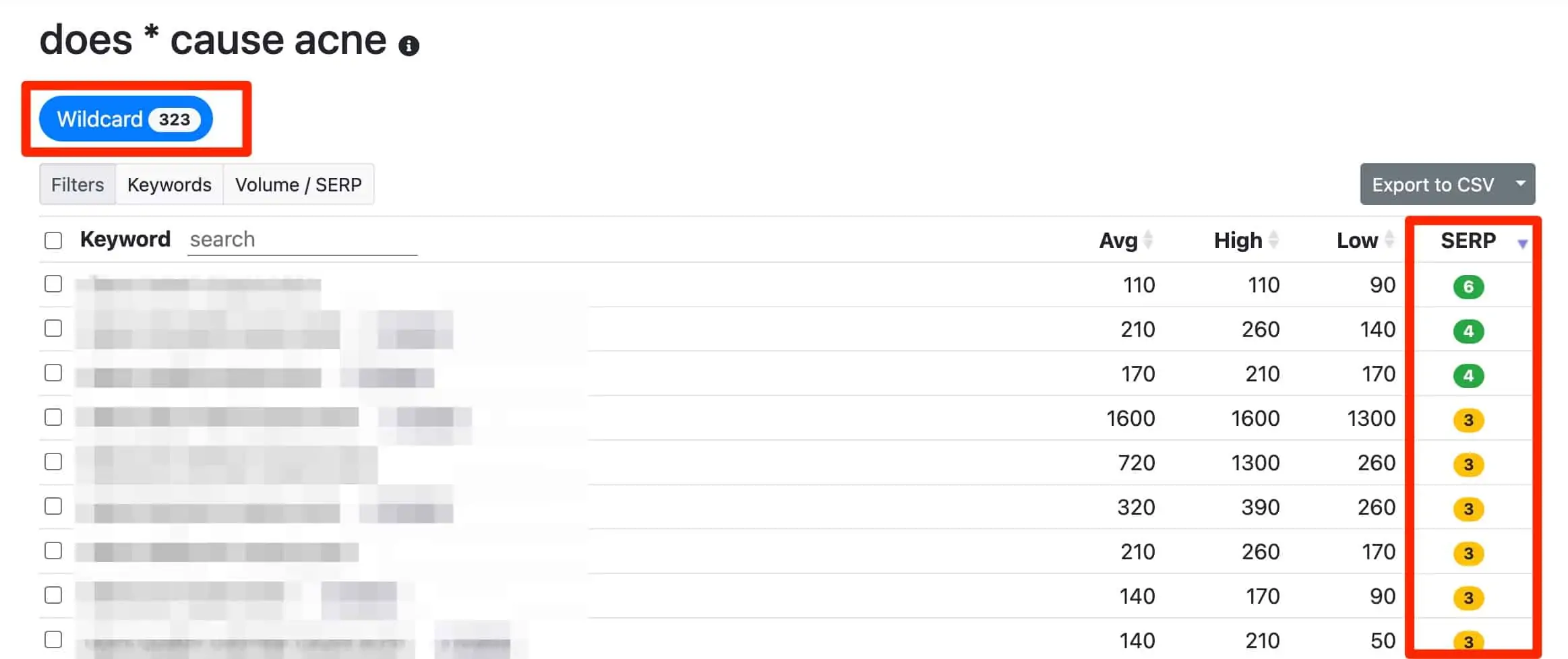 This returned 323 keywords of all variations. I analyzed all of the SERP results and KeywordChef automatically highlighted any SERP results that are from forums, Reddit threads, Quora posts, etc. The theory here is that it's easy to beat out user-generated sites with a detailed article that is SEOed.
Optimizing Post Titles and Tracking Results
The previous owner of the website was not an SEO specialist. Therefore, most of his article titles were not optimized for high-traffic keywords but the content is still getting traffic.
I used Google Search Console to do the following:
Filter for keywords that receive high impressions and are ranked in the middle of the SERPs (position 5-10). I also look at the clickthrough rates to catch any low values.
Optimize the title tag (SEO tag and article title) for a variation of these keywords
Resubmit the page for indexing
Shotgun Skyscraper Link Building with Niche Website Builder
I've partnered with Niche Website Builder to have them build links using the shotgun skyscraper technique. I will provide a completely unbiased look into their entire process, the content they write for me, the backlinks they build, and everything else in between.
I had a face-to-face call with the link building team in late June. The process of their service is as follows:
Month 1: researching topic ideas, writing the content, and setting up the prospect list (no active link building)
Month 2-3: actively link building to the skyscraper article
Months 4+: another new article is posted, new prospects found, and continue link building
Immediately after the call, they sent me 3 topic ideas for a long-form article they can use as the link bait for backlinks. I picked one of them.
Since I have a dietician on my team, I asked the link-building team if I could have her review the content for accuracy and add in more research to make it more authoritative. The team happily accepted and said that will provide an even better chance of attracting links.
---
💰 Revenue Improvements
Disable Mobile Footer Sticky – Added Ezoic Sticky Footer
To promote my digital products, I added a mobile footer sticky that follows the user. The sticky has a call-to-action to the digital product landing page. This is what it looked like: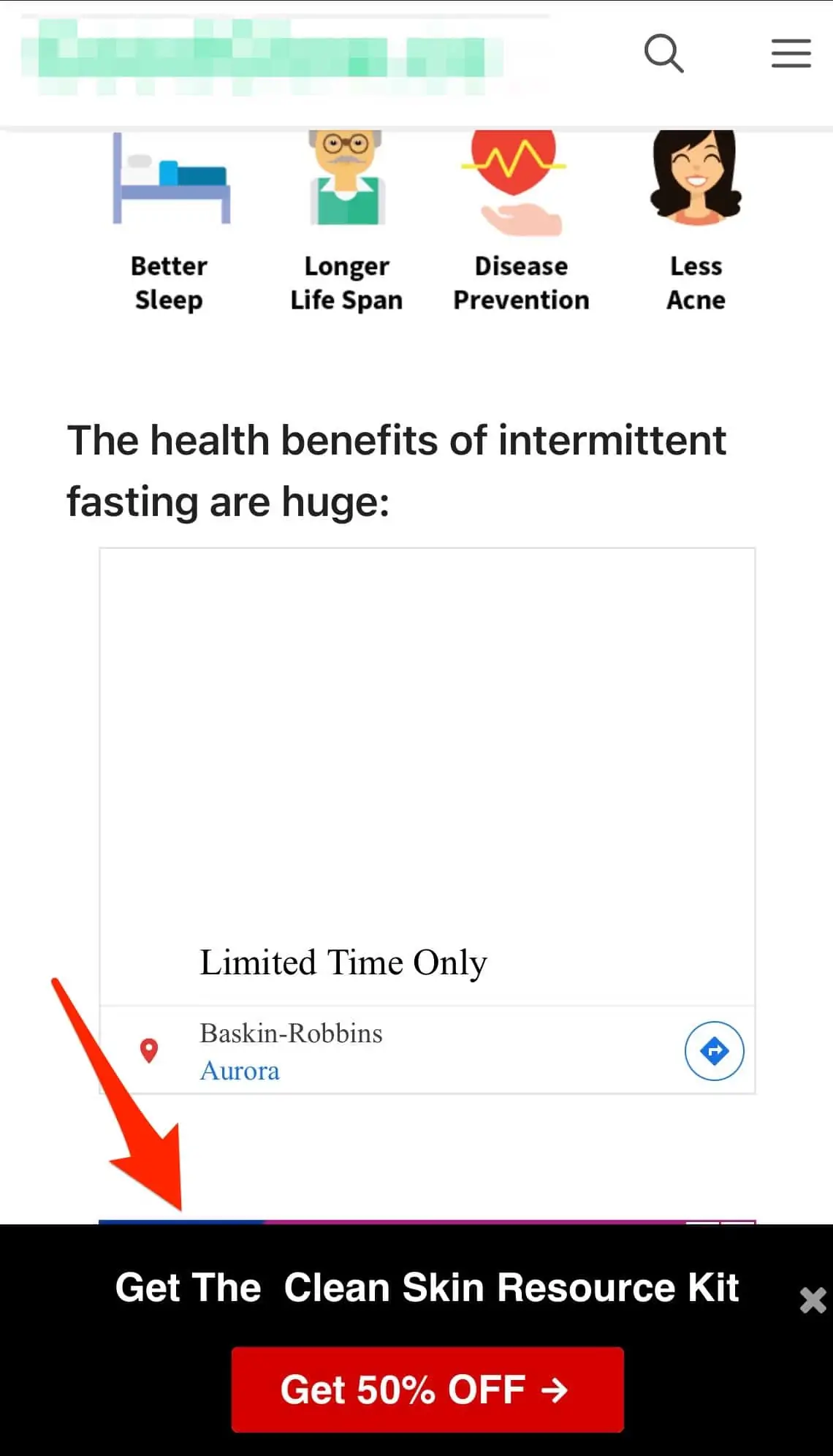 After running this setup for 1-month, I checked on the clickthrough rates, and it was extremely low:

With over 10K visitors and a 0.3% clickthrough rate to my landing page, that is too small. I disabled the floating bar and instead opted to add Ezoic's sticky advertisement. This will yield more potential revenue.
---
🆕 Plans for July 2021
Here are the plans for July 2021:
Implement AAWP product boxes and comparison tables in articles
Add 10 new articles
Add new Ezoic placeholders for increased revenues
Research new affiliate programs with higher payouts than Amazon
That's it for this update. Stay tuned for next month's update.