This is the August 2020 update for my Outdoor case study site. Check out the July 2020 update, and archive of past updates here. In this update, I will be focusing on new acquisitions to grow my Outdoor site's authority and Agency.
These are the topics that I will discuss in this update:
Purpose of Agency
Why create an Agency?
My growth strategy
Case study of buying two Facebook groups
Case study of selling brand package
What's next?
Growth by Acquisition Strategy
In the past case study update, I mentioned wanted to start putting together a mix of a front-facing company (media agency, influencer agency, holding company, whatever you want to call it).
Let's just call it an "Agency" going forward.
This Agency is aligned with the growth strategy of my Outdoor site. Essentially, the same assets from the Outdoor site will be used to sustain the Agency, and the new assets acquired on behalf of the Agency will be used to drive traffic to the Outdoor site. Win-win.
---
What is the purpose of the Agency?
It's simple.
Acquire traffic via websites, social profiles, email lists, etc
Sell promotion packages to brands or a la carte
Drive traffic to my own niche sites
---
❓Why create an Agency❓
Help brands reach a niche audience
As niche site creators, we do this ALL the time. We create niche/authority sites to drive traffic and then push that traffic to affiliate offers.
As my outdoor site gets more and more traffic, social following, email subscribers, etc., small startups and big brands reach out to do partnerships.
The see the true value of my traffic and are willing to pay or partner in mutual ways to reach that audience.
This can be a significant revenue stream for minimal work which I will layout in the Case Study below.
Support my niche sites
The agency will be created for brands to reach that audience but in all reality, I won't be getting brand deals every single day.
During the off times, the assets will be used to drive traffic to my niche sits.
In that sense, it's always a win-win to do this.
Not any extra effort
Since the vertical is the same (Outdoor) with my main website, it's a parallel effort and helps further grow my "moat around the castle" per-se.
Any acquisition I do just helps my mains site grow in traffic, authority, subscribers, etc.
Then that traffic can be bundled and brands can get access to it through the Agency.
---
Growth Strategy for Agency
What's the fastest way to grow? Buy existing assets with traffic. I have plans to acquire the following assets in order of priority:
Facebook Groups
Pinterest profiles
Niche websites
Other social profiles
Facebook groups: groups include a community aspect where they are self-sustaining. People make posts in the group and others help out. If you can set up a few moderators, the groups run themselves. There are many ways to monetize the groups which I will cover in the next section.
Pinterest profiles: I do not manage my Pinterest accounts. I have an expert specialist that does it. He mentioned that pinning articles on a more seasoned profile with higher monthly viewers can help that article in the algorithm overall.
Niche websites: always on the lookout to purchase more sites in the same or shoulder topics of my main site. Every additional website I add to the portfolio increases multiples. Also, monetization is easier since I've already tested which offers work on my main site. It's a no brainer.
Other social profiles: Always on the lookout for any social profile with a large following and engagement. The goal is to drive traffic to the client or my sites.
---
Case Study: Purchasing 2 Facebook Groups…
In August 2020, I've purchased the following assets:
Facebook Group (nickname: OGL) – group with 54,000 members in a shoulder niche to my main topic. I purchased the group for $2,500.
Facebook Group (nickname: STF) – group with 2,900 members in the exact same niche as my main outdoor site. Perfect match. I purchase this for $300.
How to monetize?
My goal with my main outdoor site is to grow the email list and drive traffic.
The email list brings in about 20% of the revenue of the website but I see emails as an asset I can market to forever. It's an asset I own and I control. I cannot say the same for social or organic traffic.
Facebook groups have many ways to monetize and market:
Member Questions: when a person joins a group, you can ask them a series of questions. Within the questions, I ask if they want freebies that I give away.
Pinned Posts: pinned posts can be used to promote a product, affiliate product, or give away an e-book in return for an email. The conversion rate here is much lower but still works.
Regular posts: I can use Hootsuite to auto-schedule articles from my site to the groups to drive traffic.
Shoutouts: Brands can sponsor a post shoutout promoting their products or services. I have a bundle package
Since the groups are self-sustaining with content from members, the monetization strategies (once figured out), can be in theory self-sustaining.
Plan with Facebook Group (OGL)
This group as stated is in a sub-niche of my main site. I purchased this to build a larger moat around my main business.
The plan with this group is as follows:
Offer this to brands to do shoutouts. With 50,000 members, my social portfolio now has more credibility
Collect emails for a new automated email campaign to promote products/offers
Drive traffic to the main site
Eventually, start/buy a niche site aligned in the exact same topic and have an immediate traffic source from the group
These are all growth strategies that I will try out over time. The agency side of the business will benefit immediately since now brands will see that they can target their products to this audience.
Let's review the growth of the group: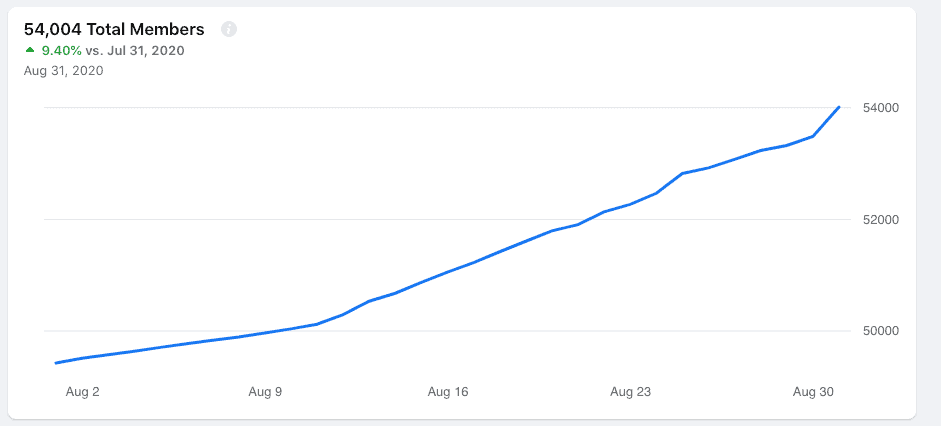 To review the stats:
3,624 new members
533 members added to the email list (from 08/20-08/31)
I anticipate I can add about 1,200 to 1,500 email subscribers which I can funnel into my email campaign and then send them offers promoting products or driving traffic to my site.
Plan with Facebook Group (STF)
The idea is the same as the previous group. The only real difference is that since this niche is completely aligned with my main site, I can start monetizing day one.
Every email I capture from this group is funneled into my current active email campaign with 20+ email that convert well.
I am monitoring to see if these members convert as well as the same subscribers that come organically. Let's hope so!
---
Case Study: Selling to Brands 💸
After purchasing these groups, I sent out emails to a few brands I know of and have spoken to in the past.
I sent them details that for $500 they could buy shoutouts to the following profiles:
Facebook group (OGL) with 50,000 members
Facebook group (STF) with 2,400 members
Facebook page (main site page) with 180,000 followers
Instagram, Pinterest, and Twitter profiles
One of them said they were interested. They sent me pictures of their product and the social description.
I sent the details to my VA. He created images in Canva and scheduled them at peak times
Fairly easy! Made $500 without any effort from my end.
There is potential here and I will be trying to bring more brands in.
---
🔥 What's next?
The plan is as follows:
Continue collecting emails from the group members
Find affiliate offers to promote to the groups to generate sales
Have VA post 2-3 articles to each group to generate traffic
Let brands know they can target these groups
I will keep you all posted.
Let me know if any questions!