This outdoor authority site earned $3,896 in August 2021 compared to $3,208 in July 2021. In the previous few months, the site was placed into the "maintenance phase" of the website flip lifecycle. It still is operating in the same phase to maximize profits and build a "war chest" for future investments.
In August, I spent time figuring out what needs to be done to take this site to the next level. I cover the following in this month's write-up:
Website metrics from August 2021
Profit and loss breakdown
How I negotiated a direct display advertisement deal
How I am setting up digital product sales funnel for 7 e-books
1-month site revamp plans in prep for Q4
For the previous update, check out this post, or check out all the posts here.
Let's get into it! You don't want to miss this one.
---
📈 Site Recap
Purchased in April 2020 for $23,000 from Flippa auctions. The site was earning $300/mo.
60,000-90,000 pageviews per month on average depending on time of year
AHREFs DR of 51 with backlinks from NY Times, Wikihow, Wikipedia, NY Post, Marketwatch, and 2,000 other niche relevant referring domains
Website has been active since 2010
863 articles published, 849,778 words total
12 different revenue streams including Amazon Associates, private brand partnerships, affiliate networks, and display ads
Email campaign with 32 emails that get sent to new subscribers
📈 Highlights
14 published articles
Direct advertiser reached out for a display ad spot
📉 Setbacks
No keyword research or plans for future content
Minimal time spent on the site myself
---
📊 August 2021 Website Metrics
Traffic Breakdown
From July to August, the traffic page views increased by 3.6%. See Google Analytics report below:
Revenue Breakdown
Here is the breakdown of P&L for August 2021:
Revenue: $3,896
Costs: $647
Profit: $3,248.63
Cost Breakdown
Of the costs, $330 was spent on new content that was already in the pipeline from months ago. These articles will be published in future months. $330 equates to 10 articles so my average cost per article is $33.
About $305 was for VA costs which included formatting comparison tables for new content getting traction in the search engines, and content formatting costs.
Monthly P&L Chart
Check out the month-over-month breakdown of revenue vs costs:
---
👉 2 Major Updates
💰 How I Negotiated Monthly Fee for a Direct Display Advertiser
I received a cold message from an e-commerce brand in my niche that has an advertising budget they need to spend to promote one of their new products. They wanted to buy display advertising on my site.
They asked for a quote and placement information on the site. I actively have Ezoic running on the site so I needed to figure out which locations I was willing to place their ads, and what the fee would be for monthly advertisements.
Here is what I did to calculate the fixed monthly payment:
Figure out the EPMVs on average on the site (using Ezoic dashboard)
Find out the placement locations I wanted to place their ad
Charge a 20% premium on top of my average EPMVs for a single ad slot
To figure out the average EPMVs, I was able to find that information from my Ezoic dashboard. Here is a visual snapshot:
My average EPMV over a few months was $7.55.
The easiest location I could offer was the top-right sidebar location. This is where they could place a 300 by 300 pixel display ad.
I added a 20% premium on my existing EPMVs, thus $9.06 EPMV. I then analyzed my last 30 days of pageviews which equated to roughly 60,000.
To calculate the ad spot amount, it came out to:
Ad Spot Value ($) = EPMV * ( Pageviews / 1000)
My calculation landed me on a value of $543.60. I rounded it down to $500 and that was my final offer for a 30-day period. If they were willing to commit to a 3-month period, I would bring it down to $400/month.
They opted for a single month. I then added the display ad with a tracking link on my sidebar. Easy!
🆕 How I Am Setting Up Digital Product Sales Funnels
With this site, I acquire rights to 7 digital ebooks back in August 2020 that I have still not published for sale on the website (yes, I got lazy). Now, it's time to get those added to the website with a proper sales funnel. The site also has 6 checklists that were being used as lead magnets to collect emails.
However, after managing the email list for a year now, I have come to the realization that the ROI is low and not leading to much revenue. Therefore, I am switching to selling digital products (instead of collecting emails for the time being) on the site as an experiment.
Here's the plan:
Checklists listed for $4.99 with a bump offer to buy the 7 digital e-books for $29.99
E-books listed for $29.00 with a bump offer to buy the checklists for $4.99
Each main product will promote the other product as a shopping cart bump offer.
The shopping cart platform I plan to use is ThriveCart. I've been using them for all of my products such as consulting services, EasyWins, and EasyDiligence. It's easy to setup, allows for Stripe and Paypal payments, and has options to do bump offers, downsells, and upsells.
Here is what the checkout looks like for EasyWins which will be mimicked for this outdoor site products: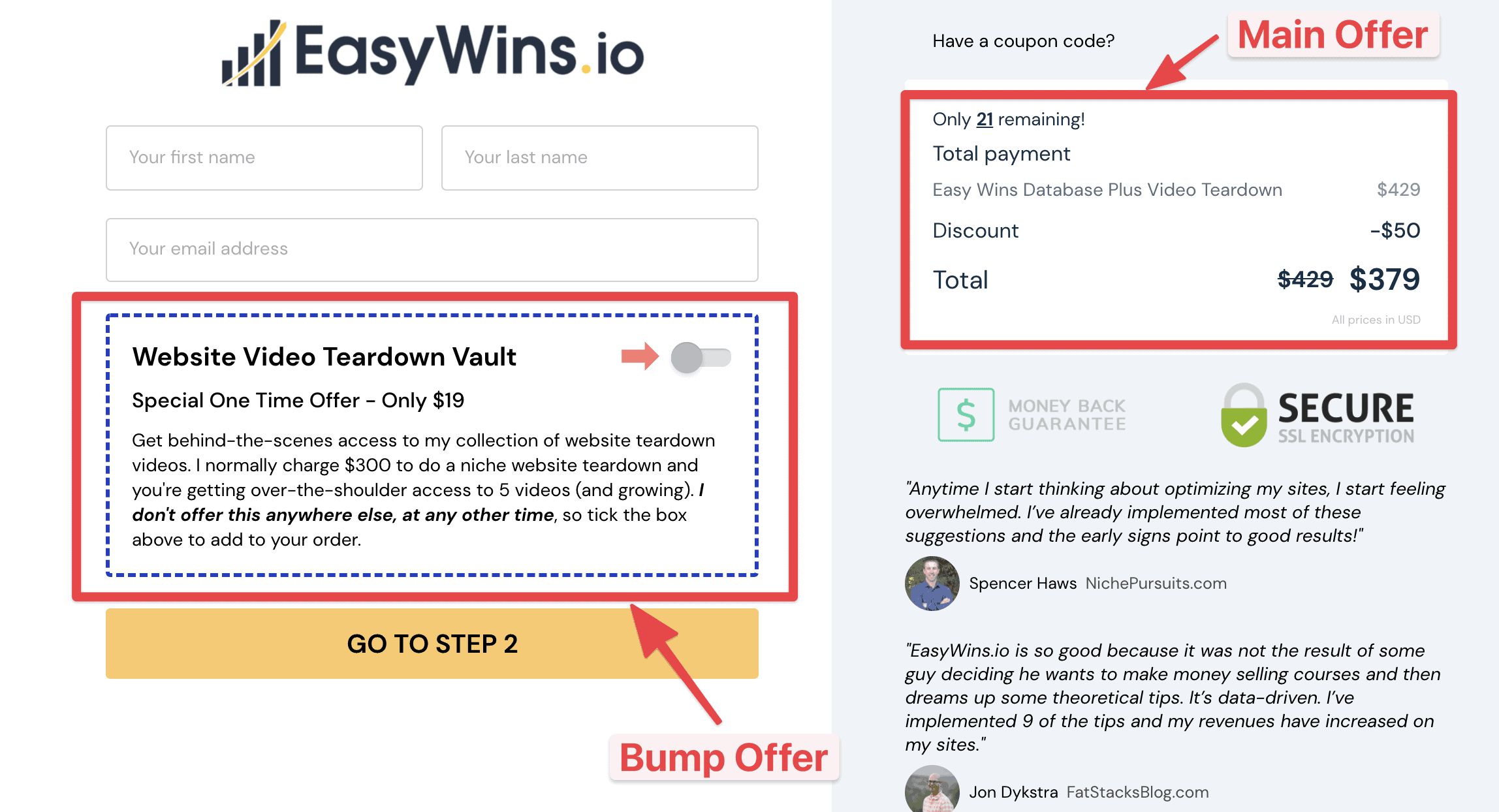 The goal is to have them buy the $29.99 e-book package. I will be promoting that strongly all over the site. The placements will be as follows:
End of article call out box
Mobile popup (exit intent and after 1 minute on page)
Desktop popup (exit intent and after 1 minute on page)
Desktop sidebar
Here is the progress we made in August on this strategy:
Formatted the e-books into PDFs
Started setting up the shopping carts with bump offers
We plan to go live with this in September 2021.
---
👉 1-Month Site Revamp Plans – Prepping for Q4
Here are the revamp plans that have been outsourced to a website operator:
Perform CRO on top 30 pages (remove out of stock products, add better CTAs, etc)

Perform on-page on 20 articles to move keywords in positions #4-#10 to top 3
Interlinkg last 30 articles published
Published pending articles (about 13 of them)
Add comparison tables to 10 articles that are missing them
The changes outlined for the 1-month revamp will position the site for maximum revenue in Q4 2021. The site does very well in Q4 due to it being hunting season (which is a silo on the site) and also the holiday season.
That's it for this update. Stay tuned for next month's update.