In February 2021, the case study site in the outdoor niche earned $3,360; a dip from last month's $5,274. This is primarily due to niche seasonality and February being a shorter month.
I cover the following in this month's case study:
Traffic and revenue update
Keyword positions
Commercial vs informational content breakdown
Website operator update

Shoulder niche site update

Plans for March
For the previous update in January, check out this post, or check out all the posts here.
---
📈 Highlights
17 articles published
21 articles to be formatted and posted
4 successful guest posts with e-commerce brands
Keyword positions are increasing
E-books have been edited and are ready to be published
📉 Setbacks
The secondary writer is on-leave due to personal reasons; content output has decreased
---
📊 February 2021 Website Metrics
Traffic Breakdown (February 2021):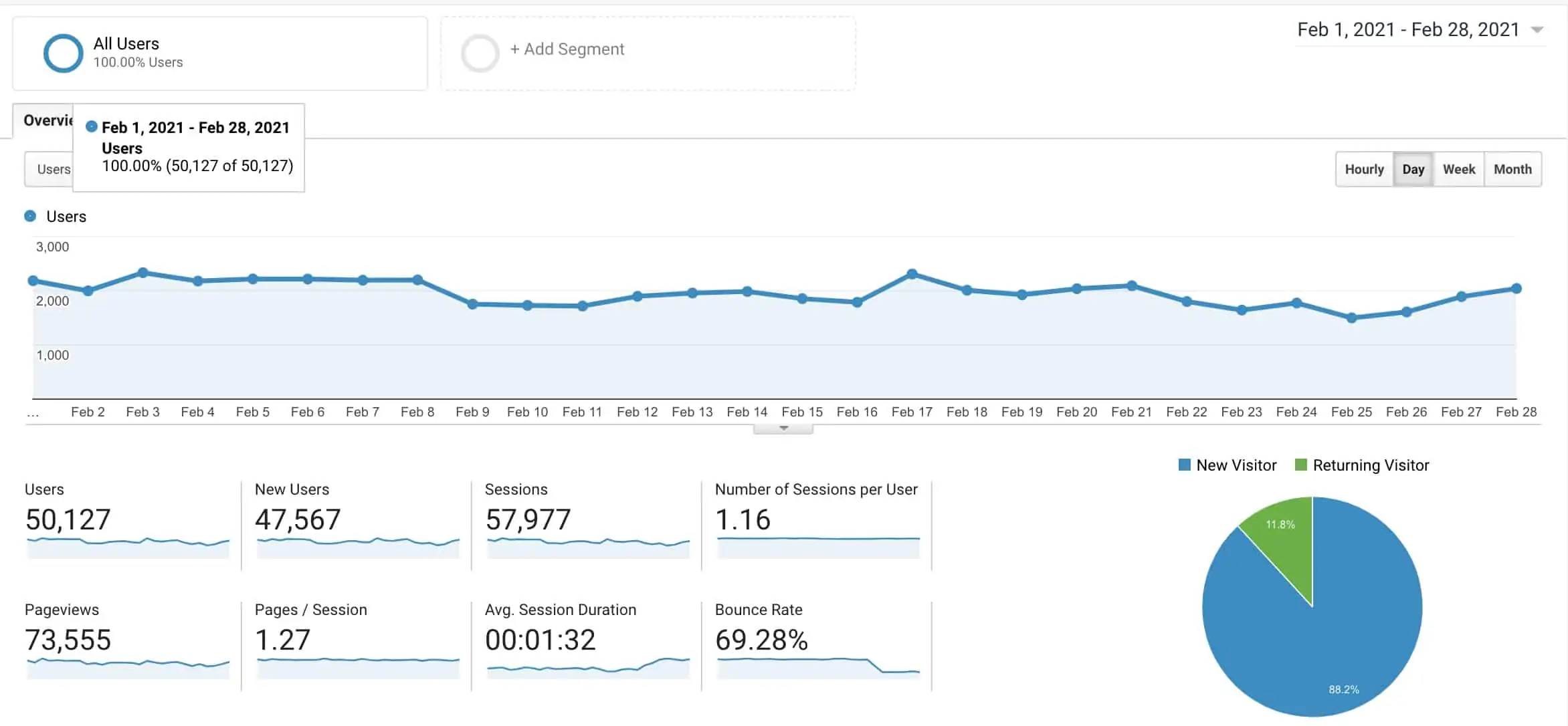 Traffic Breakdown (L12M):
AHREFs Metrics
💰 Revenue
The revenue in February 2021 has decreased due to seasonality. Here is the breakdown:
Revenue: $3,360
Costs: $1,492
Profit: $1,868
Here is the P&L since acquisition:
Here is the breakdown of revenues:
Here are my thoughts:
Display ads have helped dampen the seasonality revenue drop. I am using Newor Media (details of split tests here).
Email marketing strategy is not working well. I used to email 3 times a week and now it's down to once a week. The extra effort in writing email copy, formatting, adding links, etc. is time-consuming.
---
👉 February 2021: Improvements To The Site
Traffic and Earnings Decreased 👉 Keyword Positions Increased
Seasonal niches, like this one, are tough. Revenue dips during half the year lead to double guessing whether investing further into the site is worthwhile.
One trick I use to ensure my site is growing overall is to track keyword position increases. This can be easily done in AHREFs. See the example image below:
All positions (1-3, 4-11, and 11-100) have increased over the last 12-months. This includes major Google updates in May 2020 and then December 2020.
This explains that due to seasonal reasons my traffic is lower but as the warmer months arrive, my traffic should increase. My keyword positions are healthy to justify the traffic increase assumption.
Commercial vs Information Content Breakdown
There has been chatter in different Facebook groups on the ratio of commercial vs informational content. Matt Diggity put out a video on his change of strategy to publish more informational content (see video here).
Gone are the days of having a site with 100% buying guide articles (i.e., Best X of Y) that act as just doorway pages to affiliate networks, specifically Amazon. Such articles are OK to have but not be the primary content on the site; they should be supplementary.
I like to have a roughly 70% to 30% ratio, where 70% of the content is information (e.g., how to, what, where), and the rest can be commercial content (e.g., best of guides).
I used Screaming Frog to crawl my site, exported the data to Excel, and then checked how many buying guide articles I had. Here are the results:
About 30% of my articles are guides, and 70% are informational. My site got a boost from the December Google Core update as well.
What can you do to improve your ratio?
Remove buying guides and add information content: perform a content audit and remove low-traffic buying guides. Add more informational content. This will improve the ratio.
Focus on information content to improve the ratio
Website Operations Manager Update
I hired a website operations manager to take over 80% of the workload for this website in mid-December 2020 for $500 per month. Read about that in the December case study update.
These are the tasks that he is doing:
Basic Article Formatting: Max 50 articles formatted a month for all sites in this portfolio (including shoulder niche sites)
Conversion Improvements: max of 10 articles per month with custom HTML tables, multiple affiliate programs, CTA buttons, etc.
On-Page SEO Improvements
Basic Pinterest management
I value basic article formatting at $6 per article and conversion improvements at $10 per article. I value basic Pinterest management at $125 per month.
Here is a breakdown since December of the number of tasks completed:
Basic Article Formatting: 89 articles equating to $534 value
Conversion Improvements: 28 articles equating to $280 value
On-Page SEO Improvements: 0 articles equating to $0 value
Pinterest management: $312.50 value
The total value is $1,126.50 and I've paid $1,250 for the 2.5 months of membership.
One upside to having an expert operator is that he understands SEO and ensures each article that is formatted has the basic SEO requirements. I would not get that same benefit from a traditional VA.
---
👉 Shoulder Niche Site Update
My main writer on this site has been occupied with personal issues thus no new content was written in February. However, 8 articles were published that were written in January.
Check out Google Analytics screenshot below: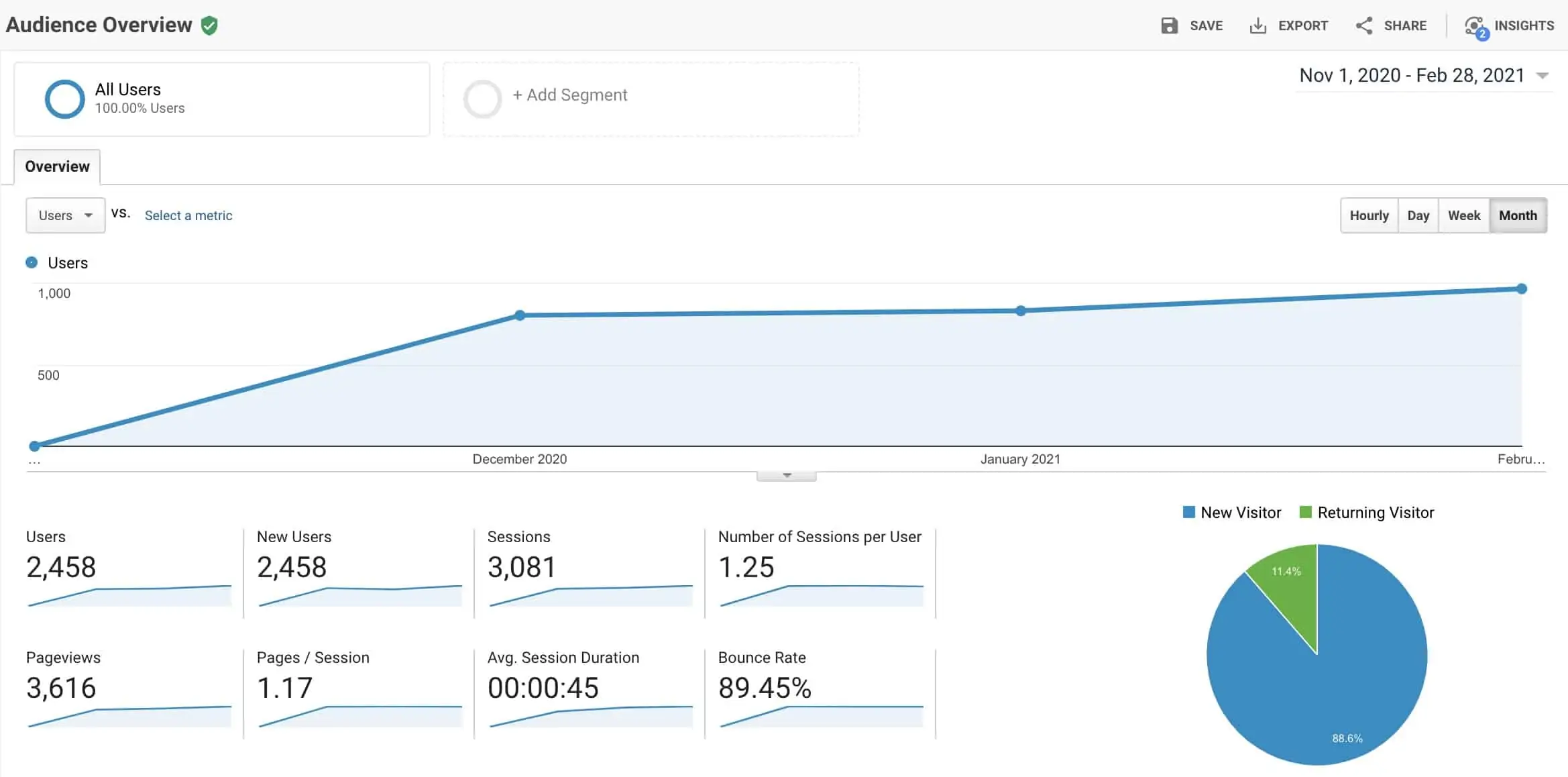 ---
👉 Plans for March 2021
Here's the plan:
Optimize SEO Title Tags using Google Search Console: Changing the title tags to optimize for new keywords is a great way to boost traffic.
Optimize for Core Web Vitals update: May 2021 is when the Core Web Vitals update will launch. Will be doing as much as I can to prepare for this.
Improve email marketing: email strategy is not working. I need to find a way to maximize my email list revenue and minimize my efforts.
Publish 25 articles
That's it for this update. Stay tuned for next month's update.