This is the January 2021 update for this website. The site earned $5,274 this month. The traffic, keyword positions, and earnings are ramping up as the warmer months of the year arrive.
I cover the following in this month's case study:
Traffic and revenue metrics
Removing Elementor for GenerateBlocks
Guest posts with e-commerce brands
Shoulder niche site update
Plans for February 2021
For the previous update in December, check out this post, or check out all the posts here.
---
📈 Highlights
Revenue was $5,274 (comparable to $3,723 in December)
10 new articles added
14 articles updated
Shoulder niche site has 71,532 words (40 articles)
New guest posts with e-commerce brands
Improved page speed
📉 Setbacks
E-books still not published
Email marketing frequency has decreased to 1x a week from 3x a week
---
📊 January 2021 Website Traffic
Traffic Breakdown (January 2021):
Traffic Breakdown (L12M):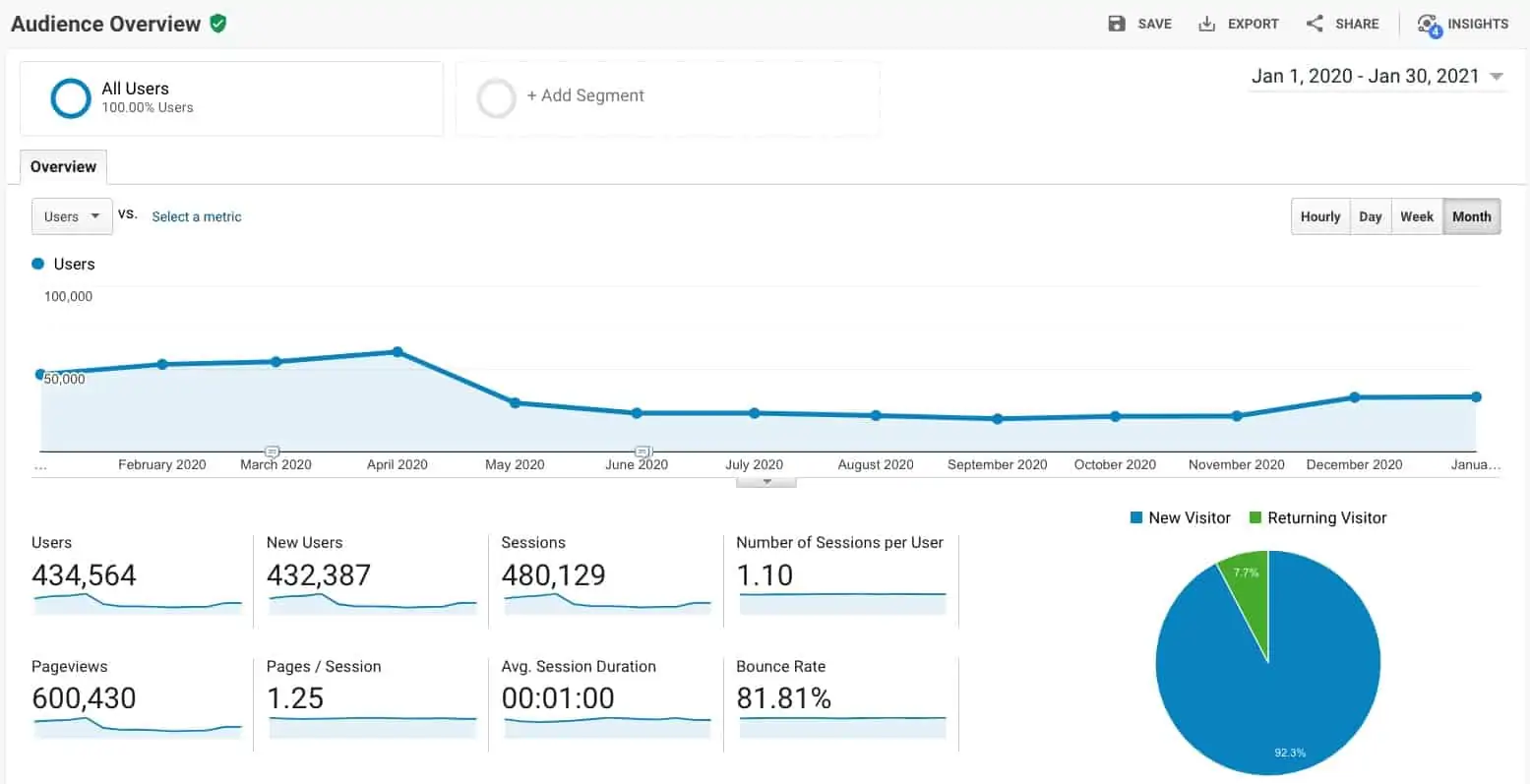 AHREFs Metrics
💰 Revenue
The revenue in January 2021 has ramped up as more and more of my commercial intent keywords are ranking.
Revenue: $5,274
Costs: $1,360.00
Profit: $3,914
Of the costs, $500 was the salary for my website operator, $150 was for social media management, and $710 was for content.
Here is the P&L since acquisition:

---
January 2021: Improvements To The Site
Removing Elementor for GenerateBlocks: C to A Grade!
Elementor builder, while easy to get started using to build unique looking sites, does bloat your site with extra HTML, CSS, and javascript. I installed Elementor back in March 2020 to build out primarily the homepage.
Recently, the folks over at GeneratePress (the theme I use) launched GenerateBlocks, which is a lightweight version of a site builder with four main components: Container, Headline, Grid, Buttons. These four elements are all you need for a site.
I removed Elementor and recreated the homepage using GenerateBlocks. I measured before (using Elementor) and after (using GenerateBlocks) using GTMetrix.
Here is the before:

Here is the after:
I am doing the best I can to ensure I meet Google's Core Web Vital standards, which will be a ranking signal. Removing Elementor was one part of solving that puzzle.
Publish Guest Posts on E-Commerce Blogs
Most of us focus on building backlinks via guest posts with other niche blogs. The real value is when an e-commerce brand links back to your website through a guest post, testimonial, and/or press release published on their site.
This is what I am doing to secure such guest posts:
Find the brand's e-commerce website and reach out via their contact form
Ask to write a detailed guest post and in return, you will continue to promote their brand to your audience
Of course, don't come off as if it's an ultimatum. Explain that you are wanting to build deeper relationships with the brands. Some of the brands requested that I move them up higher in comparison tables. At that stage, I think about if the product is worth it. If so, we move ahead.
Note: this tactic will not work on typical niche sites in my opinion. You need to have a site that is well-designed, high authority, and a leader in the space. The brands will not associate themselves and recommend a niche site that isn't an authority in some manner already. Your mileage may vary with this tactic!
---
👉 Shoulder Niche Site Update
The shoulder niche site that I am building from scratch is getting traction. The site has 40 articles published already with over 100+ articles pending to be written.
Currently, I have my social media assistant post the content from this site to my existing profiles. This can be seen in the traffic; some articles go "viral" and others are duds. The goal here is to get quality social signals to the site.
Here is the traffic breakdown for January 2021: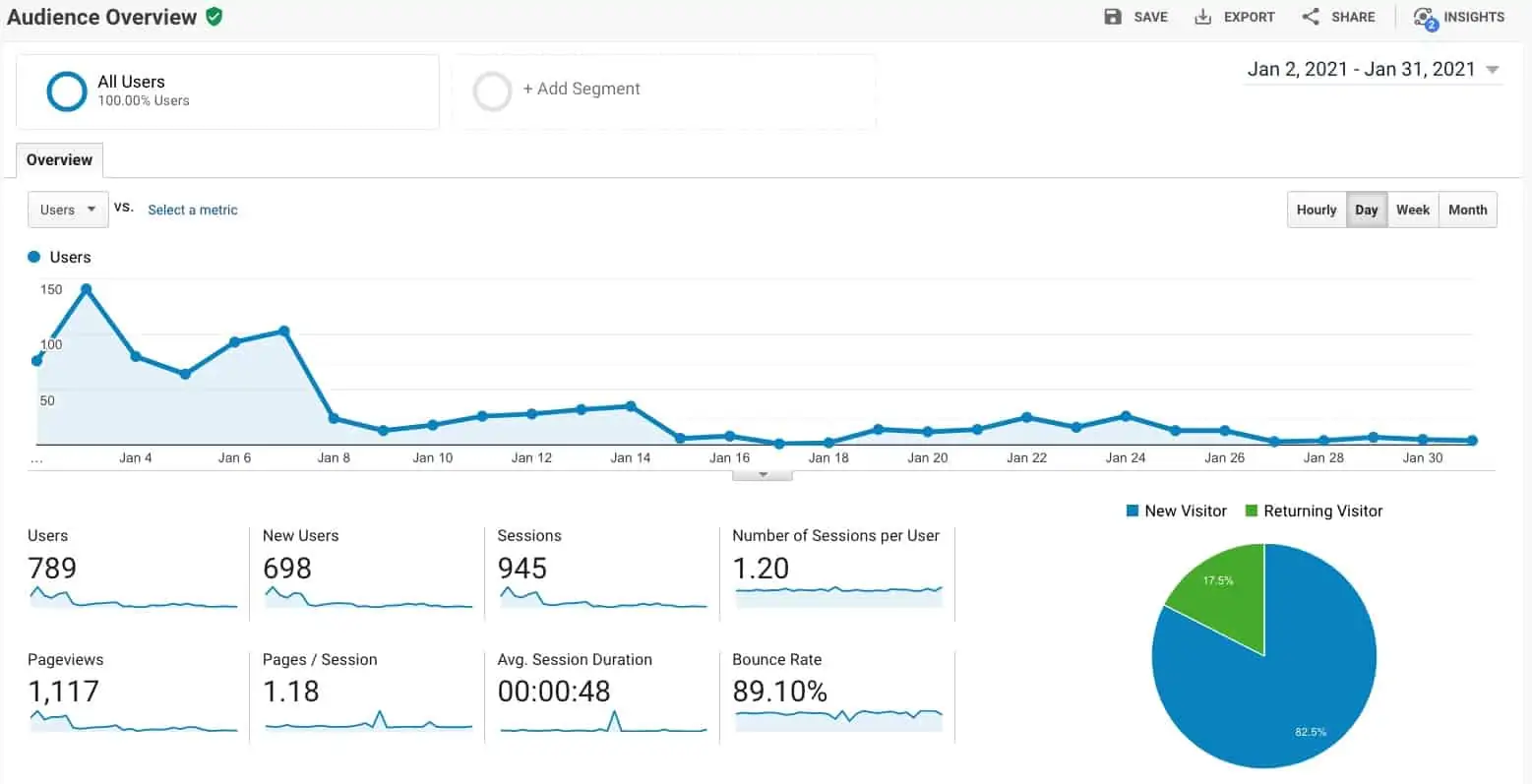 Going forward, the goal is to get all of the content published over the next 3 months.
---
👉 Plans for February 2021
Here's the plan:
Continue publishing content
Continue content audit to improve existing articles
Continue with e-commerce guest posts
Performing CRO on existing posts getting traffic
That's it for this update. Stay tuned for next month's update.