As a website flipper, I am always looking to exit businesses. Not with The Website Flip; this one's my "baby". Since April 2020 (30 months now), I've worked on this brand diligently.
Now, I am taking a big step. I am revealing my raw numbers and building in public. I didn't do this earlier due to imposter syndrome. I've now gotten over this feeling and want to share with the world what I've built.
This case study update will give a recap of 2022 so far. Let's get into it!
---
👉 Major Highlights
Here is a full recap of 2022 up until September 2022:
Averaging 40,000 pageviews per month, 16% bounce rate, and 4 minutes of time on page
2 additional acquisitions (StreamSEO.com, and Facebook Websites For Sale Group)
New off-market deal flow service launched
612,513 words of content across 351 articles
850,261 emails delivered, 43.7% open rate, 4.9% click rate
Excellent Twitter follower growth from 2,500 to 12,500 followers
Hired a growth manager
Hired a due diligence analyst
2 full courses: The Course on Website Flipping, The Course on Aged Domains
2 products: EasyWins.io, EasyDiligence.io
---
📈 Revenue Breakdown
The P&L is shown above for 2022 so far (January to September 2022). The brand generated $248,785 from January 2022 to September 2022. Of that, the costs were $40,890. The business had an operating profit margin of 84%.
In comparison, many of my niche sites operate at a 95% or above profit margin. Of course, The Website Flip has more moving parts and employees.
Here is the breakdown of each revenue source:
2 Courses: $85,647
EasyWins: $27,402
EasyDiligence: $15,380
Newsletter Sponsor: $38,420
Website Sponsor: $27,733
Social Sponsor: $10,645
Membership: $12,297
Affiliate: $2,161
Consultancy: $15,750
Lead Generation: $13,349
The majority of revenues are from my courses (The Course on Website Flipping & The Course on Aged Domains), and product (EasyWins.io & EasyDiligence.io), generating $128,428 total. 
Sponsorships brought in $76,799 from brands in the niche website space.
The peaks in revenues that happened in February and March 2022 occurred due to the launching of The Course on Aged Domains. Launches bring in significant revenue but then that levels out after 2-3 months as can be seen in the P&L.
---
📈 Cost Breakdown
The Website Flip has a team of expert analysts, growth strategists, writers, and virtual assistants. The total costs in 2022 equated to $40,890. Here is a breakdown:
Content: $27,190
Growth Manager: $12,047
Analyst: $10,350
Virtual Assistants: $3,874
Software: $2,171
Stripe Fees: $1,153
Affiliate Payouts: $3,220
Advertising: $413
Backlinks: $1,402
The day-to-day team consists of one analyst that helps perform due diligence on content sites for sale, a growth manager that helps implement strategies at $30/hour, and content writers getting paid 7 to 10 cents/word.
The growth manager is responsible for putting together landing pages, doing internal linking, improving existing content, and performing conversion ratio optimization, among other things. This was my job until I hired this person in July 2022.
My goal is to outsource 90% of the day-to-day workload of keeping The Website Flip maintained so I can focus on writing the weekly newsletter.
---
📊 Website Metrics
The Google analytics graph is shown below from January to September 2022. The traffic has been increasing steadily month over month.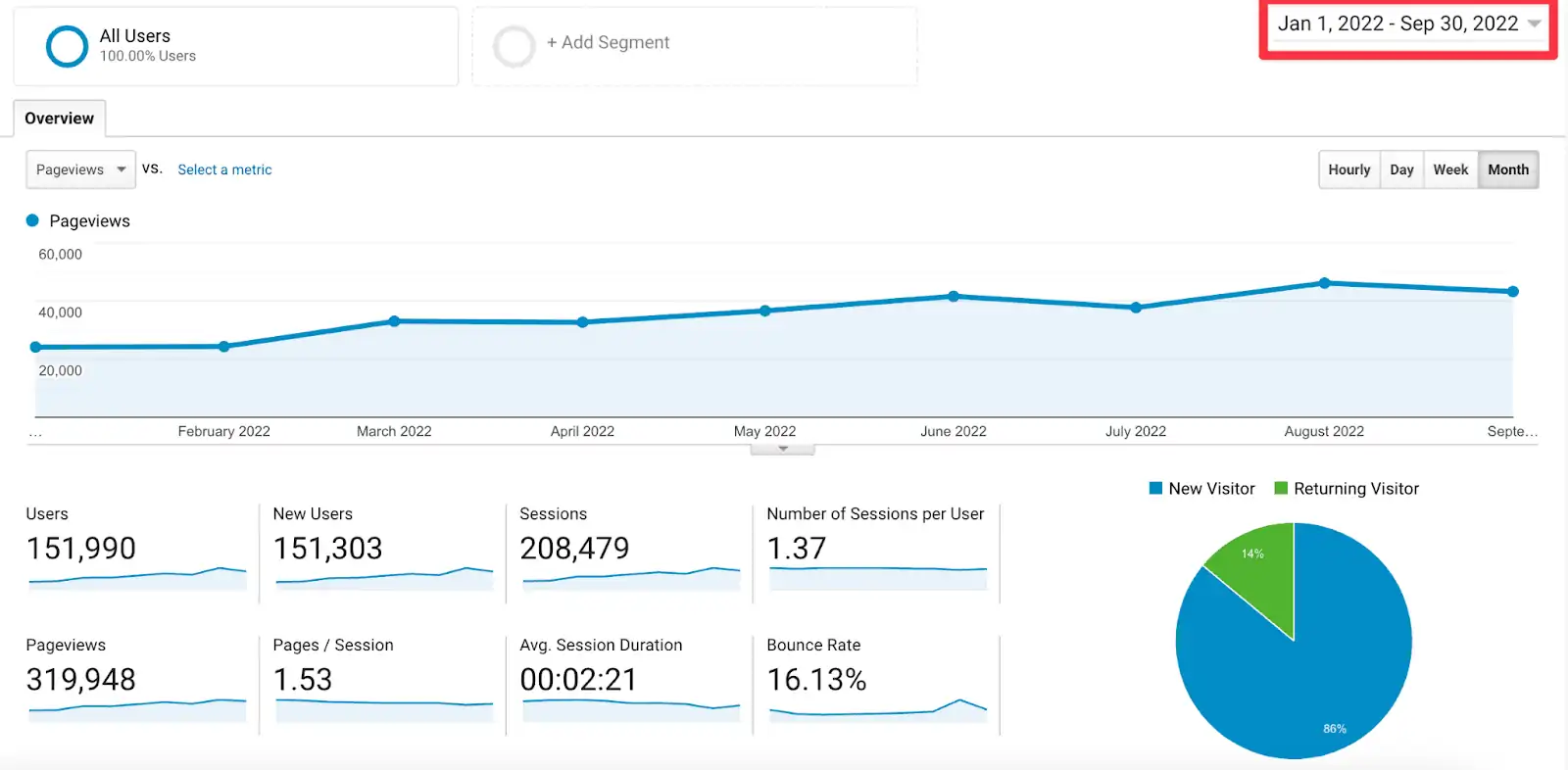 Here is the breakdown by traffic channel:
Organic: 69%
Direct: 11%
Social: 7%
Email: 4%
Referral: 3%
The website has an excellent time on page of 4 minutes 30 seconds (session time of 2 min 20 seconds) on average and bounce rate of 16%. People stick around to read multiple pages of content, which is the ultimate goal of building a brand.
---
📈 What Tactics Worked in 2022 so far?
1. Custom Display Advertising Platform
I hired a developer to build out a custom advertising platform that places display ads within specific positions of my website. The features include:
Set up multiple advertisers that rotate
Each advertiser has a set maximum amount of impressions that I set
Total impressions are tracked and once the limit is hit, the specific ad stops
Ability to have backup ads in case paid advertisers' impressions are finished
Here is an example of an ad: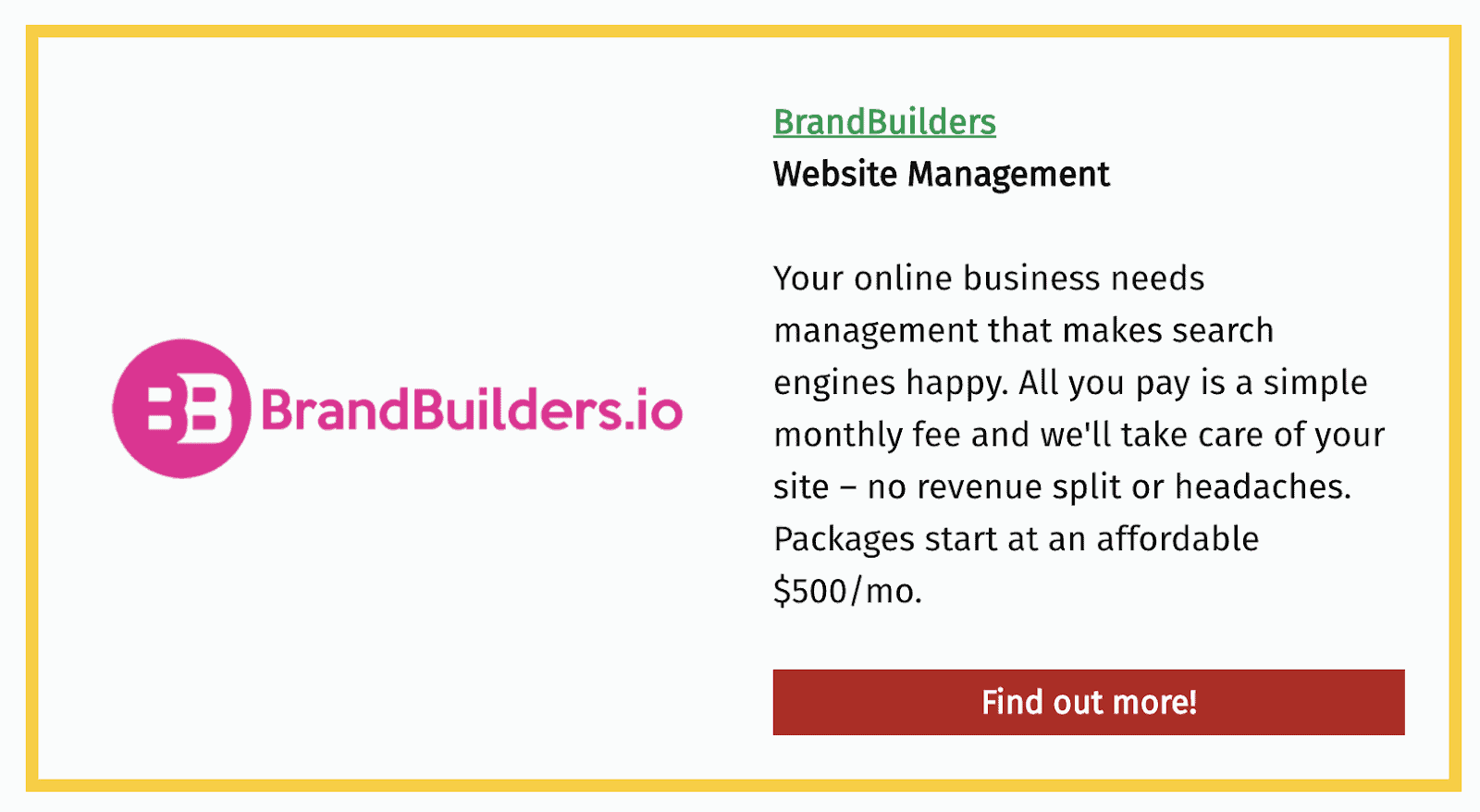 This platform allowed us to sell display advertisements to brands who want to target visitors.
The development cost $7,000 in multiple tranches as new features were launched. This then generated $27,733 from website sponsors. We received an ROI on this within the first month of launching due to the pent-up demand to target visitors on The Website Flip.
When The Website Flip does not have paid website advertisers, my products get shown as "backup ads", which allows revenue generation from course sales.
2. New Mergers & Acquisitions (M&A)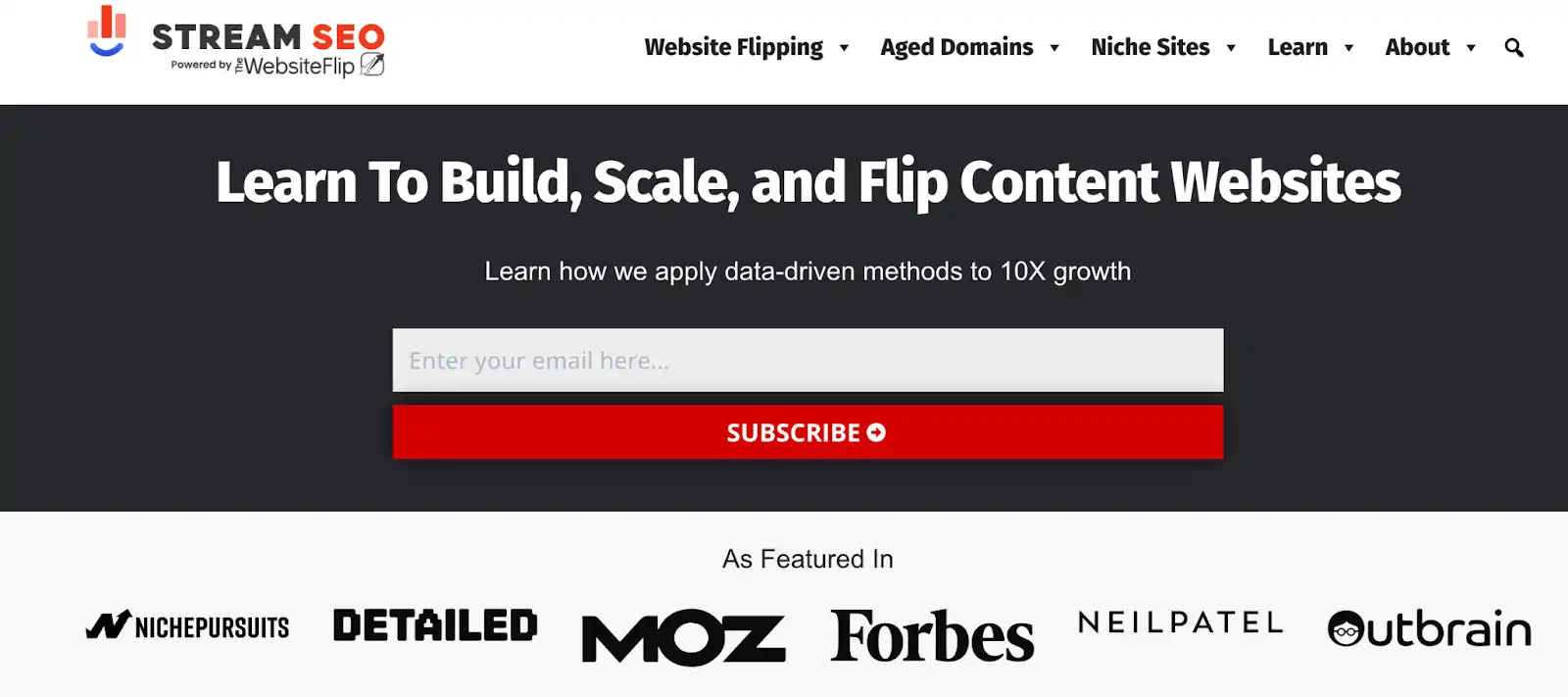 M&A has been the most successful growth strategy that I've employed. This included primarily two forms:
Merging existing websites into The Website Flip
Acquiring competitors
Acquiring Facebook groups
I acquired Stream-SEO.com in January 2022. This site has been standalone and not merged into The Website Flip. This is because with The Website Flip's Ahrefs DR being 62, there is diminishing returns by merging additional websites.
The goal with StreamSEO has been to double down on keywords that generate sales for my courses. This includes terms like "website flipping", "aged domains", among others.
3. Facebook Group Monetization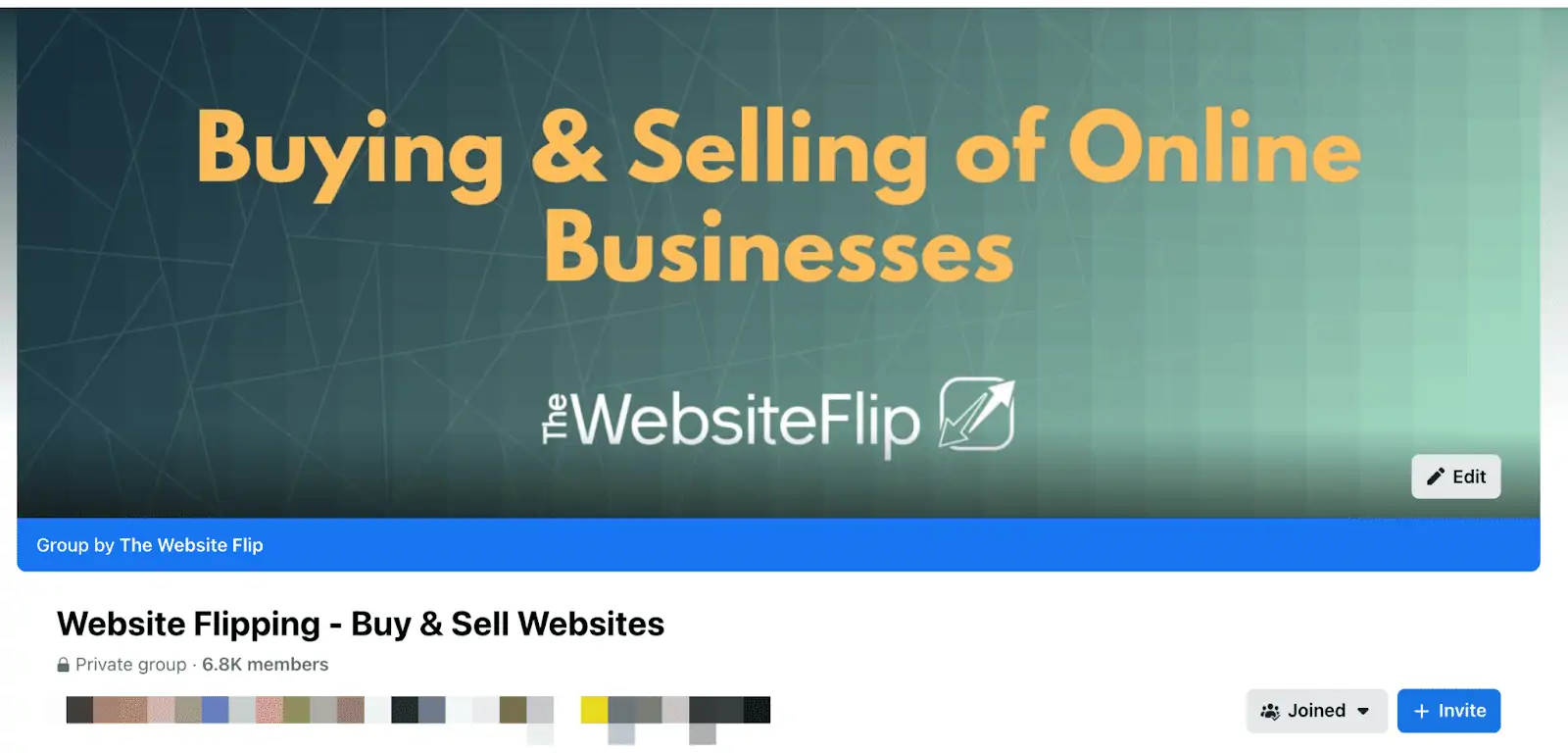 The Website Flip runs two Facebook groups where sellers can list websites for sale. They are:
Website Flipping – Buy & Sell Websites: 6,800+ members
NNM Flipping – Buy & Sell Websites Marketplace: 1,700+ members
The first group was purchased for $5,000, and the second group for $850.
After stabilizing the groups over the course of 3 months, I started offering a select group of website flippers private access to the listings 24 hours in advance. This is a monthly subscription that has generated anywhere between $3,000 to $4,000 per month.
---
💡 Plans for Q4 2022
1. Launching Partner Brand, WebAcquisition.com

WebAcquisition.com is my new agency that will provide services for content websites, eCommerce, Amazon FBA, and Saas. The services will be due diligence, growth strategies, website mergers, consulting calls, and more.
The primary reason I am launching this is to upscale The Website Flip into servicing private equity and traditional M&A firms.
Growing this business will be my focus for the next 6-12 months.
2. Finalize Digital Product Funnels
My team and I are in the process of building out landing pages and funnels for all services. This includes our due diligence, easy win teardowns, consulting calls, off-market deal flow, and others.
---
Thank You All!
To wrap up, I'd like to thank all of you for reading my newsletter all these years. I plan to be more open on revenues, costs, and how I grow The Website Flip going forward on a monthly basis.
Stay tuned for even more exciting things going forward!