Welcome to the last and final update for this case study! This case study website is for sale! Check out the details below and explanations why.
The case study has been a success to showcase how multiple investors can work with an operator. We took the site earning $250/mo to $936 in December 2020.
In this write-up, I will cover the following:
Highlights, and missed opportunities for December
The annual breakdown of site metrics
Reasons for selling and upside for the buyer
Details of the partnership structure and intro to the website were covered in the update here, the previous month's update can be read here, and archives here.
---
December 2020 Review
📈 Highlights
Revenue was $936 (compared to $943 in November)

4 new articles published
Added Pinterest Pins and Video Pins for all new posts and pages
No major impact from Google's core algorithm update
📉 Missed Opportunities
Expected to publish more articles
---
📊 Website Metrics for 2020
Traffic Breakdown
Revenue
The breakdown by revenue source:
Amazon Associates: 79%
Ezoic: 10%
ShareASale: 9%
PaleoValley: 3%
AHREFs Metrics

Google Search Console Metrics
The site overall is not seasonal. However, a set of keywords was seasonal for Christmas. This caused the traffic peak in late November so people can buy up that product.
The site overall was not severely impacted by the Google December update. This was analyzed in detail in this article.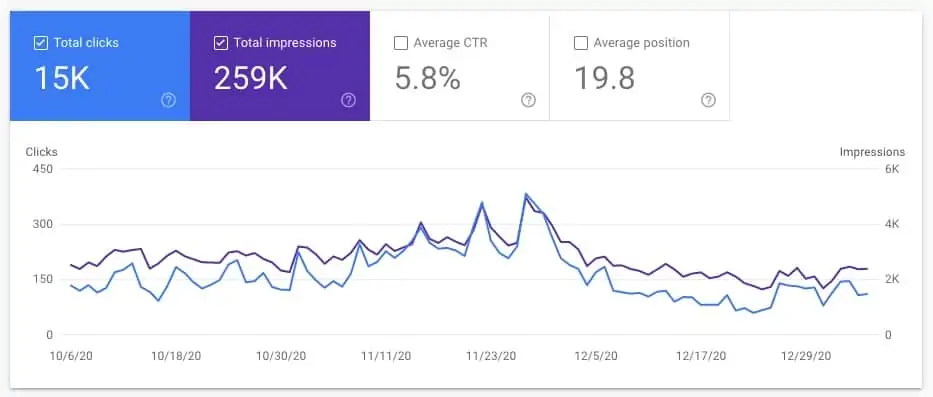 ---
📅 Why Sell?
It was an experiment – a successful one!
The onset of this project was experimental in nature. The thesis: could multiple investors come in on a deal equally, provide equity to an operator, and have them manage the site?
The answer is yes. The takeaways:
Operators should be more motivated than investors: Websites are not typical assets; they take significant effort to 10X growth. An operator is doing the day-to-day so ensure they are motivated either through equity, cash flow, ability to learn on the job, mentorship, etc. There are many ways to motivate an operator apart from just money.
Understand operator's mindset: ensure the operator understands the long-game. Our operator was kind enough to forego short term cashflow which he allowed to be reinvested into the site with the understanding that it will pay off long-term when we sell.
To Focus
2021 is a big year. I have interesting projects that will be launching soon and some will spin-off into new case studies. These are large projects that will take up time.
Freeing up my time is key but also my operator's time so he can focus on bigger projects.
---
👉 Major Upsides for the Buyer
For every website I sell, I love to leave a clear path to level-up the site in terms of revenues. This provides a good buying experience and provides repeat buyers that buy sites from me in the future. Win-win!
Here are the high-level strategies that we did not implement on the site:
Start Selling the Existing Digital Products
The site comes with a set of e-books and checklists. We never got around to actually creating the landing page and checkout process to continue selling the e-books. The previous owner was marketing the e-book but only made $20-$30 per month. Primarily because she did not have an idea on how to monetize and set up a good funnel.
This is what I recommend:
Use Gumroad.com to quickly put up a landing page with a checkout cart. Offer a coupon code for 10% off. Place the Gumroad widget on the sidebar of the site, and also use a popup to show the e-book pointing to the Gumroad landing page. If this works out after 1-2 months of testing, you can upgrade to better checkout carts like ThriveCart.
Compile the e-book into KDP format to sell on Amazon Kindle marketplace. I've done this in the past and generated an additional $150 per month from an e-book that was listed for $9.99. It's a passive way to generate extra revenue and not tied to search engine algorithms.
Restart Email Marketing Efforts
The previous owner created an email drip campaign in MailerLite. There are approximately 1,139 subscribers right now on the mailing list.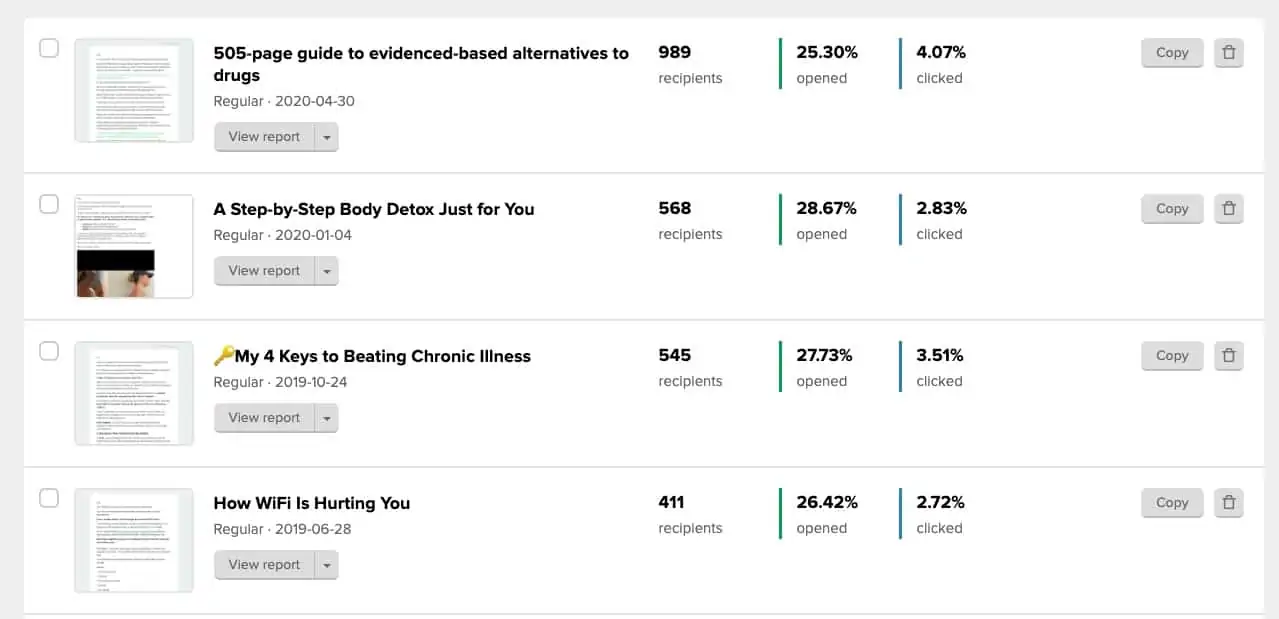 The previous owner gave away a free e-book. We stopped doing this to initially focus on driving up the revenue with the existing traffic.
The new owner should do the following:
Restart the email campaigns and give away the e-book to entice people to join
Use Optin Monster to create opt-in forms to maximize email collection
Due to the niche, there are many physical and digital products on Clickbank and other networks that can be promoted
I've done this successfully on my outdoor site and lay out the details in this case study.
Other Wins
Test other affiliate programs: we stopped promoting other affiliate programs to focus on Amazon and Display ads. There are many programs on ShareASale and specific brands through Refersion. Worth a look!
Accept guest posts: I usually do not like to do this but once in a while it's OK. You can sell guest posts on the site for $50-$100 per article.
Build backlinks: No backlinks were built for the site post-acquisition
Add Video Ads: Ezoic launched Video Ads so those can be added to increase revenues
Add Table of Contents: we did not add a table of contents to articles. Adding this is an easy way to get more links in the SERPs resulting in more traffic.
---
That's a Wrap!
This was a successful case study. We took a site earning $250 to close to $1,000 per month in less than 5 months. The long-term goal is to train up a team of operators to do these "micro-flips" and rolling the funds into bigger deals.