Today I am featuring deal flow from Flippa in the kitchen/food niche, and an aged domain in the job/employment niche from Odys Global. In general, there is a lack of deal flow recently due to the end of the year.
For branded domains, we share data on 17 domains live at auction. We also share the SEO metrics for each domain.
Let's get into the deals!
Deal #1: VentuRocket.com
Domain Summary
Type: Aged Domain
Niche: Employment, Jobs
Source: Odys Global (see listing here)
Age: 2010 (11 years old)
Listed Price: $2,820
AHREFS
Backlinks: Crunchbase, Techcrunch, Business Insider, Smart Recruiters, CBInsights, and more
Site History
VentuRocket was a job matching platform. Potential employees would list their expertise and skills. The platform matched with employers looking for that expertise.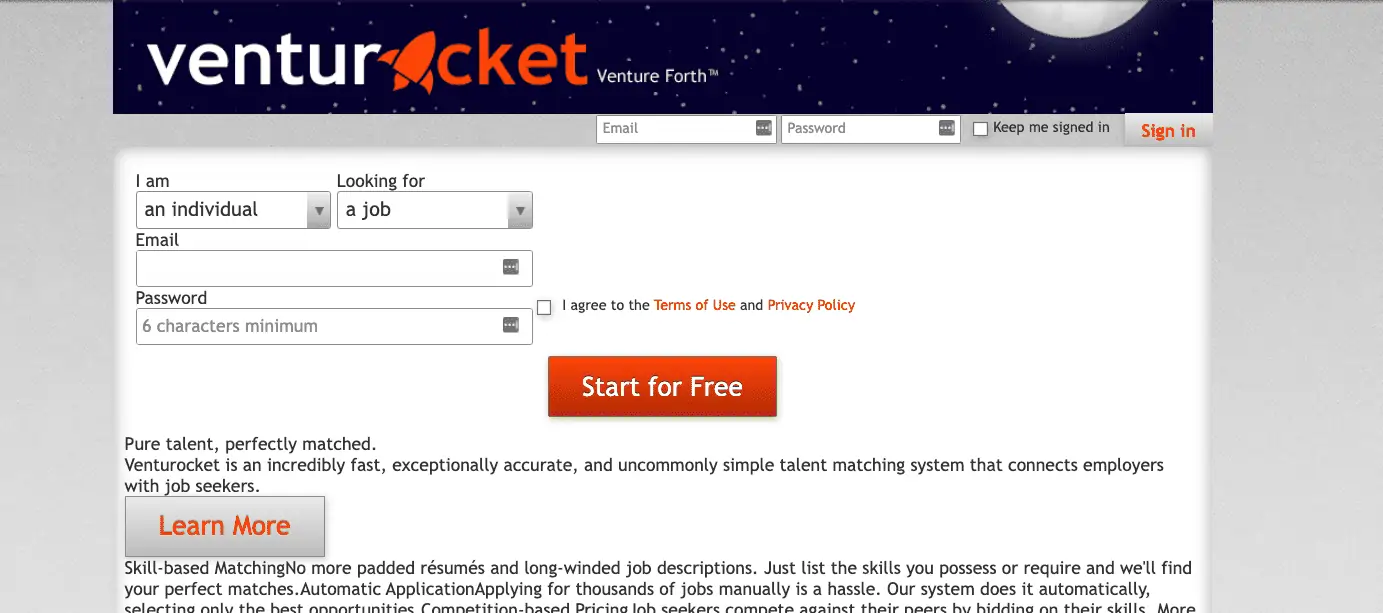 Growth Blueprint
A job board can be a lucrative website. Employers can pay from $50-$300 to post a job on a niche job board. This domain was a former job platform and thus perfect to be revamped into a job board.
The branding has the word "ventu" indicating "ventures". This, the job board could host startup jobs, remote jobs, and such.
This is what I would do:
Recreate the site with 301 redirects and content as needed
Setup a job board on this domain using WP Job Board ($97 one-time) or NiceBoard ($223/mo)
Auto populate jobs from existing platforms like Google Jobs. This makes the job board look full while you work on driving traffic
Write content related to finding jobs, remote jobs, startup jobs, etc.
Examples of niche job boards include: RanchWork.com, NomadList.com
---
Website Summary
Type: Existing Content Site
Niche: Food, Kitchen
Source: Flippa (see listing here)
Revenue: $443/mo over last-6-months via Mediavine
AHREFS
Due Diligence Dashboard
Growth Blueprint
Highlights
Aged site since 2012 with all content written by current owner
DR 46 with backlinks from many niche relevant food and kitchen sites
Over 489 existing articles on the site
Diversified traffic from organic (47%) and social (23%)
Setbacks
Slight downtrend in traffic over last 1-2 years
Easy Wins
Implement Mediavine Video ads immediately
Perform a rigorous content audit to bring the 489 articles down to a focused set of articles
Add informational and commercial content related to food and kitchen topics
Improve the theme layout leading to increase in ad RPMs (e.g., reduce whitespace, increase font size)
Takeaway
I love to buy websites built by passionate bloggers. This one fits that criteria. This site has been around 2012 with 489 articles written by the owner. Most of the articles are recipes with unique images and graphics. The site is poised for growth.
The only setback that I see with this site is the decline in traffic month over month over last 2 years. However, this is not because of a Google algorithm update but rather a neglect of updating content on the site. Usually, when a site gets hit by an algorithmic update, the traffic plummets. This is different.
Here is what I would do to grow this site:
Implement a content audit to prune content that is not bringing in traffic, or has any backlinks. Be smart here. You cannot delete each article. Remove the ones that don't add any topical relevancy or have any metrics.
Start adding informational content related to kitchen and food topics. Ther are thousands of keywords in this space.
Continue monetizing with Mediavine but add in affiliates like Amazon Associates or direct manufactures via ShareASale network
The site will be simple to grow and cost-effective since writers in this niche can be found at the 3-5 cents per word range.
---
🚀 17 Brandable Domains at Auction
My team and I sifted through the marketplaces and found 17 branded domains that are live at auction.
A very diverse mix of brandable domains this week. Everything from 4 character names to 2 and 3 word exact-match names.
Most expensive auction at the moment is GTFO.com currently at $7,600+ and climbing. A very short, strong brand name that GoDaddy values at $18,487. The domain has been registered since 1996 and started out as a personal site, which was a surprise considering what the acronym stands for. Four letter domains that have meaning tend to go for very high prices.
The leading authority domain this week, WomensForum.com. As the name suggests, it was a site catering to women that started in 1996 and attracted over 40 million readers at its peak. The domain was redirected to Vix.com towards the end, which may hinder its current SEO authority.
Top brandable name on the list, PerformanceZone.com. Ideal to use as an automotive or health authority site.
Domain rating is obtained from AHREFs. Referring domains is the number of unique links pointing to the domain. Listing data obtained from GoDaddy auctions.
---
🚀 The Website Flip Deals
If you want an edge in your website flipping journey, check out these products:
The Course on Website Flipping – get 6+ hours of in-depth videos showcasing how to buy and sell websites. Get $100 OFF today!
EasyWins.io – 120+ strategies to 10X growth for your niche websites. Over 400+ have used the database to grow their sites. Get $50 OFF today!
EasyDiligence.io – a due diligence analytics dashboard (that I use personally) and 45+ questions database. This is a must-have to perform website due diligence. Get $50 OFF today!
The Website Flip Club – join the 100+ subscribers who get exclusive access to case studies, deal flow, insights, Facebook group access, and much more. Get a subscription today!
---
Additional Resources
If you are interested in any of the deals this week, go through the specific platforms and contact the sellers. Make sure to perform detailed research and due diligence when acquiring any domains or websites.
Here are resources you should read up on: