This week's deals include an off-market site in the survival/prepping niche. This site is my personal site and a case study site that I've covered in detail. In addition, I cover a Flippa site in the technology niche and an aged domain from Odys in the fishing niche.
For branded domains, we share data on 11 domains live at auction. The SEO metrics are shared for each domain as well.
Before getting into each deal, here are a few battle-tested offers from our sponsors of this newsletter. Check them out:
---
Off-Market: Survival Site Making $4,145/mo
Website Summary
Type: Existing Content Site
Niche: Outdoor (survival/prepping/hunting)
Source: The Website Flip Personal Portfolio
Revenue: Monetized via 13 different programs (e.g., Amazon Associates, Ezoic, AvantLink, ShareASale)
Last-3-month average: $4,970
Last 6-month average: $4,227
Last 12-month average: $4,145
Listed Price: $190,000
AHREFS
Due Diligence Dashboard
Growth Blueprint
Highlights
Built in 2010 by a group of ex-military folks. I bought it directly from them in April 2020. I am the 2nd owner.
60,000-90,000 pageviews per month on average depending on time of year
AHREFs DR of 53 with backlinks from NY Times, Wikihow, Wikipedia, NY Post, Marketwatch, and 2,000 other niche relevant referring domains
863+ articles published, 849,778+ words total
13 different revenue streams including Amazon Associates, private partnerships, affiliate networks, and display ads
Email campaign with 32 emails that get sent to new subscribers, existing 15,000+ email list
4 dedicated writers who are subject experts, and a website operator costing $500/mo (optional if you want him to continue).
Full site redesign occured in late December/early January
Two additional smaller niche sites included in sale. They were bought for 301 redirects to the main site.
Lots of low competition keyword opportunities available
Setbacks
Ezoic was disabled in January while a full site redesign was being done. This needs to be activated again.
Display ads do not have high RPMs in this niche (especially via traditional networks)
Easy Wins
Optimize top pages with better comparison tables, and call-to-action boxes.
Add popups to top traffic pages to promote the specific products in the article
Add more low-competition keyword content (I used to post 50+ articles a month, not posting 5 articles to maintain)
Try to apply to Mediavine (no guarantee here)
Accepted sponsored content/reviews (many brands reach out so there is revenue opportunity)
Revive the email list (neglected by me for many months)
Takeaway
This site has been my "baby" for the past few years. I've grown the site to earn more than $4,000+ per month. Hire multiple writers who are subject matter experts, and an operator to run the day-to-day.
The site is extremely stable with a very high-quality backlink profile. There are backlinks to this site from all of the top players in this industry. I have also done strategic backlinking where I partner with an e-commerce brand for a guest post; this has worked well
The site has over 13 revenue streams. Some are commission-based whereas others are cost per action (CPA). The site gets inbound guest post opportunities plus e-commerce brands that want us to try their product. There is additional revenue opportunities here.
Why am I selling? I do not need to sell this site. However, the influx of cash would help me grow The Website Flip by doing more acquisitions, hiring more people, and overall to grow the brand. My passion is with The Website Flipl; I resonate with the topic so I want to double down.
Interested? Proof of Funds Required!
If you are interested in learning more, please fill out the form below to express interest. You will be asked for proof of funds screenshots showcasing funds available to purchase this site. No seller financing will be provided; don't ask.
I will not share URL, P&L, Google Analytics access without proof of funds.
---
Domain Summary
Type: Aged Domain
Niche: Fishing
Source: Odys Global (see listing here)
Age: 2011 (11 years old)
Listed Price: $3,060
AHREFS
Backlinks: US Fed gov site, local news sites like PennLive & KnoxNews, and various other fishing sites.
Site History
This used to be a physical magazine, blog, and newsletter discussing fishing. Here is what the old website looked like: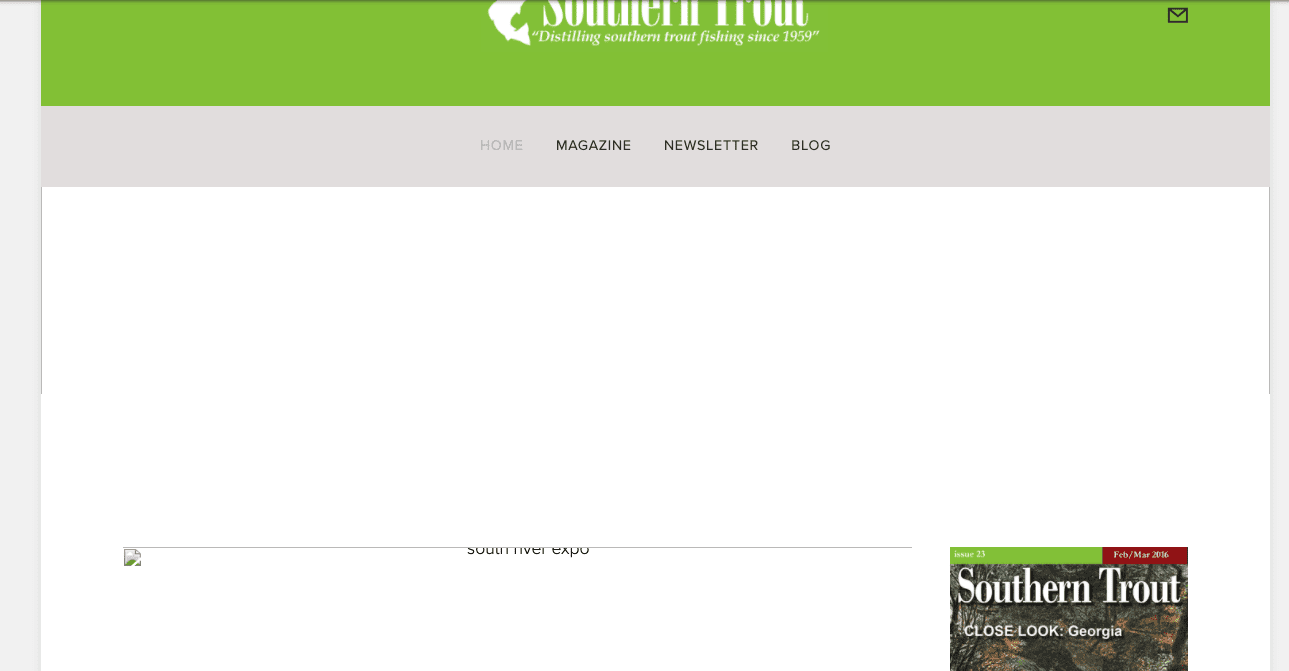 Growth Blueprint
This is the first fishing-related domain I've covered. With that said, I've brokered and vetted many fishing-related niche websites. The few benefits I've seen in this niche include:
Hobbyist visitors who will spend money for better performance (catch more fish)
Significant amount of information and commercial keywords
High paying affiliate commissions in a cost-per-sale format (non Amazon options)
I like this niche, and if you fish regularly, even better as you can showcase your skillsets in the writing.
Here is what I would do:
Create 3 categories to match topical relevancy: News, Magazine, Newsletter
News: cover trout fishing news. These can be short articles published here and there. This is just to match relevancy as it's highly unlikely it will bring any traffic.
Magazing: use this as the blog category. Publish informational content related to fishing and specifically trout. Then slowly add commercial articles. Use a 70% info to 30% commercial content ratio.
Newsletter: Start collecting emails to build a quality newsletter (optional).
Monetization in this niche can be immediately done with Ezoic and Amazon. However, as traffic picks up, look into joining the AvantLink affiliate network, which is a dedicated outdoor network with over 50+ merchants.
---
Website Summary
Type: Existing Content Site
Niche: Technology
Source: Flippa (see listing here)
Revenue: $3,541/mo over last-6-months from sponsored reviews and display ads
AHREFS
Due Diligence Dashboard
I put the site through EasyDiligence's proprietary dashboard. Here are the results:
Growth Blueprint
Highlights
High traffic and stable content site in the tech space
Diversified traffic to top pages (larges is 9.59%)
16 year old domain and website
4 different hands-on reviewers included
Primary revenue stream includes sponsored reviews, and display ads
Setbacks
Two Google Analytics tags installed in Nov 2021 to Jan 2022 thus cause inflated pageviews (2x) and low bounce rates (8%). This has been fixed now according to seller.
Non-evergreen content in the tech niche
Low commissions from retailers like Amazon
Easy Wins
Switch to AdThrive for one-stop ad management (seller currently uses multiple ad providers)
Add comparison tables: buying guides are not optimized. Comparison tables will increase revenues
Link pictures to affiliate: add affiliate links to product pictures
Update out of stock products: many products need to be replaced and updated
Add call to action boxes in individual review articles
Takeaway
I usually am not a fan of hardware technology sites. The primary reasons are that they are hard to maintain due to non-evergreen content and usually affiliate commissions are low. However, ProClockers is really a quality site with significant traffic so it's worth a look.
This site gets contacted by brands to perform in-depth written reviews. They have a team of 4 that do the reviews free of charge; they just keep the product. Win-win for the owner. The manufacturer pays for the product plus the review. Around 50% to 60% of the revenues are from sponsored content.
An easy win would be to increase the cost of each review after taking over the site. I am sure the seller is undercharging brands.
Another easy win is to switch to AdThrive. The seller is using many ad platforms including Proper.io, Avantis, and InfoLinks. A higher RPM can be obtained through adthrive with fewer ads.
---
🚀 11 Brandable Domains at Auction
My team and I sifted through the marketplaces and found 11 branded domains that are live at auction.
This week's top brandable domain with authority is ZeeBox.com, with an AHREFS DR of 45 and 16 pages still indexed by Google. It's currently sitting at auction at $5,300+ at the time of writing, already surpassing the GoDaddy estimated value of $4,657.
ZeeBox was an app that made TV viewing social and was an active site from 2011 to 2014. According to Trademarkia.com, the active Trademark for ZeeBox expired in 2014. The domain looks to have dropped and sold at least once, redirecting to a TV and celebrity gossip site called Beamly.com in 2015.
Streaming network affiliate programs are very lucrative, possibly driving the interest in this domain.
This week, MarketingMind.com would be an excellent choice for brandable only names for a marketing content site or community.
Domain rating is obtained from AHREFs. Referring domains is the number of unique links pointing to the domain. Listing data obtained from GoDaddy auctions.
---
---
Additional Resources
If you are interested in any of the deals this week, go through the specific platforms and contact the sellers. Make sure to perform detailed research and due diligence when acquiring any domains or websites.
Here are resources you should read up on: