Welcome to Week 23! Today's Authority Business Blueprints features sites from Flippa and domains from Niche Website Builders.
Let's get into the growth blueprints!
Domain Summary
Type: Aged Domain
Niche: Surfing
Source: Niche Website Builders (see here)
Age: 2001 (20 years old)
Listed Price:
This is a package deal for the domain, site build, and content:
Domain: $995
Site Build + 100K words of content: $6,495
Total: $7,490
AHREFS:
Backlinks: This domain has notable backlinks from USA Today, NBC News, Montezuma Beach, Boardfolio, Tower Paddle Boards, Surf People, and more.
Due Diligence Dashboard
Site History:
This site used to be run by a Surf Camp located in Costa Rica. They also included hospitality arrangements, transportation from the airport and around Costa Rica, as well as other outdoor activities. The surf camp held programs for people of all ages and all skill levels. They also started accepting Bitcoin beginning in 2014.
Here is a past snapshot of the site: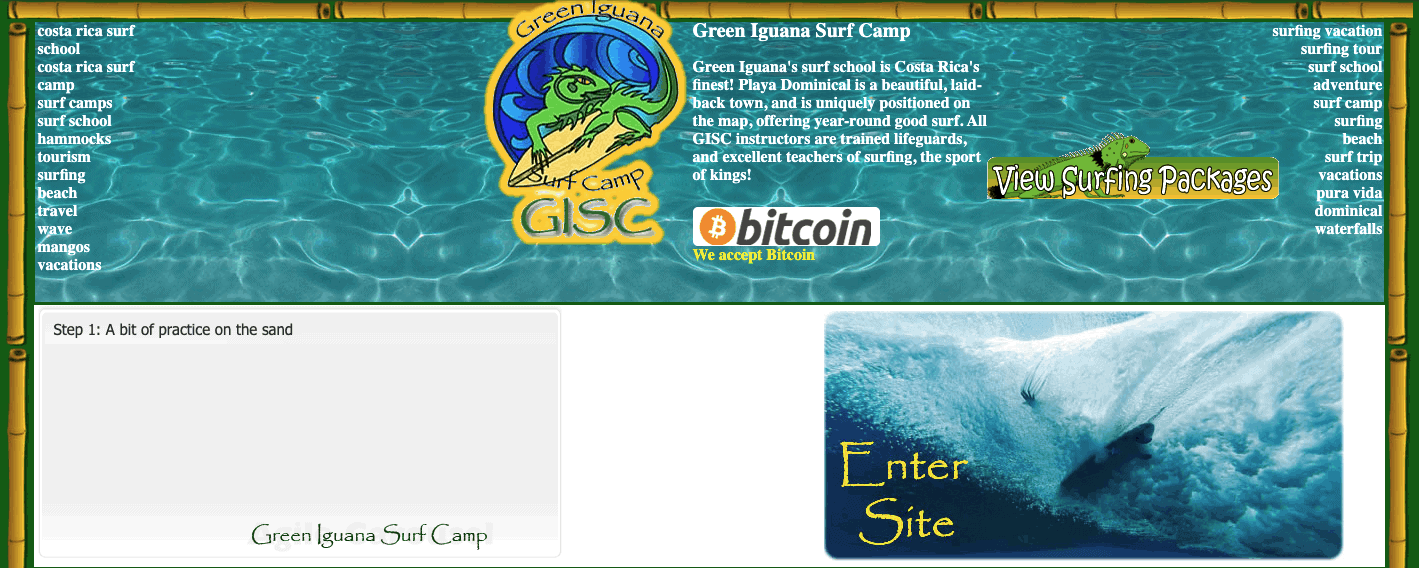 Growth Blueprint
This would make for an excellent authority site in the surfing niche. This is what I would do:
Add informational content related to surfing in Costa Rica. This would ensure topical relevancy.
Add information content related to surf camps in the South American region
Then, branch out into info content on how to surf, what's needed to surge, how to learn, etc.
Finally, add commercial content related to surf gear
A side note: there may be an opportunity to branch out into shoulder topics such as snorkeling, scuba diving, among other water spots.
Monetization can be easily done with Amazon Associates, and niche e-commerce brands. Specifically for surfboards, there are many quality e-commerce brands such as South Bay.
---
Website Summary
Type: Existing Content site
Niche: Cannabis
Source: Flippa (see here)
Revenue: $395/mo via Webgains and AWIN over the last 6-months
AHREFS:
Due Diligence Dashboard
Highlights
Lucrative CBD niche with very high-paying affiliate programs
Targeting UK market which has less competition than US market
Well-designed site
Lead magnet book to capture email addresses already set up
Quiz on-site to help people find the right product
Setbacks
More than 30% of traffic goes to two pages
No Google EAT (i.e, no author bios)
Easy wins
Call-to-action buttons on review pages need to be a different color; "blends" in with the site currently.
Add popups with CBD offers. Popup during exit-intent plus after 45 seconds on the page.
Collect emails and send affiliate promotions
Growth Blueprint
The CBD niche is hands-down one of the best. There are several ways to monetize including:
CBD (oils, cremes, pills, etc) affiliate programs that payout per CPA or percentage of the sale
Informational products
Display advertisements
I also highly recommend collecting emails in this niche, doing a welcome series, and then emailing 1-2 times a week with informational content and affiliate products. CBD has many purposes and buyers will be repeat.
A few things to note though. This is a tough niche. You will need to invest in backlinks and quality content. Content writers that know this niche will have high rates (10 cents/word or more). Just make sure your budget for growth accordingly.
Takeaway
The 6-month average is $395/mo. Finding a site in the CBD niche is rare and thus a higher multiple of 35-38x is justified. As it currently stands, the site is valued at $13,825 to $15,010.
The easy wins listed above are not "homerun"; they are more long-term. The long-term value of this site is great. However, in the short-term, I would value it at the above numbers without factoring in any easy wins.
---
Website Summary
Type: Existing Content site
Niche: Finance Education
Source: Flippa (see here)
Revenue: $244/mo via Google Adsense and digital products
AHREFS:
Due Diligence Dashboard
Highlights
Included e-books sold as digital products
Quiz content is evergreen
Diversified traffic to top pages; highest page gets 6%
Aged since 2011
Setbacks
May require domain expertise around International Financial Reporting Standards (IFRS) exams
Majority of traffic is not U.S.-based
Easy wins
Switch Google Adsense for Ezoic
Increase the digital product pricing
Create an email list and send tips for the exams, example questions, and promote the digital products
Introduce a lifetime access plan for the subscription
Growth Blueprint
The education niche is lucrative and has many opportunities for growth. This website provides a portal for a specific accounting exam, IFRS. The site includes free quizzes, digital products to help with the exam, and a backend with more quizzes that's available via a subscription.
To grow this site, I would do the following:
Introduce a lifetime access plan: most people are going to take this exam once. The current subscriptions include 1, 3, and 6-month access. However, a lifetime plan where you provide unlimited access to the quizzes plus the digital products would do well.
Email list: capture the user email, and then give them reminders about exams coming up, tips on how to prepare, example questions, and more. Then funnel these users to buy the digital products and subscriptions.
Replace Adsense with Ezoic, or push digital products: Two ways to go about this. You can as-is replace Google Adsense with Ezoic with a bump in revenues. However, note that as it stands, the current revenues from ads are around $20/mo. At that level, it will be more worth it to place banner ads and call-to-actions to go buy the digital products instead. I would push the digital products over display ads.
Overall, the website is well-done and has opportunities for growth.
Takeaway
The site is listed at a minimum price of $10,000 with a reserve of $15,000. That comes out to a 40X multiple for the minimum price and a 61X for the reserve price.
In typical standards, these multiples are high. However, you have to factor into the cost of developing these quizzes, digital products, and the backend subscription platform.
This site will not sell on a typical multiple.
---
Wrap Up
These blueprints layout the high-level strategies to accelerate your ROI after the acquisition. Of course, the real effort is putting all of this into practice.
Doing as much due diligence as possible will ensure you hone your skillsets in finding good deals and opportunities in the future.