Being involved (adjacently? tangentially?) with the agriculture space in the work I do related to the cannabis domain industry, I am intrigued by the .AG extension.
After seeing–and understanding the niche appeal of–the explosion in popularity of .IO, and more recently .AI and .VC, I started digging in to .AG.
Could it one day have the power to command similar prices for desirable one-word SLDs?
Is it worth speculating on this extension?
What do established domain name investors who have had success with non-.com sales think of this ccTLD?
I decided to research the companies being funded in the agricultural space, looking at things like .AG–the brands that use it (and those that don't), and what brandable domain names these funded-agriculture companies are using to understand the space better. Finally, I wanted to see if it is worth having at least a small portfolio of strong names to hold, or if it ends up being much speculation about nothing, like .ws and emoji domains.
In this post I cover:
Funded companies that are using .AG as their main domain
Funded companies that are using "AG" or some brandable version of "agriculture" in the SLD
The most common words used for branding in the agriculture space
Domain investors weigh in with their thoughts on .AG
My small portfolio bet
But first:
Some quick info about the .AG ccTLD
.AG is the country code for Antigua and Barbuda, a set of two islands in the West Indies, between the Caribbean Sea and the Atlantic Ocean.
One of the best prices I could find for registering new .AG domains was at Name.com, for $89/year. Pretty steep compared to some other ccTLD prices. I checked several major registrars, and many of them do not support registering .AG, such as GoDaddy, Namecheap, and NameSilo.
My personal opinion is that .AG will have a hard time hitting some kind of mainstream appeal in the agricultural industry–similar to how .IO and .AI have–because the price is a bit high, and only a very small number of registrars support .AG. I also don't know if it's fair to paint agriculture companies as not super tech savvy (I certainly don't know enough about them to say that with a lot of confidence), but I do feel pretty confident saying that the companies using .IO and .AI are, in general, extremely tech savvy, and possibly more open to understanding the impact of claiming what has come to be generally regarded as a niche a relevant ccTLD.
While this post isn't just about the .AG domain extension, it definitely warrants a close look when discussing branding and investing in domains related to the agriculture industry.
How I collected data:
For the next several sections I used TechCrunch's data looking at the top 1,000 funded startups in the agriculture space. This data is not comprehensive–if an agriculture company has bootstrapped, for example, or there is no funding data available, it is not represented in the data below. However, I feel like 1,000 data points of funded companies represents a very solid sample.
A list of companies that use .AG:
Prospera.ag
Taranis.ag
Granular.ag
Beewise.ag
Regrow.ag
Augmenta.ag
Bountiful.ag
xFarm.ag
Unfold.ag
Robotany.ag
Agree.ag
Pattern.ag
GreenEye.ag
Guardian.ag
Strider.ag
Growers.ag
Aker.ag
Amber.ag
MyLand.ag
Tarvos.ag
FarmDog.ag
SmartFarm.ag
Sima.ag
Solum.ag
EcoFarm.ag
Chonex.ag
Unfold.ag
Agree.ag
Some really beautiful names here, like Bountiful.ag, Pattern.ag, and Amber.ag.
Brandable domains with some form of the word "Agriculture" in name:
Actagro.com
Ag.energy
AgBiome.com
Agbotic.com
AgDataHub.eu
Agerris.com
AgEx.com
AgFlow.com
Agradis.com
Agragene.com
AgraQuest.com
Agrasys.es
Agri-Capital.com
Agri-hd.com
Agri-Info-Design.com
Agrial.com
Agrible.com
Agricare.com
AgriCool.com
AgriDigital.com
Agrify.com
Agrigate.co.jp
Agriloops.com
Agrilution.de
AgriMall.com
Agrimedia.jp
AgriMetis.com
AgrinnovateIndia.co.in
Agrinos.com
AgriPlace.com
AgriProtein.com
AgriTask.com
AgroFresh.com
Agroinova.eu
AgroMax.co.in
AgroNergy.fr
Agrorim.com
AgroSmart.com.br
AgroSpheres.com
Agrostar.in
AgroVisionCorp.com
Agrow.pk
AgWorld.com
AminAg.com
ArtemisAg.com
BharatAgri.com
ConcentricAg.com
CPFAg.com
eAgronom.com
EM3Agri.com
GoodNatureAgro.com
GreenSightAg.com
GroundWorkBioAg.com
IndigoAg.com
MidwesternBioAg.com
MyAgData.com
Nihon-Agri.com
PinnacleAgHoldings.com
RadiantAgriTech.com
RaptorAg.com
RedAgCrop.com
RNAgri.com
S4AgTech.com
SferaAgricola.it
Smart-Ag.com
Sound-Ag.com
StarAgri.com
ThriveAgTech.com
TortugaAgTech.com
Interestingly, "Agri" seems to be the preferred shortening of the word "agriculture," instead of Ag or Agro. Good to know when screening for agriculture-niche domains to acquire.
It seems a still-significant amount of companies are happy to skip the "Keyword.ag" structure in favor of "KeywordAG.com" (such a IndigoAG.com, RaptorAG.com, etc.), which is interesting to me as a domain investor and a total geek about branding. In considering all the data presented here (which, again, doesn't look at big public AG companies, but rather funded startups), Agri+keyword=Brand looks like the winning brandable construction–though not the only one.
Food for thought if you're looking to play around and gamble with some hand-reg brands (good luck with THAT, though).
Most popular keywords to pair with AG among the domains used in this sample:
61 farm
46 bio
34 tech
22 green
22 food
21 grow
19 crop
17 group
14 fresh
08 robotics
07 harvest
07 hemp
05 science
Helpful if you're looking to try and come up with some unregistered desirable brand names, or, like I would use them, in building an expired domain keyword list if you're trying to make your way into this niche.
Here's a word cloud to add some color to this very black and white post: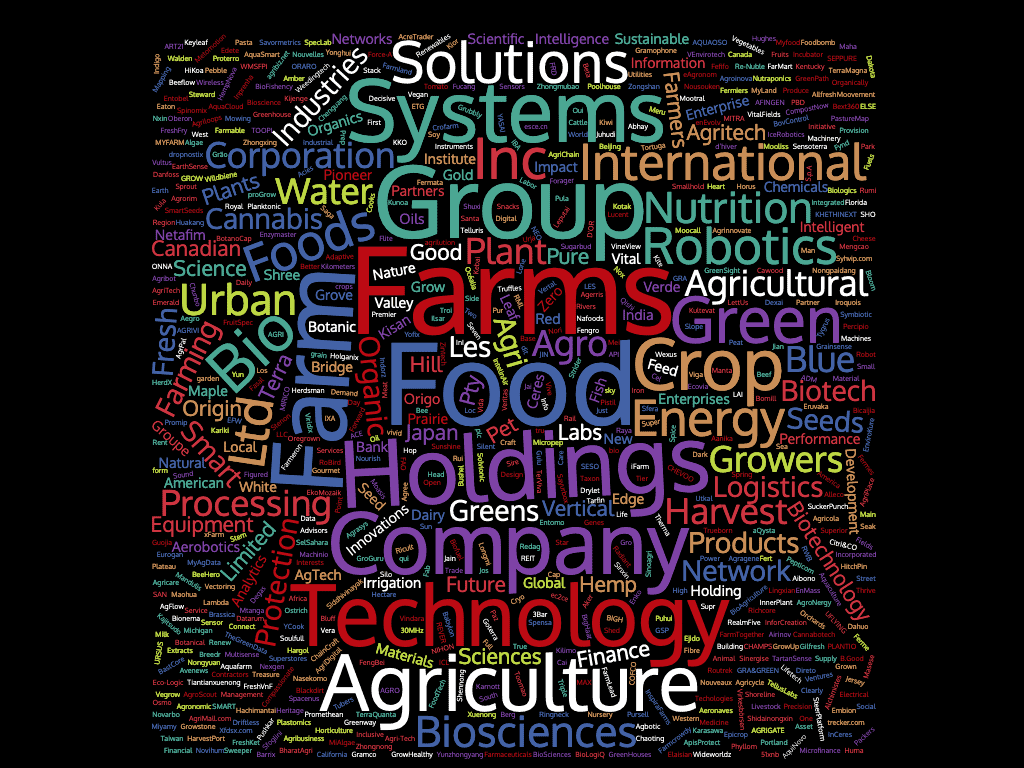 I hope you enjoyed this splash of color. This was made by putting all 1,000 company names (not the domain names) into a word cloud generator and pressing "generate."
Pretty high-tech…
Domain investors weigh in on .AG:
I talked a bit about the .AG extension on Twitter by conducting a poll. Here are the results: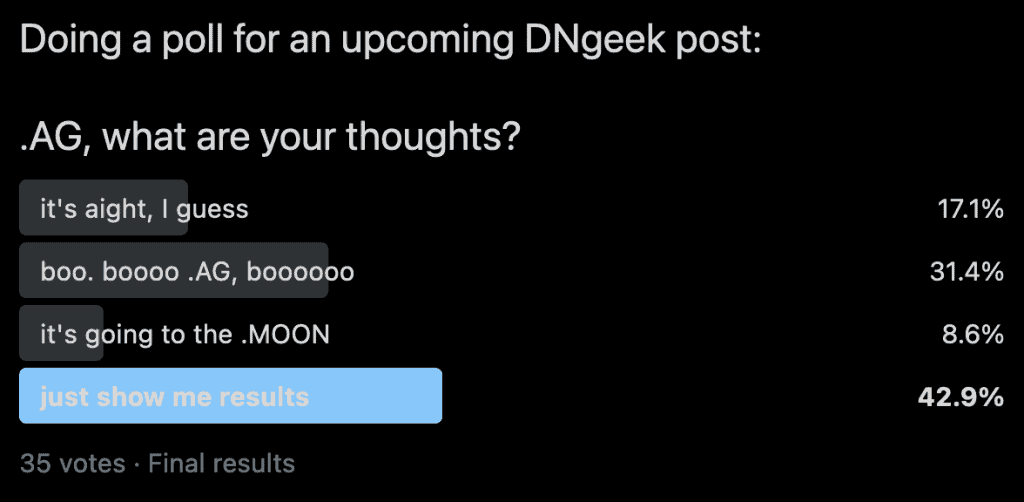 Which proves conclusively that the largest number of people taking a twitter poll don't want to participate, but just want to see the results.
Thank you all!
But it did get a conversation going with a few domain name investors, who I reached out to with some questions.
Enjoy these insights from super smart investors that generously shared their expertise and opinions about the .AG extension.
Q: As a domain investor with deep experience in the agriculture space, what are your general thoughts on the .AG extension as it relates to both investing/speculating as a domain investor, and as a viable branding play for new and established companies in the agriculture space?
A: I see it and immediately think agriculture. I wouldn't advise investing except in the very best one word agriculture oriented name. Its a lottery ticket type buy IMO
Q: If you don't mind sharing, what, if any,domains do you hold in .AG?
A: I purchased Bee.ag and Butterfly.ag at auction this year.
Q: What's your general outlook on the agriculture industry–an area of huge growth seeing new technology make big changes or… not a ton of growth compared to other hot industries?
A: Ag has been/will continue to be one of the biggest markets in the world. The succulent/houseplant market has exploded and from a retail standpoint, more people are gardening than ever. Tech is taking over mass crop planting and maintenance through the use of computers, drones, and automated planting. There will continue to be apps and sites trying to fulfill the general public's needs for plant ID and care. As a person that makes a living in AG, I can't think of a space that I'd rather be in right now
Q: Can you share some of the most popular/most trafficked .AG domains you know of?
A: .ag is the Internet country code top-level domain (ccTLD) for Antigua and Barbuda, an independent Commonwealth country comprising its 2 namesake islands and several smaller ones where the Atlantic and Caribbean meet.
There appears to be five registrant types for .ag out there in the market today:
Use by local businesses in Antigua and Barbuda
Use by the offshore gambling industry using .ag as short for Attorneys General
Use by the global agricultural industry using .ag as short for Agriculture
Use by companies in Germany using .ag as short for Aktiengesellschaft, a form of incorporation
Use by speculators/investors looking to sell to one or more of the above
Today, the offshore gambling industry uses a variety of domain name extensions, including .ag. Some of the most popular gambling websites in the world using .ag include:
BetOnline.ag
Sportsbetting.ag
MyBookie.ag
You can see these offshore sportsbooks listed on page one of Google search results when you search on popular keywords like "sports betting", "online betting", "online gambling", etc.
Q: Why does the gambling industry like .AG in particular–does AG mean something relevant to that niche that I don't know about?
A: Back in the mid-to-late 1990s during the nascent stages of the worldwide web, offshore gambling sites attempted to use more popular extensions like .com and .net to attract U.S. gamblers to their sites. However, given the illegal status of gambling in most U.S. states at the time, States' Attorneys General (mostly, New York and New Jersey) would use the U.S.-based domain extensions as levers for shutting down these illegal offshore gambling sites, usually through the Verisign legal nexus in Virginia.
Regrouping after shutdowns, many offshore gambling organizations decided that they would thumb their noses at these U.S. Attorneys General my launching their new gambling sites on .ag domain names, with their legal nexus in Antigua and Barbuda, outside the reaches of all U.S. States' Attorneys General.
Many of the offshore gambling sites still using .ag domain extensions today are so popular because they have been around so long – since the 1990s and early 2000s.
Q: Do you own any .ag names (and if you'd like to share, what are a couple of your best ones)?
My domain investment company owns several .ag names. They include, by category:
Gambling
OnlineBetting.ag
OnlineSportsbetting.ag
OnlineGambling.ag
OnlineSlots.ag
SportsPicks.ag
One-Word
Block.ag
Token.ag
Wallet.ag
Tech.ag
Chat.ag
Good.ag
Solar.ag
Intelligence.ag
Cybersecurity.ag
LL/CC
SS.ag
YY.ag
PP.ag
EV.ag
UX.ag
NX.ag
DX.ag
DG.ag
3D.ag
Q: Have you had any success selling any .AG?
My domain investment company has yet to sell a single .ag domain name over the past 12 years of operation. The company's investments in the .ag extension are and will continue to be purely speculative.
We tend to invest in .ag names based on similar names that have been reported as sold to end users in the past by Namebio.com. These have mostly been .ag domain names in the One Word, LL/CC, and German Language categories. Most reported .ag end user sales have been from Sedo. Single-letter, two-letter, and three-letter .ag domain names have commanded the highest sales prices, mostly high four figures USD, with a few in the five figures USD.
Despite a lack of end user sales, we do actively use several of our .ag domain names as traffic generators for sportsbook affiliate programs, generating lead gen revenues. These revenues, in turn, fully fund the annual renewals of our small .ag portfolio across all categories, making the continuance of our speculative .ag venture worthwhile, albeit not lucratively so.
Q: In your opinion, what is the outlook for this extension? Think it's headed up in the future or… will it always be a risky speculation bet, never as popular as .IO/.AI/etc.
A: At this point in time, I do not see much secular growth behind the .ag extension over the next few years. The .ag extension is not like .io or .gg or .vc, which have all seen good up-trends in growth recently due to increased interest, desire, and need from end users in their respective niche industries.
If anything, the .ag extension may see flat-to-negative growth as many U.S. states continue to legalize sports betting and online gambling to generate more tax revenues for their state governments. Gambling companies obtaining state licenses to operate online sports betting and gambling sites in those states with legalized gambling will not want to thumb their noses at States' Attorneys General by using a .ag domain name. They most likely will make a more rational choice to go with a well-established and broadly-accepted domain name extension like .com. Citizens of states without legalized gambling wanting to place bets online will continue to look offshore for sportsbooks, where they will most likely still engage with a sports betting website using a .ag domain name in many cases.
Beyond that, future growth for .ag will likely require an as-yet-unknown market trend to capture the imagination of a new group of niche end users who will find appeal in the .ag extension just as many end users have found in .io, .gg, and .vc extensions.
Q: What kind of growth and attention to the .AG extension have you seen in running Park.io? Clearly it hasn't grown in popularity as quickly as .IO and, more recently, .GG, but has attention to .AG increased at al? Or is it pretty overlooked still?
A: I actually think .ag is a hidden gem. It definitely doesn't get the same attention as the most popular ccTLDs (e.g., .io, .co, .etc.), but it's quietly growing in popularity and value.
In 2019, Park.io only had 6 .ag auctions (and only 24 total .ag domains ordered). Those numbers grew to 19 (217% growth) and 65 (171% growth) in 2020. If we extrapolate existing 2021 data, those numbers will grow to 22 (16% growth) and 87 (34% growth) in 2021.
A similar trend has emerged for the value of these domains. In 2019, the average auction value for .ag domains was ~$132. That increased to ~$232 (76% growth) in 2020, and it's currently ~$624 (169% growth) in 2021.
Obviously, those are small sample sizes, but the numbers still highlight the fact that .ag domains are becoming more popular and more valuable with each passing year.
But wait… there's more. In 2020, a Park.io user purchased dc.ag for $134. 75 days later, he flipped the domain for $14,174. That's a 100x flip in 2.5 months.
Q: Do you personally own any .AG names?
A: As for my own portfolio, I have a few 2L .ag domains and some other random one word keywords. I sold robot.ag for $2K a few months ago, but after writing all of this up, I now realize I should have priced it higher. 😉
My Small .AG Bet
If .AG becomes a thing, (however unlikely that seems currently), I wanted to hold a few lottery tickets. Speculating with this extension is not super fun, as each name was about $80-something to buy, and a 10-year hold of these is QUITE THE FINANCIAL COMMITMENT.
So I gathered a big list of previously-dropped .AG domains and selected 5-6 of my favorite. I'll report back if any of these ever sell (however unlikely that seems currently). I guess the first thing I should do is set up landers and put them at various marketplaces…
Here are my names:
Titan.ag
Sweet.ag
Sol.ag
Golden.ag
Firefly.ag
Emerald.ag
Aurora.ag
What do you think of those?
And what are your thoughts on the agriculture space/.AG ccTLD? Hit me on twitter or reply in the comments, I'm genuinely curious.
I hope this was a helpful deep-dive in the AG niche, and that you can leverage this into some great sales eventually. 🙂