There are few feelings more frustrating than finding the perfect domain name, seeing there's no website on it, and then finding out someone else grabbed it but their information is protected by privacy.
Game over, right? Fortunately, there are other options for reaching out to buy a domain name even when you run into dead ends trying to acquire the name on your own. While it's not a guarantee since no one can force a domain name owner to sell, there are ways to reach out and try to hammer out a deal.
Let's jump in!
What is a Domain Broker?
A domain broker is an agent, often working for a registrar or another online company, who reaches out on your behalf to a domain owner to try and create a deal for a domain name.
Many times domain brokers with top brokers like GoDaddy or Sedo (or several others) the domain brokers have tools or resources that aren't necessarily available to the public and that gives them the ability to find and reach out to owners of various domain names.
The domain broker is the agent who uses those tools and resources to try and set up that deal, either for a flat fee, a percentage of the eventual sale, or both.
---
Do I Need A Domain Broker?
This depends on how committed you are to a domain name and whether or not the domain owner has public information.
Generally speaking, if a domain owner doesn't have their private information protected in the Who.Is Database then they should be open for direct contact and a broker might not be needed. The same is true if the domain is up for auction or has a landing page offering the domain name for sale.
A domain broker can still be useful in these situations if your efforts for outreach haven't received responses or led to anything. Sometimes having a professional reach out via the large recognized name of their company can get the type of response a personal outreach attempt can't.
The other situation where a domain broker is necessary is when there isn't any publicly available information.
This is where the up-front expense can be worth it because they might be able to make contact with the domain name owner and initiate a sale that otherwise you would have no chance of getting.
In those cases, a domain broker is important and might be the only shot for getting a specific domain. Whether the work, fee, and wait is worth it versus settling on a different domain name is going to vary from individual to individual.
---
7 Best Domain Broker Options
There are many domain brokers out there, but some are better than others. When hiring a domain broker you want to make sure to work with someone who has the tools and resources of a large agency.
This way you know they have the actual tools, experience, and resources to give you the best possible chance of success at acquiring the desired domain name.
GoDaddy Brokerage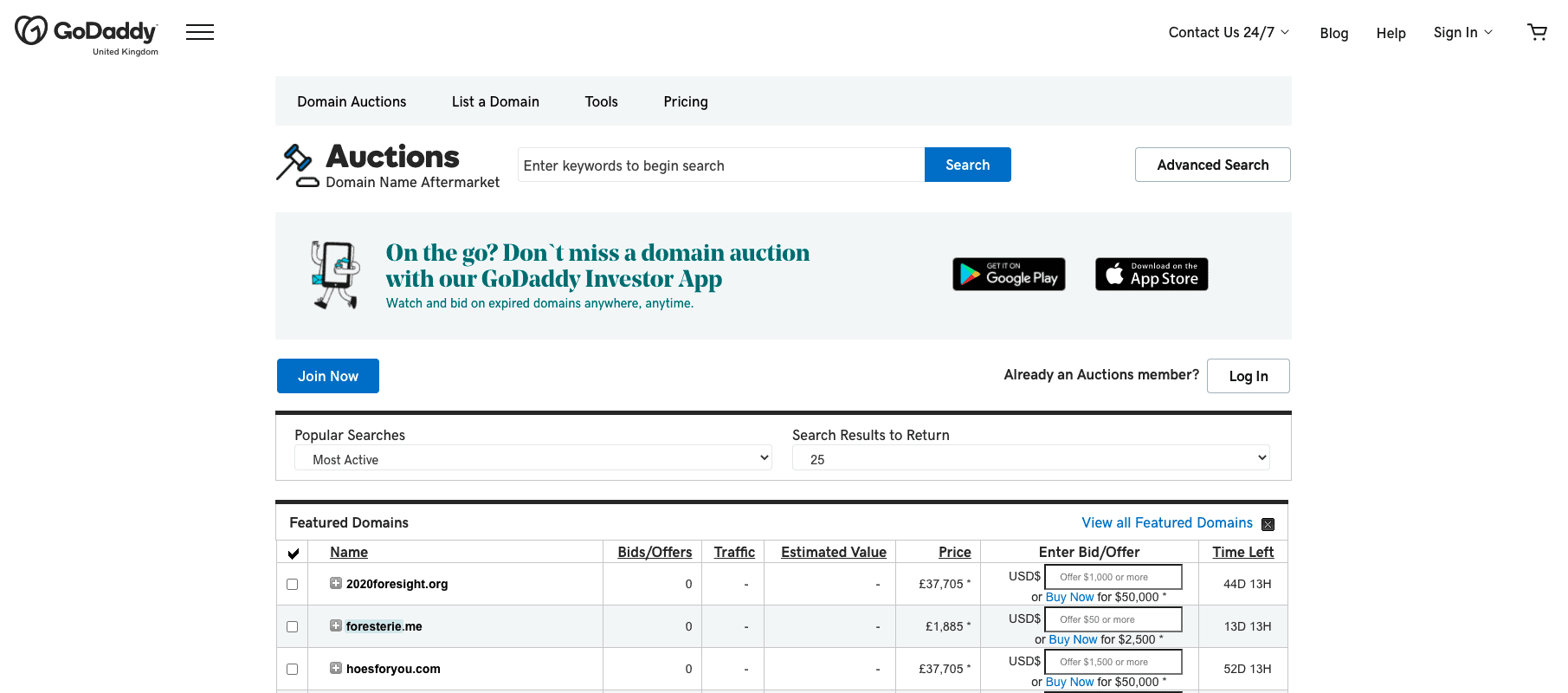 The GoDaddy Brokerage is one of the largest out there, and they continue to gain market share. The GoDaddy brand is widely recognized, and they have an entire team trained up to offer a domain broker service.
They use the resources and tools at their disposal to find the contact information of a domain name owner and to reach out to them on your behalf. They work to open up communications and to secure the sale of the domain if they can, based on a budget you provide to the brokers at the beginning of the process.
You will know within 30 days if any progress has been made or not.
The cost for $99.99 per domain plus 20% commission if a deal is made.
Sedo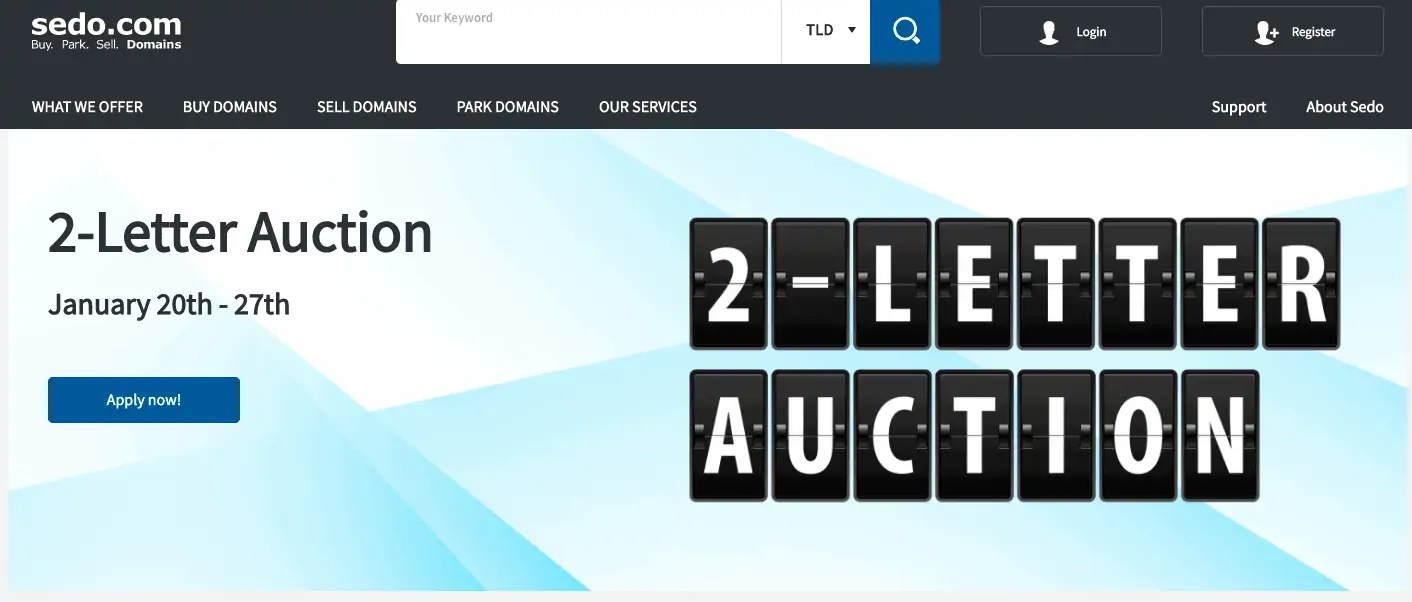 The Sedo domain broker service offers professional outreach to try to make a deal for a domain name you're looking for. They have years of experience in this field and a pretty long list of satisfied customers.
The cost for hiring Sedo's domain acquisition service is 69 Euros to start and 15% commission on any sale that is made.
Grit Brokerage
Grit Brokerage has a reputation as one of the true premium names in domain name acquisition. They tend to focus on high-cost, high-value premium domain names and are renowned for their customer service.
The cost for Grit Brokerage varies as the numbers change over time and possibly based on jobs. No expenses are listed, but direct contact and discussion of at least the base details of a potential acquisition is needed to get a quote.
Uniregistry Market
Uniregistry's domain buying services are one of their main offerings, and they have a large international team of brokers to offer the best possible service when acquiring a domain. They brag about representing over 12 million domain names in addition to having an advanced domain buy service.
For the domain buy service, there is an initial consultation of $175 or 15% of the final sale, whichever number is higher.
MediaOptions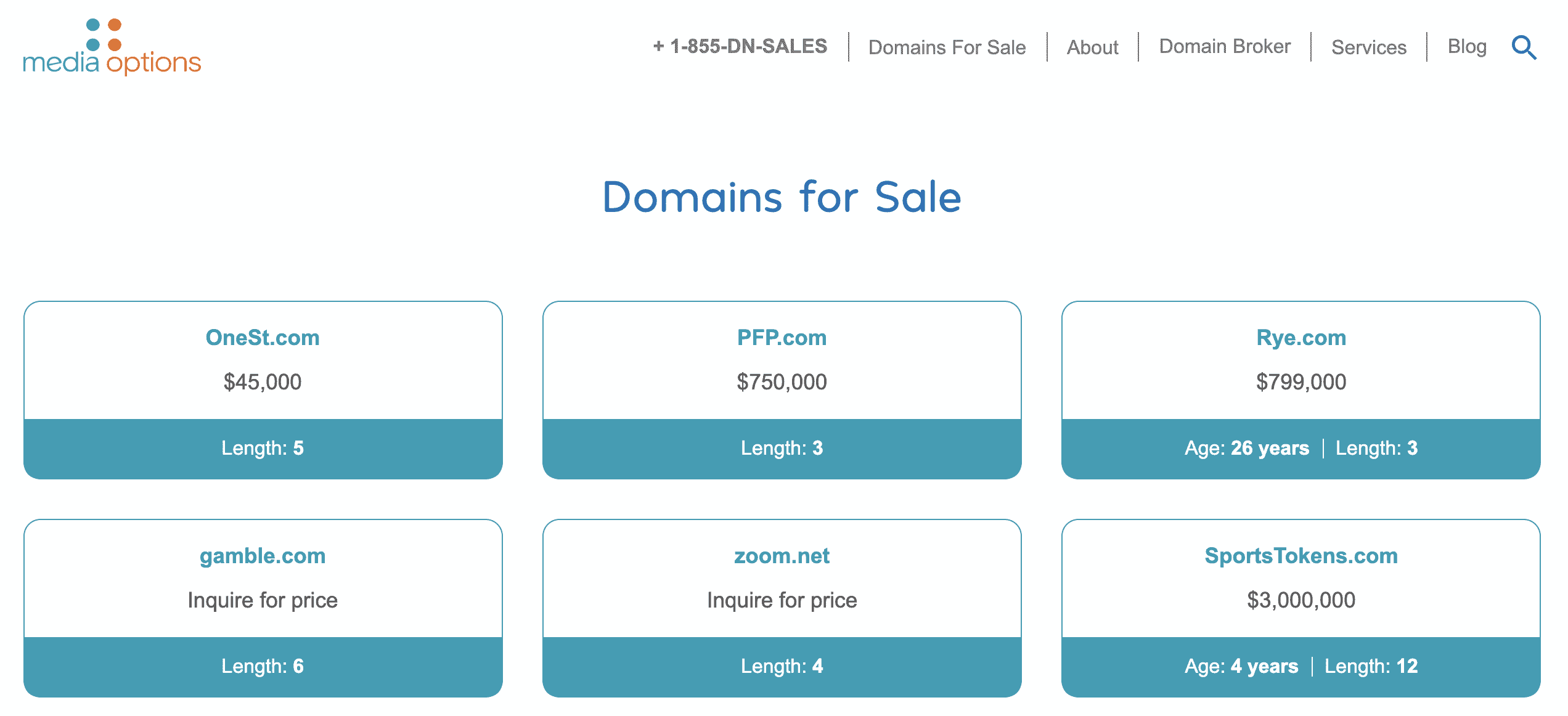 The domain buy acquisition services offered by MediaOptions is focused on higher-value premium domain names. This is reflected in the fees for the service which are 10% of the final acquisition and a state normal minimum of $1,500.
Brannans
Brannans domain acquisition specialists take pride in being able to locate hard-to-find domain owners, opening negotiations, and keeping your identity confidential while working to negotiate a deal for the domain that you want.
The initial consultation to discuss what domain name you want is free, though the commission percentage or price for closing a deal is not discussed outside of a case-by-case basis.
Also important to note: Brannans only deals with .com names. They do not buy, sell, or acquire any other TLDs.
VPN Domains
VPN brokers tout the rare benefit of no upfront costs. Escrow fees for use of Escrow.com do come into the picture on a successful sale, and while the commission rate can vary, they put a firm ceiling at 15%.
---
3 Best Domain Auction Sites
Many times recently expired domain names or brandable domain names are put up at auction. Searching the three most popular domain auction sites might not only give you a chance at a domain name you have your eye on, but allow you to spot an even better one.
GoDaddy Auctions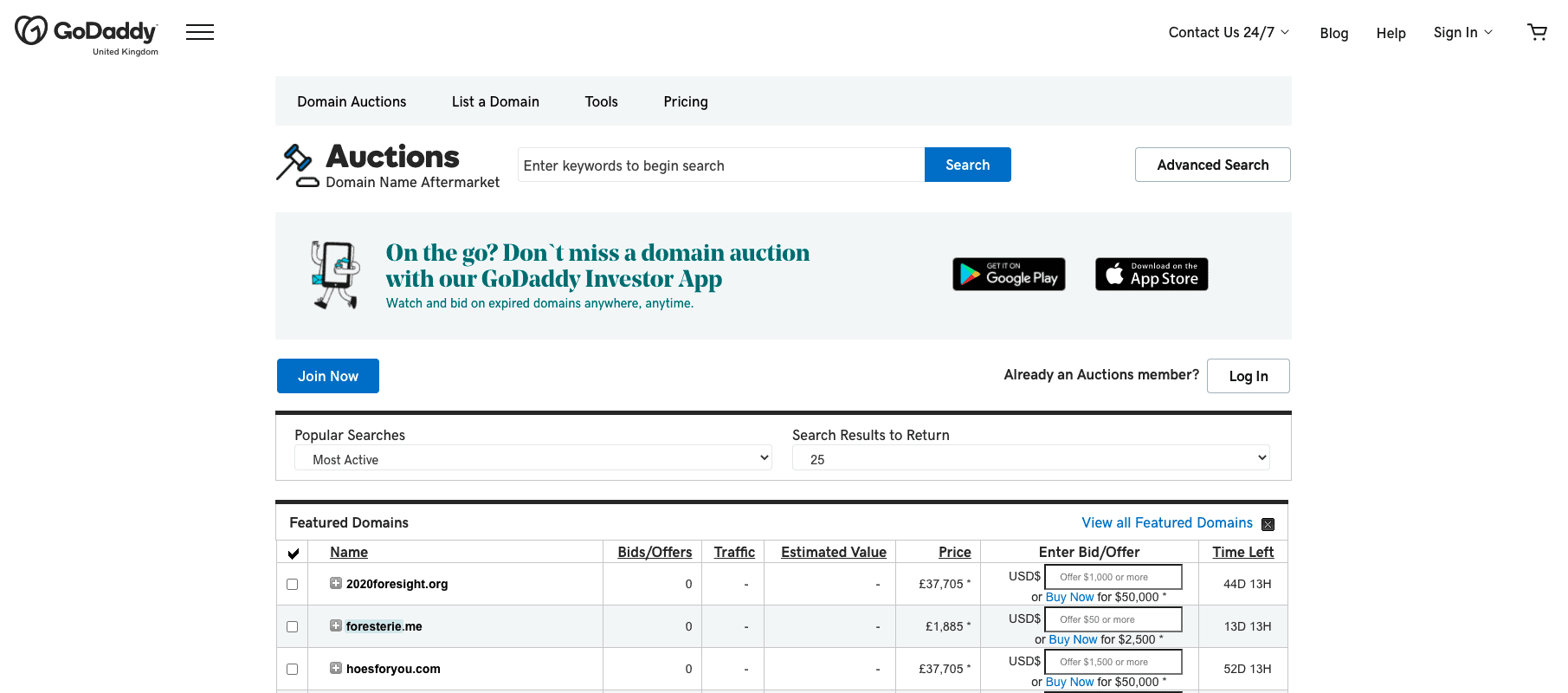 GoDaddy Auctions is one of the most recognized auction places for domain names online. This is where domain name owners can list their domain names for sales, or recently expired domains often automatically go before being
From the buying point of view, there aren't many fees. The winning bid needs to be changed and there is a one-time transfer fee that might vary slightly based on local taxes, but the fee tends to sit in the $8-10 range.
To participate you will need a GoDaddy Auctions Membership which is right around $5 for one year.
For those who find themselves on the selling side, GoDaddy Auctions does have a reputation for being on the more expensive side. Their costs for sellers are as follows:
$5,000 and under costs 20% commission (minimum $15)
$5,001-$25,000 costs $1,000 plus 15% of any amount over $5,000
Over $25,000 costs $4,000 plus 10% of any amount over $25,000
Namecheap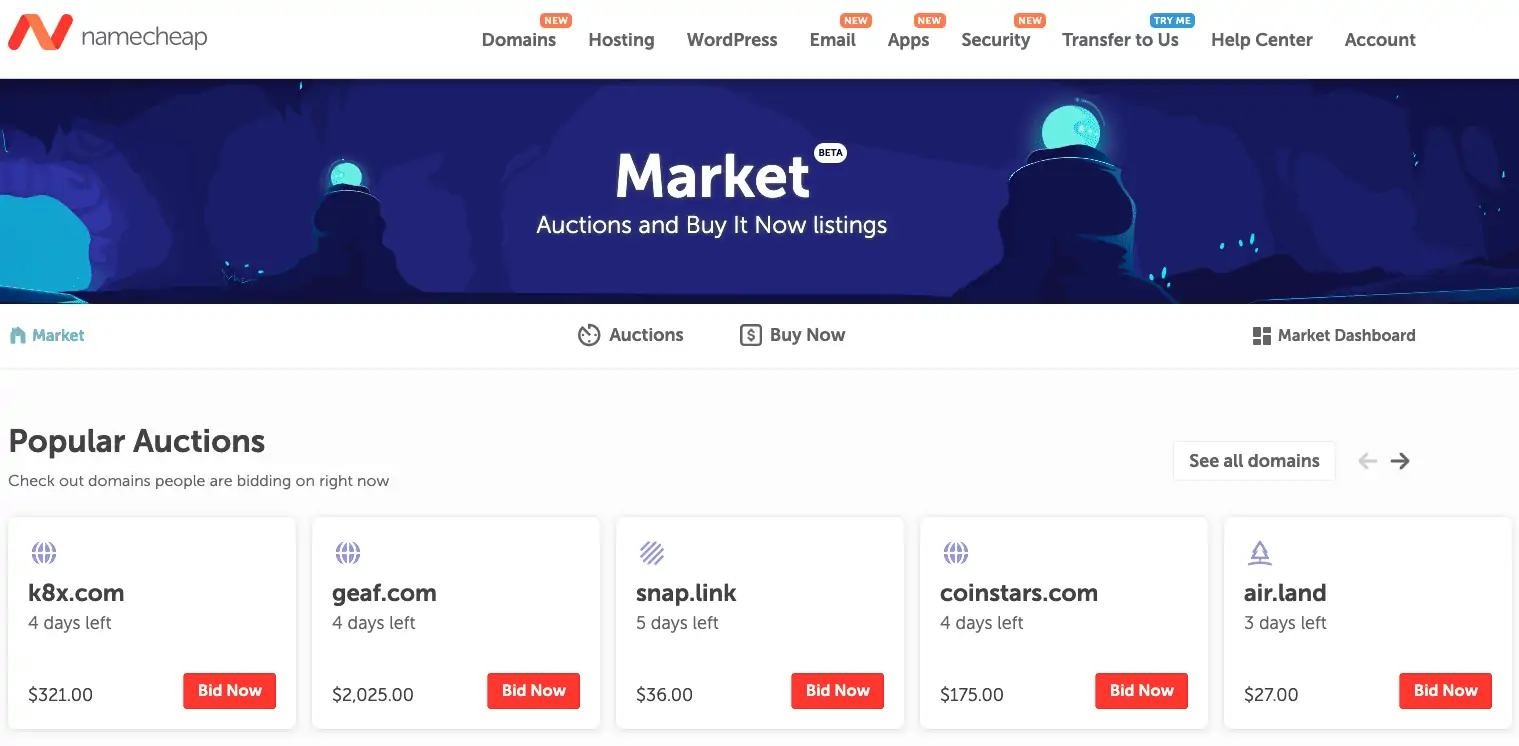 Namecheap is another major domain registrar that also offers domain name auctions. There are many listings in the auction area, referred to as the marketplace, and the fee is 10% flat commission.
This is written as "10% flat commission for each marketplace transaction" and doesn't go into a lot of information on whether that is borne by the buyer, seller, or both, but with the way most marketplace sales work it's likely the seller.
There are no memberships needed to participate in the Namecheap marketplace.
Flippa
Flippa is the world's largest unvetted marketplace which makes it a place where there are large numbers of buyers looking for a deal. Which is also a sure fire way to attract more sellers to a platform.
Flippa is also very straightforward with their transparent fixed pricing page, which shows the percentage that comes from a successful sale, as well as the listing prices expected. Buyers don't need a membership although with many deals they will be expected to pay the fees associated with Escrow.com to finish a transaction.
For sellers $29 is the fee for listing, and the other fees depend on whether selling is done with or without a broker, and for the total amount the sale goes for.
Buyers will have a $50 to $500 hold on the card on account. This is not a fee, but helps confirm ability to pay while bidding.
---
Difference Between Domain Brokers vs Domain Auction Sites
Brokers focus specifically on acquiring certain domains and working on behalf of clients to acquire them. In these situations a buyer knows what domain name they want, and haven't been able to arrange a sale or even find the contact information of the domain name owner.
With a domain auction the bidding is open, the domain name is clearly for sale, and it's open for everyone who can get into the auction. Sometimes there might be a buy now option, but that won't always be the case.
The auction format doesn't allow for one-on-one negotiation, either, since it's locked in for the full bidding process.
Hiring a broker will normally require an upfront fee, but it opens up what domains you can go after and gets a professional with better resources on your side to pursue and negotiate a deal.
All without having to stay by the computer hoping to avoid last minute sniping at the domain name auction.
---
How To Make The Right Domain Broker Choice
There are several major factors to look at when it comes to picking the right domain broker. Four of the main ones are fees/commissions, privacy protection, valuation, and security of payments.
Let's break down each of those in more detail.
1. Fees & Commissions
When you're pursuing a specific domain name, especially a premium one, in most cases it's going to be expensive. If the name wasn't brandable or in high demand, it would probably just be available.
High fees and commissions add to that expense. High fees aren't great because initial fees are not going to be refundable. While a broker needs some pay for deals that don't work out despite the effort, I still don't like shelling out extra when I can avoid it.
High commissions might seem like only a seller problem, they become a buyer problem, too. High fees on the seller side can lead to them asking for more than they would otherwise be willing to accept.
2. Stealth Acquisitions
Many buyers want their privacy protected, and some brokers offer better privacy protection than others. Asking about this is important if privacy is important.
In some cases, your information might be public to the seller. Some professional brokers do the purchasing on your behalf so their information is out there, but yours is not. They act as a middleman for privacy purposes.
If stealth acquisition is important, make sure to ask about this detail when contacting a brokerage team.
3. Valuation Services
Valuation services are extremely important for sellers looking to receive a good market value for their domain name. This also helps buyers find out if their budget is realistic for a particular domain name or not.
While there are many domain valuation tools available, the information from experienced professionals in the field will be more helpful – and reliable.
4. Secure Payments
An escrow service should always be used. Escrow.com is the most common one, though there are other options. Be very wary of anyone who doesn't have an escrow clause setup as part of any deal.
---
Are Domain Name Brokers Worth It?
Many individuals have mixed feelings on domain name brokers and whether or not the services are worth it. This depends on how focused you are on one, or a handful, of very specific domain names that others own.
When this is the case, and especially when contact information is hard to find, a broker is going to be the best and most viable way to get a domain name.
If you're not focused in on just one domain name, then a thorough search through auction sites and available names at registrars makes more sense than going straight to a broker.