Selling domain names can be a very profitable investment, however, finding the right domain name is only part of the battle. Finding the right place to sell the domain name for the highest amount is a major part of making the process profitable.
There are multiple options for selling premium domains, but some marketplaces are considered better than others. Where are the best places to sell domains?
Let's dive into this topic and find out!
6 Best Domain Name Marketplaces To Sell Domains
There are dozens of potential places to sell a domain name online, and that's even before considering private deals. Six marketplaces stand out from the rest when it comes to domain sales.
1. GoDaddy Auction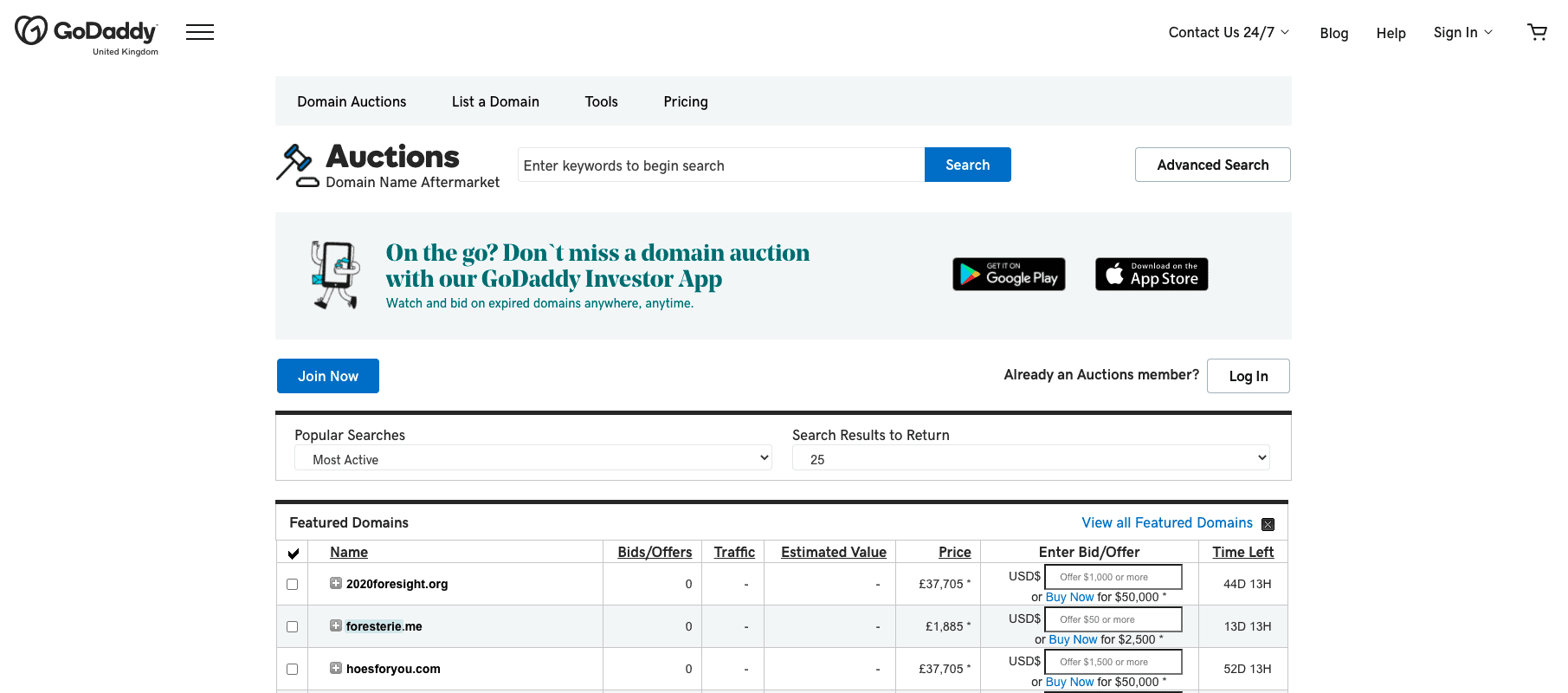 GoDaddy Auction is one of the huge names in the space, and they continue to really grow in both size and influence. GoDaddy Auctions is one of the first placers many domainers go to find quality used and expired domains.
Many unused or new domains are also put up for auction. The auction place is a great option for brandable domains, expired domains, and premium domains.
Along with GoDaddy being a universally recognized brand, that selection attracts a huge number of serious domain buyers. Because of that, it shouldn't come as much of a surprise that this is one of the largest marketplaces for selling domains.
An annual membership to GoDaddy Auctions costs $4.95 and gives members access to every publicly listed auction on the platform.
One major drawback: the pricing for sellers is definitely on the expensive side of things compared to most other marketplaces.
20% for domains selling for $5,000 or under ($15 minimum)
$1,000 + 15% of any amount over $5,000 for domains selling in the $5,001 to $25,000 range
$4,000 + 10% of amount over $25,000 for domains selling over $25,000
2. Flippa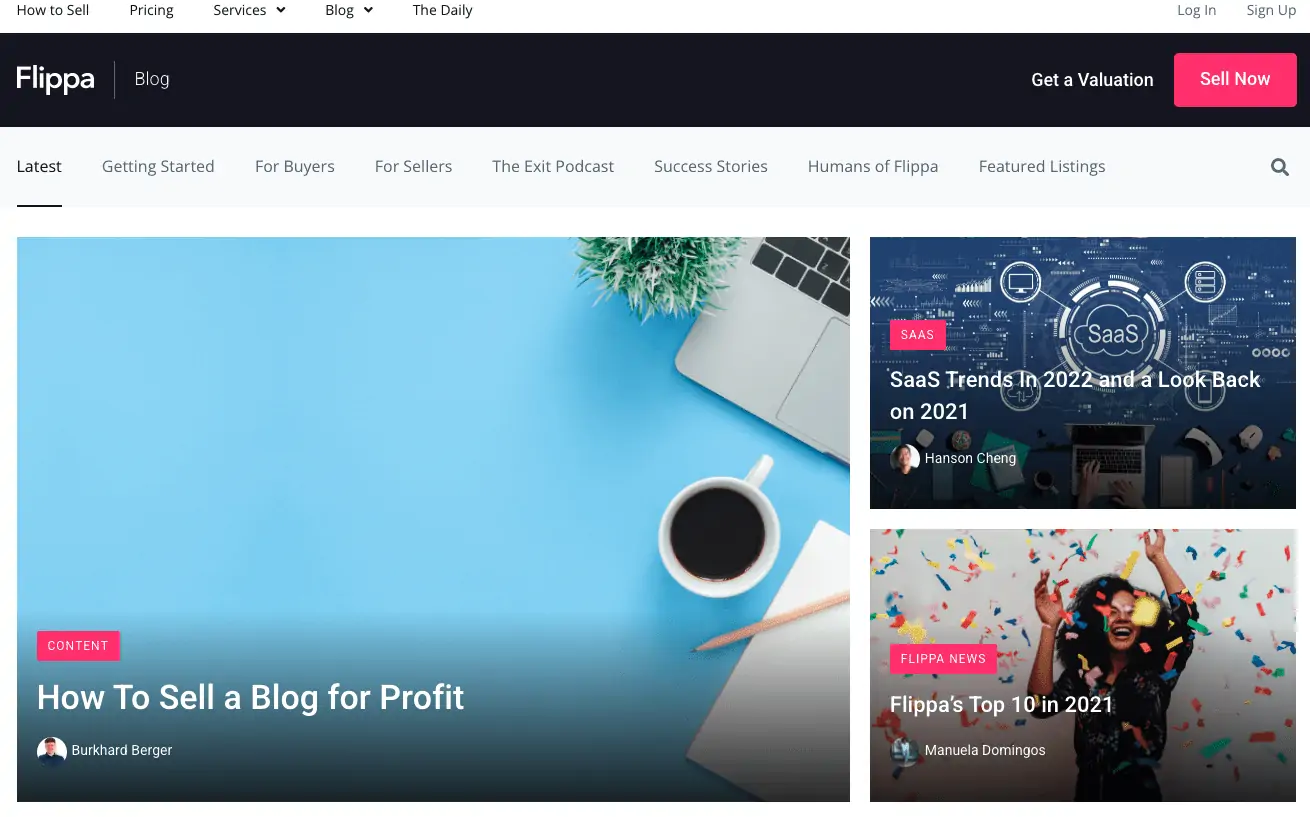 Flippa takes pride in being the largest unvetted marketplace in the world. That doesn't just include already made websites and online businesses but also domain names.
This is a marketplace many sellers go to see the demand for their specific domain names. Some great deals can be found here, but make sure to use tools like Ahrefs backlink checker and the Wayback Machine to check the history behind a domain name.
The $10 listing fee for a domain is cheap and the success fee is a percentage of final sale that varies based on the final price.
3. Namecheap Marketplace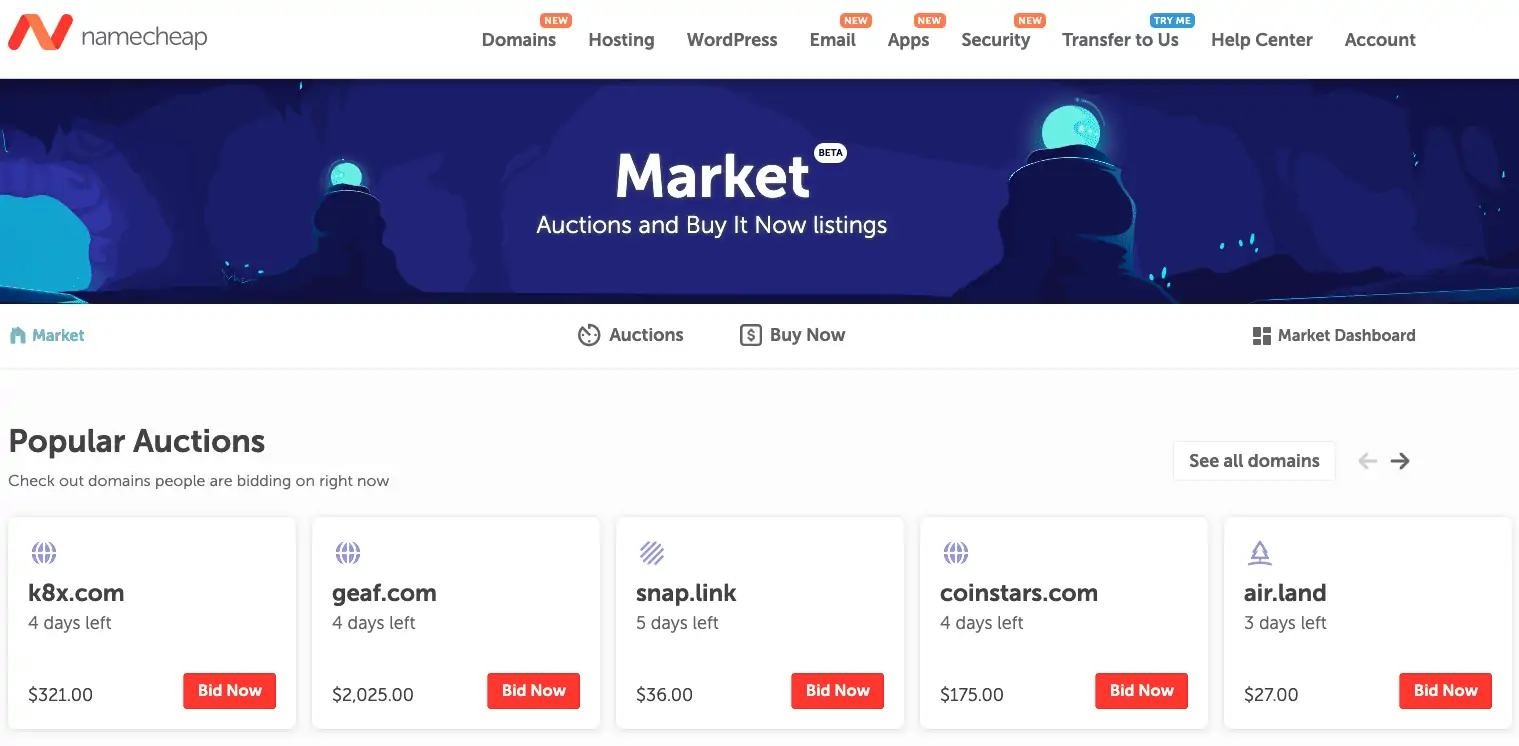 The Namecheap Marketplace focuses specifically on domains. Also referred to on-site as the "Buy It Now" listings, this is where Namecheap allows domain name owners to list them for sale at a set price.
This takes the place of an auction system that way the price is clear and set by the domain owner. It's free to list a domain, but a 10% transaction fee off the sales price will be applied.
4. eBay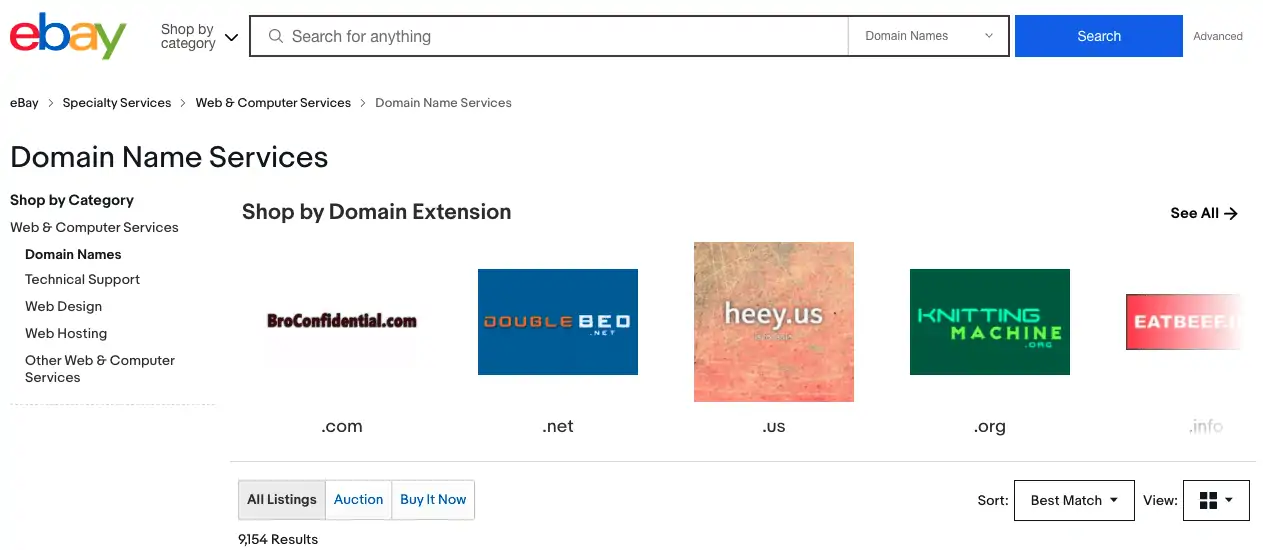 Domain sellers need to know that eBay isn't just for making money after cleaning out the garage. They have long been an online marketplace where many domains, digital products, and other similar products.
There's even an entire section of eBay that is dedicated to domain sales now. The eBay domain name services section still serves this purpose and has thousands of domains listed for sale.
5. Sedo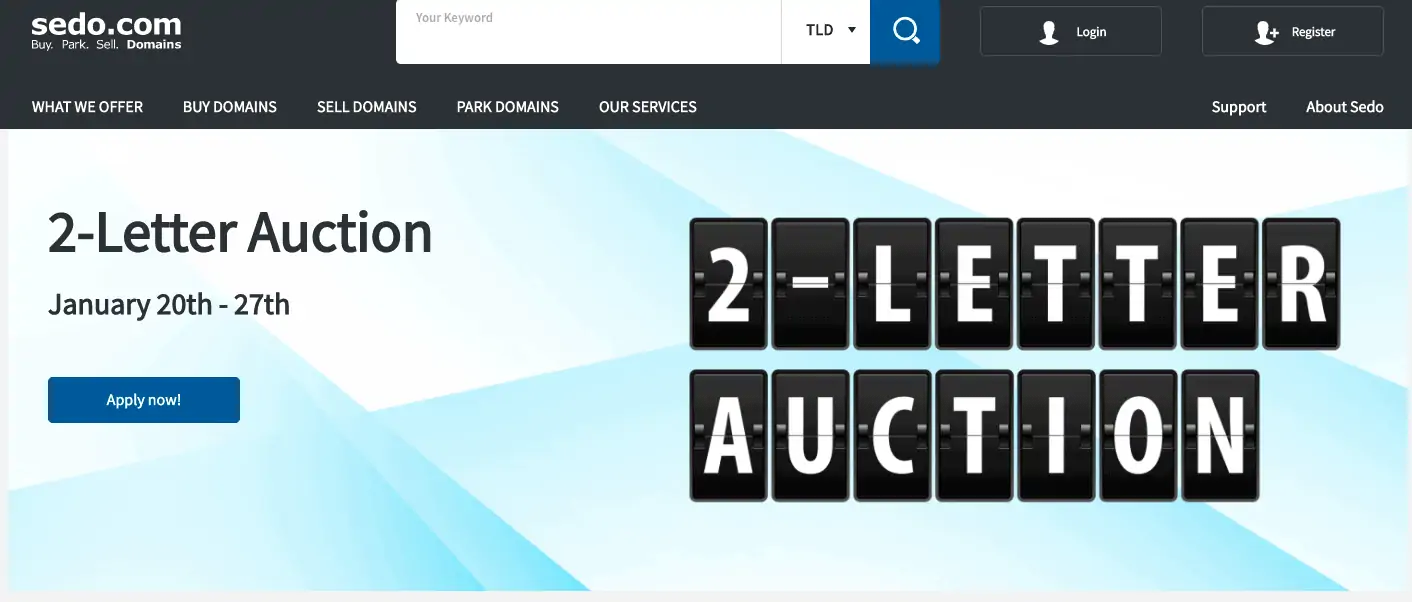 At one point Sedo was consistently the largest market for used domain sales. While they have been surpassed by other marketplaces in terms of sheer sales, they are still one of the best marketplaces to sell a domain.
Sedo offers the option for listing fix-priced costs for buying a domain in addition to an auction-based model. Buyers and sellers have the option of choosing which they prefer. This versatility is fantastic.
6. Bido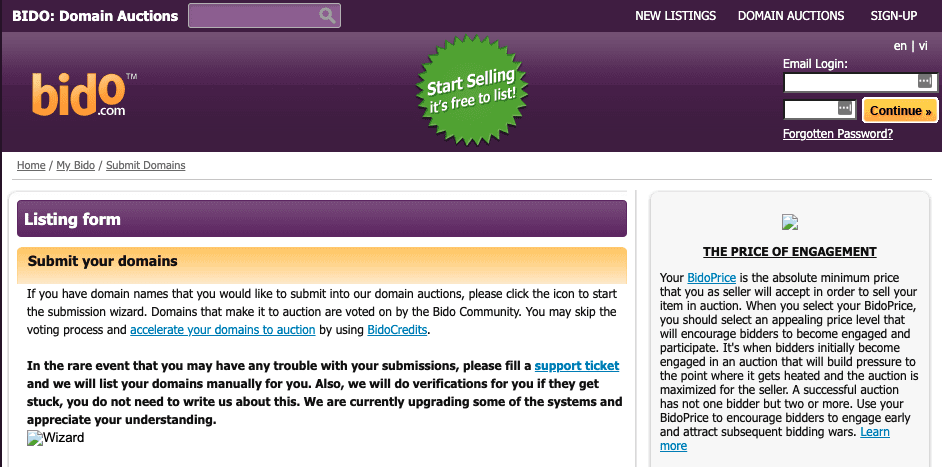 Bido is a domain name auction place that focuses on domains that show demand. They have a community that votes domain names to auction and bids from there.
This is a much smaller marketplace with only a handful of domains up for sale at any given time. However, sometimes there is a real gem of a domain name listed with less competition bidding on it than most other markets.
---
3 Best Domain Name Forums To Sell Domain Names
In addition to actual auction sites and marketplaces, another popular option for finding quality domain names to buy or sell come from forums.
This doesn't mean just jumping onto any hobby forum and looking for the random sales thread. There are three major forums where selling a good domain name could be an excellent option.
1. DNForum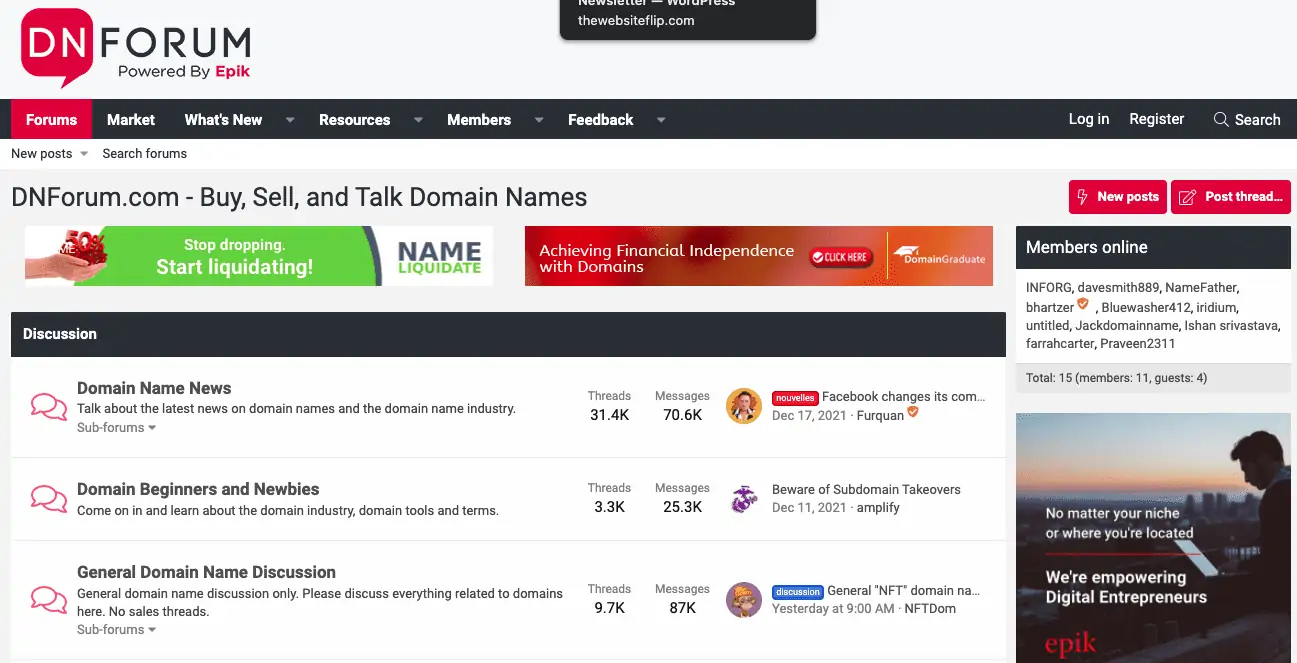 The DNForum is all about domains, so it should come as no surprise that this is also one of the top forums for selling domains.
There are extremely active threads for selling domains and websites. Some impressive deals get done for domain names on DNForum.
Other threads on domain name news, sales from other places, reviews of marketplaces, or domain name value audits/estimates from experienced forum members. These can be invaluable sources of information for domain sellers and investors of all levels.
2. Web Hosting Talk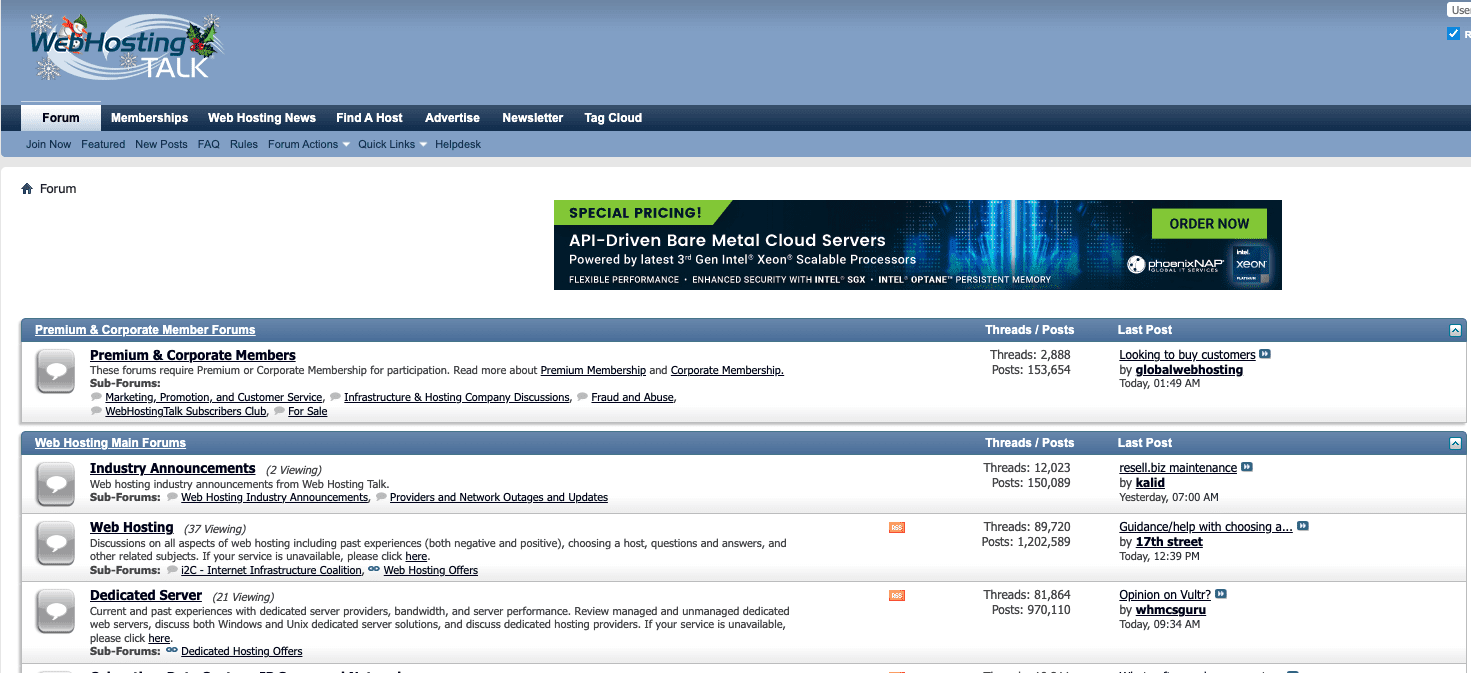 The Web Hosting Talk forum features a lot of threads on various topics aside from hosting, and that includes some very active threads on domain names.
That thread is a good place to get a pulse on what forum members are looking for, and see if the domain name(s) you're looking to sell could be a good match with the current local demands.
3. Digital Point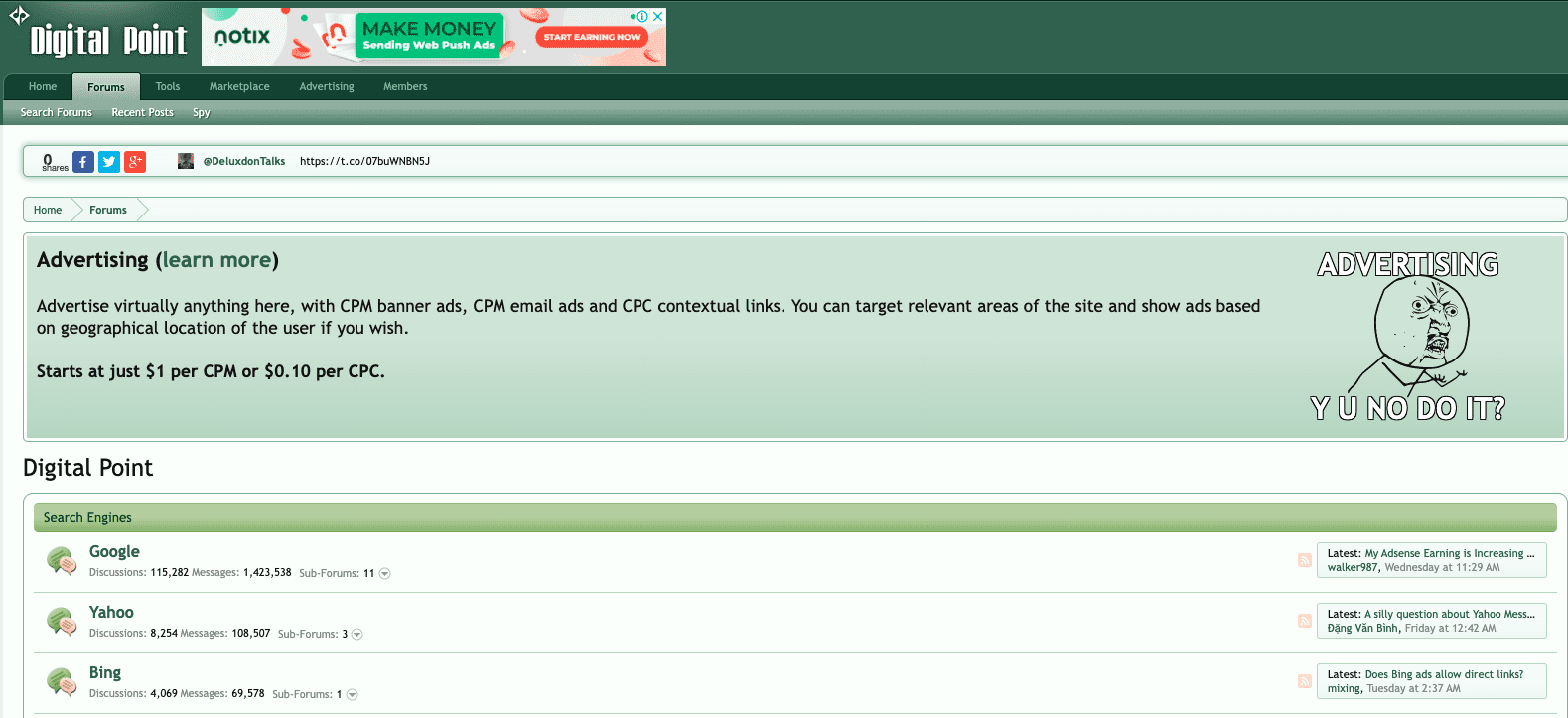 The Digital Point forum is a well-known forum and as the 50,000 messages under the domain names goes to show, there's plenty of potential action when it comes to selling domain names.
While the main focus isn't on domain name sales, this heavily trafficked forum is full of smart online marketers and investors making it a great spot to feel out potential interest in your best domain names.
---
How Much Can I Sell My Domain Name For?
The price of a domain is going to vary based on a lot of factors. Some investors want an extremely short domain that is easy to brand. Some focus on building niche websites so they want domains with a backlink history (also known as aged domains).
Multiple factors go into what a buyer would be willing to grab a domain name for. The majority of domains sold are for a few hundred dollars or a few thousand dollars.
Then there are the less common cases that sell for five, six, or even the very rare seven figures or more.
Understanding what factors affect domain value helps a seller keep more realistic expectations of what might be viable.
Some of the major factors that affect the value of a domain:
If the domain is a .com or have a premium TLD extension?
Is the domain name short and brandable?
Does the domain have a history (is it used, does it have backlinks, etc)
Is the name easy to remember?
These are some of the factors that change what potential buyers and investors are going to be willing to pay. They are also the factors that are most in the control of investors looking for good domains to sell.
Things like the budget of a startup that is VC-backed looking for a new company name (and the matching domain for it) can wildly change the value of a potential domain name that wasn't valuable before that.
Every domain name will have pros and cons going for it. Learning how these factors affect price and demand is important to focus on investing in domains that are the most likely to sell for a profit.
Domain Valuation Tools
Multiple free domain valuation tools can be used to get an idea of what a domain might be worth. These aren't often especially accurate, especially ones like GoDaddy where they sell domains and therefore have a vested interest in convincing you the names are valuable and worth buying.
However, some are worth using to see the various valuations that each tool gives. GoDaddy's tool, for all its flaws, still has its uses, though Estibot is probably the closest to being an automatic domain valuation calculator.
If you want to know more about these tools check out my article on the best domain valuation tools.
Another option that works out very well can be talking to domain name experts, or using the resources at the forums mentioned earlier in this article to get a sense of what they think the domain names are actually worth.
---
FAQ about Domain Name Selling
There are a few questions that come up frequently when it comes to selling domain names. Here are the five most common, and the answers to each!
Is domain flipping profitable?
Domain flipping can be a very profitable practice. Becoming good at it takes time, study, and experience but there are still plenty of opportunities out there to find a good domain name cheap and flip it for a profit.
Where can I sell my domain name for free?
Private sale is your best option to sell a domain name for free. Most platforms are going to require either a listing fee, a percentage of final sale, or both. 
The exchange is that marketplaces have large numbers of good buyers looking for domains while arranging a private sale means legwork on your part, or someone approaching you. 
There are places that allow you to list a domain name for free, but those will have fees on the sale.
How can I sell my domain fast?
If the domain is high demand, listing it in the major marketplaces with the highest traffic numbers is the best way to increase your chances of a fast sale.
Is domain flipping legal?
Domain flipping is legal. There are some guidelines that must be followed, the most notable being ICANN's rule that a domain name must stay 60 days registered in an account before it can be transferred to the account of another person.
Can I sell a domain name privately?
Yes. Private sales often account for a large number of yearly sales on all levels from beginning bloggers to VC-backed startups looking for the perfect brandable domain name.
Make sure to have a good contract, use escrow, and if you are new to the space, ideally someone who can guide you through the process of safely selling and transferring a domain name.
What should I look for before buying a domain name?
Check the history of the name. Is there a backlink history? Is that history good or bad? How many websites were built on the domain name and how long ago?
These are all very important details that will reveal potential red flags as well as help you to identify potential hidden gems.
---
Actionable Takeaways
When looking to sell domains, it's important to do your homework to figure out the best places to sell these for the best possible price.
Do research on your domains to pitch their strong points to make them more attractive to potential buyers
Use tools or advice from domain investors to get estimates of your domains for sale
Study the major markets and compare pricing
Pick the marketplace you want to sell and list your domains
Follow the tips in this article, do your due diligence, and chances are your domain sales will get the best possible price investors are willing to pay.