There's no shortage of resources if you're looking to buy or sell an online business. Newsletters provide a convenient way to access deal flow, education, and keep up with industry trends.
In this article, I will highlight some of the latest M&A trends and share with you a few of my favorite newsletters in the online business acquisition space.
Newsletter Trends You Should Know
Over the last several years we have seen an elevated level of deal-making. Whether you're looking at online, offline, lower-market, middle-market, or enterprise M&A data – new records in deal volume and value are being set globally.
Even when we look at new business formation by solopreneurs, there's a strong appetite for independence and business ownership.
Globally, we can use Google weekly search data for "buy online business" as a proxy for interest in acquiring an online business.
It's not just a single indicator that is driving this robust deal making environment.
Here are just a few of the reasons people are purchasing businesses:
Strong economic growth driving increased confidence
Increased wealth and savings rates driven by stock market and alternative assets
Economic policies encouraging borrowing
Increasing number of business acquisition financing options
Wide and growing dissatisfaction with the traditional 9-5 corporate world
Increased awareness of the benefits of business ownership
The rise of online business marketplaces driving increased supply (sellers) and demand (buyers)
Let's look at some of the best newsletters for those interested in acquiring an online business.
---
My Picks for The Best Newsletters for Buying and Selling Online Businesses
1. The Business Inquirer
The Business Inquirer is a free 2x weekly email newsletter for those interested in business acquisition, operation, and entrepreneurship. Each week subscribers receive a curated list of business acquisition opportunities, analysis, articles, and Twitter threads.
What's unique?
Independent and not affiliated with any brokers or online marketplaces. Includes business listings and bite-sized analysis of each opportunity. Helpful weekly curation of relevant online and social media content. Publisher is very accessible and happy to answer questions.
Why subscribe?
You'll learn how to quickly analyze a business at first glance as well as ask sellers the right questions. Many paid newsletters offer less compared to the free The Business Inquirer.
2. Flippa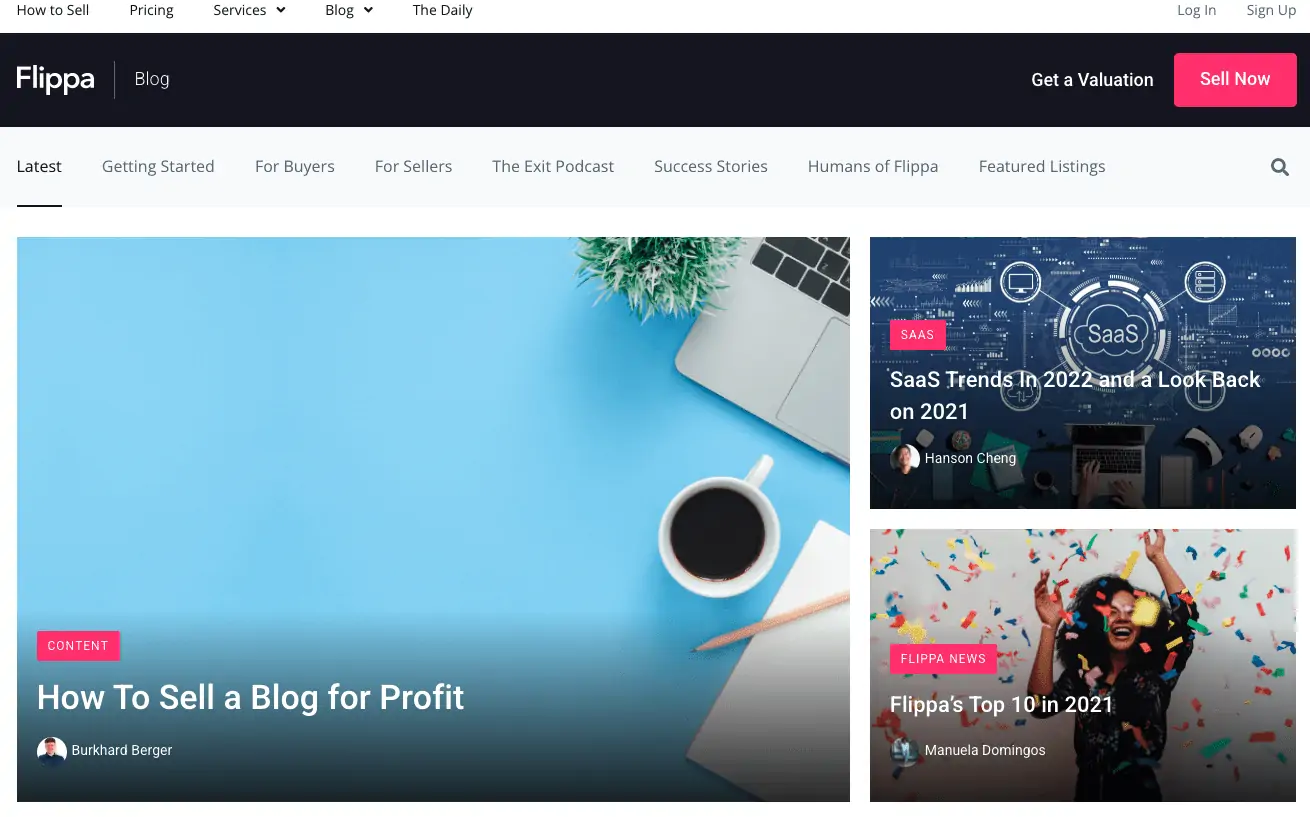 Flippa is one of the earliest and still the largest online business marketplaces. They have been focused on delivering great content to their readers. Each email is packed with business listings as well as interviews and guides.
What's unique?
Hear directly from the largest online business marketplace.
Why subscribe?
Well organized content highlighting a wide variety of listings along with an easy to digest business summary.
3. FE International
FE International is a well known and respected online business brokerage and M&A advisory.
What's unique?
Newsletter content is focused on highlighting articles from their blog on building, buying, and selling an online business.
Why subscribe?
Access to business listings as well as helpful content.
4. Empire Flippers
Empire Flippers needs no introduction as they have been in the online business M&A space for quiet some time.
What's unique?
Empire Flippers has been focused on content and educating the reader with newsletters, podcasts, and interviews. They are very transparent about marketplace activity and publish quarterly reports.
Why subscribe?
Access to pre-vetted business listings and educational content. Their quarterly reports provide insight into the overall market.
5. MicroAcquire
MicroAcquire is one of the newest and definitely the fastest growing online business marketplaces.
What's unique?
Definitely the most innovative marketplace with unique content in addition to well organized weekly emails with listings.
Why subscribe?
As the fastest growing marketplace, you can't miss out on seeing their listings in your inbox.
6. Others
If you're in the market for an online business, it's important to have access to listings, education, tools, and a community. Not every newsletter has to have all four of those. I want to list a couple of newsletters and online communities that should be on your radar. Admittedly, some of these are paid and may require a subscription. I'm not affiliated with any of these.
The Hustle (free & aid): Their Trends subscription offers access to an excellent newsletter and community. The newsletter uncovers the latest trends, business breakdowns, guides, interviews, and more. The Facebook group is full of new and experienced entrepreneurs.
SandHill.io (free): A weekly newsletter that curates the best content from the major venture capital and private equity firms. Each newsletter is divided into themes, industry developments, guides and case studies. Frankly, not everything here is going to be relevant but there is a lot of value in learning from the big guys. Plus it's free.