I've actively bought and sold over 152 transactions on Flippa since 2010. Most have been small deals early on but the smaller the deal, the higher the risk, and this experience has allowed me to see all types of scams and red flags on Flippa.

Flippa.com has come a long way since its early days as a marketplace. There were more scams early on and many of them are no longer possible due to improvements they've made. 
In this write-up, I will cover the most common scams on Flippa as of today.
Let's get into it!
---
Is Flippa a Scam (in general)? No!
No, Flippa is not a scam.
Flippa is an open marketplace (like Ebay) where sellers can list their businesses for sale. Sellers are allowed to state revenues, costs, descriptions, and more on the for-sale listing page.
While Flippa.com does basic vetting (i.e., domain ownership verification, screenshots included, P&L included), they do not perform due diligence (i.e., verification of earnings, backlink quality) on all sites.
Due diligence, like a traditional brokerage, would do, is reserved for listings above a $50,000 price point. Under a $50,000 price point, Flippa does an automated process to ensure the data (e.g., Google Analytics, Seller verification) is all accurate.
In general, Flippa provides an opportunity to find amazing deals if you know what you are looking for.
---
10 Flippa Scams and Red Flags That Are Common in 2023
Looking to learn how to do website flips? Join the newsletter to get detailed guides, reports, and websites for sale. I share my insights from 14+ years and 218+ successful flips. No fluff guaranteed.
Doing due diligence on businesses for sale on Flippa requires extra steps.
With other brokers like Motion Invest, Empire Flippers, or our own brokerage, The Website Flip, we vet the deals which include reviewing the website's P&Ls, backlinks, domain history, and more.
However, as a buyer, you ALWAYS should do your own research before buying. Never trust a broker as their alignment is with the seller and are compensated to close the deal.
With Flippa, you have to know what to look out for since no one is there presenting the data in an easy-to-digest manner, or weeding out the scams.
Check out the most common Flippa scams.
1. Fake revenue screenshots
This is the most common scam: fake screenshots. Flippa does not vet the screenshots attached to listings for listings under $50,000. For listings over $50,000, they do verify screenshots (a huge plus).
Most content sites on Flippa are monetized via Amazon Associates, affiliate programs, or display ad providers like Ezoic, Mediavine, etc.
Using Google Chrome (or other browsers), you can load the page where affiliate earnings are shown, and then edit the HTML. Here is a write-up on how that's done.
Check out the example Amazon Associates screenshot below for a specific month: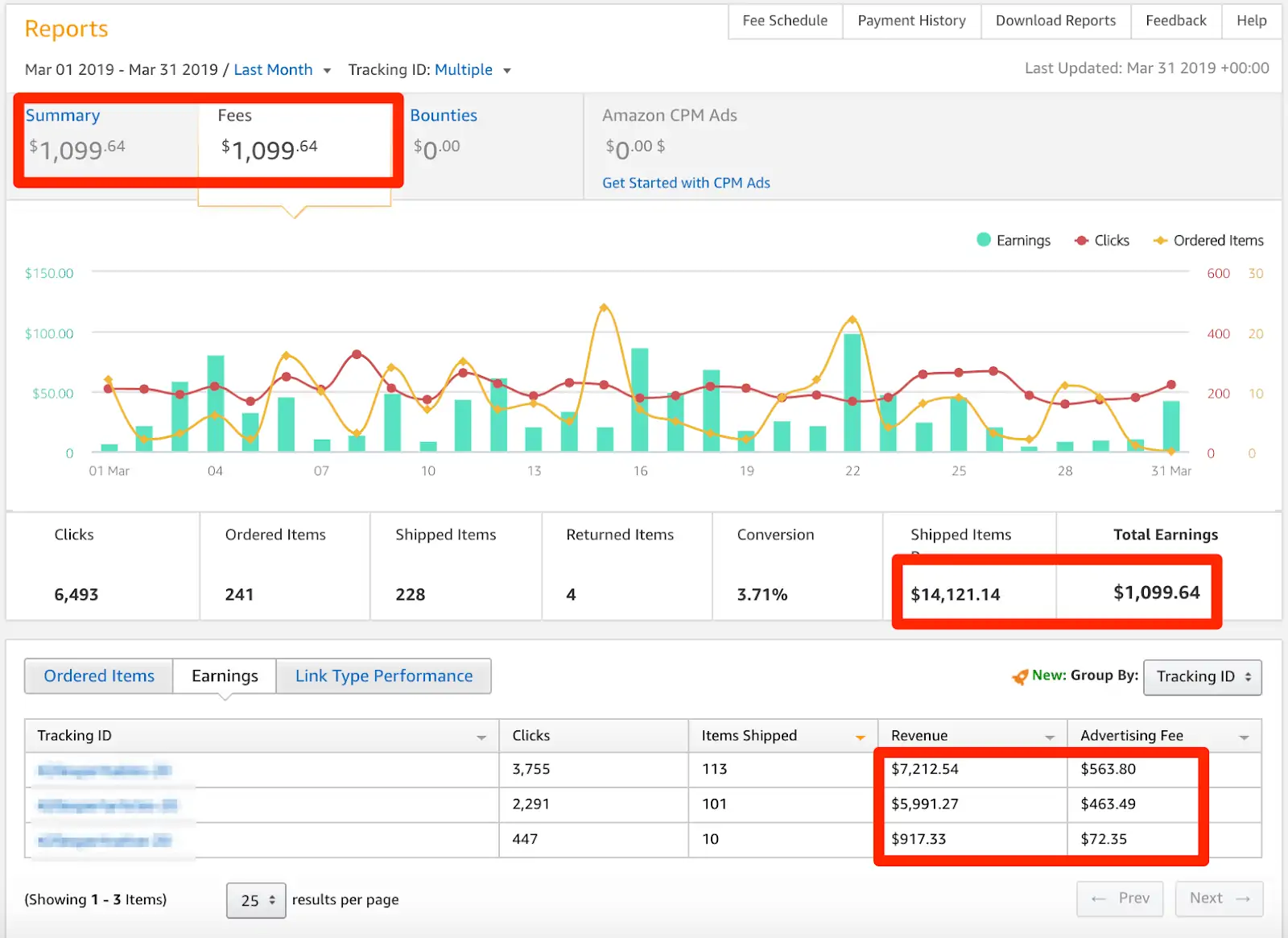 I've boxed in red places where a seller can change the numbers. This includes the Shipped Items (gross revenues), and Total Earnings. The seller can use their browser to actively change these numbers and then take a screenshot.
However, some sellers forget to update some of the other corresponding numbers. For example:
Seller changes Total Earnings but fails to change Shipped Items accordingly
Seller changes Total Earnings but fails to change Advertising Fee per Tracking ID accordingly
In short, take a close look at the screenshots and see if all of the numbers match up. If you are buying an Amazon site, read this guide on specific due diligence tips for Amazon sites.
Solution: Make sure all of the numbers match up on screenshots. Also, ask the seller for a video of the affiliate dashboard. Ask them to refresh the page so you know that you are looking at the actual data. You may also ask to do a conference call where the seller will screen share and do a live walkthrough.
2. Fake P&L numbers
Flippa does verify P&L data against earnings for businesses listed for over $50,000.
Building on the idea of faking screenshots, sellers can also fake the financials if a listing is under $50,000 (if above, Flippa does the vetting). Flippa allows the seller to enter in month-by-month revenues and costs.
For example, here are the financials for a listing: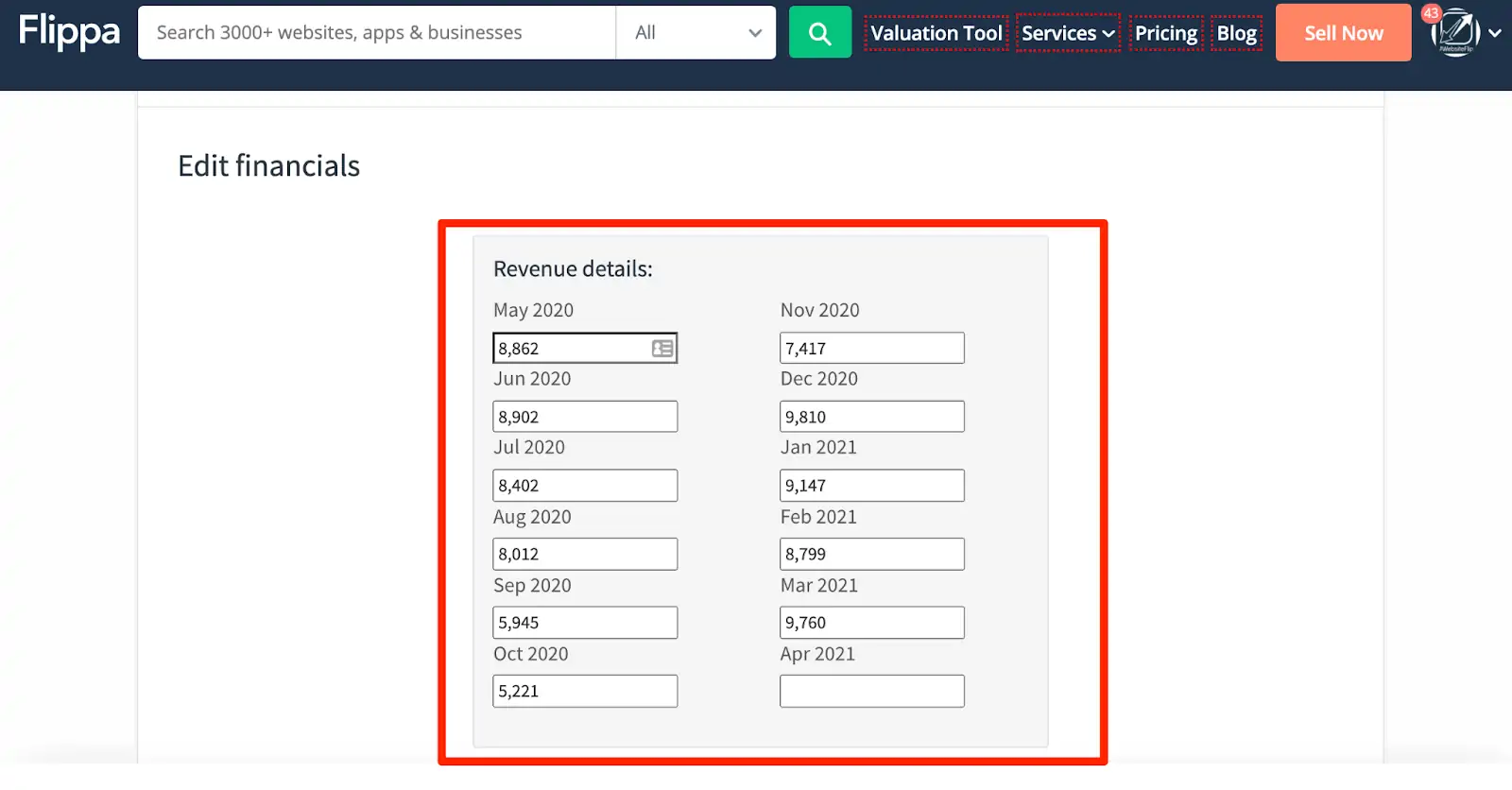 As you can see, each of these revenue values is editable and Flippa does not verify whether this is actually true. On the other hand, other brokers would cross-reference the submitted P&L against screenshots, video proof, and/or by obtaining logins to accounts.
Flippa uses the seller-entered financials to come up with the monthly average gross revenues and net profit. See below:

Solution: As a buyer on Flippa, ask for proof of revenues via video, proper screenshots, or screenshare. Cross-reference the numbers to the Flippa seller-provided financials. Make sure things match. If they don't, make sure to ask the buyer; it could be just a mistake or in the worst-case, an actual scam.
3. Fake (purchased) traffic
One of the most useful features on Flippa is the fact that they pull in Google Analytics data automatically for the website. This provides proof of traffic to a certain extent.

However, the seller can still purchase fake traffic to their site which Google Analytics would track and then Flippa would show in their listing.
Here are red flags:
Majority is Direct traffic in Google Analytics
Majority social media traffic and the social profiles are not active
Minimal organic traffic
Bounce rate is extremely high (less than 90% is OK, anything higher needs questioning)
Time on page is less than 10 seconds (most content sites are more than 30 seconds average)
Solution: Ask the seller to obtain guest access into Google Analytics. Verify the Google Analytics data against third-party tools like AHREFs or SEMRush. Also, physically type in keywords the site ranks for and see if they actually show up in the search engine results. Lastly, ask for Google Search Console access so you truly see what keywords are ranking.
4. Google Analytics data missing
Sometimes sellers do not allow Flippa to pull in Google Analytics data. One reason may be that they are trying to scam a new buyer. Another could be that they use other third-party tracking services like Clicky.
Flippa is not integrated with Clicky so it's not an option to pull in data.
If the seller has Clicky, ask them to add you to the account so you can verify all of the statistics yourself.
If the seller has no analytics installed, you could technically use AHREFs or SEMRush to verify traffic but if you are a beginner, tread carefully.
Solution: If Google Analytics is missing in the listing, ask the seller to add it in. If they refuse, ask why and if the reasoning does not make sense, walk away.
5. Selling at a "low" price (multiple)
Back in 2008 when I got started website flipping, many niche site creators had zero idea of what their website was worth. You could negotiate and pick up a site for 10-15x monthly average profits. 
Nowadays with all of the information out there about website investing, a buyer knows the true value of their site.
So when I come across a listing and the seller wants to sell quickly at a low price, I question their motive.
Note that I have bought sites for much lower valuations because the seller needed funds quickly; however, such listings are rare. If you come across a seller looking to sell for a low price, ask a ton of questions!
Solution: Ask a lot of questions about the site and their real reasons to ask for such a low price. It also may be that you are getting a killer deal so do not question too much such that they figure out they are selling for too low. Tread carefully!
6. Listing description is "Too Good To Be True"
Some sellers optimize their Flippa auctions to achieve a higher sale price and be more transparent, but at times this can be overdone and false information can be shared.
An aspect of a listing that is in full control of the seller is the listing description.
Most other brokers write the description themselves to ensure as minimal biases as possible. With Flippa, the seller writes the description and thus can showcase the website in its purest form.
When I review a Flippa deal, I rarely read the entire listing. Most sellers do not list the setbacks with the website, and why they are motivated to sell. Most just list the highlights. I've seen some cases where sellers do not even bother to explain why the site is on a downtrend.
Here is an example of a site with a listing description that's just overloaded with highlights: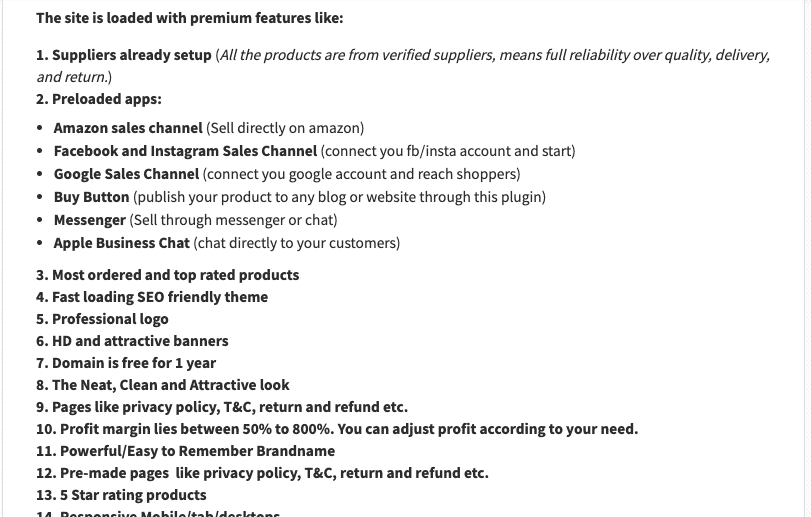 Therefore, I do my own due diligence on the deal and ask questions pertaining to the deal.
Solution: Take the listing description with a grain of salt. Sellers are not incentivized to be upfront in the listing description. Ask your own questions to the seller.
7. Seller is not answering questions in detail
If you are messaging the seller, and they are either not responding or are not answering properly, then walk away.
If you do not have an attentive seller, they will not provide the after-sale support needed to ensure a smooth transition.
In good faith, they may just be busy and the site they are selling is just not worth their time. But that does not help you get your questions answered and you cannot be sure if they are really just busy or they are trying not to answer the tough questions because they are hiding something.
Solution: Engage with the seller via Flippa's messaging system. If they are not answering questions thoroughly, just walk away. If the seller is truly busy, they will acknowledge that and ask for more time to respond; it's just a common courtesy. Use common sense!
8. Duplicate content
Many sellers are just looking for a quick flip. Many sellers build sites to sell; nothing wrong with that as I do the same thing (but quality first)
However, there is a type of seller that puts together low-quality sites and places them on Flippa for sale.
Some of these sites have duplicate content. Not all articles will be duplicated though. The seller is smarter than that. They place hundreds of articles and approximately 20-30% of them are somewhat duplicated.
Here is a listing I found where the seller re-used parts of an article from another site: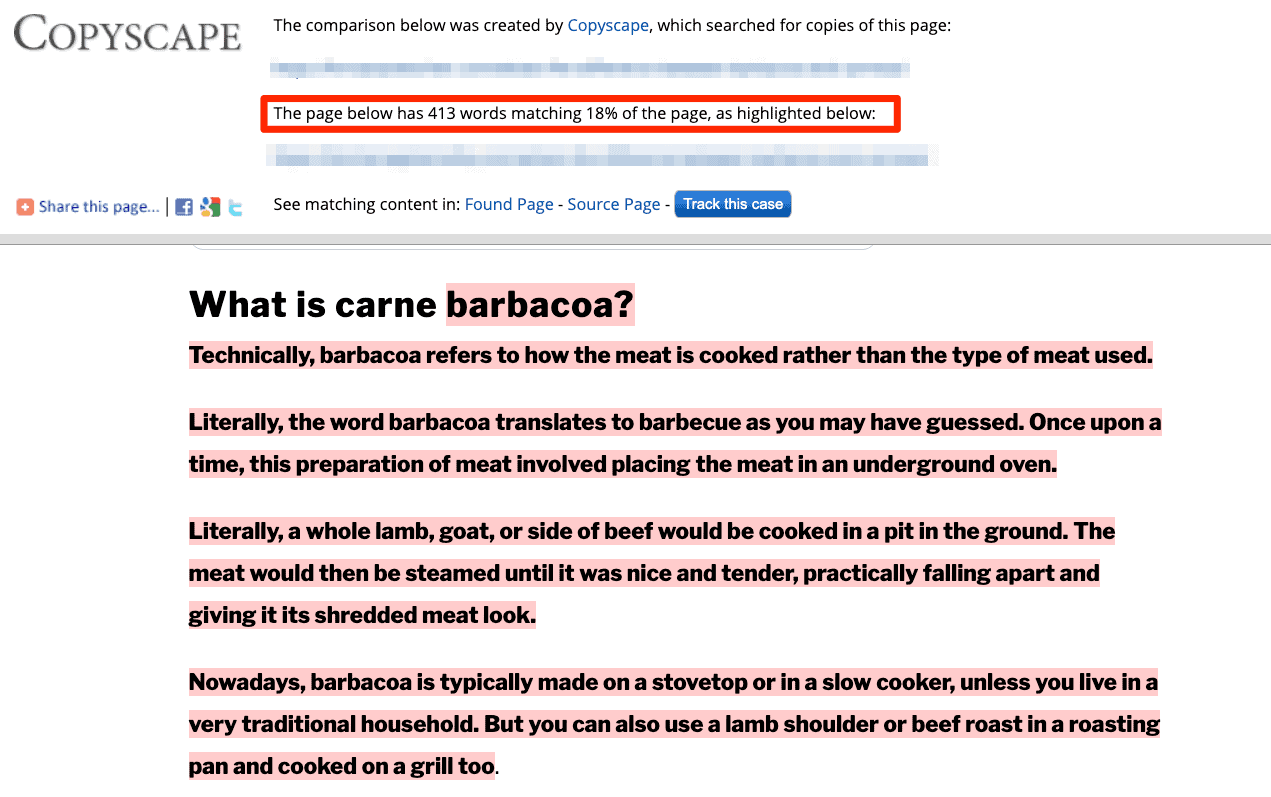 Now the seller may have no clue about this since they are outsourcing content to writers. A writer may have taken shortcuts. Regardless, you need to ask the seller about this.
If the site's fundamentals are still good (e.g., good backlinks, some good content) and only a portion of the content is duplicated, then I may still pursue acquiring the site. I would use the duplicate content issue as a way to bargain with the seller on their sale price.
Solution: Use Copyscape.com and run a large batch of the site's URLs through the tool. Make sure to compare the dates on the copied and original article; it may be the seller's content is being copied by someone else which happens and is not a red flag.
9. Random (and sudden) spike in revenues
A random and sudden spike in revenues is not a complete turnoff or scam on a site for sale. However, it does require further questioning if not already answered in the Flippa listing description.
Some sites peak at certain times of the year. While abrupt, the surrounding months will still have revenues. For example, home niche sites spike in November and December, but they still have earnings in the remainder of the year.
If you see most months being zero revenue and then a large spike, that's a red flag.
10. Starter/Template Sites
Stay away from starter and/or template sites for sale on Flippa. Most of these are pure scams! Most of these sellers are repurposing free scripts and WordPress themes. The sellers are then listing them for sale for less than $500 as buy-it-now listings.
On the Flippa listing page, a starter site will look like this: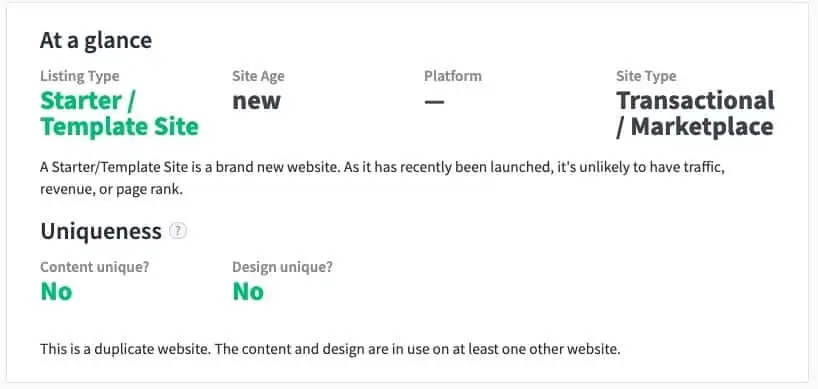 These sites are not established businesses. They are starter sites that you can create for cheaper. These are not sites that we buy to flip.
Solution: If you see the listing type as "Starter/Template Site", then stay away.
---
Is Flippa.com Doing Anything To Stop Scams? Platform Improvements in 2023
Flippa has performed a ton of improvements to its marketplace. As of 2023, they perform "due diligence" on all assets above a $50,000 price point.
This includes the following:
Verify traffic
Verify seller-claimed revenues against screenshots, Stripe, Shopify, etc
Verify seller-claimed expenses to make sure they are realistic
Verify seller claims in the listing description
Flippa's due diligence does not include an SEO review of the site, domain history, whether PBNs exist, or risk of the backlink profile, among others. On the other hand, Empire Flippers does a check if a site has a PBN and places that information in the listing description (kudos to them).
At the end of the day, as a website investor, it's on you to perform rigorous due diligence on an asset you will eventually be responsible for.
How do you know which listings are verified on Flippa?
Each listing that is "verified" has a "Verified Listings" tag. Within that, a small icon is added showing a "human". Here is an example:
This listing has three verifications:
Due diligence team,
Google Adsense, and
Google Analytics
This is a fully vetted listing according to Flippa.
---
Are There Any Good Deals on Flippa?
Yes, there are great deals on Flippa!
After reading through all these red flags and scams, you may be scared to even look at Flippa.
My best deals have come from there. Here are a few examples:
Dating site (case study): earning $800/mo average when purchased and currently earning $9,000/mo average. Aged business since 2004 with a domain rating of 50.
Outdoor site (case study): earning $300/mo average when purchased and currently earning around $3,000-$6,000/mo depending on time of year. Aged business since 2019 with a domain rating of 40.
Health site (case study): This is a public case study site acquired in April 2021 earning $500/mo.
For the hundred sites listed on Flippa at any given time, only 1-2 may be worth looking at. Unfortunately, that is the disbenefit of an unvetted website marketplace but the few that you do find will be quality.
Also, since you are directly working with the seller, there is more room for negotiations. On the other hand, using a broker marketplace, like Empire Flippers, will always cause a broker manager to be in the middle of every offer you make.
---
Where Can I Find "Vetted" Flippa Deals?
Flippa does not vet each deal and every deal (only the ones above $50K are vetted), and at the same time, Flippa has "needle in the haystack" types of deals. So how can you find these?
The Website Flip provides three services:
Weekly Deal Flow Newsletter: Every week we share live deals on Flippa that pass our due diligence via our newsletter. We share highlights, setbacks, data points, and more.
DealFeed.io: a discovery tool to find content sites for sale. DealFeed sifts through all the bad deals to surface the good ones worth looking at.
Due Diligence Service: if you come across a site for sale on Flippa, and need an expert to look over it. The Website Flip offers due diligence PDF reports.
---
Learn Due Diligence with EasyDilligence.io
If you would like to DIY due diligence and learn the ins and outs, check out EasyDiligence.io:
---
Is Flippa Legit? Be Aware!
Flippa scams and red flags will be common in an open-to-list marketplace. It's on the buyer (you) to weed out the bad deals from the good ones. Note that they are the largest marketplace and therefore not many sites like Flippa exist; it's in your best interest to learn and ins and outs.
Common sense when approaching a Flippa listing helps. Some questions to think about when reviewing a deal:
Does the listing title and description seem to overly promise?
Is the seller active on Flippa, or this is their first listing?
Did the seller attached screenshots, a P&L, and other proofs?
Does the Google Analytics data pulled in from Flippa make sense?
Is the seller responding to messages?
In short, be aware of the common scams listed above. I've come across these quite regularly. Make sure to also read my detailed Flippa review to gain more insights.