I love tracking digital media companies, how they perform SEO, and monetize their authority websites. Taking their teachings and applying them to niche websites is a good practice.
In this write-up, I break down 23 of the smallest to largest content digital media companies. I've collected data on:
When they were founded,
Niches they cover
Number of sites
Number of employees
Annual revenue estimates.
I then analyzed each of their large sites to come up with takeaways on specific features and growth tactics.
Let's get into it!
---
What's a Digital Media Company? Characteristics, Features
A digital media company is a company that owns a portfolio of different websites that often take advantage of multiple monetization methods to generate revenue.
These are companies that can have dozens or even over a hundred sites in some cases. Monetization can come from display ads, affiliate sales, e-commerce, online courses, subscriptions, and more.
When I'm talking about a content digital media company, this isn't one niche site builder with a handful of sites and some outsourced labor. These are companies with a large number of full-time employees and sometimes millions in revenue.
---
3 Characteristics of a Digital Media Company
What identifies a large company as being a digital media company versus just a company with a strong web presence? Three main characteristics help set digital media companies apart.
1. Focused Investment Criteria
Successful digital media companies aren't gobbling up every site that comes available on the market. They know exactly what they're looking for when acquiring a new site, as well as how they will invest to fuel further growth.
The investment criteria for one digital media company could be wildly different from what another company uses. Each one will be dialed in based on budget, vertical, and specific revenue goals.
2. Focused Verticals
Digital media companies don't use a "scattergun approach" when it comes to acquiring websites. Whether focusing on one topic, or a few, there will be a limited number of topics or vertical spaces that the company works in.
3. Economies of Scale Across Portfolio
The business model across the portfolio is all about scaling. SEO teams, outreach specialists, and teams of writers are common to produce content for every niche on a level that no individual or small business could hope to keep up with.
These companies have the human resources and talent to scale up the content of a site rapidly at a sustained level over years, giving them the ability to turn even a relatively small acquired niche site into a massive authority website with thousands or tens of thousands of articles.
The ability to do this allows for fast massive profit growth with each website created or bought in the portfolio.
---
23 Digital Media Companies Analyzed
I've put together the basic data for each media company. Some data is not readily available and is marked as N/A.
View the organized Google Sheet below:
Here's the data:
| Company | Founded | Vertical(s) | Sites | Employees | Revenues |
| --- | --- | --- | --- | --- | --- |
| DotDash | 1997 | All | 14 | 720 | $171.1M |
| Red Ventures | 1999 | All | 100+ | 3500 | $500M |
| Lola Media | N/A | Outdoor, Lifestyle, Travel, Pet, and Auto | 13 | 38 | $12.5M |
| Webpals | 2007 | Gambling, Sports Betting, Personal Finance | 2,000+ | 320 | $54.8M |
| Vertical Scope | 1999 | Auto, Outdoor, Pets | 1,200 | 236 | $51.7M |
| Future PLC | 1985 | Video Games, Tech, Films, Music, Photography, Home | 200+ | 2,300 | $443M |
| Dennis Publishing | 1973 | Auto, Tech, News | 28 | 795 | $200M |
| Leaf Group | 2006 | Lifestyle, Fitness, Wellness, Art, Design, Home | 12 | 400 | $212M |
| Meredith Corporation | 1902 | Lifestyle, Food, Health, Travel, Parenting, Home | 40 | 7,915 | $810.5M |
| A07 Online Media | 2016 | Auto, Lifestyle, Powersports, Weddings | 30 | 11 | $1.2M |
| Internet Brands | 1998 | Auto, Home, Travel, Health, Legal | 70 | 5,000 | $360M |
| Better Collective | 2004 | Sports Betting | 19 | 600 | $100M |
| Digital Brands | N/A | Dating, Financial | 5 | 20 | Unknown |
| Hearst Media | 1887 | Health, Real Estate, Beauty, Lifestyle, News, Entertainment | 360 | 20,000 | $11.4B |
| J2 Global | 1995 | Tech, Shopping, Health, Security, Martech, Comms | 50 | 4,000 | $1.372B |
| RakeTech | 2010 | Casino, Betting, Crypto | 17 | 126 | $24.2M |
| Power AutoMedia | N/A | Auto | 12 | 57 | Unknown |
| Atomic Industry | N/A | N/A | Unknown | 9 | Unknown |
| Outside Inc | 2017 | Heath, Outdoor, Endurance, Industry | 40 | 70 | $17M |
| North Equity | 2018 | Outdoor, Auto, Science | 15 | 70 | Unknown |
| Mitre Media | 2012 | Financial | 8 | 14 | Unknown |
| Wedlink Media | N/A | Weddings | 3 | 7 | Unknown |
| Aging Media | 2011 | Senior Housing | 7 | 29 | Unknown |
Red Ventures
Notable sites: Lonely Planet, CNET, Metacritic, Gamespot, Bankrate
Focusing on sites that offer reviews, advice, or news on specific fields, Red Ventures uses authority sites offering all three of these things in multiple verticals to produce an exceptional amount of revenue.
Red Ventures is an incredible study on how to earn from connecting consumers in high-value niches like credit cards, banking, and energy to providers willing to pay handsomely for the leads.
Lola Media
Notable sites: Gear Hungry, Gear Junkie, PetSide, Switch Back Travel
Lola Media isn't in as many verticals as many of the other companies on this list but they are sites with very passionate communities. Pet owners, outdoor travelers, and outdoor-oriented adventurers will know the names of their most famous sites.
This loyal community leads to repeat visitors and buyers who trust the brands enough to make recurring large purchases. Enough to make Lola Digital Media a multimillion dollar company.
DotDash Media
Notable sites: Investopedia, The Spruce, Treehugger, Brides
Originally founded as About.com, DotDash kept the strategy of finding vetted high-quality writers and experts and took that into new sites like Investopedia and Brides. Monetization comes from a variety of sources but lead generation is a heavy part of their financial portfolio.
WebPals
Notable sites: InvestorJunkie, MoneyUnder30, Greedyrates.ca
Based out of Israel, the current push for WebPals is into financial websites. The strategy is looking at strong sites that can be made stronger across multiple nations internationally, thus spreading out the risk while simultaneously expanding reach.
Vertical Scope
Notable sites: Roadbikereview.com, Paddling.com, ToyotaNation.com
Vertical Scope started heavily in the automotive niche but has reached out via acquisition to other verticals like outdoors and pets. The focus is on sites that not only feature brands but also have passionate built-in communities that only further encourage growth.
Dennis Publishing
Notable sites: Kiplinger, The Week, Auto Express, Minecraft World
Dennis Publishing has several huge names from the news niche that were big even before the days of the Internet being mainstream. The dedication to providing top-notch news in multiple verticals leads to an interesting array of sites in the portfolio and some extremely varied communities.
Leaf Group
Notable sites: Livestrong, Ehow, Only in Your State
Starting out as the giant Ehow, Leaf Group formed when they saw the need to change models and spread out ahead of changes to the Internet sphere. Since that transition, they expanded into several other niches looking at using user-generated content to harness the knowledge and experience of specialists in each site's vertical.
Meredith Corporation
Notable sites: Midwest Living, Better Homes & Gardens, People, Life, Food & Wine, Entertainment Weekly, Travel + Leisure
Meredith is a name that has been a big deal in media for well over a century, and the power of those brand names gave the Meredith Corporation the ability to transition online. They did so well, and as a result, continue earning massive online revenue in addition to conventional magazine sales from their top niche brands.
A07 Online Media
Notable sites: ATV Style, Thrifty DIY Diva, Web Bike World
A07 Online Media shows there is still plenty of space for the acquisition of solid niche sites that are then scaled up into authority sites. This is the model followed as A07 focuses on narrow niches and rapidly building content in those narrow verticals through expert content. The more traffic they continue to build, the more appealing their offers of direct advertising on the sites become.
RakeTech
Notable sites: CasinoGuide, TurtleBet, CasinoFever
RakeTech is another newer company (2010) that goes hard into the legitimate online gaming space. They offer both open services to players as well as products/services aimed at other gambling websites needed for security and functionality. This creates multiple income streams from both gaming companies and gamblers.
Power AutoMedia
Notable sites: Engine Labs, Chevy Hardcore, Off-Road Xtreme, Diesel Army
Very niche magazines have often managed to survive the reaping from the online movement, and Power AutoMedia's magazines are all about deep diving into many very specific areas car enthusiasts are passionate about. The sharp turn to digital magazines has helped them continue to thrive in the automotive vertical, where their notable sites are going to be well known among many gearheads.
Outside, Inc. (formerly Pocket Outdoor Media)
Notable sites: Outside, Oxygen, Backpacker, Peloton
Outside, Inc, formerly known as Pocket Outdoor Media is a surprisingly new company focused heavily on a passion for the great outdoors and fitness. In fact, some of their most well-known sites are older than the company having been acquired.
Active memberships in various sites and forums, as well as partnerships with other companies, provide impressive monetization options, while the brands under Outside, Inc's umbrella are known for passionate communities.
North Equity
Notable sites: Field and Stream, Bob Vila, Popular Science, Outdoor Life
North Equity has worked to acquire active brands that have built enormous trust with readers and authority with the search engines. This is how from 2018 to mid-2021 North Equity was able to make over 15 acquisitions of established digital media companies.
Mitre Media
Notable sites: Dividend.com, MutualFunds.com, ETFTrends.com
These are premium name domains loaded with helpful information and offering services through a membership site setup that can generate some incredible revenue. Especially in the financial field, which is where Mitre concentrates their building and acquisition of sites in.
Mitre also makes profits from massive lead generation to trusted names like Fidelity, Vanguard, and J.P. Morgan, among many others.
Wedlink Media
Notable sites: Brides of Oklahoma, Brides of North Texas
Sometimes the way to get big is by going local. Wedlink Media has done a great job by carving out a geo-specific niche within a larger topic to become regionally recognized specialists when it comes to weddings.
Weddings are expensive. Their share of the revenue from weddings is in serving the planners, vendors, and other businesses directly involved in making those special days happen through lead generation, partnerships, and similar cooperative tactics.
Vertical Scope
Notable sites: Roadbikereview.com, Paddling.com, ToyotaNation.com
Vertical Scope started heavily in the automotive niche but has reached out via acquisition to other verticals like outdoors and pets. The focus is on sites that not only feature brands but also have passionate built-in communities that only further encourage growth.
FuturePLC
Notable sites: PCGamer, Marie Claire, Photography Weekly, Guitar World
FuturePLC is a publicly traded company getting a lot of attention for its model of acquiring and building up authority sites into even bigger and more profitable trusted brands. Several of the sites owned are household names even for those of us not necessarily into that niche.
Leaf Group
Notable sites: Livestrong, Ehow, Only in Your State
Starting out as the giant Ehow, Leaf Group formed when they saw the need to change models and spread out ahead of changes to the Internet sphere. Since that transition, they expanded into several other niches looking at using user-generated content to harness the knowledge and experience of specialists in each site's vertical.
Internet Brands
Notable sites: Lawyers.com, Nolo, Fodor's Travel, WebMD, The Car Connection
Despite the banal name, this is a company with some true powerhouse authority sites under their umbrella. Especially in the hard to break into YMYL niches that Google keeps an especially critical eye on.
Internet Brands uses conventional online monetization methods in addition to using their positions as authorities in fields like medicine and law to provide high-cost services or lead generation as they continue to acquire high-quality authority sites that are already considered among the best in the niche.
Better Collective
Notable sites: BettingExpert.com, VegasInsider, HLTV.org
Sports gambling is a major revenue industry, but not one with a lot of monetization options for small sites. Someone had to provide software solutions, customer support, and research options for the high demand, and Better Collective has built tall in this one vertical to do just that.
Digital Brands
Notable sites: BadCredit.org, DatingAdvice.com, CardRates.com, DatingNews.com, HostingAdvice.com
Digital Brands has a small number of sites in comparison to many of the other digital media companies on this list but they are huge names in each of their verticals. These are huge sites in the very profitable verticals of dating, credit, and hosting – all of which have any monetization options from leads to subscription services to in-house advertising.
One of their large dating sites is a direct competitor to my dating site (case studies here).
Hearst Media
Notable sites: Lifetime, Popular Mechanics, ESPN, Esquire
Another very old media company that has stayed on top of the transition from print to online, Hearst Media is a widely recognized name. They still make billions from their print and TV properties but have developed strong websites around those long-established brands to thrive with revenue from online sources.
J2 Global
Notable sites: Moz, LiveVault, eFax, AskMen
J2 Global is a NASDAQ traded company that really focuses on the tech side of services for online sites and businesses. Offering online services to other major websites, companies, or even individuals looking for fax or VPN opens up direct services as a major monetization option for this billion-dollar company.
Aging Media
Notable sites: Senior Housing News, Home Health Care News, Hospice News
Aging is pretty much the definition of an evergreen niche, and Aging Media is very direct about its focus. Bringing in doctors, nurses, and permanent care specialists to write top-line content, their sites could very much be considered "niche sites" that have grown to authority based on traffic, size, and reputation.
This ten-year-old company sticks out by providing niche informational reports like white papers and in-depth research statistics for use by healthcare companies.
---
5 Characteristics of True Authority Sites Earning $1M+
Giant authority sites don't just happen by accident. They are the result of smart planning, careful focus on certain important characteristics, and an enormous amount of work by teams executing that plan.
So what do these giant authority sites all have in common?
1. High-Quality Expertly Written and Vetted Content
No site became an authority with mediocre content. Expert content not only helps rank in Google but wins trust with readers, too. These are sites that bring in true experts. Professional hunters and anglers for fishing and hunting info, doctors for medical sites, self-made millionaires to write about entrepreneurship.
For example, the VeryWellHealth part of the DotDash network employs a "Medical Review Board" of experts. Check it out: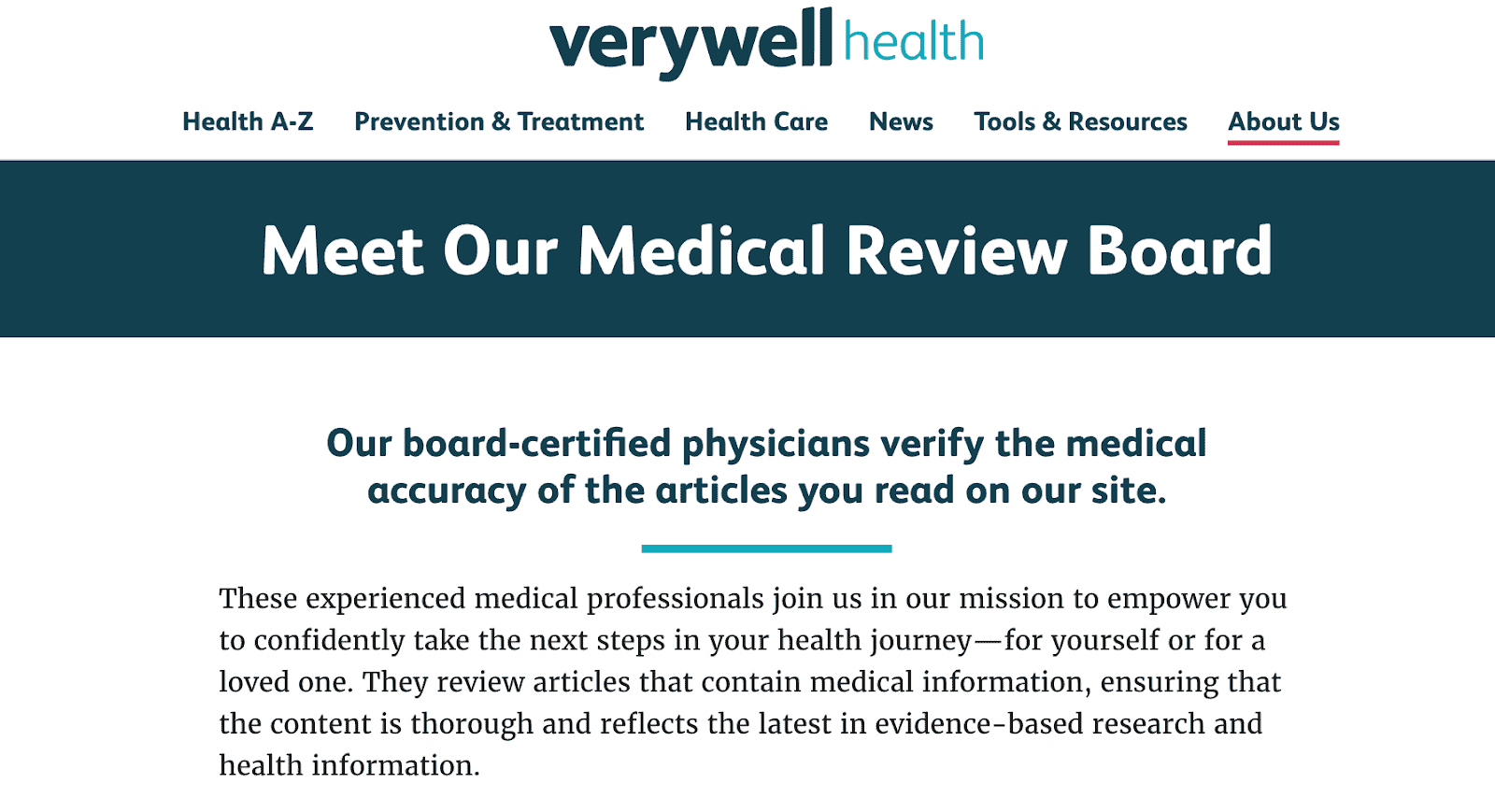 Content not only comes from experts but it tends to be professionally edited, well-written, and many times original research is done to create new information with high value. This is content that is not a rough re-writing of the top results in Google.
Example(s)
2. Alternative Media (Video, Data, Images)
Authority sites based around content are going to offer more than just written content, no matter how well written. They include relevant high-quality video, data tables, original images, screenshots, tables & charts, and any other formatting that makes sense to make the article as strong as possible.
Seeing the strong use of multiple forms of content in a single article is a good sign that a large site is an authority, or using the best practices to give themselves a chance to become one. Notice how each authority site like the two examples below use alternative media to enhance the content in both cases.
3. Unique Website Designs
You aren't going to find a cookie cutter theme when looking at an authority site. These sites are each going to have different looks, designs, and interfaces that make them stand out from the competition. As well as the millions of basic blogs or niche sites out there that all have a familiar general setup, even with different themes.
The design of a digital media company site is going to stand out, and usually, the designs of their best sites are also going to stand out as something unique.
Check out the GTMetrix results for VeryWellHealth below. A perfect score for Core Web Vitals and other such metrics. They definitely employ some of the best engineers to optimize sites.
Example(s)
4. Strong Communities
Companies of this size aren't built with one-off visitors. The authority sites in their portfolio build loyalty through community. Why is Apple stock so valuable? What community brags about their vehicles more than Jeep owners?
The strongest brands build more than a product, they build a community. The same applies to strong authority sites in the digital media company space. Sites that delve deep into a niche are going to be able to pull together a really dedicated community when done right.
Example(s)
5. Value-Add Tools For Enhanced User Experience
Original tools that add serious value for the user are often found on these sites. Additional tools not only cause an authority site to stick out, but it adds incredible value for searchers. These tools can come in many forms depending on the site and the needs of the visitors.
Check out Red Venture owned Bankrate's mortgage calculator, which I've used many times in the past:
These tools could be helpful quizzes, calorie calculators, retirement/investing calculators, charting software, and more. These are tools that bring a value to the table that further supplements the written content.
Example(s)
---
5 Major Growth Tactics Used By Media Companies
When talking about large content digital media companies, there's no doubt they are using powerful growth tactics to stay on top of their respective verticals.
1. Strategic Interlinking Between Portfolio of Sites
These media companies employ seasoned SEO veterans that understand the value of their domains. Interlinking between their portfolio of sites is extremely common to pass the link authority and prop up their entire media network.
To analyze an example of this, we can plug in a specific site into AHREFs and then navigate to Linked Domains to see where the site is externally linking.
See below for VeryWellHealth, one of DotDash media network's sites linking out to TheSpruceCrafts:
They link out "strategically" to 46 pages on TheSpruceCrafts. This is common across the entire DotDash network.
2. Website Merging via 301 Redirects
Mergers and acquisitions (M&A) is a significant growth strategy for media companies. I've discussed 301 redirects extensively in this write-up and how you can deploy them for your niche sites.
DotDash's example is the most interesting. DotDash split up About.com into a series of smaller niche-focused authority sites that exist today. They move over the content and set up 301 redirects and that is how their entire portfolio of websites was built.
Using AHREFs, I analyzed some of the 301 redirects DotDash setup for About.com. See an example below:
About.com had a significant amount of subdomains with content. DotDash moved the subdomain content into their own sites and set up 301 redirects. For example, "homebuying.about.com" content is being redirected to to "thebalance.com" authority site.
They have 1,050,00 total 301 redirects in place that AHREFs picked up, and you can view them all here on AHREFs.
Here is an excellent article explaining the domain splitting process DotDash followed.
3. Using Influence to Gain Backlinks
Having a widely recognized name or brand gives content-based digital media companies a lot of influence that can be used to help gain powerful backlinks. A company that can show it makes millions online has a much easier time getting reviewed by blogs in the competitive "online marketing" and "make money online" verticals.
These credentials also make it easier for them to generate links through PR campaigns whether through HARO (Help A Reporter Out). There's no denying at a certain size and with certain numbers that a company or site has momentum and influence.
The multi-million dollar media companies are the ones who know how to use this influence to gain backlinks that solidify them as a top authority site in the eyes of Google.
4. Using Social Media to Generate Traffic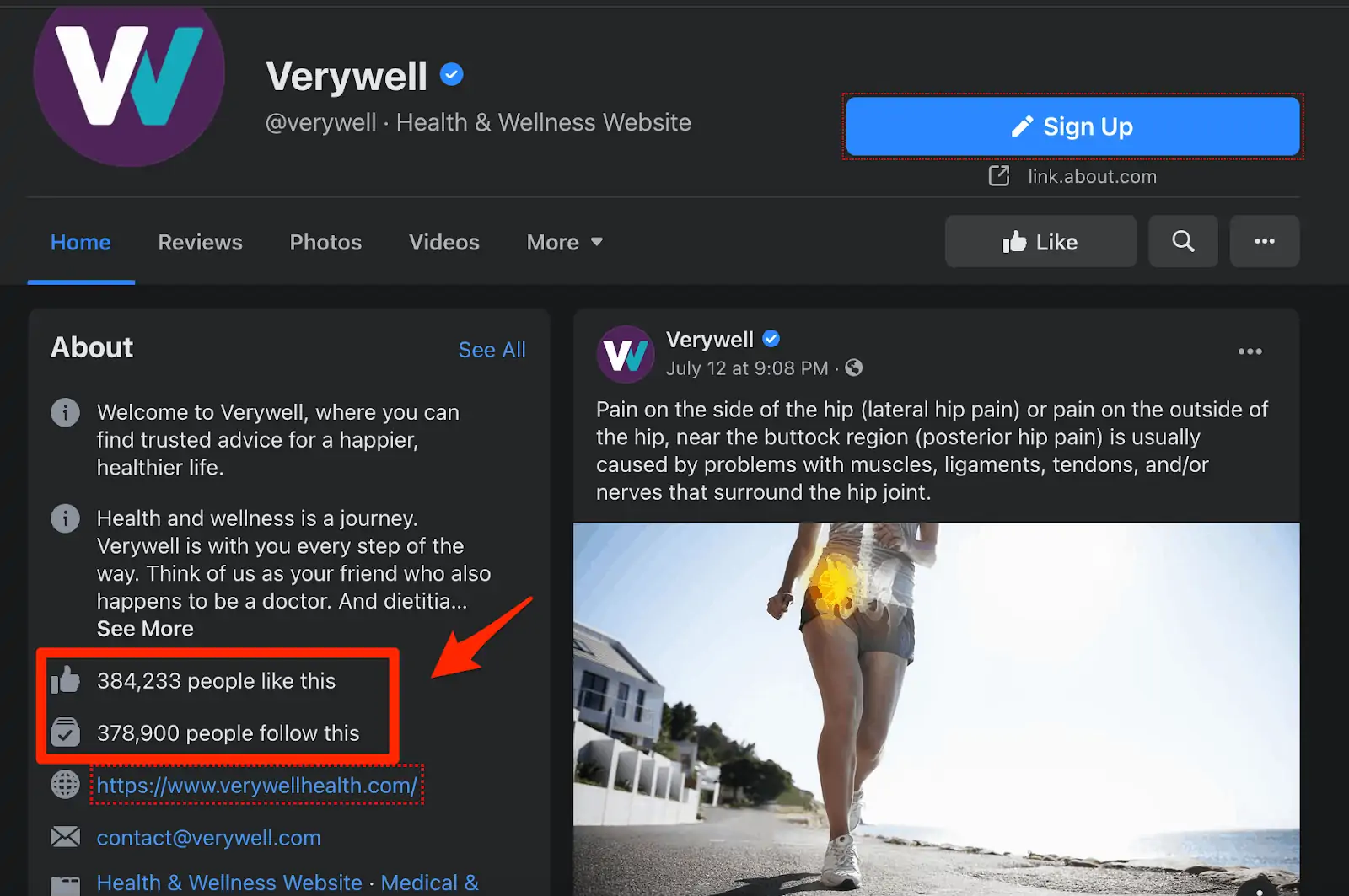 Digital media companies understand the potential that social media holds, as well as the many different platforms that millions of people use worldwide.
Normally a large digital media company won't just have a strong active presence on one platform, but they will have a social media manager or entire team creating active profiles on multiple social platforms.
Facebook, Pinterest, TikTok, Instagram, and Twitter are just some of the many active platforms that can drive many thousands of visitors to a monetized site or platform. The large companies know this and have both free and paid campaigns to increase outreach and drive targeted traffic to their most valuable sites.
5. Direct Advertising and Private Affiliate Structures
Big digital media companies know how to scale their clout to open up serious monetization options. Direct advertising is a common practice. With the right courses, subscriptions, or high-price items, a good ad campaign can make serious money in addition to spreading the company's brand.
I've touched on how Amazon Associates has custom rate cards for large publishers in this write-up. All of these media companies that generate significant traffic for Amazon will have custom commission structures.
For example, SpruceEats (part of DotDash) promotes Amazon and other affiliates simultaneously. They are placing Amazon at the top most likely due to the high conversion rate partnered with above average commission rates: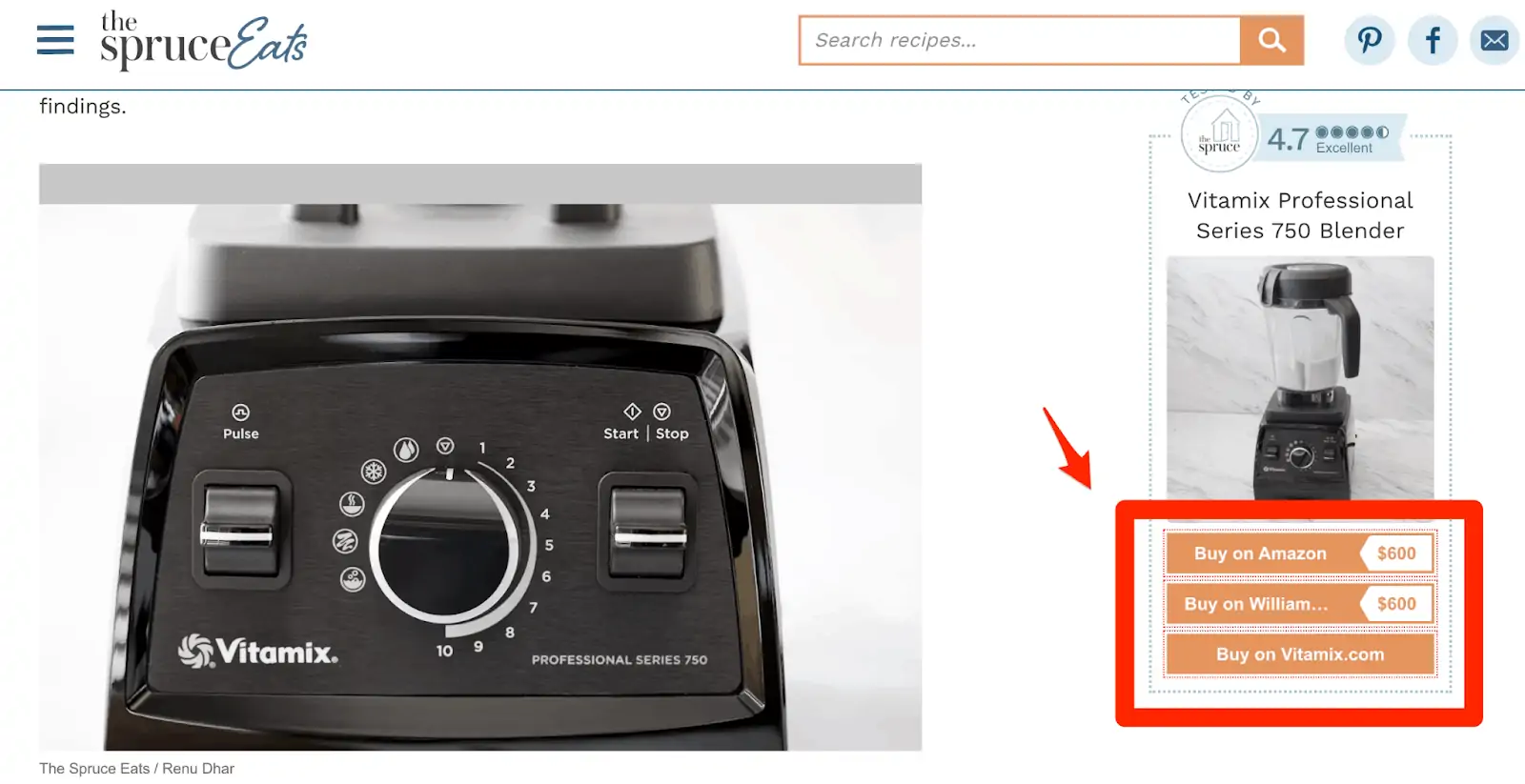 Large companies also work out private affiliate structures. They have the traffic and the name recognition to negotiate their own rates. This can come from direct deals with companies who pay for each unit sold in addition to the affiliate commission.
This can also come from a higher than the printed percentage that is only available to the largest companies and traffic providers.
---
---
How I Learn from Content Media Companies
As a niche website investor, I keep tabs on how these large media companies innovate in terms of website design, SEO, and acquisitions.
Here is what I recommend for you to do:
Keep a shortlist of media companies that operate in your vertical/niche/industry
Keep track of their portfolio, press releases, UI/UX changes, and more
Implement their proven techniques on your niche sites as much as possible
Remember that if they deploy a major change to their user interface, content structure, promotions, etc., it's highly likely that it's been split tested across millions of pageviews. This is why following them can reap significant returns for you.