Done for you affiliate sites can be great for both beginners and expert website flippers alike. For beginners, they get you set up with a site created by experts. For experts, they can save you time in building your own sites.
I have purchased a handful of ready-made niche websites in the past. While I always had the skillsets to do the site buildouts myself or outsource to specialists, I chose to go the DFY route for the sole reason to save time. Nowadays, if I want to build out a new site, I have a few go-to freelancers that know exactly how I want my sites built out, or I opt to acquire a site.
DFY website agencies are always a part of my "toolset" of strategies for when I need them.
In this write-up, I cover the following:
What's a DFY site? What's included?
DFY vs building vs buying niche sites
Recommended DFY agencies
Common questions
---
BATTLE-TESTED RECOMMENDATIONS

Are you wanting to build a niche site? Confused about how to get started?
Check out my agency where we build done-for-you niche sites
Each niche site includes a detailed niche analysis, keyword research report, site build-out and design in Wordpress, revenue analysis, and more.
---
👉 What's a Done For You (DFY) Affiliate Site?
A done-for-you site, or also known as a readymade site, is a Wordpress website that has been built by an agency as a turn-key solution. These sites usually include the following as a package:
Domain (with options for aged domains)
Wordpress installation
Wordpress plugins (e.g., SEO plugin, Amazon plugin, caching plugins)
Wordpress theme
Unique content that is published with on-page SEO
Images
Training courses (some agencies provide this)
Some add on packages may include link building, infographics, YouTube videos, among others.
Once you place an order, the agency will work with you to determine your niche (if not already pre-determined), source a domain, research content ideas, get the articles written in-house, design the website, optimize it, and then when all complete, transfer it to your server hosting provider.
---
👉 Done-For-You vs Building vs Buying Niche Sites: My Thoughts
For any business decision, the "buy vs build" question arises. However, in the website investing world, we have three decisions that need to be weighed against each other.
Do you buy a hands-off ready-made site from an agency, build the site yourself, or acquire a pre-existing site from a seller?
They all have pros and cons. Let's get into it!
Approach #1: Ready-made Niche Websites
Pros:
Hands-off; no involvement needed except answering a few emails
Beginners can understand what goes into building a niche website
Cons:
High-cost compared to building yourself
Less control on how the agency sets up the site
No control on content quality, or keywords
If you find off-market deals for DFY sites (with no revenue), use the following 5-step framework and calculator to dictate a value.
Approach #2: Build Your Own Site
Pros:
Exact control of the on-page, site structure, and keyword selection
Strict control on costs
Much cheaper than DFY sites
Cons:
Requires understanding of how to set up a proper niche site
Requires doing it yourself or finding specialists to write content, set up a website, keyword research, etc.
Approach #3: Acquiring Pre-Existing Sites
Pros:
Can acquire a site with aged content that has pre-existing backlinks
The site may be earning revenue already
Content on the site can be acquired at a significant discount since acquisitions are based on multiple of revenue; not how much content is on the site
Cons:
Minimal understanding of the site's structure
Detailed due diligence is required
Which is one is right for me?
Each individual is different and their available capital and time differ.
Personally, I started by building my own sites and after I learned the ins and outs, I started acquiring websites. I've used DFY agencies early on to save time; however, it was never used as a primary source of websites.
---
👉 Best DFY Affiliate Site Agencies for Website Flippers
Being in the industry since 2008, I've seen many agencies come and go. There also have been many agencies that have scammed people. The following agencies that I will review/discuss are backed by top-notch individuals that are in it for the long haul.
My Review Process
Note that the DFY sites do not get traffic, nor have any earnings from the get-go. It's not possible to judge DFY sites based on their traffic or revenues. We have to judge the DFY agencies themselves, their team, service structure, and comparable metrics.
Each DFY agency will provide at a minimum the site build-out. The differentiation metric will be the words of content leading to the effective price per word ($/word).
This is what each review will cover:
About the team
About the service
Comparable metric
Additional value-adds
For the comparable metric, I will be sharing the price per word for each agency's 50,000-word package.
Check out my thoughts below on each service provider, in no particular order.
WebOperators Review – #1 Service in 2023
WebOperators is managed by my own team. We've been building websites since 2008 and bring a ton of experience.
Anyone can build a niche site. You can hire a freelancer on Upwork to take care of that for you. However, not everyone can build a niche site that will have the proper foundation, keyword planning, content production, and monetization, among other things in place that a niche site needs.
My team is comprised of operators, i.e., those who ACTUALLY run 6-7 figure niche sites. Rest assured that you are getting a site built that we personally would be happy adding to our portfolio.
DFY Service Breakdown
WebOperators is turnkey. We help with niche selection, keyword research, content creation, site buildout, and proper foundation.
Here's what's included:
ROI-based niche selection
12,000 words of content
Content opportunities report
Revenue opportunities report
Monetization strategy report
Content opportunities report
WordPress website setup & foundation
Site speed optimization
Value Add
The major value-add to having my team build a site is quality of work and exit optimization. We only utilize native English writers to write content for your site, as an example, whereas competitors use non-Native.
Exit optimization is key. We plan your site such that you will exit/flip one day. Your site is optimized to exit whether you plan to sell or not. Doing so means that you are maximizing revenue from day one.
Give us a shot!
Make Lemonade (aka Niche Website Builders) Review (Bankrupt)
Note: as of July 14, 2023, Niche Website Builders (aka Make Lemonade Agency) is going through bankruptcy. Please use WebOperators, which is a more seasoned service with a quality team in place.
About
Niche Website Builders (NWB) has become a prominent provider of done-for-you niche site services from website build-outs, content, backlinks, aged domains, and more.
The team behind NWB is Mark Mars and Adam Smith. They manage a portfolio of websites themselves and implement what they preach.
DFY Service Breakdown
Their service is turnkey and includes help with niche selection, keyword research, keyword selection, content creation, site buildout, and ongoing support.
They provide 4 packages depending on the amount of content you require:
30,000 words at $2,495
50,000 words at $3,495
100,000 words at $6,495
150,000 words at $9,495
As an add-on, you can tack on an aged domain that the NWB team has sourced from auctions. Read more about aged domains here; they can be an excellent way to have site authority from the get-go.
Value Add
I asked the co-founder, Mark Marks of Niche Website Builders, what sets them apart. Here was the response:
We don't offer training / SOPs but we do offer an insane amount of free consultancy. So, EVERY CLIENT gets an hour-long onboarding call where we talk about goals, aspirations, and strategy. We also talk to a lot of clients over email and messenger to help them grow their site and also we just have ad-hoc zoom calls for free. That's what sets us apart and why so many people love us and recommend us through word of mouth. You can also think of it like we're providing you with all the help and guidance you would get from a management company without the need to pay a commission on earnings.

Mark Mars, co-founder of Niche Website Builders
Comparison Metric
The 50,000 package works out to be 7 cents per word.
Alpha Investors Review (Shutdown)
Update (12/06/2022): Alpha Investors has been sold off to another company. They have shut down operations. We DO NOT recommend using any of Alpha Investors' current and future services. Try WebOperators instead.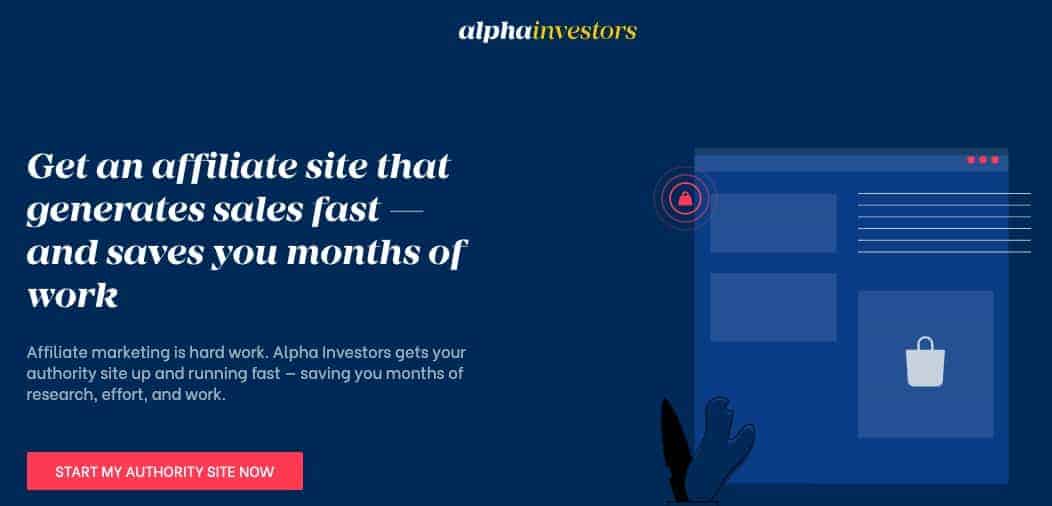 About
Alpha Investors is headed by Andrej Ilisin. He is the owner of the website brokerage, Investors Club, Alpha Investors, and the private Flipping Websites Facebook group..
Andrej and his team manage a portfolio of websites and also provide a plethora of services catering to beginners through Alpha Investors, to DIYers via their brokerage and Facebook group, and then for those that want to be hands-off via BuzzLogic. They are a proper vertically integrated niche website business.
DFY Service Breakdown
Their service is turnkey and includes help with niche selection, keyword research, keyword selection, content creation, site buildout, and ongoing support.
They provide 3 primary packages which include the minimum to get started:
Omega Package ($899): includes site build-out, 8,000 words of content
Beta Package ($2,299): includes site build-out, 20,000 words of content, and basic off-page SEO
Alpha Package ($5,299): includes site build-out, 50,000 words of content, full off-page SEO, and advanced on-page SEO
Alpha Investors also has readymade sites they've built out, content packages that you can purchase a-la-carte or as a monthly subscription, and they will build out sites on aged domains if that's what the customer desires.
Value Add
The value add with Alpha Investors is the fact that the team also manages three avenues for website flipping:
The largest Facebook group for buying/selling sites (without commissions)
If you can grow your DFY site to earn revenue, you can utilize their services to sell the site or have it managed for you by the same team that built the site. A win-win!
Comparison Metric
The 50,000 package works out to be 10.6 cents per word.
Example site Metrics
Here are real-life details (without sharing the URL for privacy reasons) of a site that was created:
Purchased the Alpha package
Built site on a new domain
23 articles total; 50,000 words total
7 buying guide articles, 16 informational articles
Aged domain was included that was 301 redirected (see step-by-step guide here)
What About Other Providers?
Many agencies can build out a site for you. Some of the other well-known ones are Human Proof Designs and Brand Builders.
Both of these providers are worth a look. Make sure to obtain sample sites and compare & contrast between various providers to see which one "works" for you the best.
---
🙋‍♂️ Common Questions About Readymade Affiliate Sites
Who's the ideal customer for DFY sites?
Done for you sites are ideal for two classes of individuals: beginners, or those who have capital but limited by time or a lack of freelancers
If I've already built sites from scratch, should I buy DFY sites?
It depends. If you have successfully built up a few sites (maybe even flipped a few), then you have the knowledge to do it again. It then just comes down to your available time.
Many niche website builders are doing this on the side as a source of income; they have day jobs still. Therefore, in that situation, there is an argument to use DFY agencies due to lack of time.
If I've bought and sold sites already, should I buy DFY sites?
If you have bought and sold sites in the past, continue doing so.
With the sheer amount of deal flow available through brokers and marketplaces these days, you can source a good niche site with a bulk amount of pre-existing.
Many niche sites for sale include at least more than 50,000 pre-existing content. You are paying a multiple of the revenue and thus it is likely you will find a niche site that is not optimized for on-page properly and thus generates minimal traffic and revenue. That's an easy win.
Are DFY sites more likely to be successful?
No, there are no guarantees. However, the DFY providers have been in this affiliate website industry for a long period of time. They manage their own portfolio. They understand what's needed to put together a foundation for a successful site.
Am I paying a premium for Wordpress plugins, themes, etc?
The costs of plugins and themes are baked into the overall package costs. Most of the providers have agency packages for plugins and themes and thus can place them at no cost on your site.
Do I receive training after purchasing a DFY site?
For the most beginner-friendly service, Human Proof Designs is your best bet. They provide video training and access to a Facebook group to ask questions. The other providers do not have traditional training modules in place.
Can I be hands-off?
Yes. Each provider has a-la-carte and subscription packages for ongoing content and backlinks.
---
BATTLE-TESTED RECOMMENDATIONS

Are you wanting to build a niche site? Confused about how to get started?
Check out my agency where we build done-for-you niche sites
Each niche site includes a detailed niche analysis, keyword research report, site build-out and design in Wordpress, revenue analysis, and more.
---
🤝 Wrap Up: Are DFY Sites Part Of Your Strategy?
If you do not have a pool of specialist freelancers or time to do it yourself, DFY providers will be a good choice.
These are the questions I always ask myself in any "buy vs build" decision:
Do I have the time right now to build this new site myself or manage freelancers to do it?
Can my time be spent elsewhere where I can get a higher ROI?
As an entrepreneur, the "buy vs build" decision is always a difficult one to tackle.
Use DFY website agencies as part of your arsenal of tools. There is always a use case for using them at some point in your journey.
Verdict: If you are looking for a recommendation, make sure to check out my agency, WebOperators, You can get on a quick 15-min call with me to get an understanding of what we are all about.