The biggest challenge niche sites have is turning into true authority sites with multiple revenue and traffic sources. One way to expedite this is to buy Facebook groups in your niche.
Facebook groups are a great way to acquire a "connection" to like-minded people in your niche.
The largest value add is your website sale valuation may increase by integrating the Facebook group into your portfolio. As an example, a competitor of my outdoor site case study received a 57X multiple on Empire Flippers because of their portfolio of social media assets.
You can either build groups from scratch or buy them. I bought three Facebook groups in the past year that ranged from $0.046 per member to $0.53 per member.
In this write-up, I deep-dive into the following:
Case study of a 54,000 member group
Why, how to find groups to buy, and how to transfer ownership
How to value a group
Due diligence tactics
Let's get into it with a case study first!
Case Study: 54,000 Member Group Purchased for $2,500
For my outdoor site case study, I acquired a Facebook group in a shoulder niche of the main topic in August 2020. The price per member came out to $0.046. See the original plans for the group here.
In this case study, I will share the growth metrics over 10-months of ownership, and what failed in my experiments.
Group Growth Metrics
Here is a screenshot from the Facebook backend on the member growth of the group. The first full month of operations was in September 2020. At that time, the group had 54,000 members.
As of June 2021, the group has approximately 63,000 members, thus a 17% growth trend.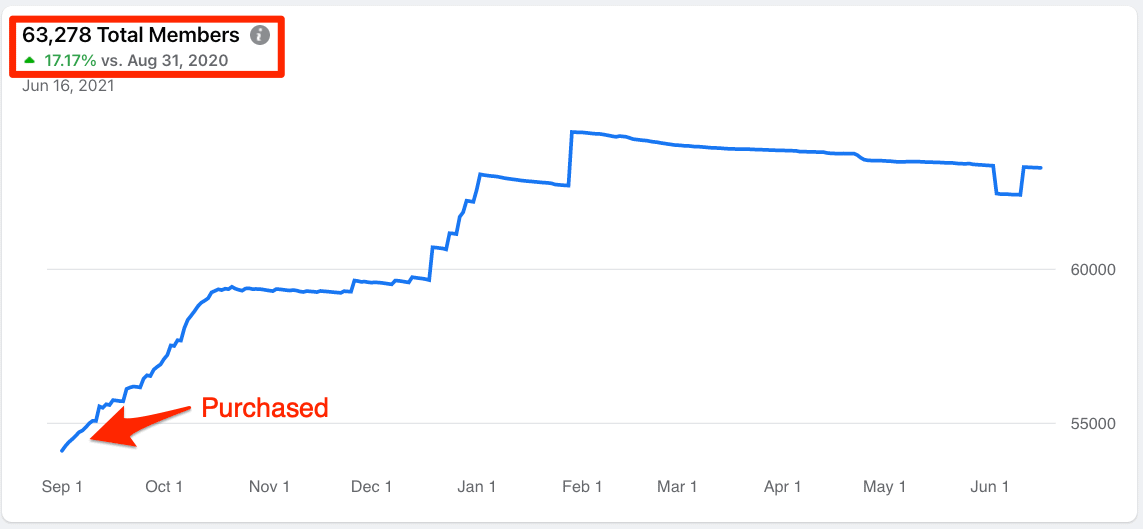 Why did I purchase the group?
The main purpose was to tack on more assets to increase the overal value by driving more traffic, authority, and revenue.
This is what I had planned:
Offer the groups to brands to do shoutouts. With 54,000+ members, my social portfolio now had more credibility where brands can purchase shoutouts
Collect emails for a new automated email campaign to promote products/offers
Drive traffic to the main site
Eventually, start/buy a niche site aligned in the same topic and have an immediate traffic source from the group
My Failed Experiments
I've performed several experiments with the group to understand the best way to drive traffic and monetize. Some have failed. This is unique to my group and your situation will vary. Here are my findings:
Collecting email addresses = Fail
Facebook users join groups to learn and share their findings. In my group, when a user joins, I ask a series of questions to ensure they are not scammers. In one of the questions, I asked the following:
More than 50% of new members entered their email addresses! This was amazing at first glance. However, as these users received their PDFs and got added to my email sequence, they either unsubscribed or completely ignored the emails.
This was because of user intent: they wanted the free item, they did not sign up to an email list.
Drive traffic to main site = Pass
Using social media scheduling tools, like Publer, I hired a VA to schedule posts. This did drive traffic back to my site.
However, engagement is low on posts that take users off Facebook. This is most likely due to Facebook's algorithm which forces people to stay on their platform.
Here are the results for 1 month of operations. The uptick starting in early August was due to acquiring the new group and scheduling posts.

In this month, my outdoor site received 5,000 extra visitors from Facebook.
Brand Shoutouts = Pass
E-commerce brands love social media. They always spend significant time and money on buying paid ads. Therefore, when niche sites can offer a package promotion deal, they take it.
By adding more social assets with followings, the brands are more inclined to work with you.
I sold multiple shoutouts at $500 one-time. This included posting once to each social profile with an offer of their choice. This offer usually included a unique coupon for the group. It was a win-win for my users and the brand.
Increased Website Valuations
Buyers of websites, specifically those buying in the 6-figure range, are looking for diversified assets. A site without social media, email list, etc., is worth less than a site with those assets.
Empire Flippers are at the forefront of increasing multiples for businesses that have multiple assets.
Here is an example of my direct competitor selling their site on Empire Flippers. They have multiple assets that include Facebook groups, Pinterest profiles, email lists, e-books, and two sites (with one being dominant).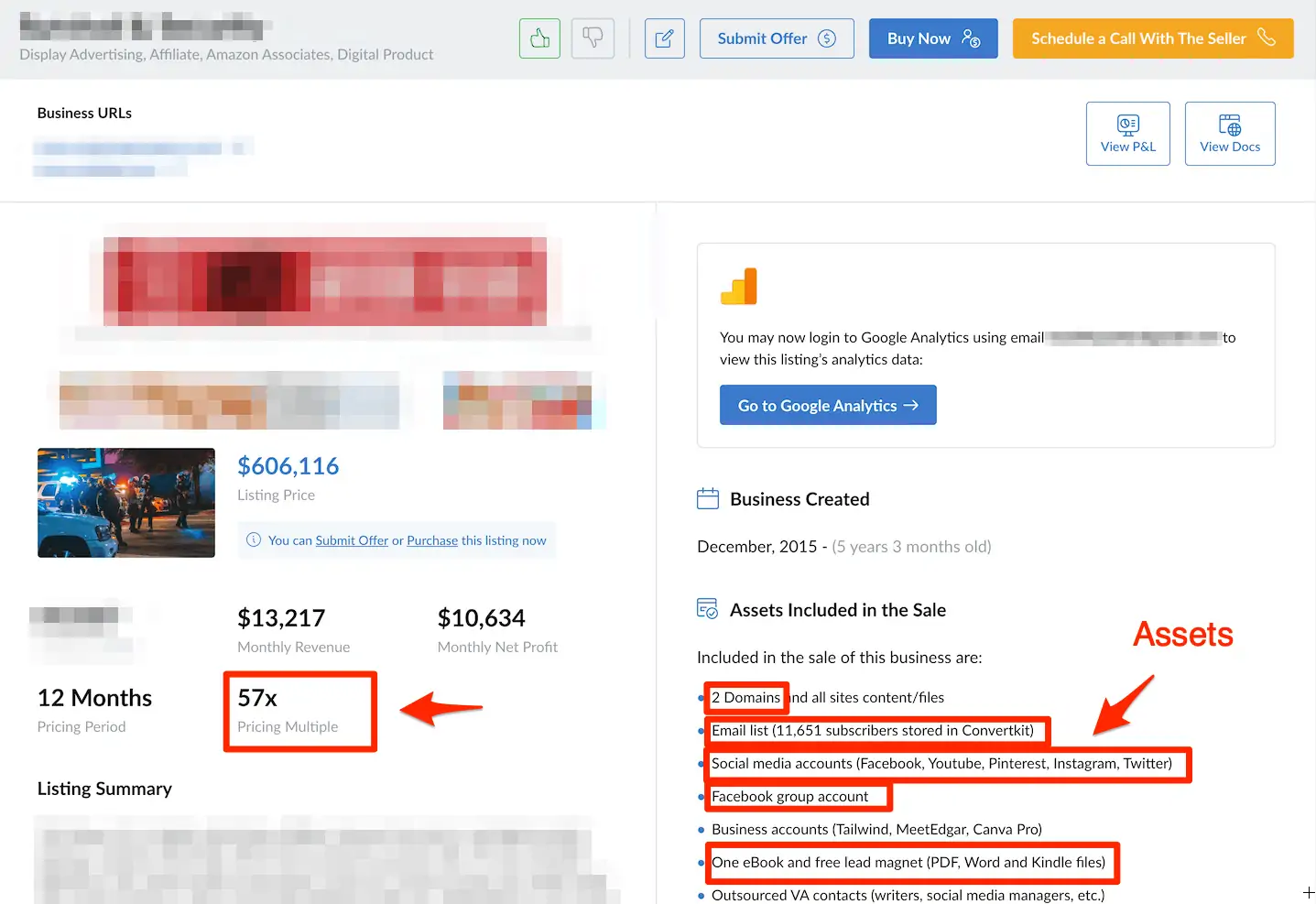 With this, Empire Flippers gave it a 57X monthly multiple valuations, whereas the typical valuation for a single niche site is around 35-40X multiple.
Was this purchase worth it?
Yes, it was worth it. I recouped my money on the Facebook group by selling brand shoutouts for $500 each to brands in my niche.
This asset is now on stand-by and passively operating.
When I go to sell my outdoor site portfolio, I envision a higher multiple since I have an active Facebook group that the new owner can tap into.
---
Why Acquire Facebook Groups? 6 Benefits
Buying Facebook groups has significant advantages to your niche site. Here are the reasons I buy groups:
1. Collect email addresses
Depending on your niche, email lists can be valuable. Acquiring a Facebook group can give you a new acquisition channel of members who want to subscribe to your mailing list.
There are a few ways to collect emails:
When a new member joins, ask them to provide their email address in the Facebook Member Questions
Create a Pinned Announcement giving something in return (e-book, checklist, etc) for the email address through a dedicated landing page
After obtaining the email address, you can add them to your email sequences promoting your products, driving traffic back to your site, or other methods.
2. Drive traffic to your niche site
By promoting your niche site articles in your group, you can send traffic to your website. This can increase your revenues if you have display ads or affiliate links on your articles, but also provides the quality social signals Google is looking for.
One challenge here is that you need to understand how frequently to post articles to your group. If you bombard the group with content, they will be less likely to click. Users may also stop engaging in the content if they think they are being spammed. There is a sweet spot.
Here is what I do:
Use a tool like Publer or Hootsuite to automatically schedule posts
Publish 3 times a day: morning, midday, and nighttime
In the post description, always ask a question to get more engagement
3. New potential revenue stream
The ability to make Pinned Facebook posts, driving traffic back to your site, and controlling what the group sees can open up new revenue streams.
If you have a digital product, you can promote that product as a Pinned Announcement. This is the first post each member sees when they join the group. It's the best time to get them thinking about buying your product. You can also periodically promote your product through normal posts.
Another revenue stream is to offer e-commerce brands in your niche the ability to reach this audience through shoutouts and sponsored posts.
4. New content ideas
By nature, Facebook group members are there to learn about the topic. People ask questions and get answers.
Each question asked is an opportunity for you to potentially write an article on that topic for your niche site.
If a question is getting engagement from other users, then that's a great sign this is a trouble point for people in the niche and thus a guide of some sort is needed.
5. Find passionate writers
A Facebook group will have a select group of people who are extremely knowledgeable, active in the group, and love to help others.
Message each of them to see if they are willing to write content for your niche site. They are the true experts in the field and it will help your Google EAT.
You can opt to pay them, or maybe some may even volunteer to write an article.
6. BONUS: Increase sale value of your business
I've eluded to this in the case study. As you accumulate related assets in a niche, your website valuation multiplier increases.
This happens because, from the buyer's perspective, your business is less risky than one with minimal assets.
---
How To Find Facebook Groups To Buy
For Facebook groups, there is no marketplace or brokerage where these are sold. At times, the owners of the groups have no idea their group is worth any money.
To buy Facebook groups, you need to do cold outreach. Here is what I do:
Find Relevant Groups
Find the group owners
Direct message the owners
Finding the groups is easily done by using Facebook's search feature. First, go to the Facebook Groups section, then type in a keyword. As an example, I typed in "camping", and I was immediately presented with a selection of groups.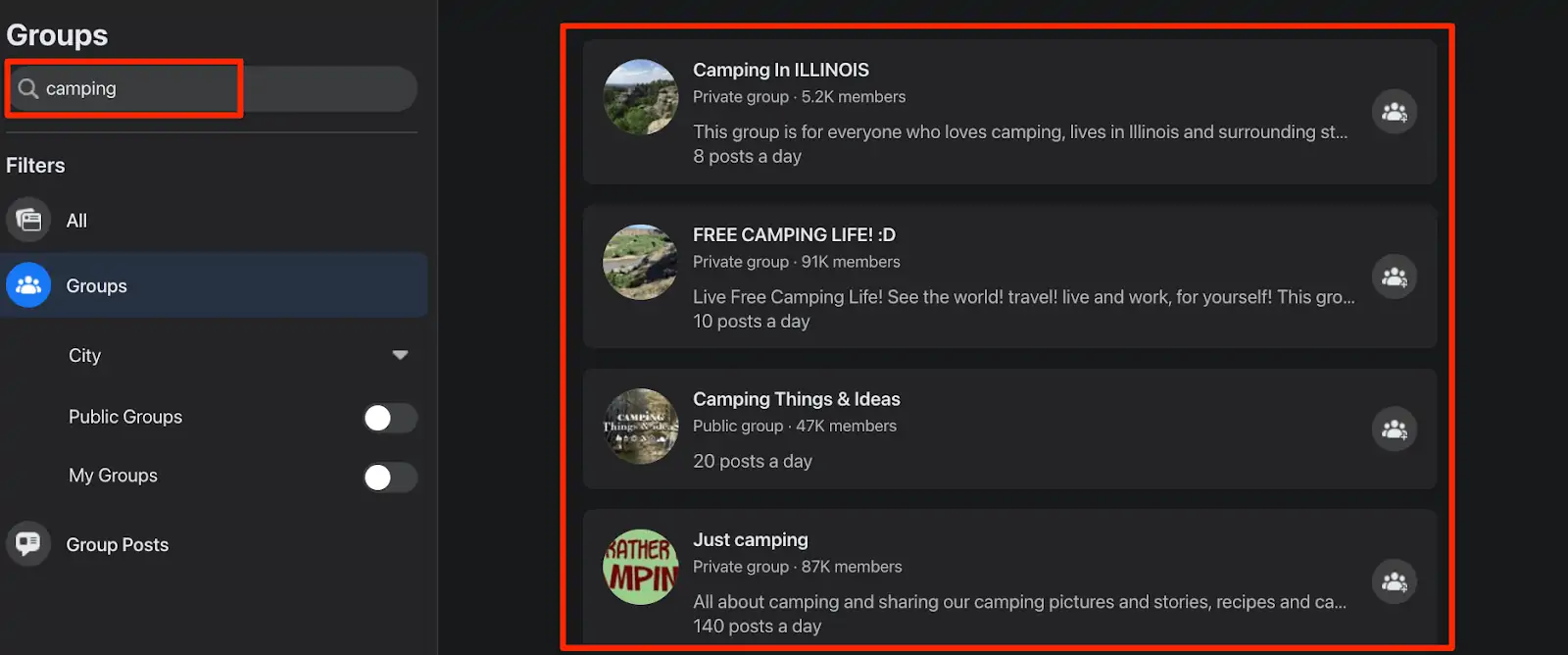 After finding a group that looks interesting, you can join the group. Once accepted into the group, you can go do the Members section of the group. See below:

Then, you will find the Admins & Moderators of the group. See below: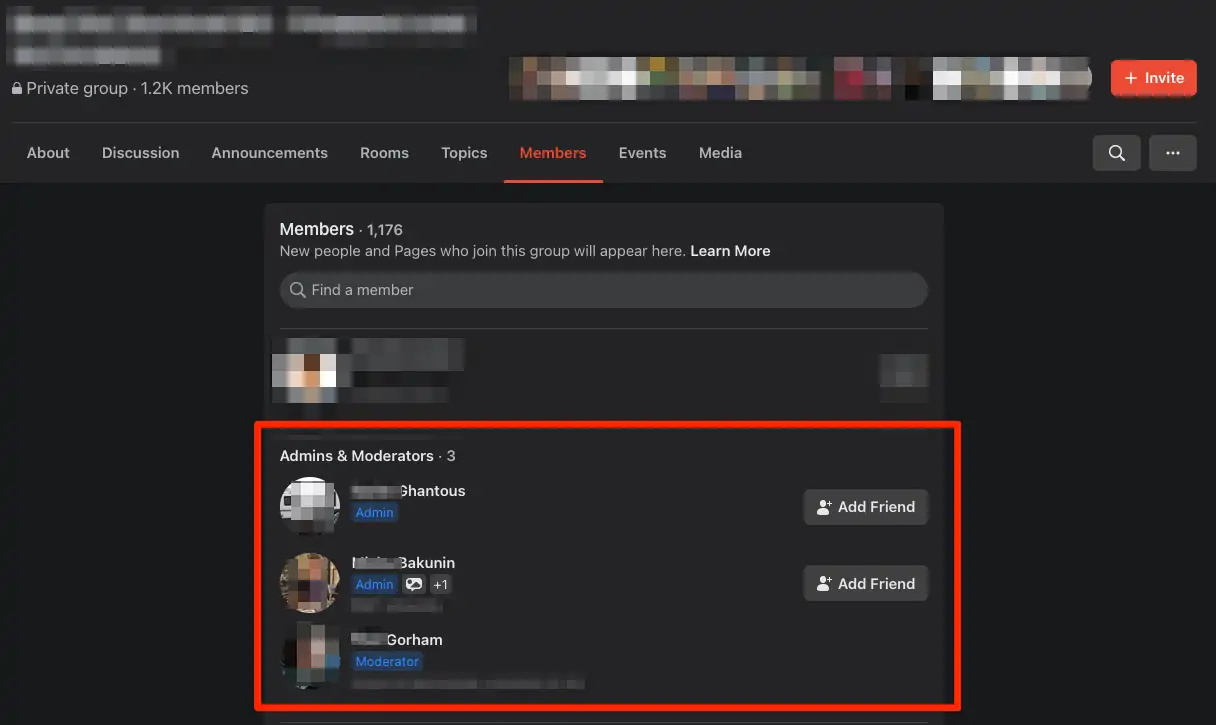 The final step is to go to each Profile of the admin and send them a Facebook message.
In the message, state that you manage a site in the same topic, and you are looking to grow by purchasing their Facebook group. Have a normal conversation since group admins are not (usually) of the mindset that they can or should sell their group. You may need to educate the admin on what you are looking to do exactly.
---
5 Tactics for Facebook Group Purchase Due Diligence
Similar to buying niche sites, buying groups requires due diligence. You want a group with a large enough engaged following. It's easy to find groups with a large number of members but the engagement is low. You want an engaged group, not a large group.
After you've found a selection of groups that look like good targets and the admin is responsive in selling, these are the next steps in the due diligence process.
1. Review Growth and Engagement stats
I ask the admin to provide me with a last-12-months screenshot of Growth and Engagement metrics.
As an admin, they can find these metrics on the sidebar of their group under Insights. See below: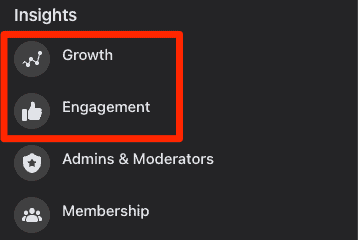 Upon clicking on Growth or Engagement, they can filter by date and send you screenshots. Example screenshots are shown below: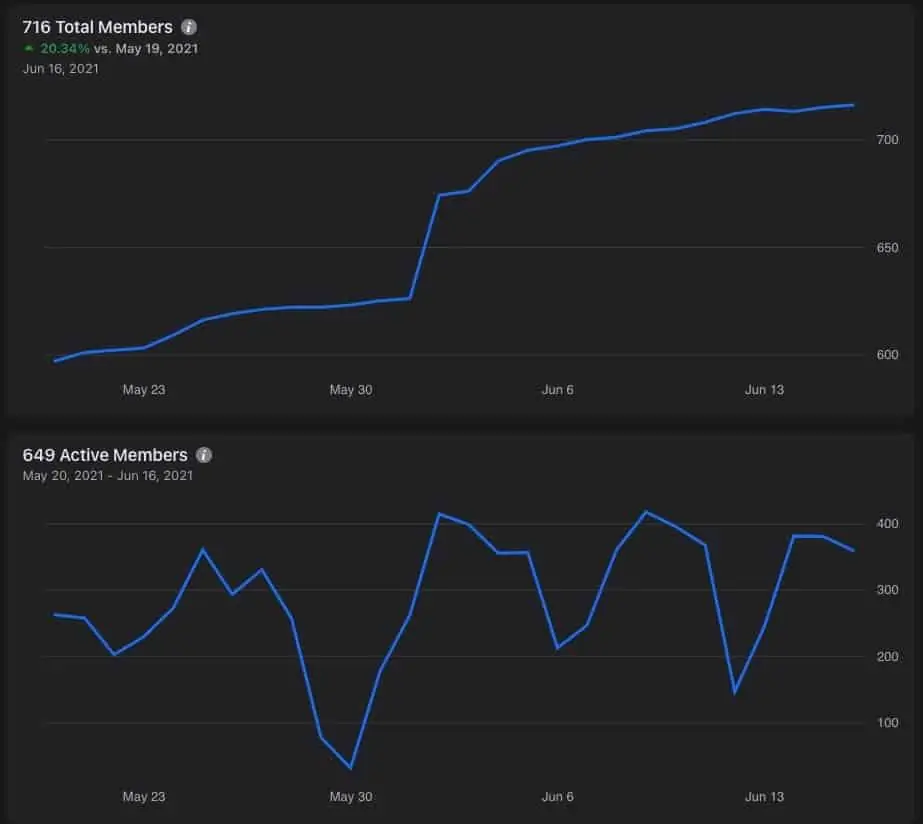 The same can be done with engagement.
Here are questions to consider in the Growth insights:
Is the group growing or at least stable? If it's on a downtrend, it's best to walk away
Are there enough active members compared to total members? You are looking for a large number of active members
How many new members are being added daily? How many rejected members?
Here are questions to consider in the Engagement insights:
How many total posts have been made? Is it stable or growing?
How many comments?
How many reactions (likes, etc)?
There is no golden number to follow in terms of how big a group should be, or how many members get added. You need to cross-reference these numbers with the Engagement metrics like the number of comments, posts, likes, etc.
A healthy group will have new members being added daily, new posts being added daily with likes and comments being performed by other members.
2. Manually review post quality and comments
To my second point, manually review the post quality. This is easy to do as you can scroll historically in the feed to see what kind of posts have been made.
Here are questions to consider:
Are the posts asking questions or adding insights?
Are the commentators adding further insights?
Are there engagements on the posts (likes, etc)?
Are the same people always posting and commenting?
The last one is important. You do not want a group where a select few people are always engaging. This means if they leave (or if they are paid to post by admin), your group is not self-sustaining.
4. How involved was the owner?
In the initial stages of a group, the admins (owners) are always the most active. They post questions, polls, pictures, etc. to get other members interested.
You do not want to acquire a Facebook group and have to spend more time on it than your niche site. Remember a group is an auxiliary asset; not the primary.
Here are ways you can gage owner involvement:
Analyze the feed to see how often the admins and/or moderators participate
Ask the admin directly how much time to spend in the group
Is the admin the pivotal member? Are all members following the admin? This can happen with groups that are personality-driven rather than topic-driven
5. Was the group being monetized?
A good question to ask the group admin is if they've tried to monetize in any way, either through their products or affiliate links.
This is not necessarily a bad thing. It's good to know to get their insights on what may or may not have worked in the past.
6. Are there any moderators? Are they needed?
This one is important but usually overlooked. Are there any moderators that manage the group?
Admins can assign any member to be a moderator. Moderators can accept new users, remove users, and moderate posts.
When I bought my outdoor Facebook group, there were two moderators. They were not happy with the sale. They were entitled to think the group was under their ownership. I had to remove both moderators immediately.
---
How To Value a Facebook Group
This is a tough question, and the answer is it depends. There is no public marketplace or metrics to follow. Most groups cannot be valued on a multiple of revenue since groups are not monetized (usually); you are buying access to the members. The sellers of the groups and I went back and forth until a sale price made sense.
Here are all the groups I've acquired and their pricing for reference purposes:
Facebook Group #1 – 54,000 members (see case study above). Purchase price of $2,500. Per member price of $0.046
Facebook Group #2 – 2,900 members. Purchase price of $300. Per member price of $0.103
Facebook Group #3 – 1,500 members. Purchase price of $800. Per member price of $0.533
---
How to Transfer a Facebook Group After Purchasing
The process is simple. I closed all of my group acquisitions via Escrow.com with a 50/50 split in fees, just like website investors do when buying niche sites. In this case, the difference was that you were transferring ownership of a group.
The group ownership is transferred when the following happens:
Current admin(s) assigns you as a new admin
Current admin(s) remove themselves from admin role manually
The current admin(s), or owners, need to remove themselves. Once you become an admin, you cannot remove admins, you can only remove moderators. So, therefore, the owner has to voluntarily remove themselves.
After payment was secured in Escrow, this admin process outlined above was initiated. Once I gained full control of the group, and previous admins stepped down, I was able to release the funds.
The whole process should take no more than 24-hours.
---
Wrap Up
Most website flippers focus on the website itself and how to grow its traffic, revenues, and authority. However, by thinking outside of the box, the same website can be worth more when you go to sell due to acquiring similar assets.
Facebook groups are a great way to add new value to your website in terms of traffic, authority, and the ability to promote your own or affiliate products.
My strategy has shifted after purchasing groups. In the past, I would create social media assets from the ground up. Now, I will only acquire them.