Amazon Associates is the gateway to affiliate marketing. It's simple to understand. All you have to do is set up a niche affiliate website focused on product reviews and buying guides.
As of Q1 2021, Amazon Associates pays its affiliates anywhere from 1% to 4.5% typically. For example, common categories such as outdoor are 3%. This, however, was not the case prior to April 2020 where Amazon would pay an 8% commission.
In an 8% commission scenario, most affiliate marketers did not need to think outside of the box to level-up their revenues. However, it's prudent now with the low Amazon commission rates to find different methods.
In this write-up, I share a tactic to continue sending visitors to Amazon in order to benefit from the high conversion rates while simultaneously receiving higher commission rates through private deals with brands.
This is what I cover:
Private Deal Structure with Amazon Brands
The Major Benefits
Example Email Outreach Template
Commission Tracking Methods
Case Study
Common Questions
Let's get to it!
---
Structure of a Private Affiliate Deal with Amazon Brands
In addition to receiving commissions from Amazon Associates, this structure allows you to receive an additional negotiated commission payment directly from the brand. The structure is as follows:
Visitor comes to your niche site
Visitor clicks on an affiliate link leading them to Amazon
Visitor buys the specific product you have a private deal with, plus additional products
You receive typical Amazon commissions for all products (including the specific product)
You ask the brand to send you additional commissions for the specific product that sold
Brand sends you the pre-negotiated commissions
Graphically, this is what it looks like: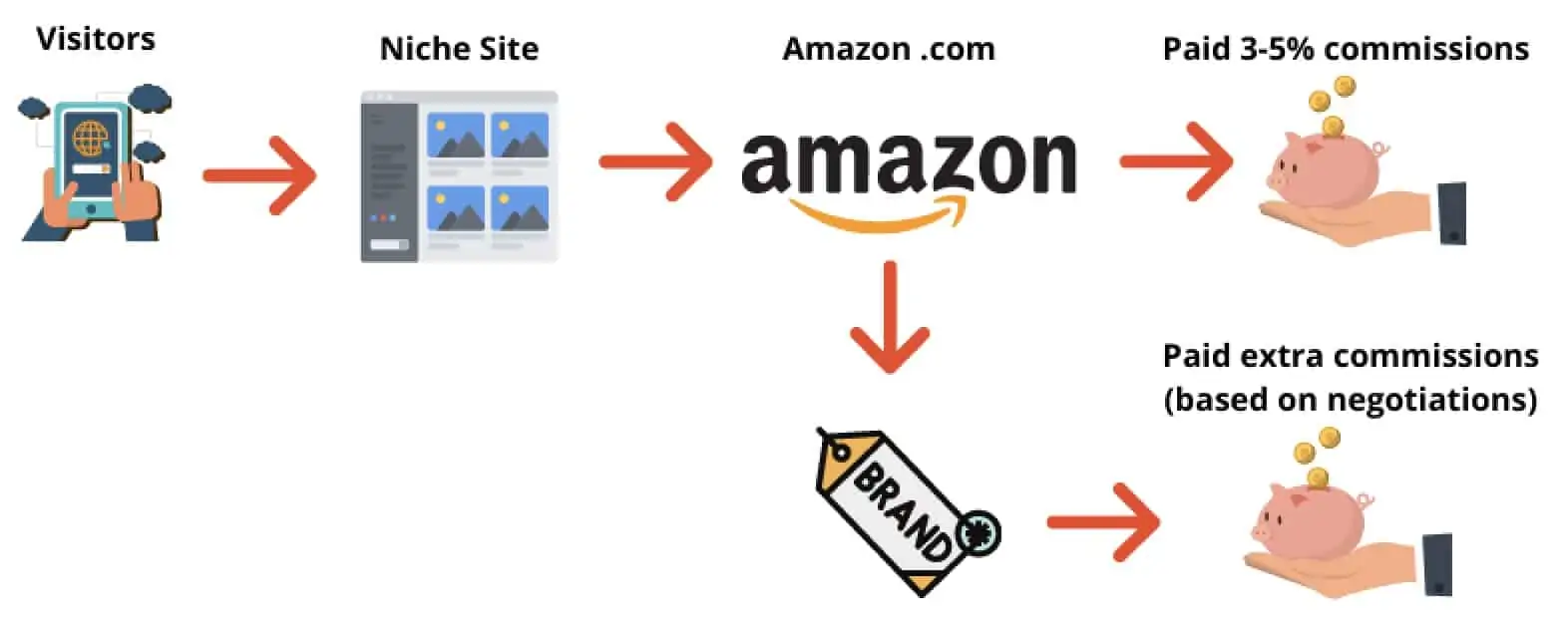 ---
3 Major Benefits of a Partnership
Apart from the obvious benefit of additional revenue, here are the other benefits.
1. Receive Baseline Commissions on ALL Products
Hands down, Amazon converts the best. In addition, Amazon also pays out commissions for every product in a visitor's shopping cart.
With this approach of dual commissions, you continue to send visitors to Amazon thus locking in the baseline commissions on all products ordered.
2. Build Relationships with Brands
Building relationships with brands will open up more opportunities for partnerships (or even strategic acquisitions) down the road.
This affiliate partnership is mutually beneficial. You are driving sales to their Amazon listing thus helping them move up in Amazon's algorithm. It's a flywheel for growth.
3. No Changes On-Site
The same traffic you are sending to Amazon Associates can be translated to higher revenue.
This process is "offline", as in it does not require any changes to your site (i.e., no new affiliate programs, no new CTAs).
---
---
Example Email Outreach Template to Brands
Reaching out to the brand is critical in making this work. Not all brands have a presence off of Amazon and it may not be easy to find their contact info. In that case, this process may not work well.
You need to find the e-commerce (think Shopify, Woocomerce) sites of these brands and reach out to their marketing or affiliate departments, or their general contact email.
Here is the initial email I send to each brand:
After sending this, it's a waiting game for their response. Once they responded, I like to pitch my commission payout to be around 25%.
---
2 Battle-Tested Commission Tracking Methods
Once you've started the conversation and agreed upon a commission percentage, it's time to discuss technicalities.
There are two known sales tracking methods that I've done with private brands. One of them is easier to set up but less transparent, and another is more involved but much more transparent.
The brand and you will have to figure out what is the best way to get started with the least resistance.
1. Less Transparent: Amazon Associates Affiliate Tag
The less transparent but easiest way to get started is to create a unique affiliate ID tag for this partnership. This tag will be used within your content for the specific product you are promoting.
At the end of the month, you will send the brand proof of sales by taking a screenshot of your Amazon Associates dashboard for the specific tag and hihglighting the product sales.
Here is an example: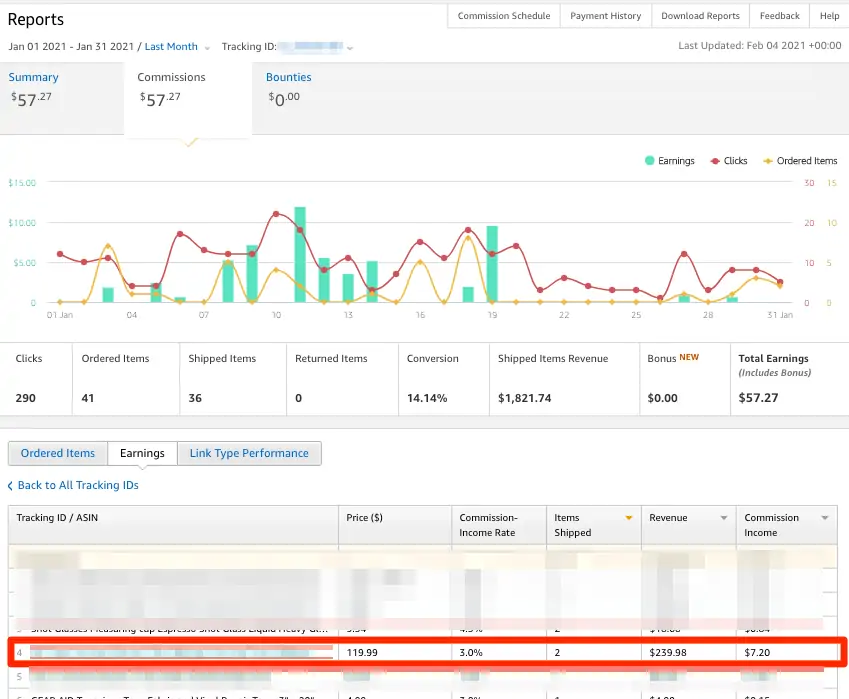 2. Most Transparent: Amazon Attribution Platform
Amazon recently launched their Amazon Attribution platform. Through this platform, Amazon FBA brands can register and track exactly how much traffic and sales are being generated by external sources (e.g., niche sites, Google Ads, Facebook Ads).
Here are a few good reads about this platform:
If the brand is setup with Amazon Attribution, the process would be as follows:
Create a unique Amazon Associates affiliate tag for this partnership (e.g., bpartner123-20)
Send them the Amazon link with your tag embedded
They will enter this link into their backend to generate a new link
You will use this link throughout your article
Let's take an example.
Here is a link of a random product on Amazon with a made up affiliate ID tag:
This is the link after they've embedded their tracking:
The critical components of the Amazon ASIN and your affiliate ID tag (bpartner123-20) are still in place which allows you to see sales on the Amazon Associates dashboard. The attribution platform added an additional string, "maas=", which is a unique identifier for the brand to verify sales from this tracking ID.
---
Case Study: $10/mo via Amazon Associates to $80/mo with Brand Partnership
For one of my brand partnerships for my outdoor site, the structure was as follows:
25% additional commissions
Unique Amazon Associates tag to track sales (method #1)
Invoice sent via Paypal at end of each month with Amazon Associates dashboard screenshots
The brand is not setup with Amazon Attribution platform and thus we opted for Method #1 where we track sales via a dedicated Amazon affiliate ID tag. This partnership has lasted for 6-months so far. The revenues are as follows: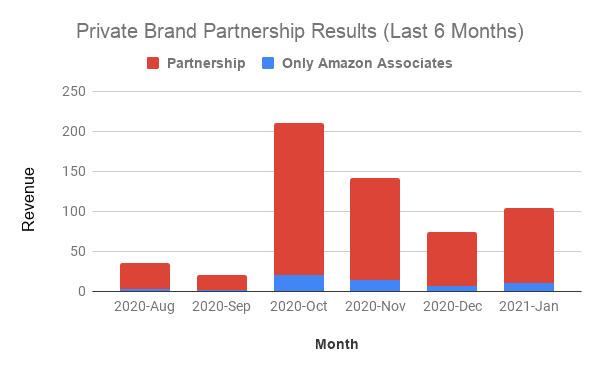 The blue shows the Amazon only revenues, which is the business-as-usual case which is what I was getting without a partnership. The red is the additional 25% commission revenue stream on the same product sales.
Note that this did not require any major work, changes to the site, or more traffic. It was just a few emails back and forth, and a few minutes each month to send a Paypal invoice.
The revenue went from $10/mo average to $80/mo average over the last 6 months. This equates to an additional $2,000 when I decide to sell the site.
Easy win!
---
5 Common Questions With This Tactic
How do I find contact information for brands?
I keep it simple. I search for the brand on Google and if they have an e-commerce site, then I reach out via their contact page.
Note that many products on Amazon are privately labeled and they do not have their own e-commerce store. I ignore these products and focus on the more legitimate and original products.
Should I get a verbal agreement/contract in place?
Initially, I do not. I first start to generate sales and see if the brand actually pays out the invoice. Afterwards, I do put a simple agreement in place either via email or a document.
The primary reason for this is so that I can sell the site. The next owner will want to know that these one-off brand partnerships will still be in place after the site transfer occurs.
What if the brand does not pay the invoice?
You own the traffic. You have leverage. Stop promoting them.
What do I include on the payment request invoice?
Here is what I include:
Amazon Associates screenshot image highlighting product sales
Number of sales generated, total sales, and commission amount
Here is an example invoice I sent using Paypal: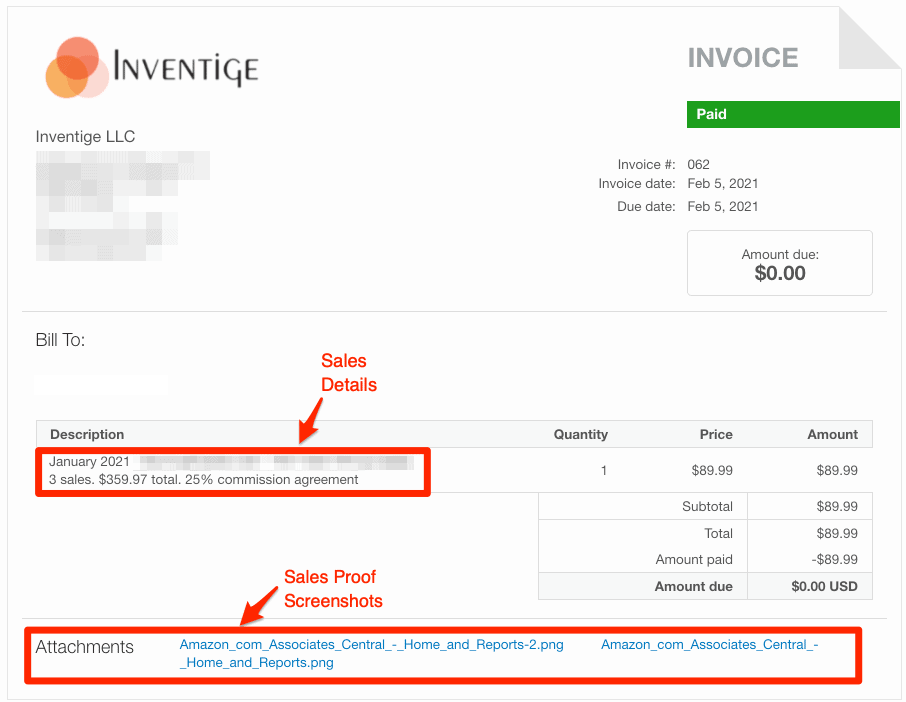 Should I do a partnership with every product I promote?
Personally, I do not. I only focus on doing one-off deals with products that are high-ticket. A product that is priced at $10 is not going to bring in that much revenue if you get a 20% commission deal.
I like to target products above $100 that I may be already promoting on my site, or that I plan to promote.
Will this work for "big" brands?
It does not hurt to try. However, the well-known brands would not get excited over a small site promoting their products. I personally do not reach out to big brands.
---
Wrap Up: Analyze Your Amazon Associates Data
As a next step, analyze your Amazon Associates data reports to find a few products that you are generating significant sales for. Then, reach out to the brands and start the conversation of a private partnership.
This is a fairly straightforward way to generate much higher commissions from the existing traffic while continuing to send traffic to Amazon.