After I buy a website, I take time to make my niche sites more professional with these 11 tactics. Most of these things are aesthetic in nature but mimic real-world businesses.
These tactics set you up with the foundation needed to attract backlinks if you are doing link-building campaigns, partnerships, and help you obtain the trust from Google's EAT process.
Let's get into it!
---
Why Is This Important?
Making your affiliate niche site look more legitimate and professional is necessary. Other websites are more likely to link to a website that looks professional, legitimate, and focused on the brand.
They are less likely to link to an obvious "copy and paste" affiliate site format.
When you follow these steps to make your niche site website look and function more like a business website, you have a far better chance of getting backlinks from your outreach. More and better backlinks mean higher earnings and a more profitable site!
---
11 Tactics That I ALWAYS Do For Niche Sites
1. Real Authors (or Personas)
People want to know there's a real person behind each article. Who are you? Who is your guest poster? Why should anyone care? By having a real author, or at least a consistent persona, you look much more like a real business and not just another affiliate site.
When people can see the face, and read the bio, of the person behind the post it is much more trustworthy. This is also an opportunity to give Google information that improves your EAT with the search engine.
2. Author Boxes
Author boxes are a major part of this strategy. This can be easily achieved by a simple WordPress plugin like Simple Author Box if your theme doesn't already have that functionality built in.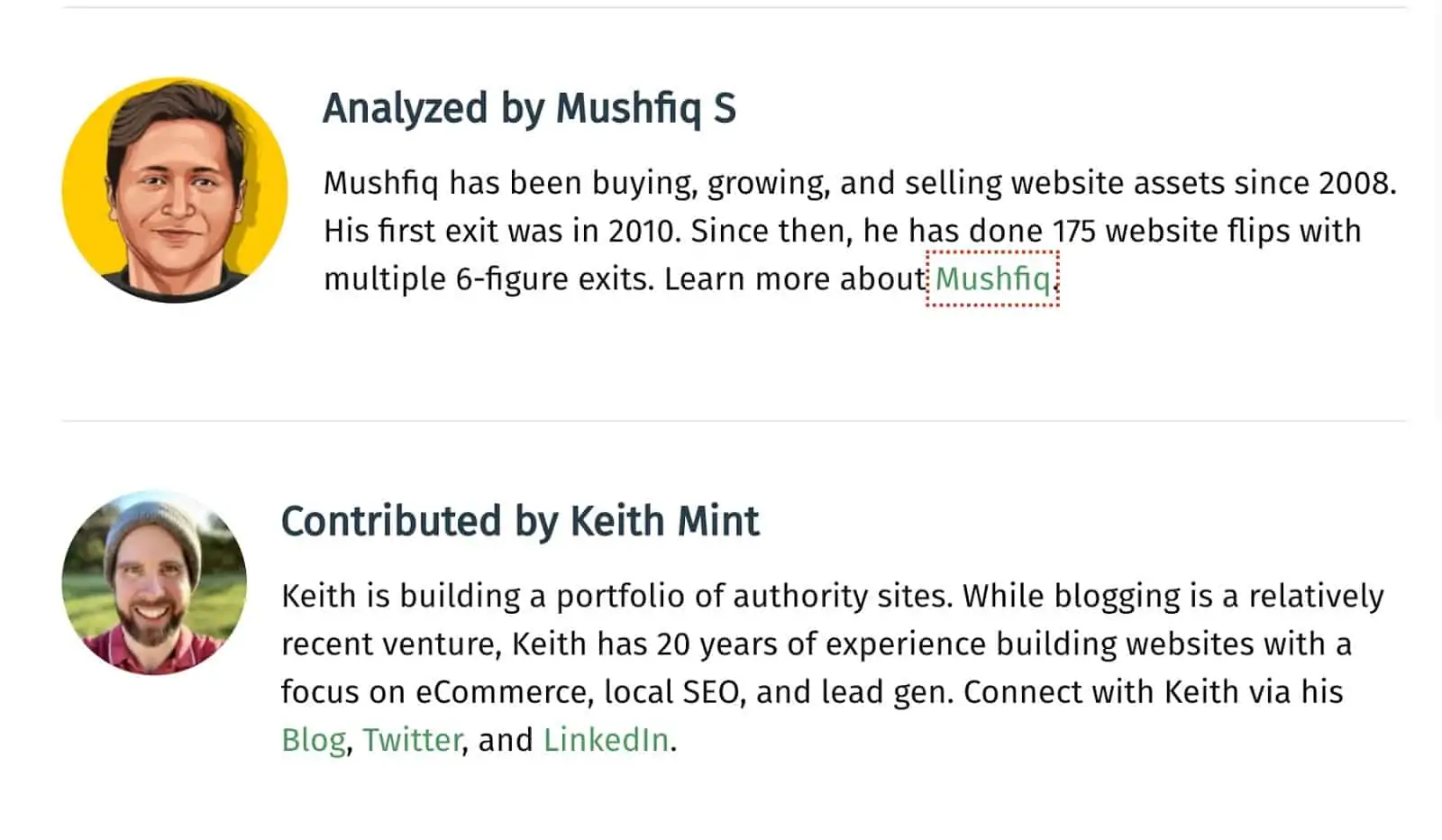 Not only does this make your niche site look like a business but it allows you to build your credentials, link to other posts or resources you want to promote, or link to resources like LinkedIn or social media for your blog.
All of these are signs of a business as opposed to a one-trick pony affiliate site.
3. Active Social Media
Active social media accounts are one of the best ways for a niche site to look like a business. Not to mention gain social proof of Google. If a viewer checks out a Facebook page and the last post was 4 years ago, it looks bad.
But an active Twitter account, Pinterest, or Facebook (or whichever social media is appropriate for the niche) not only gives your online audience more ways to connect with the community, but it gives you a great resource to see what people are looking for.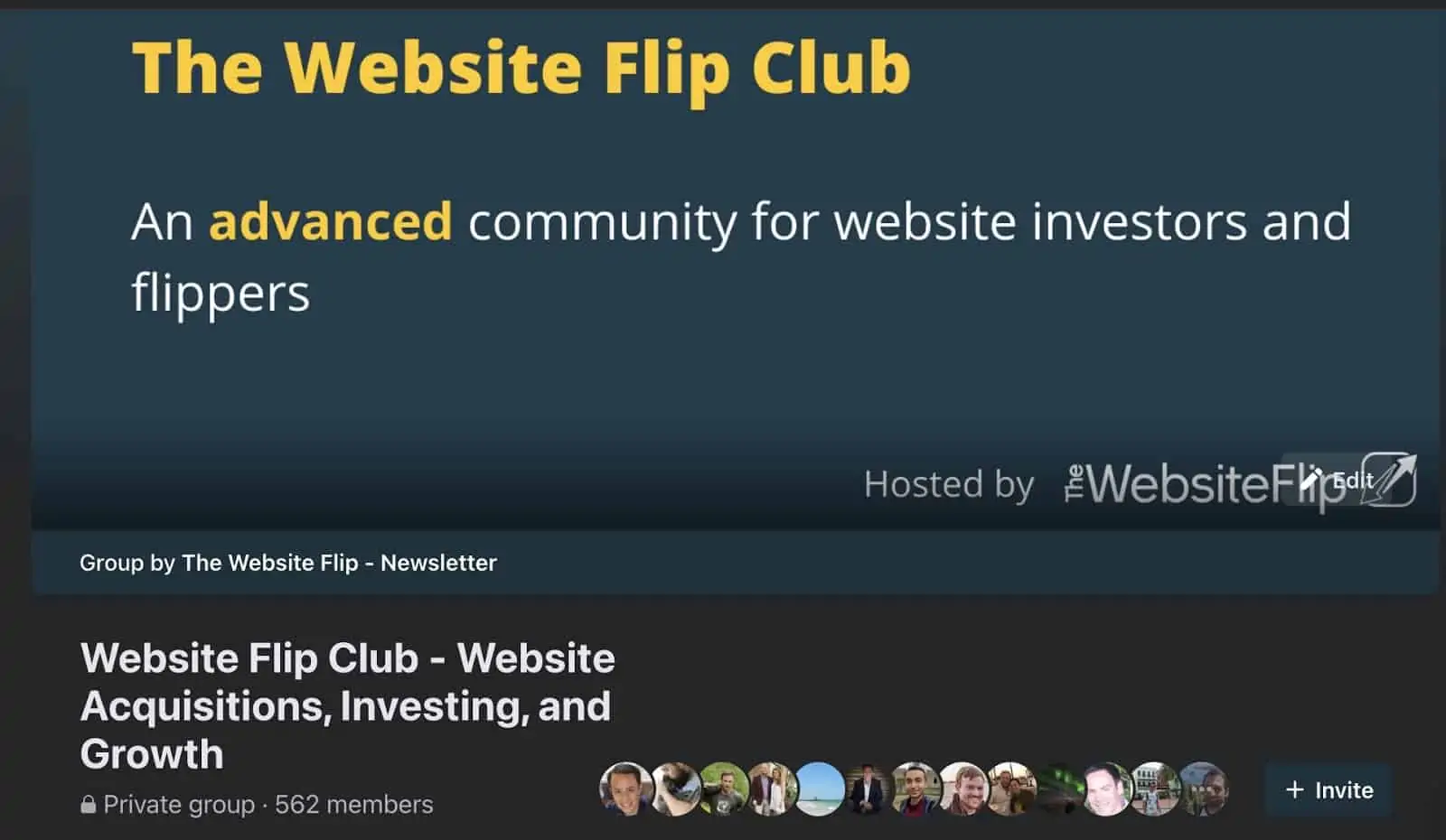 Even signs of private groups or communities can work, but the key is for the accounts to be active.
Better to have one or two very active accounts than a dozen social media accounts with only one showing any signs of life.
4. Improve The Footer
An empty footer is a lot of missed opportunity. Since it's not a heavy place to monetize most niche sites skip it. This is a great place to collect emails, leave contact information, link to important pages, add social media buttons, or even examples of big name sites where you've been featured, if applicable.
Take a look at the screenshot below and look how much better this filled out footer looks:
That is the footer of a professional looking business site that gets points with Google for EAT and social proof while also collecting emails and connecting visitors to important pages and social media.
If your footer looks bare, that's a fix that needs to be made.
5. Add Phone Number, Address
Contact information is a must if you want to be seen as a business. This includes having a phone number, email, and address. Having this information gives signals to Google that this site is a real business.
It's also very reassuring to readers who like to comb over the fine details before making any buying decisions.
Here is what I do:
Phone number: I use NumberBarn.com service to rent a phone number in the U.S. The cost is about $3/month. I use Fiverr voice artists to record a voicemail which gets added to the NumberBarn phone number. When someone calls (if they call), the voicemail gets played.
Address: I use a UPS P.O. box. The cost is about $200-$350/year depending on where you are located. I only add an address to my successful sites as it may cost-prohibitive otherwise.
Email address: You can create an email address using Google Suites or your hosting provider.
6. Multiple Contact Information Options Based on Need
The above screenshot is a great example of having multiple email addresses. This gives a very professional local and is common practice for many companies. Many professional email packages come with multiple addresses.
Having a different email address for media, advertising, general information, or sales not only makes sense, but it looks extremely trustworthy and professional. You can even set up all of these addresses to funnel to the same email box for easy management.
7. Detailed About Page
A brief two paragraphs is not going to cut it for a good About Page. Many niche sites have just 3-4 basic sentences about the website that doesn't tell much.
A detailed About Page should include:
Who's behind the site?
Mentions in the press
In-depth look at what your site's about and what topics are covered
A clear mission statement
Recent company/site news
Team Members (Editors, Writers, Experts)
You don't want an About Page that glosses over all these details in a sentence or two. This should be a full deep dive available for anyone who really wants to know what your site/business is about.
8. News Category
A news category builds a lot of credibility for your site as a business. Not only is news a category that commonly only exists on active company sites, but it allows for great content that is not necessarily purely keyword based.
This alone will set you apart from many poorly put together niche sites.
Having articles on related topics, or with professionals in your field, for your news articles also has the benefit of adding some serious EAT in the eyes of Google. Not to mention content that is easier to gain attention via social media.
Having a news category is also a great excuse to reach out and make contacts and connections. This is good EAT, good for SEO, and just good for business.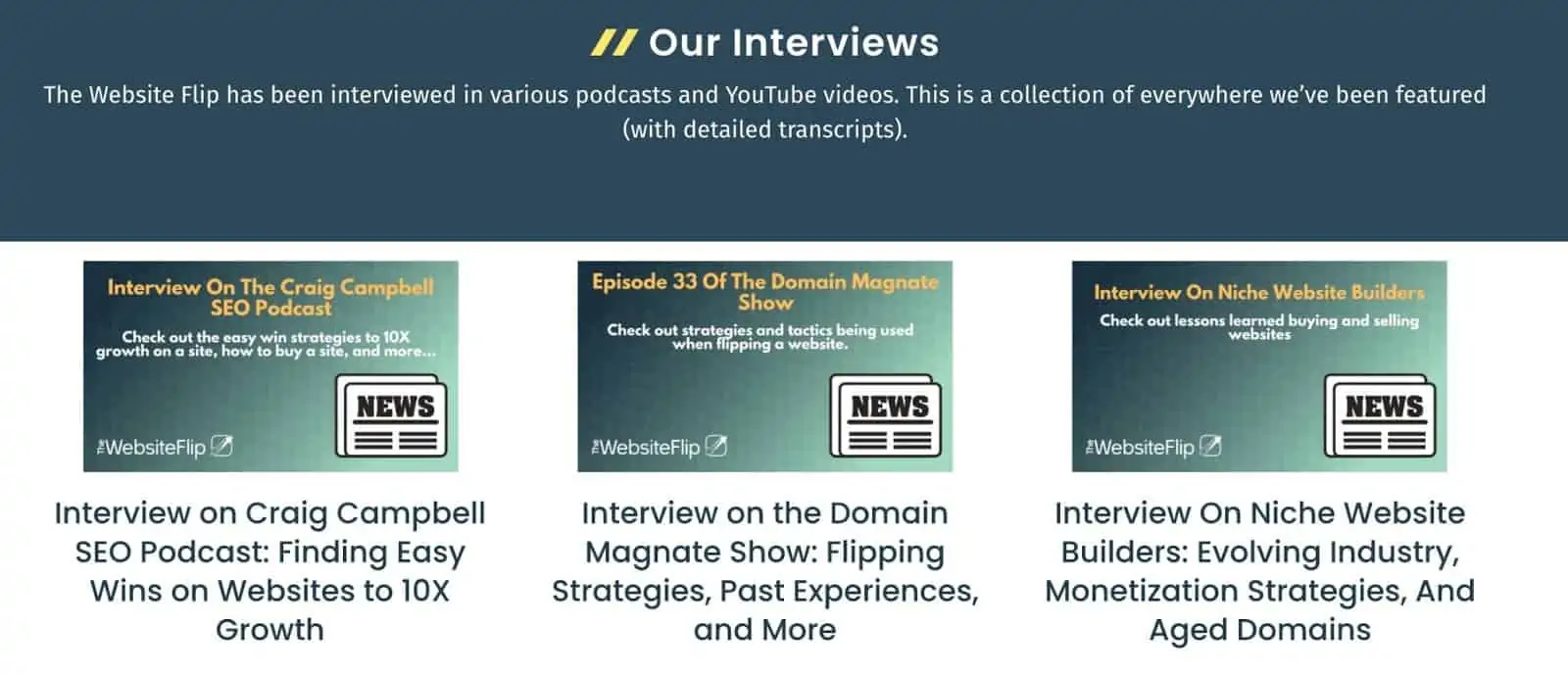 9. Third-Party Verified Reviews
Do you offer direct products or services? Does one of your monetization methods lean into being able to get reviews? Even giving away a free newsletter or email lessons can give something that others can review.
Getting 3rd party reviews clearly sets you apart as an actual business with customers who think enough of you to review your products and/or services.
Obviously good reviews are much better than bad ones, but the occasional average review shouldn't be shunned. 30 perfect reviews looks suspicious. 28 perfect reviews with 2 average ones looks like a great reliable company.
The best sites to acquire these 3rd party reviews depends a lot on your site and business. There are several to look at including Trust Pilot, Google Local, and Facebook Reviews. There are many others that can also work based on niche.
Get some reviews so when someone searches your brand, actual trusted review site names come up.
10. Brand Assets Page
A brand assets page is an often overlooked page that can do some really important things. This shows you care about your logo and custom designs, while also giving limited permissions for others to use your logos or art in a way that can get you attention.
This is an important legal page that many legitimate businesses have, and Google may value it it when crawling sites.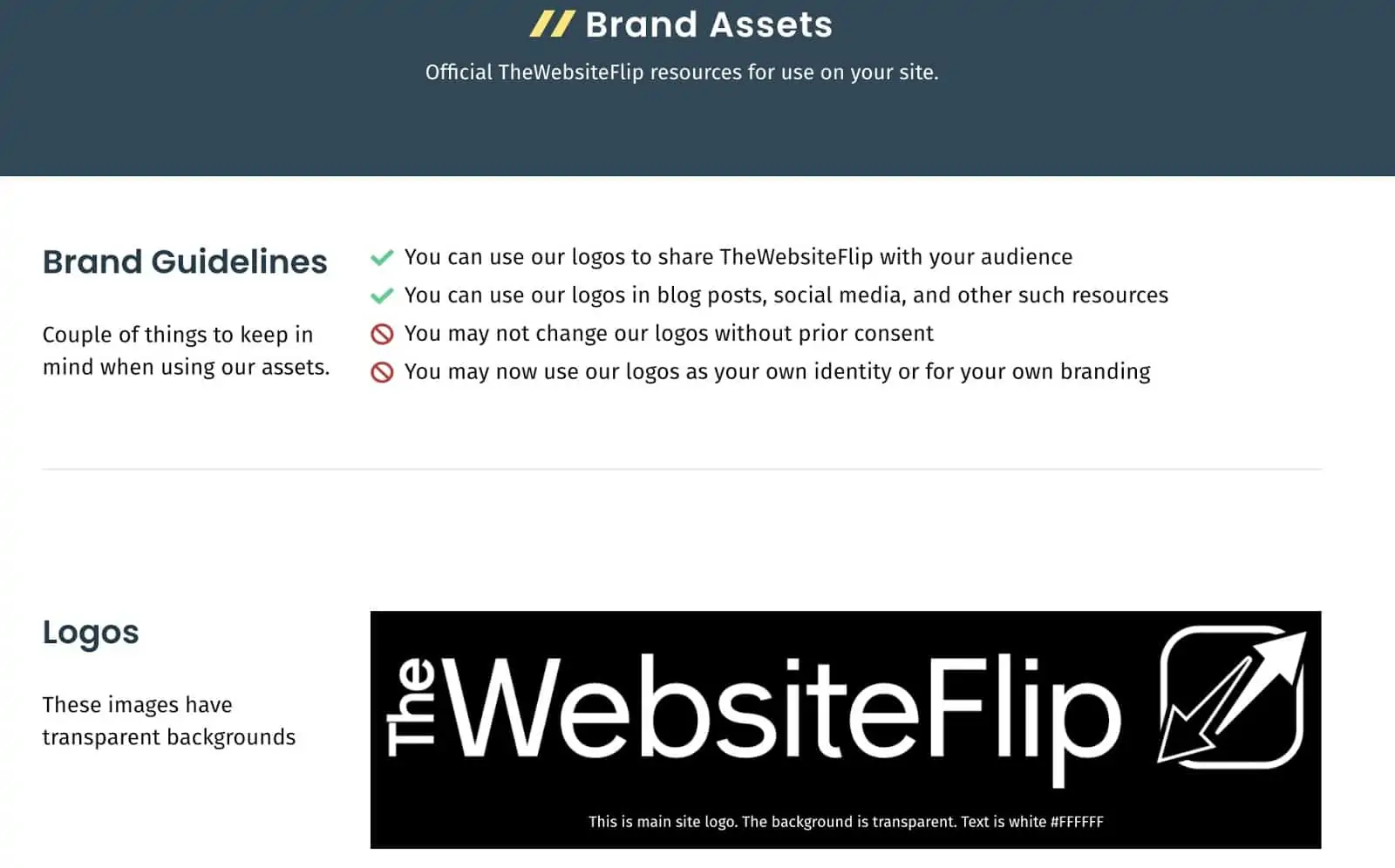 Just something as simple as the screenshot above shows what a good brand assets page can look like. Check out my brand asset page here.
11. Get a Trademark
If you're getting a logo anyway (and you should be) then why not trademark your site's brand? This not only gives major legal protection but also definitely adds to your credibility as a business.
Once I got my trademark, I placed the trademark symbol (®) in the footer.

Here is the trademark filed at the USPTO.
When a business gets a logo, they get a trademark. They want to protect their name, their logo, their brand, and getting a trademark allows you that protection.
---
Wrap Up
There are other tactics I always use to shift from an obvious niche website to an online business. They apply to every site, make the website look more professional, and provide some great SEO & EAT benefits.
I would highly recommend applying these to your niche sites, as well.