How can you find target keywords in the 'sweet spot' that you can actually rank for?
Whether you've just started a new website, have an established site, or just bought a website, there are good ways to find keywords that will be easier to rank in Google.
In this article, I collaborated with Spencer Haws of Niche Pursuits, to explore out-of-the-box ways to find keywords for niche sites.
The tactics we discuss are:
Common method to find keywords
Using Google's Related Search
Forum content
Facebook group content
Manufacture and Brand sites
AHREFs Top Page report
Let's get into it!
---
Common Method: Analyze Low DR Sites for Keywords
The obvious and effective method for finding long-tail low competition keywords is to analyze low DR sites that are getting traffic. Finding keywords by looking at very low DR sites that are getting traffic is how a lot of us get ideas for content.
Here's an example of how this works.
Let's say I was looking for some new keywords for my public niche site Own The Yard.
One of the top posts on this site is on the best rabbit repellent. Because I know this post does well on the site, it's likely that related posts will also do well.
One way to find low DR sites that are ranking well is to take a look at the search results for your top pages.
Here are the results for best rabbit repellent.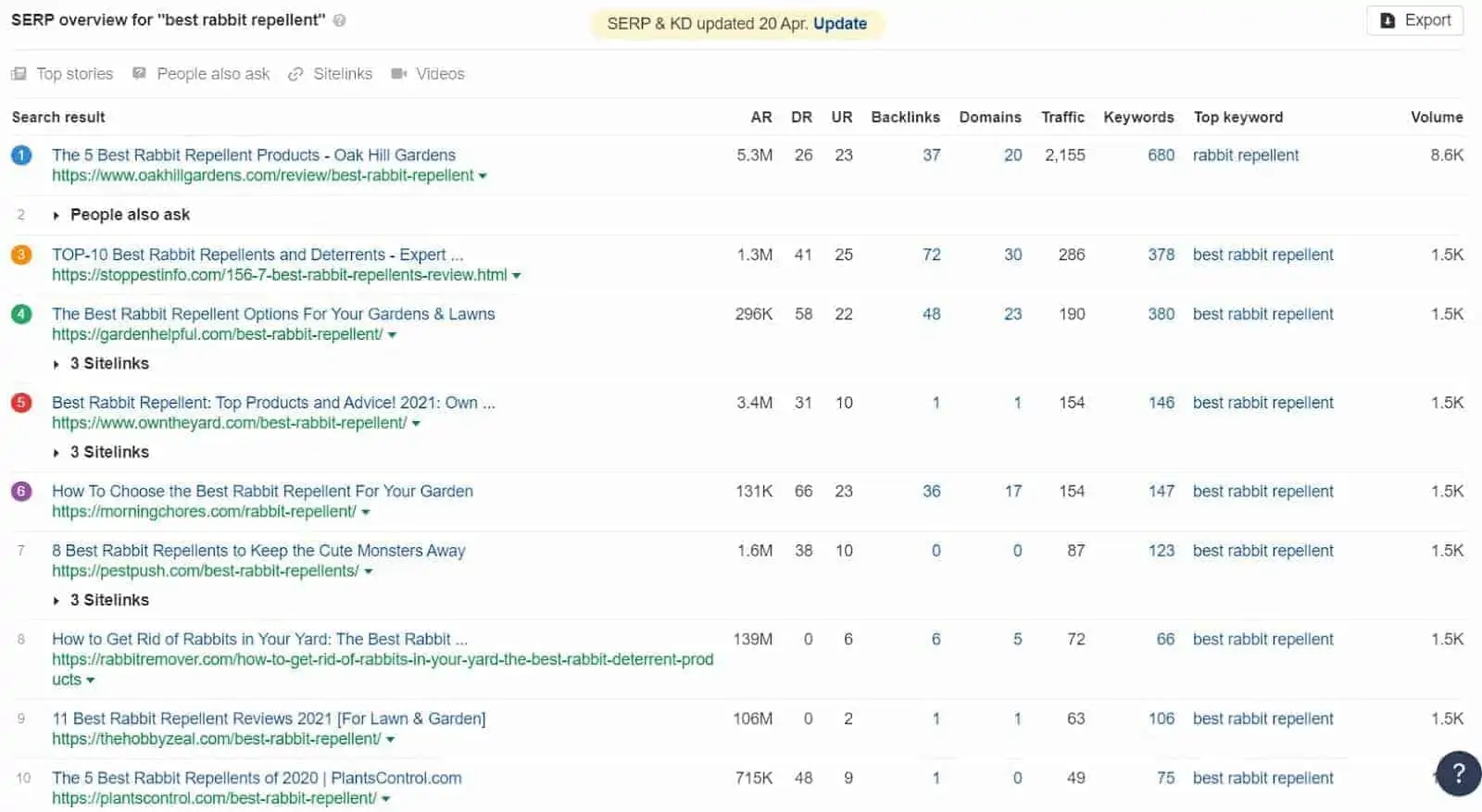 There are two other DR0 sites ranking on page one for this query (position 8 and 9).
The Hobby Zeal site in particular is doing very well for a DR0 site, with an estimated 2.5K organic traffic in Ahrefs.
This site is ranking for a ton of keywords despite having very few links.
A quick look at their 'Top Pages' report shows they have done a great job creating a content hub on the topic of rabbits. It looks like that's basically all the content they have at the moment.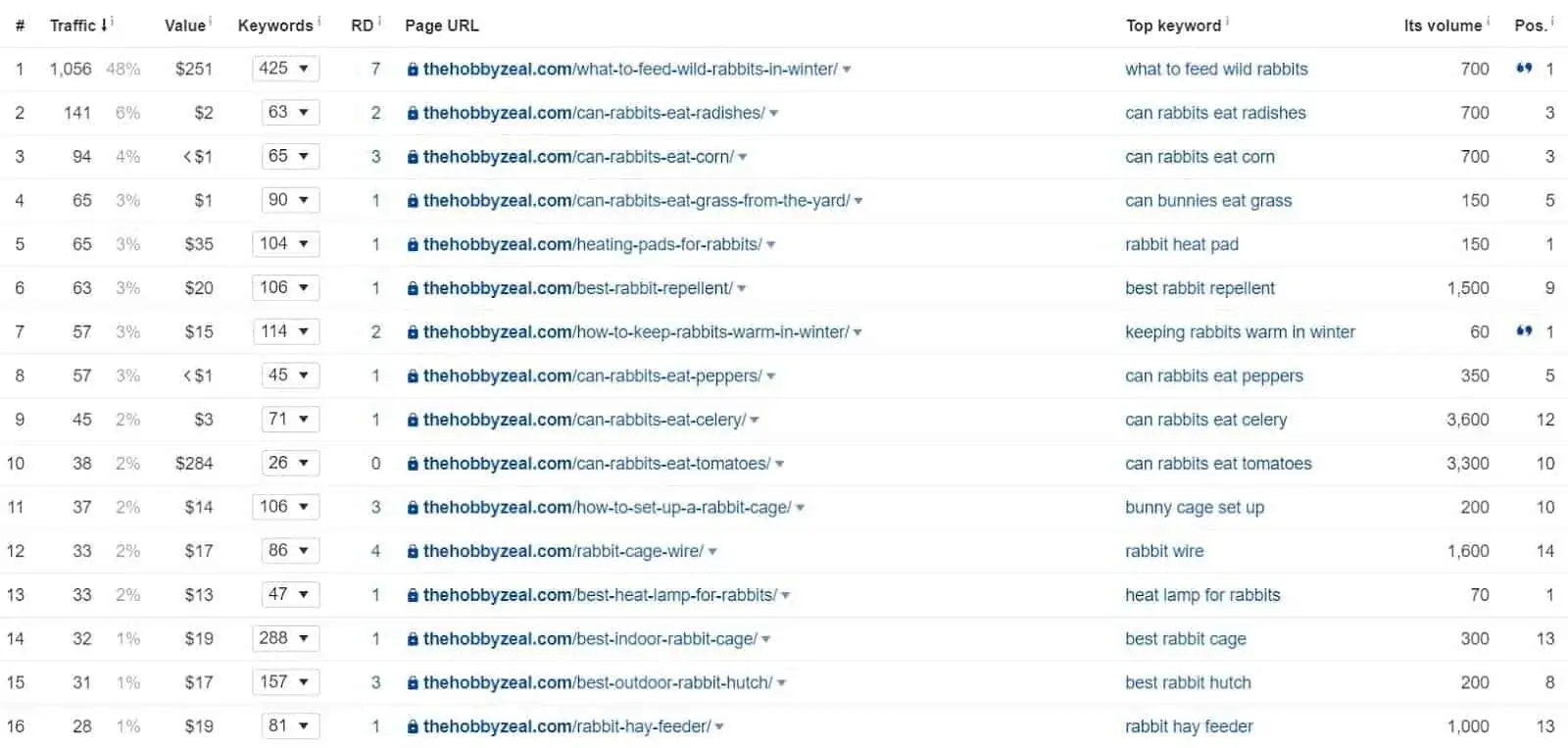 I could create content targeting these keywords and they would likely rank quickly on Own The Yard.
That's just a quick example of the most common way to find keywords you can rank for – whether you're a DR33 site like Own The Yard, or a DR0 site like The Hobby Zeal.
---
5 Creative Methods To Find Rankable Keywords
Looking at low DR sites works really well, but there are some more creative ways to find keywords that most likely your competitors are not using.
Using these methods, even new sites can start ranking very quickly in search.
1. Google's Related Search Suggestions And Predictions
Google's search suggestions are a gold mine for keywords that often don't show up in Ahrefs and other keyword tools. And, for those just starting out, you don't need to pay for a keyword research tool to use it.
There are at least three great spots you can go to for keywords in Google search results themselves.
The predictions when starting to type a search query into the box
The 'people also ask' suggestions, usually below the featured snippet
The related search suggestions, usually at the bottom of the page
Using the search query 'best broom for…' as an example, this is what comes up in the Google search predictions.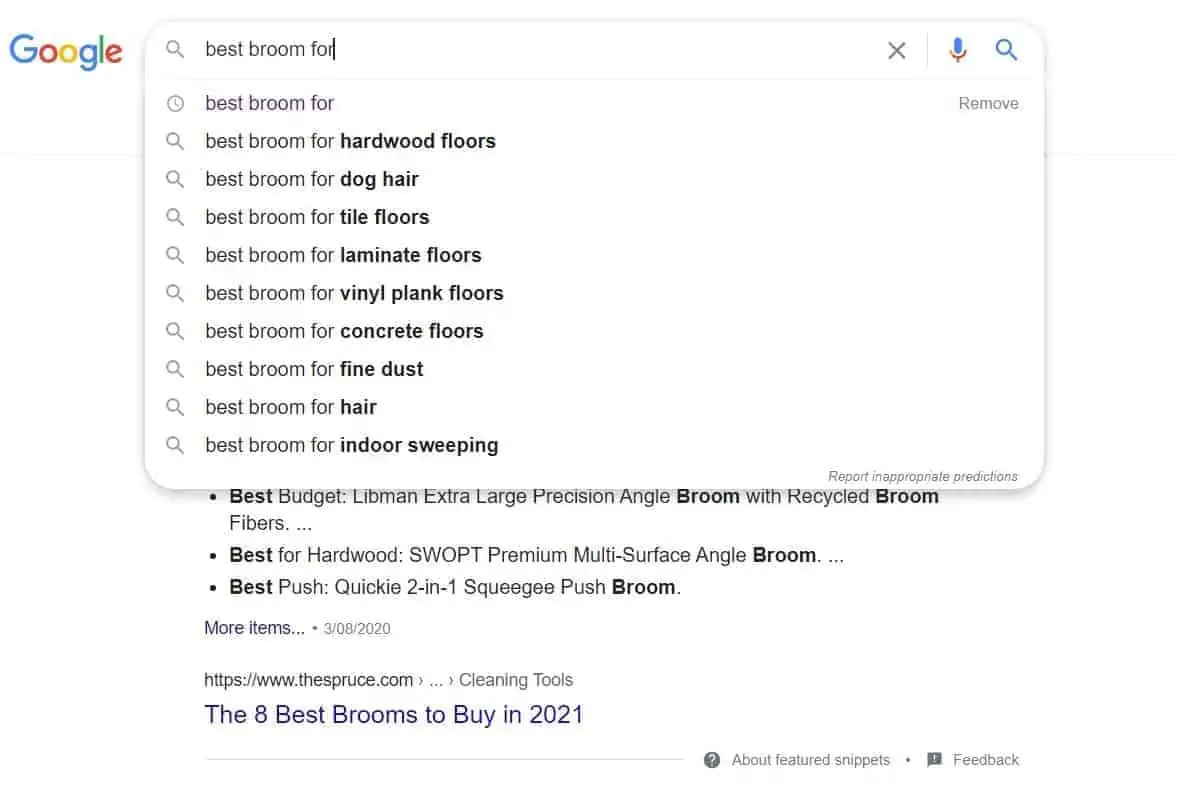 The predictions always stick to the same word sequence you have begun to enter. Google offers popular queries to help you find what you need faster and sooner.
The next screenshot shows what is displayed in the 'People also ask' section after searching 'best broom for tiles.'
This section does not necessarily follow the same word sequence you have searched for, but shows other related queries.
This is a good spot to find long tail keywords and topics that other sites may have overlooked.
Here are the 'Related searches' at the bottom of page one for 'best broom for tiles.'
Going off of this, it might be worth entering some location keywords into the post somewhere.
When I enter 'best broom for' into the Ahrefs keyword explorer, it comes up with most, but not all, of these suggestions.
For many of the keywords it gives a keyword search volume of 0-10 which most sites don't bother with. However, if Google is suggesting these queries so prominently, it's likely the actual search volume is a lot higher than Ahrefs suggests.
2. Target Ranking Forum Content
Forums are one of my favorite ways to find keywords for sites in the early stages.
Forums are barely used anymore with most people having moved to FB Groups. They are generally poorly designed and awkward to use, but many still have a ton of ranking content.
This is often because there's nothing better to fill the gap. Google is only ranking a lot of forum content because there's nothing better to rank instead.
All it takes is to collate the forum content into a good post and you'll have a decent chance to rank.
For example, let's imagine I'm in the pool niche.
I quickly found 'Pool Help Forum' and it fits the bill.
It's a dated site that most people would usually rather stay away from. However, it's still ranking for a lot of keywords and getting a decent amount of traffic.
To find what it's ranking for, you can check the organic keywords results in Ahrefs, but I like to see the top pages first.
There are many keywords that would be good to target, butI like the look of the keyword phrase 'how much bleach for 10000 gallon pool.' It has a 250 search volume and this forum is ranking in position number 3.
Next, I take a look at the post to see if it's worthy to be ranking position number 3, or if it's really only there because there's nothing better.
The forum post ranking well for 'how much bleach for 10000 gallon pool' isn't great. It's hard to find the answer to the question among everything else that's there.
After this, I take a look at the other info Ahrefs has on the keyword.
It's looking good with only a keyword difficulty of 2.
Then, lastly, I check to see what else is ranking in the top 10 positions for 'how much bleach for 10000 gallon pool.'
Besides the forum page, there are other blogs ranking for the query. It's good to see affiliate sites like Easy Clear Pool with a DR4 doing well.
Some of the results answer the question more generally rather than specifically dealing with the answer to how much bleach to put in a 10,000 gal pool. However, you can see Google ranking sites answering the question with results for a 5000 gal pool.
Presumably, there are no posts answering the 10,000 gal pool query, and nothing shows up on page 2 either.
It's likely that even a very low DR site would be able to rank for this keyword above many of these other higher DR sites with a good post on the topic.
3. Reworking Popular Facebook Group Content
Facebook groups are another amazing source of content ideas and keywords. Often, the reason people are asking questions in these groups is that they weren't able to find the answer in Google first.
I know that when I can't find the answer to my question in Google, my next stop is a relevant facebook group.
For example, one of Niche Pursuit's writers is in the chainsaw niche and has joined all of the chainsaw Facebook groups. There are hundreds of posts a day in these groups and many of them make for great content ideas – even for a low or no DR site.
Here is one example.
Stihl is the largest chainsaw brand in the world and this person asks 'where is the best place to buy parts?'
Questions like this pop up all the time, and are ripe for a niche website article.
When you enter the question into the Ahrefs keyword explorer, you can see there is no blog round-up post to answer this query.
That's possibly why he asked it in the group in the first place.
And, an even better sign, there are two different forum pages ranking (Arboristsite and My Tractor Forum). The rest are ecommerce results that don't actually answer the question of 'where is the best place to buy Stihl parts?'
So the only thing to do was create a post answering the question. You can even use the answers from the FB post to outline what to put in the post!
Even a low DR site can start ranking for this type of query because no one else has really answered it yet. Don't bother going after this query though, it's now been done and we'll see if it ranks!
4. Manufacturer And Company Sites
Company and manufacturer websites are another great place to scout out keywords You will often find topics that you can rank for because they haven't really been targeted by anyone else.
For example, let's imagine we're in the coffee niche. One coffee company that has an affiliate program is Bones Coffee, 'The world's freshest small-batch coffee.'
If I was part of this program and had a low DR site, I wouldn't immediately try to rank for 'Bones Coffee' or another high volume keyword. The company site has a very strong DR and there are many more well established sites already targeting the keyword.
However, no doubt there are opportunities to find Bones Coffee keywords I can rank for.
Enter the company's domain into Ahrefs to see what keywords they rank for.
I filter down to keywords with a difficulty under 5, and there are many results.
The search results for 'Bones Coffee review' surprisingly does have many low DR sites already ranking for it, but even so, a brand new site would be better targeting one of the more obscure keywords.
For example, we see the keyword 'electric unicorn.'
This query has a keyword difficulty of zero, and while it has a lower search volume, that doesn't matter too much.
When I pop out the SERPs for 'electric unicorn' there are some other positive signs.

Google doesn't really have much to rank for this query, so they are ranking multiple pages from the Bones Coffee website, random Facebook posts, and Pinterest pins instead.
Page two of the search results are much the same.
I'm sure that if there was an 'Electric Unicorn Coffee Review', it would be put on page one in no time, even if the site DR was very low.
There are many more opportunities here, but it can depend on the site you're considering. Some throw up many more good keywords to target than others.
5. Ahrefs Top Pages Report
This tip comes from Ahref's Tip of the Day series featuring the Top Pages report.
The RD (referring domain) column in the Ahrefs Top Pages report is often overlooked, but it is a great way to find keywords you can rank for – especially if you're into link building!
Let's use Own The Yard as an example again.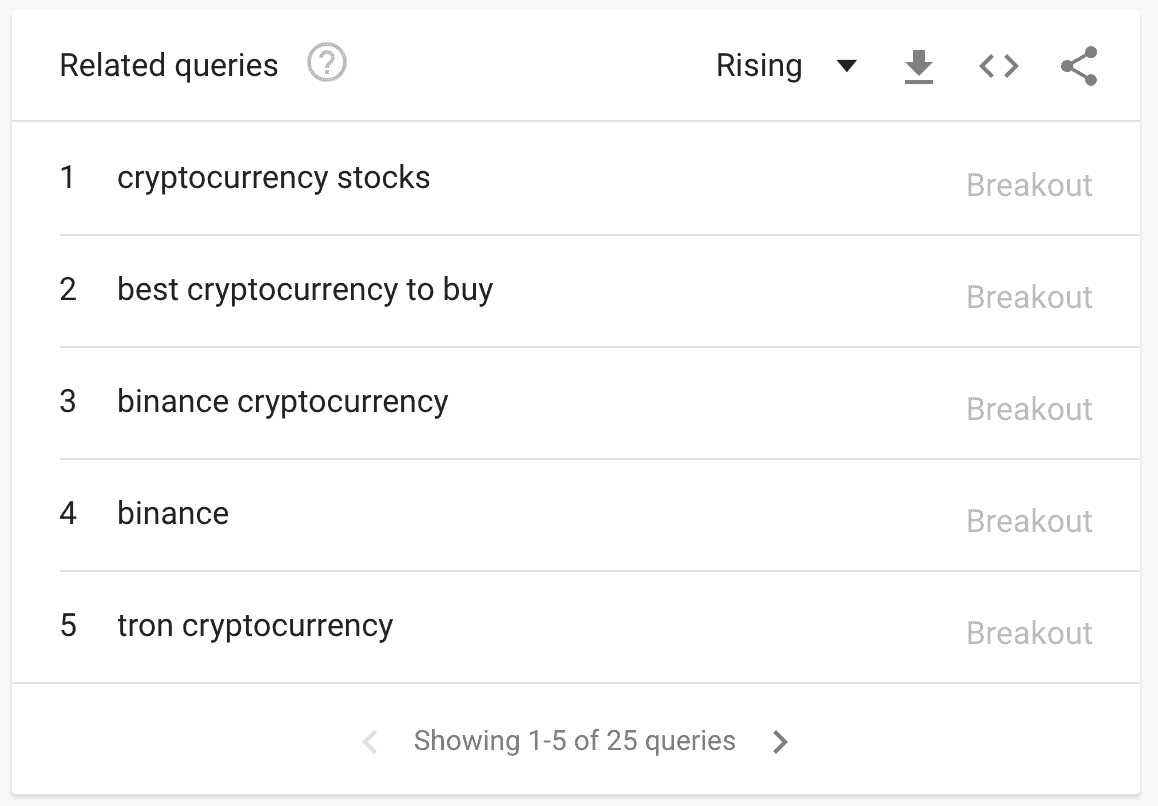 If we take a look at Own The Yard's top pages report, we see a descending list of the posts which get the most organic traffic – and it's usually pretty accurate.
The list is ordered by the overall percentage of traffic, and so you can see that 3% of all organic traffic to OTY comes to a post on BBQ party games ideas for adults.
However, this post does not have any backlinks to it. The RD figure is showing zero, meaning that the post is vulnerable to another site that targets the keyword and gets a link or two.
You too can look at your competitors top posts and see which have no backlinks.
If you create a similar, and ideally, better post targeting the same keyword and get a couple of links, you might just take the spot!
---
Wrap Up: How To Get Traffic To A Low DR Site
Those are just 5 different ways you can start finding keywords that can rank on a new or established website.
In reality, there are a million different ways you can find keywords like this, especially if you have an Ahrefs account. There is no one way to do keyword research. There are so many different filters you can play around with, you've to just use your imagination to come up with ideas that others aren't using.
While putting this article together, I've come across so many very low DR sites doing exceptionally well. There are opportunities out there for every niche.
Go for the keywords that others are leaving behind. They might not be targeted because it seems like there's no opportunity to monetize a post or because it has a low search volume.
When you're getting started and you just need traffic, take what you can. Many more opportunities will arise afterwards.