In the real world, mergers and acquisitions (M&A) are common forms of growth. Large businesses buy up smaller competitors to increase market share. The same principles can be applied to content sites, via merging websites together.
A micro-merger is the concept of buying smaller neglected websites and merging them together via 301 redirects into your authority site.
I've used this strategy to grow The Website Flip to an AHREFs DR of 64 (as of April 2022), while reducing competition for myself.

In this write-up, I discuss:
Micro mergers vs aged domain redirects
Benefits and risks with micro-merging sites
Case Study of buying FlipFilter.com and FlipWebsites.com
How to use this strategy
Let's get into it!
---
Micro Mergers vs Aged Domain Redirects
Here is a compare and contrast table showcasing the similarities and differences.
The major difference is the content. With a micro-merger, you are buying up an existing niche website, and moving parts or all of the content over to your authority site.
With an aged domain, there is no content; only the domain redirects.
---
4 Benefits and Risks of Merging Two Websites
Here is a list of the major benefits and risks of micro merging niche sites into your authority site.
1. Influx of content
When acquiring the website, you get ownership of all of the content. This content can be moved over to your authority site to give it an influx of "new" content.
The reasons why this is a benefit include:
New content: getting hundreds of articles written can take significant time and funds to accomplish. By acquiring a niche site, you get new content quickly.
"Wholesale" content: you can acquire niche sites that have hundreds of well-written articles at wholesale acquisition cost. This is because most sites are sold based on a multiple of revenue; the content is usually not factored in unless it's a starter niche site with no revenue.
The single reason why this may be a risk include:
Low-quality content: the content may be low quality and duplicated from some other source. Make sure to perform due diligence on content quality
2. New backlinks
One of the reasons (if not the primary reason) is to get access to the backlinks pointing of the website. By micro-merging, you point the domain to your existing site and thus all of the backlinks pass through.
The benefits are:
Niche relevant backlinks will increase the authority of your main site. You now will have an influx of new links.
Links obtained at wholesale costs. If you were to build links, you would be retail rates (admin, guest post, and manhours to get those links). Niche site valuations do not care for how many links a site has, so in essence, you can buy high-quality backlinks on a site at a multiple of revenue.
The risks are apparent:
Any toxic backlinks (adult, casino, medicine, etc) now point to your own site
Can shift the topical relevancy of the website (due to backlinks)
3. More topical relevancy
This one is important. Topical relevancy includes many factors such as the content on-page, anchor texts, backlinks, and more.
By acquiring a site that has been around for many years, ranks for keywords in your niche, and thus has established some topical relevancy, you can tap into that immediately.
The benefits are:
"Transfer" aged topical relevancy to your site
If done right, your other content will get a "boost" in authority and thus may start ranking better
The risks are:
If the research was not done right, you may mess up the topical relevance of your main site. Make sure to look at the content, silos, anchor texts, backlinks, etc. of the site you are buying to ensure it's the type of site that will move the needed.
4. Less competition in search results
This one is one of the main reasons why I like to buy niche sites; to reduce competition.
If you are entering a niche, you will have to do competitor research. While doing so, you will find true authority sites but also semi-authority to niche sites in the search results.
Acquiring the semi- to niche websites and merging allows you to reduce competition, obtain authority, and prepare your main site to take on the top sites in your niche.
The benefits are:
Reduce competition in the search results thus giving your main site a boost in organic rankings
Prepare your main site to slowly take on the biggest competitors in your niche
---
Case Study: TheWebsiteFlip.com Mergers of FlipFilter.com and FlipWebsites.com
To grow The Website Flip, I've been acquiring semi-niche sites in my niche that have been around for more than a decade.
I purchased two sites, FlipFilter.com and FlipWebsites.com. I cover the overall benefits of doing so and why I bought each one.
Authority and Traffic Results of Acquiring Sites
Here is the AHREFs domain rating (DR) chart for The Website Flip with annotations of when we purchased the sites:

The DR has been growing month-over-month. The 301 redirects from the microsites to the main site take time to index.
As for organic traffic, it has been growing month-over-month:
The major benefit here is that I am buying microsites that were already getting organic traffic. By merging the sites, I will be picking up that organic traffic with time.
What are the benefits to TheWebsiteFlip.com by buying sites?
The primary benefit is to increase the authority in the form of backlinks that I cannot obtain organically, and the topical relevancy of my site. These acquisitions will position The Website Flip to go after more competitive keywords.
The sites that I purchased to merge into The Website Flip were ranking for keywords that I am targetting. The keywords included:
Website brokers
Website flipper
Website flipping
Blogs for sale
Websites for sale
And more!
My thesis is that over time I can start ranking in the top 3 for these keywords. However, by buying up these smaller sites I am able to achieve the following:
Obtain their backlinks. The sites had quality links from Empire Flippers, FE International, Flippa, Business Insider, among others
Obtain anchor text "portfolio". Not only backlinks, but the anchor texts were a perfect match.
Obtain aged topical relevancy. The sites have been around for 10+ years and thus have garnered relevancy over time
Why buy FlipFilter.com?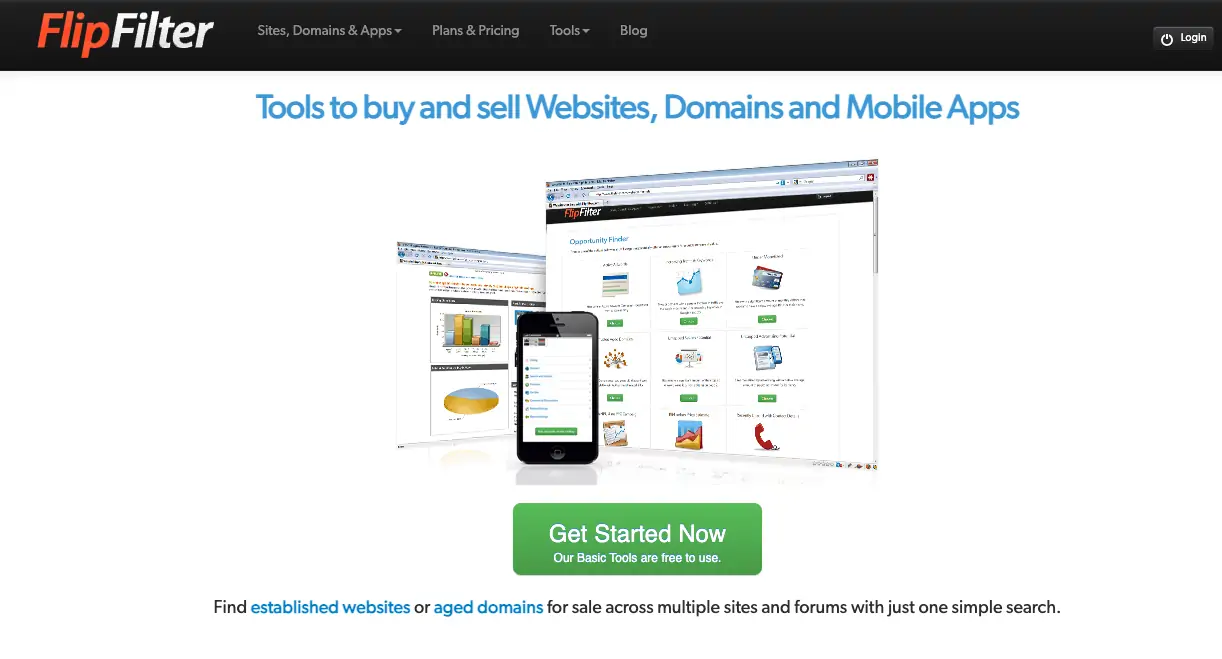 FlipFilter was a tool that I used back in 2012 to source websites for sale from Flippa. It was a SaaS tool that aggregated all listings in one place and added other third-party metrics (like domain history, domain rating, among others).
With what I am doing with DealFeed.io, this was a perfect acquisition. The topical relevancy is strong: a tool that aggregates websites for sale from all the top brokers into place.
I bought this site after a 3-month negotiation with the seller. I was introduced to the seller through my network.
This is what was included:
11-year old domain with backlinks from Entrepreneur, Flippa, Empire Flippers, Website Income, Human Proof Designs, among others
Database of old Flippa listings since inception
Database of email subscribers
Few e-books that were written
50+ existing articles
This was the plan:
Redirect specific URLs to existing The Website Flip articles
Move/Update content from FlipFilter into The Website Flip
Merge homepage into DealFeed.io (very much related)
Try to cold outreach to existing customer base to move over to The Website Flip newsletter
Repurpose content from the e-books or launch on Kindle marketplace for a new revenue source
Utilize the Flippa listing data to draw insights into the growth of the website investing industry. Develop new content around that potentially.
The site was merged in early August 2021. Go to FlipFilter.com to see that it now redirects to my Deal Feed tool.
Why buy FlipWebsites.com?
My next acquisition was FlipWebsites.com. This one did not happen organically as FlipFilter.com did.
This one came across my radar on AHREFs, when I was doing competitor research for keywords like "website flipper", "flipping websites", "flip websites", and other variations.
This specific site was ranking for these keywords on the bottom of the first page in many instances.
I reached out to the owners via a contact us form and LinkedIn. After a month of back and forth, I acquire the domain and content.
Here are the details about the domain:
The original owner started back in 2006 and worked on it till 2011. It was one of the first blogs discussing website flipping.
DR 5 with strategic backlinks from Empire Flippers, Copy Blogger, Yaro Blog, DomainInvesting, and others
This was the plan:
Create a press release page to announce the acquisition. See here.
Redirect specific URLs to The Website Flip that are topically relevant and have backlinks
Homepage redirected to my homepage 1:1 due to perfect relevancy
Add new content to TheWebsiteFlip that match the anchor text
This merge happened in late March 2021.
---
---
How Do I Merge Websites: 6-Step Process
Here are the basic steps to get started:
Analyze your keywords and competitors. Pinpoint competitors on the 2nd-4th page.
Analyze neglected microsites for backlinks, on-page SEO, content quality (if relevant), and history
Outreach and ask to buy their site (get to the point in emails)
Acquire the site and close via Escrow
301 redirect and move content. Follow this redirect guide.
Monitor results via Google Analytics, Google Search Console, and AHREFs
---
Must-Read Guides And Tips
Here are some guides that are must-reads:
Here are some tips to consider:
Test small. Buy something for $500-$2,000 and perform this strategy on a site that you are experimenting on. You do not want to cause any harm to your highest-earning sites.
Perform due diligence. You are buying an existing site so all due diligence principles are valid.
Strategic only. Don't buy a microsite that is not ranking for keywords you want to rank for. It's a waste otherwise.
Micro mergers for niche sites is a strategy that I will continue to use. If done right and strategically following real-world business M&A principles, it's a great way to grow quickly.