The amount of good information online when it comes to making money online should be an encouragement. This isn't just relegated to YouTube. There are many fantastic podcasts on niche website investing, building, and SEO that makes the best information out there available.
I live and breathe website investing, and podcasts are one way I divulge a ton of information during workouts or car rides. I've followed these podcasts listed below for many years now. The content and production quality are top-notch.
Let's get into it!
Best Podcasts for Niche Website Investing That I Recommend
There are many great podcasts on self-employment, making money, and investing, but these are the best when it comes to focusing on niche websites and online income.
Niche Pursuits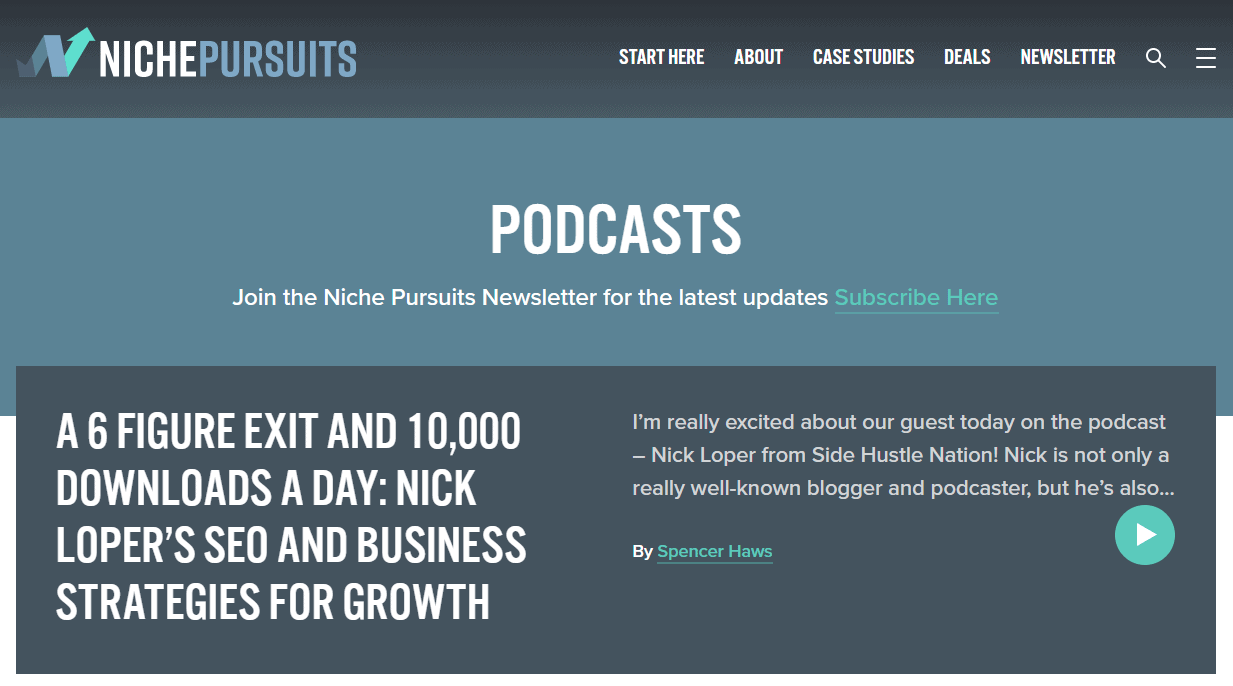 The well-known and respected website owned by Spencer Haws also has a very active and impressive podcast. Available across multiple platforms, including from YouTube and the website itself, most interviews from the Niche Pursuits podcast focus on getting into the details of site building, SEO, and making money online.
Spencer built his own major online business with niche websites that he built from scratch. He has bought, sold, and built many more niche sites since then while also diving into online software.
The guests come from a wide array of backgrounds and successful experiences with niche sites but they all have one thing in common: they are some of the top names in their field…or the absolute best you haven't heard of. These different perspectives give a wealth of actionable information that I'm always excited to listen to.
Notable Episodes:
Niche Website Builders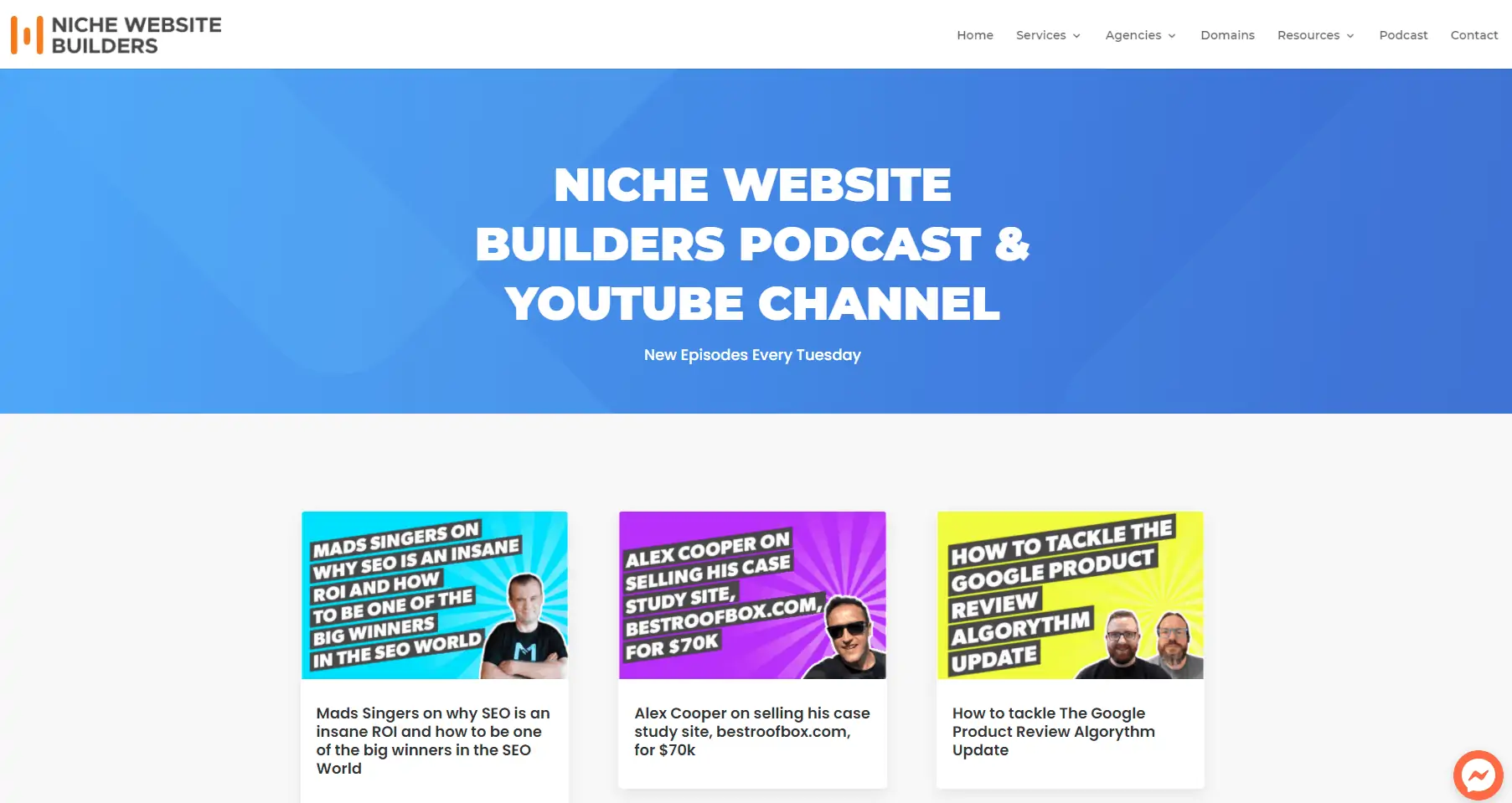 Started in January of 2021, it hasn't taken long for the Niche Website Builders podcast with Mark Mars & Adam Smith to establish itself as one of the best podcasts to follow for those of us interested in niche site investing.
This podcast is a blend of interviews with many individuals making a living with niche websites as well as episodes that dive into the details of how to buy, build and flip sites. Common topics include buying expired domains, link building, display ads vs affiliate sales, and various content creation strategies.
Even a complete newbie listening to a few episodes of the Niche Website Builders podcast will have a major leg up on much of their competition.
Notable Episodes:
Doug Cunnington Show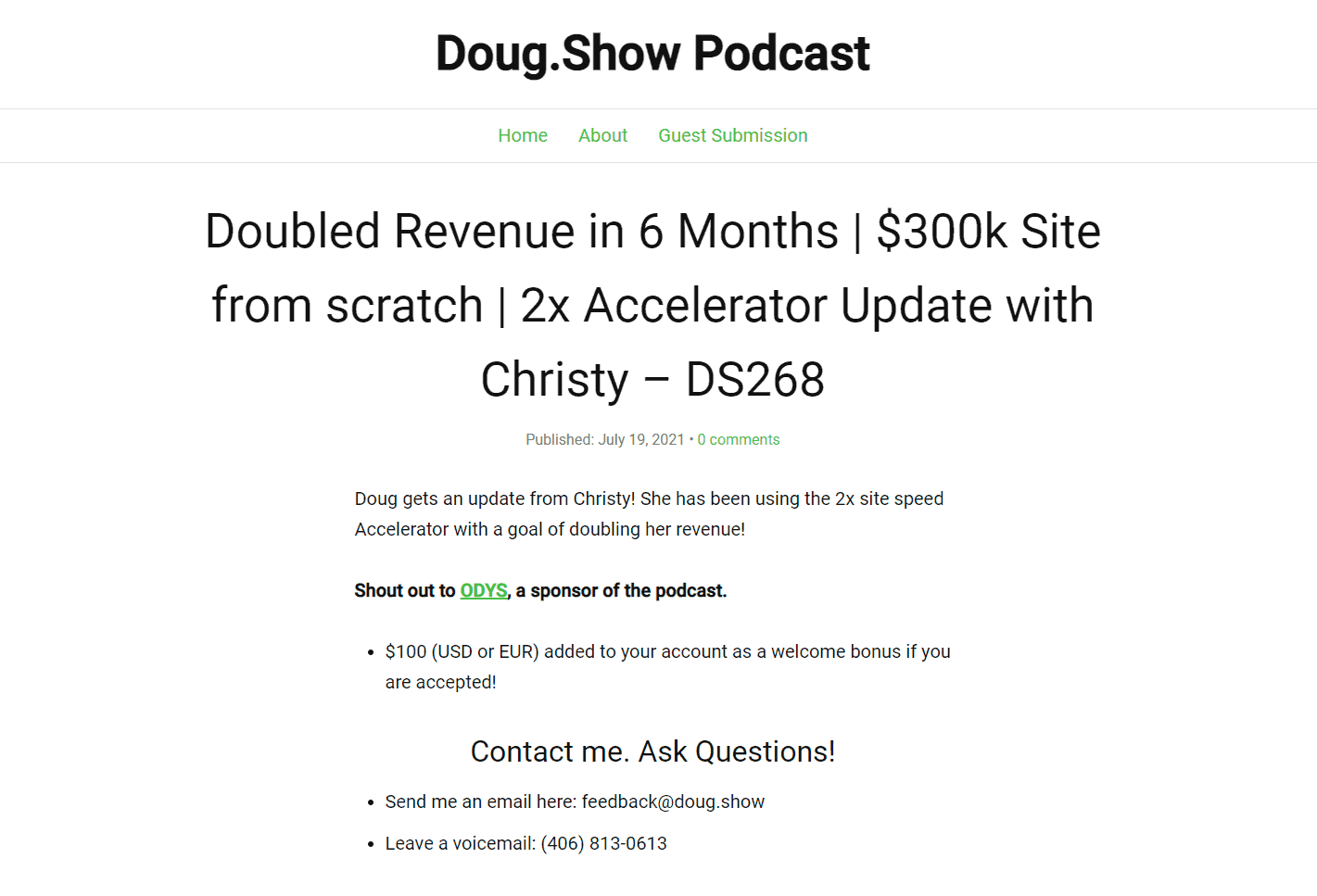 The Doug Cunnington Show has been a major name among the niche websites and makes money online podcasts for some time now. With well over 260 episodes and counting, this is one of the heavyweights in the niche.
Doug Cunnington was working as an SEO and online project manager for a company while building some Amazon niche sites on the side. In a story that is going to sound familiar to many people in this industry, he was fired by the company but at that point was making so much with his niche site he just kept going and never looked back.
With such a large catalog of episodes to listen to, it's easy for me to find a podcast on almost any topic in the niche site buying and selling field. The guests are excellent and come from a wide array of backgrounds, strategies, and specialties to make their niche website dreams a reality.
Definitely one of the best make-money online podcasts out there.
Notable Episodes:
Fat Stacks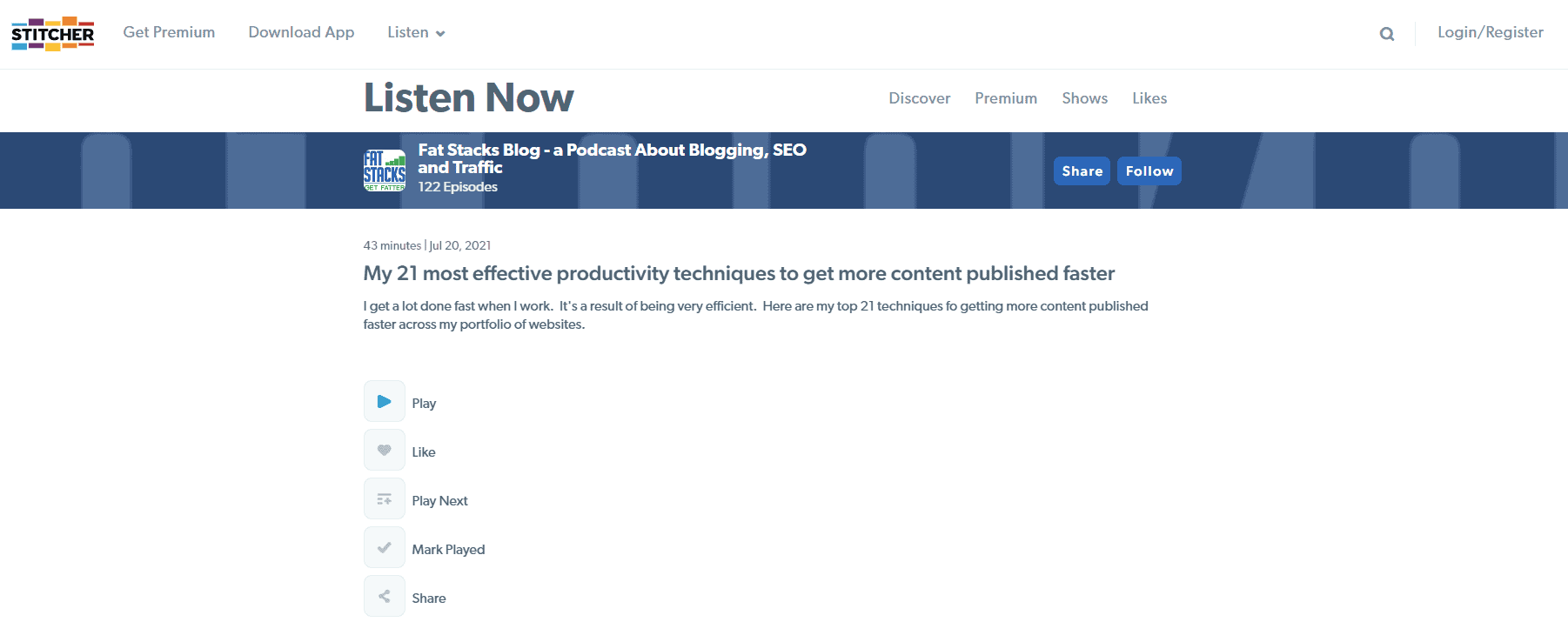 The Fat Stacks podcast has over 120 episodes and counting and is the podcast of a name most readers in this niche will quickly become familiar with: Jon Dykstra. Creator of the Fat Stacks course he is a true example of practicing what he preaches, and showing that no matter what else changes, creating great SEO content targeted at low competition keywords continues to work.
Jon started with niche sites all the way back in 2012 and while he comes back to hammering on good research, publish good content, and repeat, he continues to look for ways to make this classic model even more effective.
Topics range from driving social traffic consistently to add to Google search traffic, using article clusters to rank well in Google, becoming more productive, and repurposing content. This is a podcast less about interviews and more about deep diving very specific topics in the niche website building and investing field.
I know everything he shares are techniques he is actively using. His results let the rest of us know that these strategies aren't theoretical – they actually work.
Notable Episodes:
The Opportunity Podcast by Empire Flippers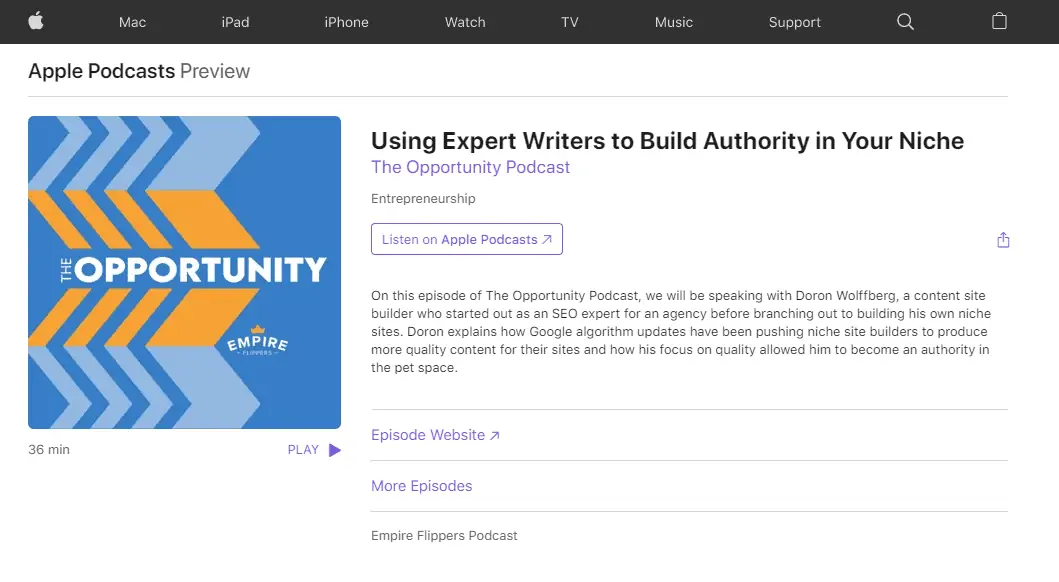 Empire Flippers is one of the largest and most trusted brokers of niche websites. They also have a very impressive business podcast. Many of these podcasts focus on topics of use to both builders and investors. Empire Flippers are all about the business and investment side of things.
Want to know how to scale content production? Scouting and buying of profitable niche sites or your FBA business? Finding an edge over the competition when scaling up a site pre or post-sale?
Those are the types of topics that rarely get covered, and I find their episodes on these very topics extremely well done.
For individuals heavy into site flipping, or who are looking to move from creating profitable niche sites slowly to becoming more of a business, this is a podcast that will offer plenty of great information to help.
Notable Episodes:
Buying Online Businesses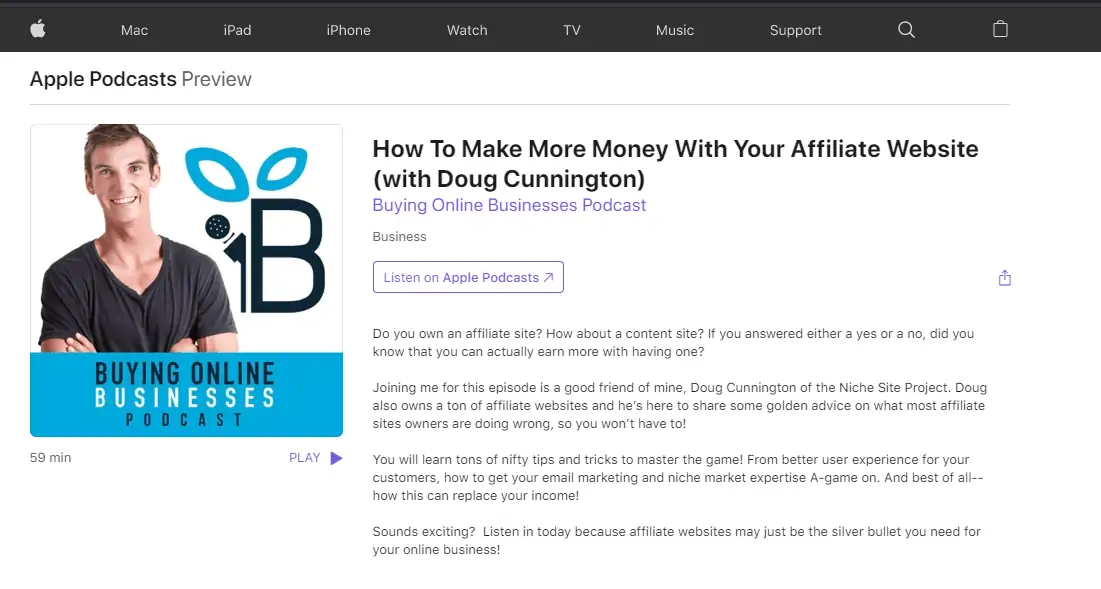 With over 120 episodes in the catalog, the name of this podcast explains it all. This isn't the podcast for tips on getting the first 1,000 visitors or touching up WordPress plugins. Important topics, but the focus of the Buying Online Businesses Podcast is on the buying, selling, and flipping of online businesses of all kinds.
This podcast is the brainchild of Jaryd Krause who went a bit unconventional in his route. He didn't start with building an online business from scratch. He bought one and made it more profitable. Then he did the same with a second business which gave him huge immediate returns.
Jaryd saw a better route through buying versus building. Focusing on those strategies and bringing in guests from different types of online businesses are the two areas where this podcast really focuses.
This works whether you're gathering online businesses and niches sites to create passive income or looking to improve a site for flipping. Great podcast for thinking on a large scale and long-term in effective ways.
Notable Episodes:
Let's Buy A Business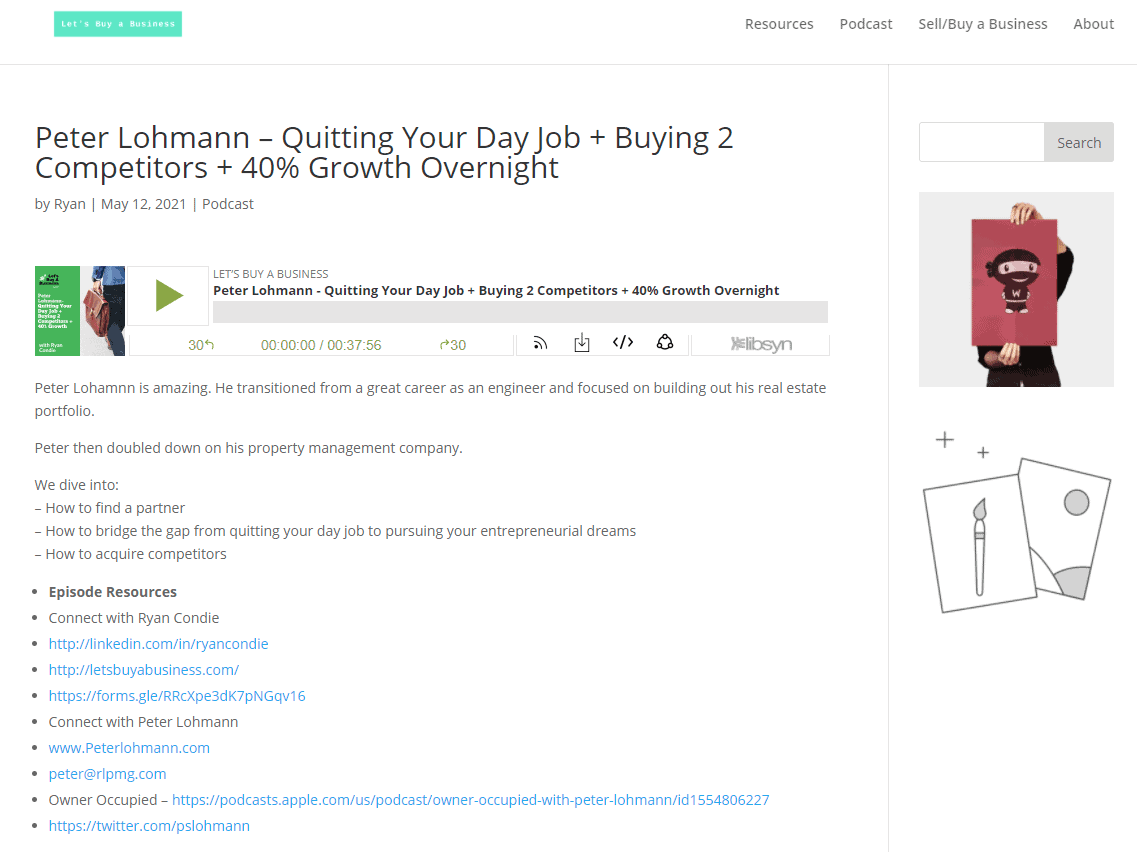 There's plenty of fantastic content here to listen to with nearly 180 episodes published and counting. Ryan Condie's podcast pulls on his wealth of experience as a business owner, investor, and his many deals buying and selling businesses.
Topics range from the pros and cons of an SBA loan to understanding acquisition math, to interviews with entrepreneurs and investors across multiple verticals.
The podcast applies to all parts of buying and selling niche websites, whether looking to create a flipping business, or perform a roll up to improve them and grow the profit numbers.
Notable Episodes:
The Domain Magnate Show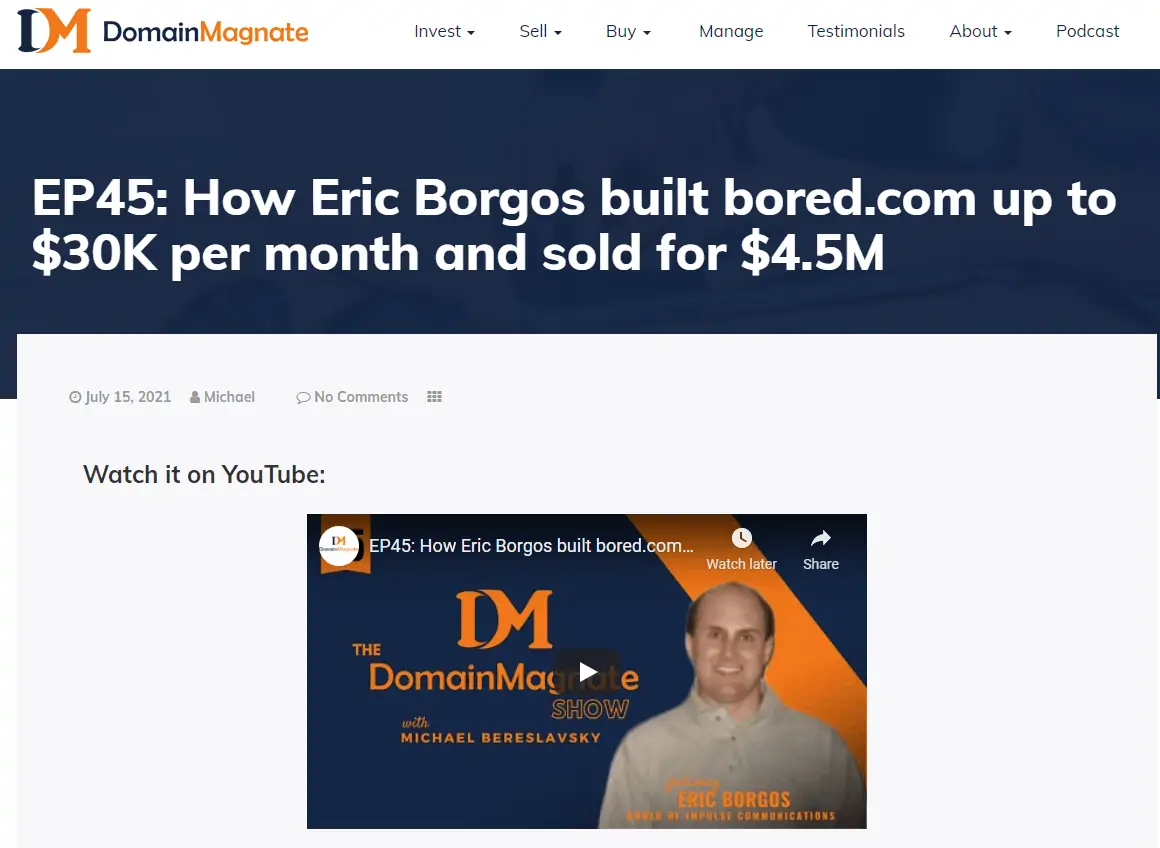 The Domain Magnate Show comes from a team of experienced, capable business buyers with a track record of successful online business. Founder and CEO Michael Bereslavsky has been involved in over 300 business deals and been heavily involved in online business since 2004.
That type of successful track record online is incredibly rare, and that experience shows in the quality of the Domain Magnate Show podcast. As well as the quality of the guests they bring on for episodes.
Recent topics include case studies on scaling up businesses into multi-million dollar sales, mastering Pinterest traffic, strategies for acquiring premium domains and optimizing sites for every type of monetization imaginable.
Notable Episodes:
---
Load that Podcast List with Niche Investing Knowledge
These great niche website investing podcasts can create huge playlists full of the type of actionable information that further empowers investors at all stages of their niche website investor journey.
Any one of these podcasts offers a wealth of useful knowledge, and a playlist with several or all of them makes for a very educational experience for niche website investors.