In this write-up, I look to answer a common question: is website flipping profitable?
Website flipping can be a very profitable practice. Someone who understands SEO, monetization, and good content can take an average or okay site and make it a great earner that sells far above the original purchase price.
While this takes some practice and skill, there are many incredible opportunities in the world of flipping websites.
Let's get into it!
---
What is Website Flipping?
Website flipping is the practice of purchasing a website, improving its revenues to make it more valuable, and then selling it for a profit.
3 Recent Website Flips
Here are numbers behind a few of my recent website flips:
Relationship site: acquired for $8,000 in January 2023. The site was earning on average $500/mo so we got a good deal on it in terms of a multiple (16X monthly). We grew the site to earning $850/mo average and sold it in May 2023 for $30,000 at a 35X multiple.
Outdoor website: acquired for $23,000 in April 2020. The site was earning $300/mo. We scaled the site to earn $3,000 to $6,000 per month depending on the time of the year. The site sold for a 44X multiple priced at $175,000. Read the case study.
Wellness website: acquired for $5,650 in July 2020 and sold in December 2020 for $30,100. The site was earning $300/mo and when sold it was earning $936/mo. Read the case study.
Dating website: acquired for $32,000 in early 2019 earning about $1,000/mo. The site currently earns $9,000/mo. The site is valued at $315,000 to $350,000. Read the case study.
Looking to learn how to do website flips? Join the newsletter to get detailed guides, reports, and websites for sale. I share my insights from 14+ years and 215+ successful flips. No fluff guaranteed.
---
Valuation Makes Website Flipping Profitable
Flipping websites is incredibly profitable in large part because of how valuation works. While finding an undervalued site that has high traffic but poor monetization, or good monetization but bad SEO practices, can lead to a good deal – that's not even necessary to find a good deal.
This is because the common way to value a website is at 35x to 45x monthly earnings. This means for every $100 increase in average monthly revenue, the estimated value of the website goes up to $4,000.
Raise the average revenue of a profitable website to a modest $1,000/month and that's a $40,000 jump in value. 
A website that gets bought making $1,000/month then flipped when it's making $5,000 a month went from a $40,000 value when bought to a $200,000 value when flipped/sold.
Those numbers show why flipping websites can be such a lucrative business and that's even before taking into consideration that every month the website is held, it's earning for the new owner. Cash flow is a nice added benefit of this business model.
For more details, check out how much your website is worth.
---
Why Flip Profitable Websites?
If a website is so profitable, why flip it in the first place? Why not just keep it? This is a good question, and there is nothing wrong with keeping profitable sites and building a portfolio. Many people do just that.
There are still good reasons for selling a website. For one, the large payout is guaranteed money once the sale is complete.
While in theory, I could make more by keeping a site for more than 40 months, what about the expenses involved in keeping the site up? What if a Google update hits the site and it loses half its traffic (and revenue) overnight?
A 35x-45x payout is safer.
Another reason is scaling the business. A site paying out $2,000 a month is good cash flow. But selling that site for $80,000 all at once provides cash to acquire new sites, outsource content for other sites, and start work on multiple new sites to flip.
As nice as $2,000 a month cash flow is, it can't do that level of work for scaling up a business.
For individuals looking at quitting a job for early retirement, having that cash in hand might be much more valuable than the monthly payouts. Or for a recent college graduate looking to wipe out those student loans once and for all.
Flipping websites allows the buyer to collect monthly payments while scaling it up for sale. Cash flow plus one big payout.
Check out my analysis of a large number of sellers' reasons for selling a site.
---
How to Flip Websites For Profit: Buy, Build, & Increase Value (A Strategic Approach)
A crucial part of flipping websites for profit is understanding how the process works.
What to Look for
When looking for a deal there are several types of sites I'm looking for. While not every good prospect will fall under these exact specifications, I like to find:
Great content from passionate hobbyists who clearly don't know SEO or monetization but clearly are experts in their field
Sites that have just started making money from newbies looking to sell, but have a lot of obvious easy wins to improve revenue
Is a site with a lot of traffic only using AdSense? I know switching to another ad provider alone can make a huge difference in profits. Does a hobbyist talk about gear but doesn't have affiliate links or callouts to sell that gear? Another easy win.
Finding a site that has clear potential, but really glaring easily fixable issues gets me excited because that's a great prospect for improving and flipping.
Read my investment criteria when buying websites, and also understand the website flip lifecycle process.
Proper Due Diligence
This step is crucial. I never overlook a red flag that proper due diligence brings up. If the due diligence says something is off about the numbers or any other part of the deal, I walk. Never let the potential of a deal cause you to overlook an obvious red flag.
That's how very expensive mistakes are made.
Just a short due diligence list includes:
Confirming traffic numbers
Confirming income numbers
Looking at traffic sources
Checking the backlink profile for PBN use or toxic/spammy backlinks
Looking for unusual trends or patterns in profits and/or traffic
Locating Easy Wins
Getting the most out of a website to prepare it for sale can be a lot of work. Seeing obvious easy wins helps me know a website is worth the investment because I can increase the cash flow quickly. Sometimes almost immediately.
I look at the theme, design, site speed, and internal linking – all things that are easy to take a look at, and things that can have a huge impact when it comes to traffic. If a website is already profitable despite there being multiple easy wins there for the taking, that's a great candidate for buying and flipping.
The Importance of Time
The average valuation is 35-45x average monthly income, and most buyers want to use the last 6-12 months to determine that average. This is part of why quick work to improve and build up the site is so important.
The sooner those monthly revenue numbers jump, the sooner the average jumps up, the sooner the flip gets more profitable. Time matters to make sure the changes made to the bought site can do their work.
Many flippers wait a minimum of 24 months to make sure all the positive changes, new content, and new work have time to fully rank and take effect. That improves the cash flow and shows that improved average over enough time to move the selling price.
---
Flipping the Site
After months or even years of improving and upgrading the bought website, taking advantage of easy wins, and pushing up the revenue numbers, the time has come to flip the site for a big profit. Preparation is key to making this next part of the process go smoothly.
What to Prepare
There are certain steps that need to be taken to make the migration process as smooth as possible.
Make sure to:
Create a separate email account for the site (if not done already) and forward site-relevant emails to the email account to hand over
Have multiple up-to-date backups of the website prior to starting migration. Backup hosting is a good idea, too.
Have all crucial information set aside for hosting, migration, and anything specifically required in the sales contract
A handy list of passwords for you or your tech guy to make sure the process can go smoothly
Places to Sell
There are multiple options for where to list a site for sale. These are just a few options worth considering based on the site, the earnings, and the seller's experience with flipping sites. Some options are more beginner-friendly, while others tend to be better for experienced sellers.
For a more detailed guide, check out the best website brokers.
Flippa

Flippa is the largest website marketplace in the world. This attracts a lot of potential buyers. However, since Flippa is an open marketplace with no vetting, be prepared to offer a lot of information to give serious buyers the confidence they need to make a serious purchase.
Not recommended for beginners as the open marketplace means vetting is 100% the buyer's responsibility.
Empire Flippers

Empire Flippers is one of the premium website brokerages out there. Focusing mostly on six and seven-figure dealers, this is an excellent option for individuals with a website that is expected to sell in that range.
The Website Flip Brokerage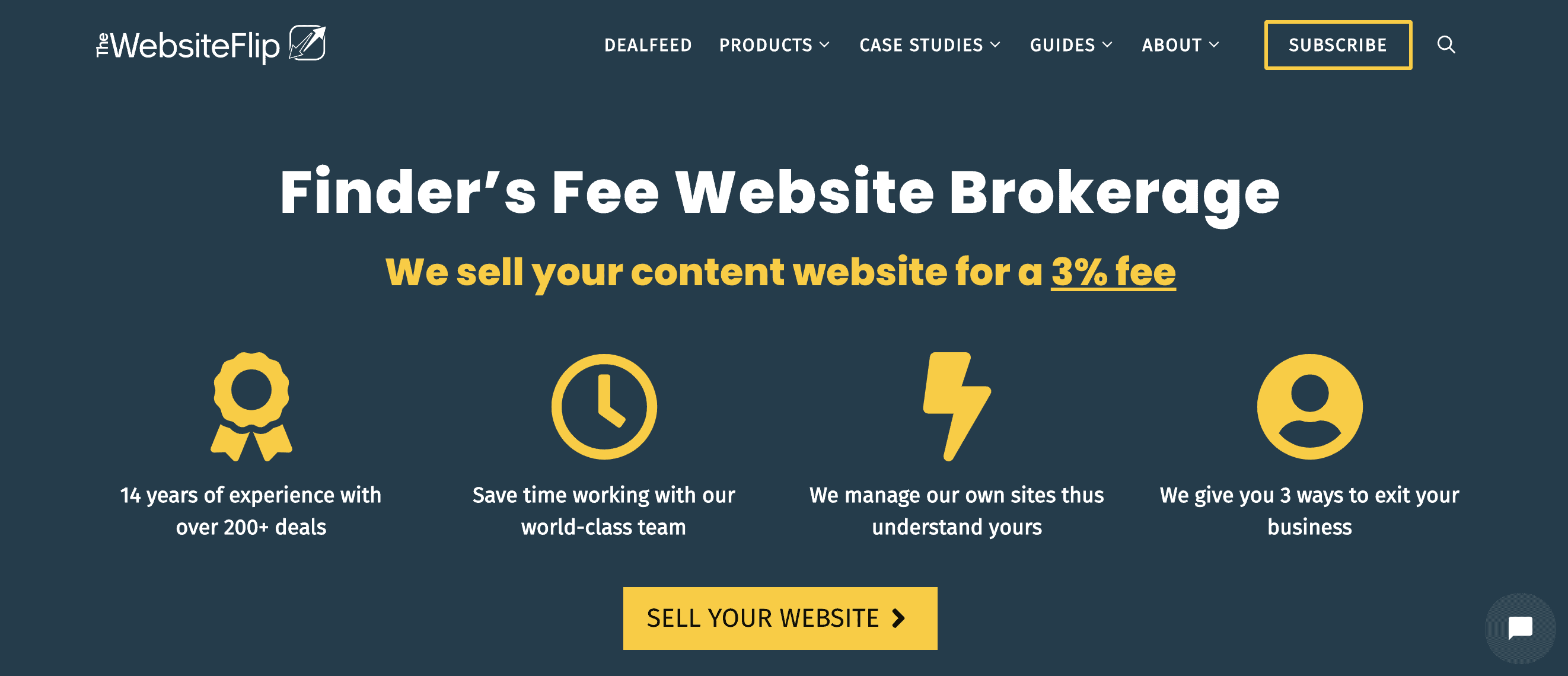 The Website Flip Brokerage helps website sellers find a buyer for a 3% finders fee.
After sellers submit their site via our form, we perform due diligence and calculate a website valuation. If the site is approved, we write a detailed listing description that is shared with our large audience of thousands of active website investors via our email newsletter, Facebook, and Twitter. There is also an option to sell directly to The Website Flip Brokerage if the site meets our criteria.
We connect the seller to interested buyers via email and the two parties work together to transfer the site and complete the transaction. We only charge the seller a 3% fee on the final negotiated price if the deal closes.
Motion Invest

Motion Invest was founded by Spencer Haws, Jon Gillham, and Kelly Van Boxmeer. This is a very hands-on operation that provides excellent customer support to buyers and sellers, helping to facilitate both sides from sale to escrow to final migration.
There are both six figure deals, as well as many young four figure websites, offering a wide array of choices for buyers and flippers.
Investors.Club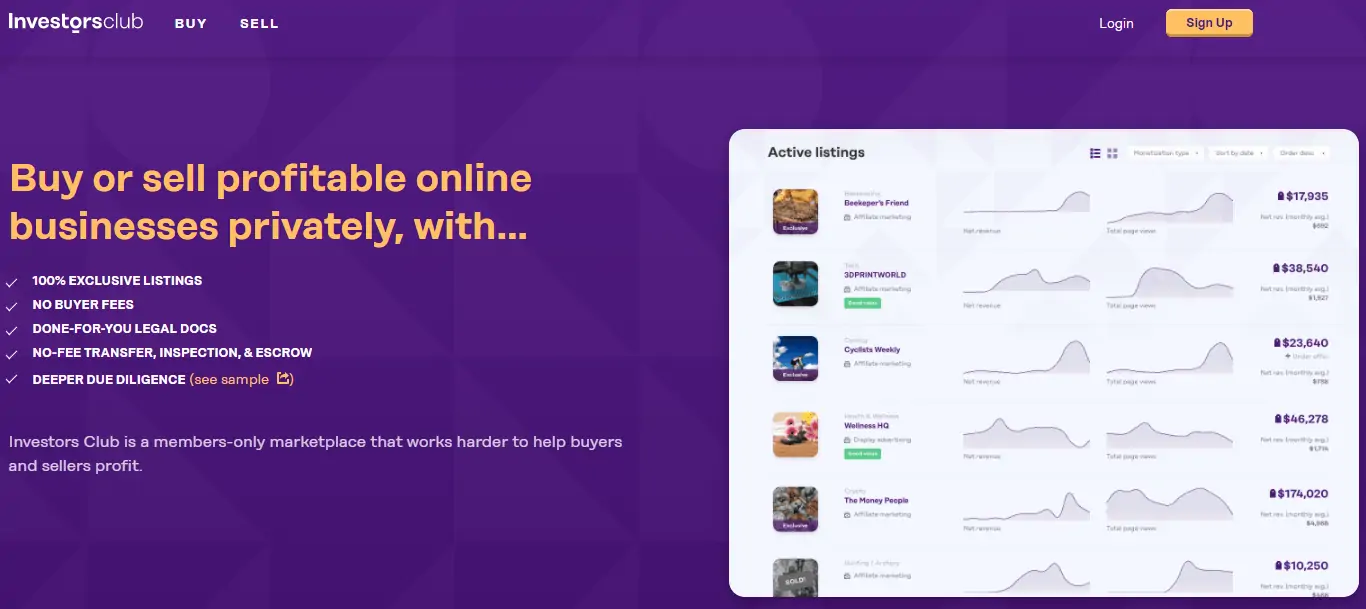 Investors Club is a members-only marketplace that gathers experienced buyers in one place and brings good website deals to them. This is a better option for buying and holding versus flipping for beginning flippers, but there are many quality sites offered for sale here, some of which still have serious growth potential.
---
Wrap Up
There's no denying that website flipping is profitable. The fact that the average valuation of websites has gone up nearly 25-30% in the last two years has only made this practice even more profitable.
The demand for good profitable websites and online businesses isn't likely to abate any time soon. Website flipping isn't dead. The practice is very alive, very profitable, and is likely to continue to be so going into the future.