Buying and selling a business online isn't always straightforward. But companies like BuyAndSellABusiness.com help make the process easier by providing a platform for buyers and sellers to connect with each other.
Let's take an in-depth look at how they do this and more.
3 Major Benefits of BuyAndSellABusiness
Digitized and automated purchase and sale experience
BuyAndSellABusiness.com help guide buyers and sellers through the offer, due diligence and closing phase. You'll have the ability to chat, exchange documents, and request and accept all necessary funds.
You will also have access to deal support throughout the experience, giving both parties full control from start to finish, while saving you on commission. If sellers aren't looking for a guided experience, they can join their subscription solution that offers unlimited listings and buyer leads.
Smart Internal Retargeting
From the moment a user joins their platform, to the moment they list or connect with a buyer, the company's platform does a strong job at ensuring conversations take place and deals happen. Conversations or negotiations never go cold because of the chat technology they use on the platform, and all sides are always on the same page.
History
They've been around the block and they've seen a lot of companies come and go. Since 2012, BuyAndSellABusiness.com worked hard to earn the trust of thousands of users and partners in 20 different countries. They continue to work hard every day to maintain that trust stating that the three guiding principles at the core of the company are:
---
What Types of Online Businesses Are Offered for Sale?
They offer a wide range of business opportunities – which also serves as their differentiator. Other platforms either lean towards strictly digital (like Flippa or Empire Flippers) or strictly main street/bricks and mortar stores (sold by platforms like BizQuest).
Whereas BuyAndSellABusiness.com is uniquely positioned to help entrepreneurs and business owners buy and sell all types of businesses – whether it's a main street, SaaS, or eCommerce business. For us, this is a strong differentiator for the company and it helps them stand out from other brokers we've previously reviewed.
---
BuyAndSellABusiness Commission Fees
They have 2 options for sellers.
They can engage in their Full Serve solution – a fully digital and automated purchase and sale experience that charges a scaled take rate between 1%-5% based on a successful sale, or they can engage in their Subscription solution that offers unlimited listings and buyer leads for only $80/mo.
They do not monetize the buyers as the company believes adding friction to buyers limits meaningful business conversations.
---
The Buying Process with BuyAndSellABusiness
What listing information is provided publicly to everyone?
When buyers go to the Businesses For Sale page they'll find an overview of all companies currently on their market.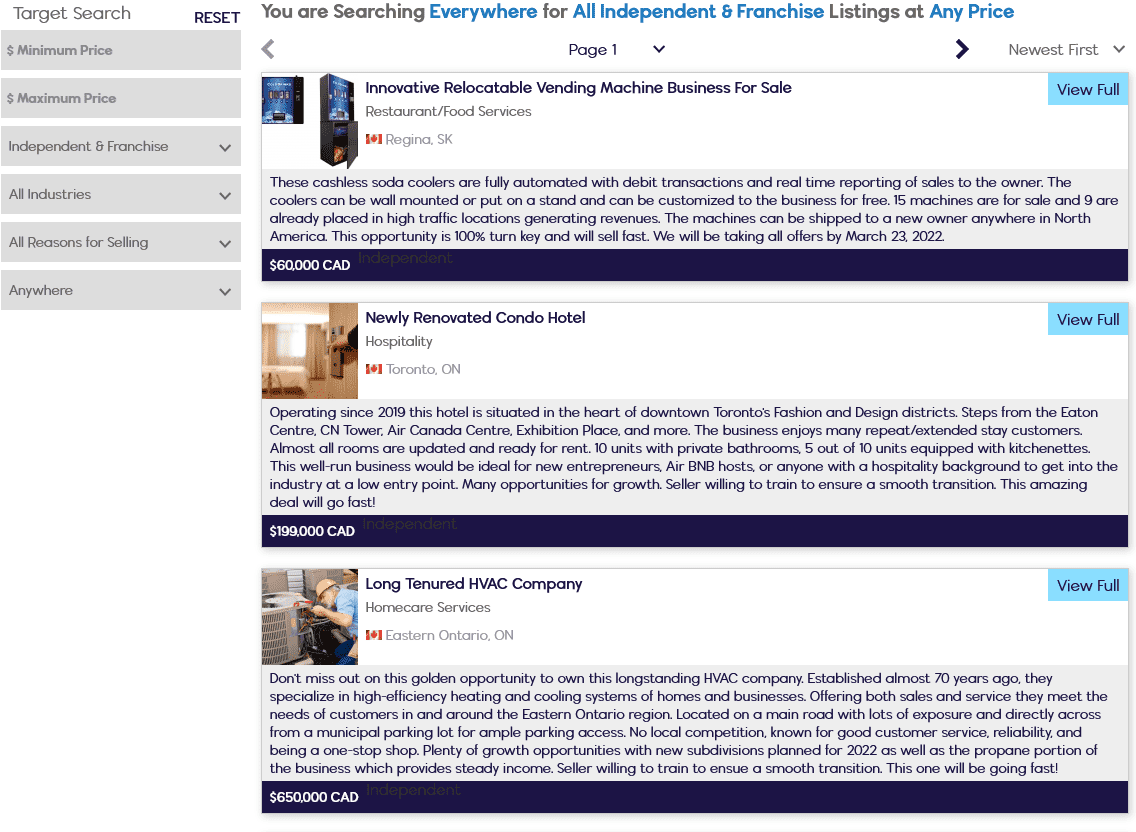 Clicking through to a business for sale will show you more details
Including:
If it's a Legal Body
Last Year of Completed Statements
Gross Revenue
Annual Earnings
If Land/Building is included
% of Business being sold
Reason for Sale
If financing is available
And more.
What listing information is provided privately to buyers?
This is dependent on what information the seller wants to provide. BuyAndSellABusiness.com does not get involved with due diligence at this point of the process.
What vetting or due diligence is provided?
Their Full Serve solution guides both the buyer and seller through a series of checks and balances. This is to align and validate that the due diligence is completed before allowing them to move forward to closing.
Whereas their Subscription solution is just a buyer introduction; the buyer and seller are responsible for the appropriate due diligence in this instance.
How is the migration of the business handled?
They do not get involved with this. The buyer and the seller need to do the migration themselves.
What post-sale support is provided?
None. Although they haven't said they have plans to, this is perhaps something BuyAndSellABusiness.com could look at providing as a future service, or even as a premium upgrade if customers want it.
---
What is the Selling Process with BuyAndSellABusiness.com?
As we touched on above, sellers have 2 options after signing up and joining their platform:
Full Serve: This solution will help guide the buyer and seller through the offer, due diligence and closing phase. They'll have the ability to chat, exchange documents, and request and accept all necessary funds. They will also have access to deal support throughout the experience, giving both parties full control from start to finish, while saving them on commission.
Subscription: The perfect option for sellers looking for buyer introductions only. Sellers benefit from unlimited listings and leads. They can create and manage all their listings with ease. No commissions, no commitment, and they can cancel anytime without any cancellation fees.
Account Creation
Signing up is straightforward enough on this well-designed website, but it's important to note that – for now – they're only accepting new accounts for Buyers from certain countries.
We were in Dublin, Ireland at the time of writing this article and tried inputting this into their form.
Here is the list of countries on their drop-down menu that they're open to doing business with if you're interesting in buying a business. To be fair, there are quite a few and we're sure this list will expand in time:
Australia
Bangladesh
Brazil
Canada
Denmark
England
France
Germany
Hong Kong
India
Italy
Japan
Kenya
Nigeria
South Korea
Sweden
Switzerland
Uganda
United Arab Emirates
United States
When we realized only certain countries were allowed, we modified it to the geographically closest country near us that they accepted – in this case, England.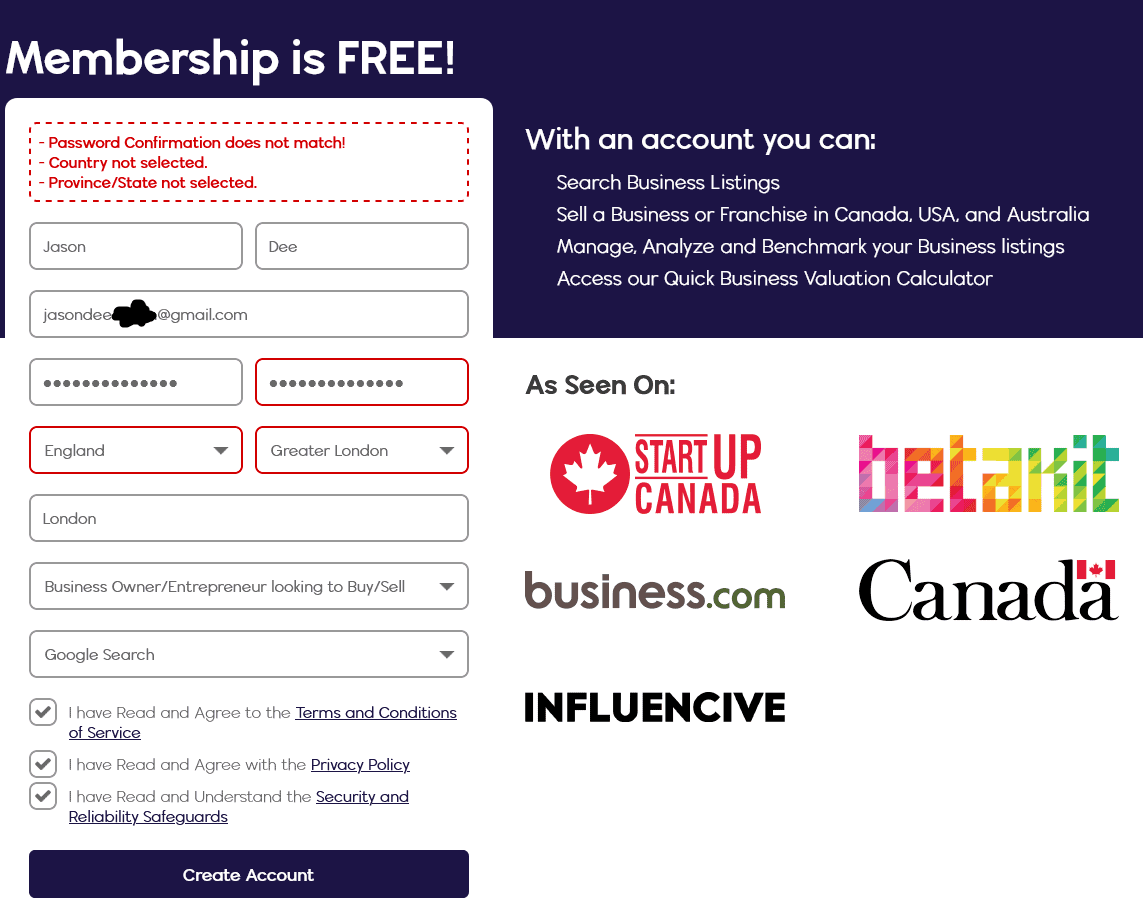 This was accepted, we were emailed an activation link, clicked it and were then able to fully browse the website's member features – including their powerful analytical dashboard.
Account confirmed:

Activation complete:

And then we had access to their very intuitive analytical dashboard: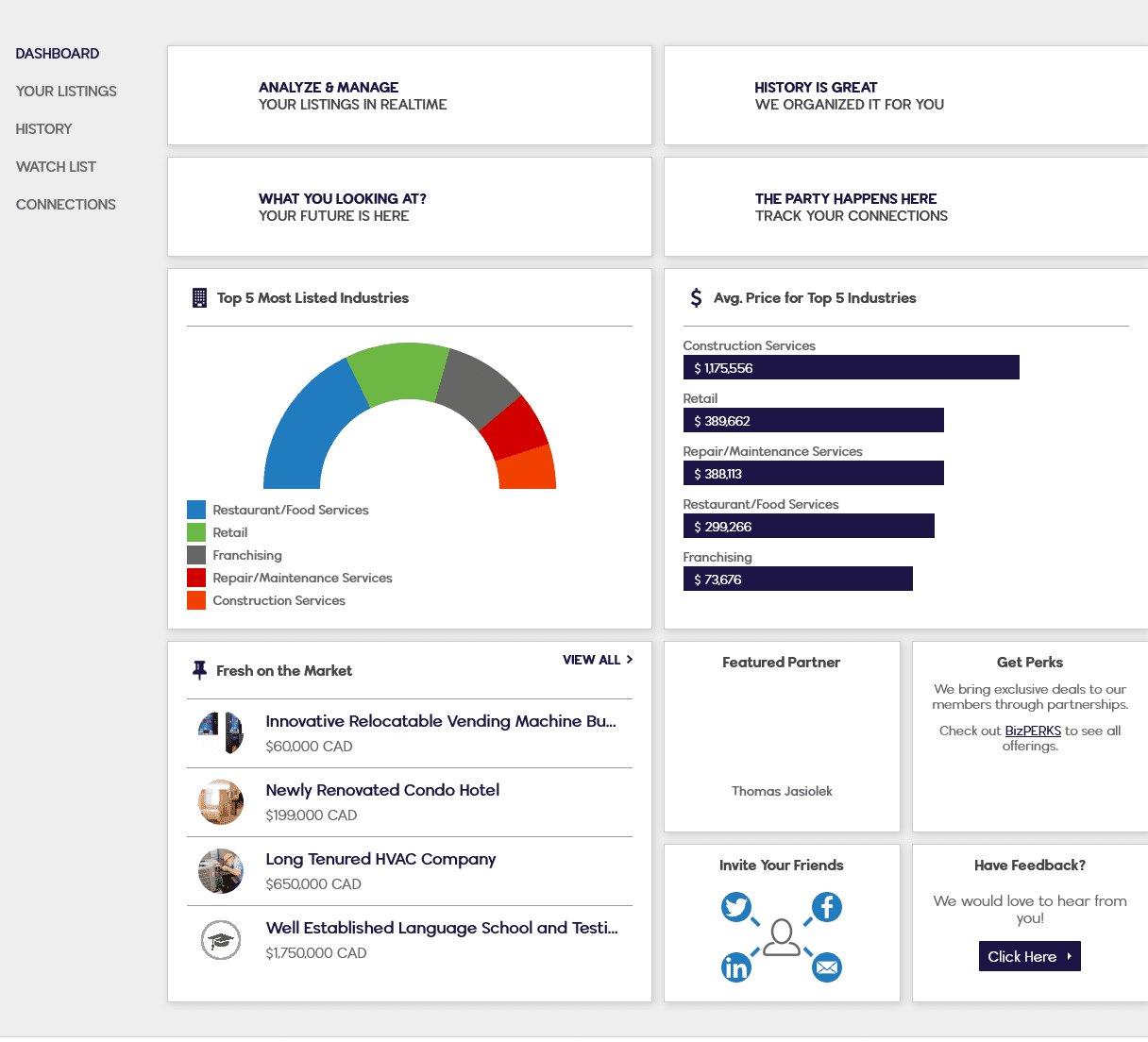 Connection to Potential Buyers
Potential buyers will have the option to "send an offer" or "initiate contact".
Sending an offer will automate and digitize the offer phase, leading to due diligence being needed. "Initiate contact" allows BuyAndSellABusiness.com to facilitate an email introduction where the buyer and seller can have an off-site conversation.
Vetting & Making a Deal
When talking about the actual deal flow, their Full Serve solution guides the two parties along the purchase and sale process. However, it is the buyer and seller's responsibility to ensure their own thorough due diligence. Their subscription solution does not get involved in vetting or validating the due diligence.
In regards to vetting listings, all listings are submitted to their team for review and approval. Any suspicious listings and/or abnormal listings are flagged, and the seller is contacted to discuss before making it public.
Are there any measures in place on the platform to prevent fraud?
To protect their members and mediate disputes, BuyAndSellABusiness.com always facilitates any monetary transaction between buyer and seller when using their Full Serve Solution. 
This solution guides both parties along the purchase and sale process with a check and balance mechanism to ensure both parties are aligned. They also get involved in holding all funds until an official purchase and sale agreement is shown by both parties before releasing any funds.
Terms of Sale Are Agreed Upon
BuyAndSellABusiness.com needs proof of a fully executed purchase and sale agreement. Only then do they release funds to the seller. We feel this is a strong point as some brokers don't offer this service.
In some cases (with other brokers), both parties have to use Escrow.com as the digital middle man, including all the fees that go with it.
Sale & Post-Sale Work Is Completed
BuyAndSellABusiness.com steps away from the process at this stage and lets the buyer and seller get on with things. The buyer and seller will need to ensure the proper transition of ownership takes place as per the terms of the purchase and sale agreement.
---
Other useful resources on their website
Another thing that stood out on their website was their Grow section – which is home to some strong free business tools. Including:
Free legal forms
Quick valuator calculator
Free widgets and custom Landing pages to reach more buyers with your listing
Industry benchmarker
Exclusive deals and perks from reputable vendors they trust
---
Key Metrics of BuyAndSellABusiness.com
Platform Metrics
Marketing footprint of 40k + growing 10% Year on Year
Average session time of 2.28 minutes
40% of web traffic is organic
98% of active users are buyers
30% of the web traffic is from the 25-34 age demographic
100,000 sessions per year (101% growth)
New userbase up 113% Year on Year
80% of their traffic is with people based in Canada, 10% are US based, the remaining 10% are in India,China and the UK
General Statistics
Average listing – $440k in Sales ($84k in EBITDA)
Average deal size of $680k
Average deal multiplier – x5
BASAB Net Promotor Score – 72%
Over $2 Billion in connection value
Growth Potential
Total Addressable Market – $6.5 Billion
B&M, SaaS and eCommerce are all growing and are lucrative segments that need to be served
Help entrepreneurs find efficiencies
Fuel growth, strengthen margins to increase value before a sale
Newly acquired business > strengthen margins and SDE (Seller's Discretionary Earnings)
---
We listened to Nunzio's chat with Netflix co-founder Marc Randolph on the That Will Never Work Podcast. Here are some key takeaways:
The company is constantly reinventing themselves (From following their Instagram for the last week we've also gleaned that there's a big announcement to come on February 14th 2022).
In 2012, Nunzio had a business while he was in university and he was met with some barriers when he tried to sell it. Online brokers thought it was too small and offline realtors told him they'd rather sell a house.
This overall user experience inspired him to set up a seamless, supportive and resourceful community where people can buy and sell businesses in the micro-market and he defines that as any business with an EV (enterprise value) of under $5 million.
And so began the journey of BuyAndSellABusiness. Nothing like a bit of rejection to put the fire in the belly of an entrepreneur eh?
Nunzio also wants to streamline the buying and selling of businesses for the average Joe and Jane and make it as affordable as possible to do so.
---
Summary of BuyAndSellABusiness.com
Pros
Superb email support
The first thing that jumps out to us is how strong and responsive their email support is – it truly goes above and beyond compared to some other companies in this space.
For example, there is another website broker at the moment who are gaining a reputation for doing the opposite of this and are completely ghosting buyers or taking a long time to reply to their queries.
BuyAndSellABusiness.com strikes us as a company who take a completely different stance to this and go out of their way to help buyers and sellers on their platform.
In 2022 – now more than ever – customer service is everything and we'd like to give a special mention to their Customer Success team at the company in this regard. They answered any question we had in great detail and got back to us sometimes as soon as within 30 minutes.
They cover both digital businesses and brick and mortar ones with no minimum revenue required
While some brokers like Digital Exits don't take you on as a client if your business isn't making at least $200k profit per year – there aren't such caveats in place with BuyAndSellABusiness.com
Whether it's a main street, SaaS, or eCommerce company, BuyAndSellABusiness.com is ideally positioned to assist entrepreneurs and business owners in buying and selling all kinds of enterprises.
This is a strong distinction for the broker in our opinion, and it helps them stand out from other platforms we've looked at so far on The Website Flip.
Other positives:
A track record. The company are now in business for 10 years with thousands of successful deals done in that time
A powerful analytics Dashboard
No need to use Escrow.com
Internal technology on the platform ensures that conversations between the two parties don't go cold
Cons
So far, you need to be based in certain countries to buy on the platform. We feel that leaving out major EU countries like Spain needs to be addressed. Additionally, if you wish to sell on the platform, it's currently only available for Canadian, American and Australian business or franchise opportunities. This part of the business definitely requires expansion to more regions.
The company could be more hands on in the post-sale process.
We asked the company what they themselves feel they need to improve on. Here was their reply:
This segment usually represents businesses in the SaaS or eCommerce space. We want to attract more of these entrepreneurs and business owners, in addition to understanding how important our role is for main street businesses looking to exit.
Overall, we want to do this with a balanced approach – an approach that attracts a community filled with missionaries, not mercenaries. We have and will continue to create a community that is not looking for a quick start and exit, or, for a quick buy and flip.
Our goal has and will always be, to help sellers exit and buyers find lifestyle businesses that they are passionate about"
---
Wrapping up
BuyAndSellABusiness.com stands head and shoulders above some other brokers when it comes to customer service – their email response time and detailed replies to questions are a big part of this. Additionally, their analytics dashboard and overall website design feel very 2022 – the UX here is strong.
They have found a good niche in dealing with businesses worth $5 million or less and they do it at a commission rate that's a fraction of other brokers.
Who are they for? If you're buying or selling a business and you fit their "under $5 million" criteria then this is a no brainer to at least give them a look and have a chat with their team. Their commission rates are lower than most other brokers too. The only caveat that jumps out to us is that buying and selling companies is only possible if you're based in certain countries – but many major regions are covered, including the United States, Canada, and Australia. 
Finally, a reminder that if you're ever in doubt about buying a website, we can help with our battle-tested Due Diligence Dashboard – check out EasyDiligence.io for more.