AI-based writing tools/services have been popping up since early 2020. This is primarily due to OpenAI's launch of GPT-3, which is a machine learning-based model that products human-like text.
Since then, various services have hit the ground running either using GPT-3 and the likes or building their own models for generating text. One such tool is Conversion.ai.
In this article, I reached out to a daily user of Conversion.ai, Damon Wiseley. We collaborated on this detailed look into the software and how it can help you put together readable content for your niche affiliate sites.
Let's get to it!
Conversion.ai Review: At A Glance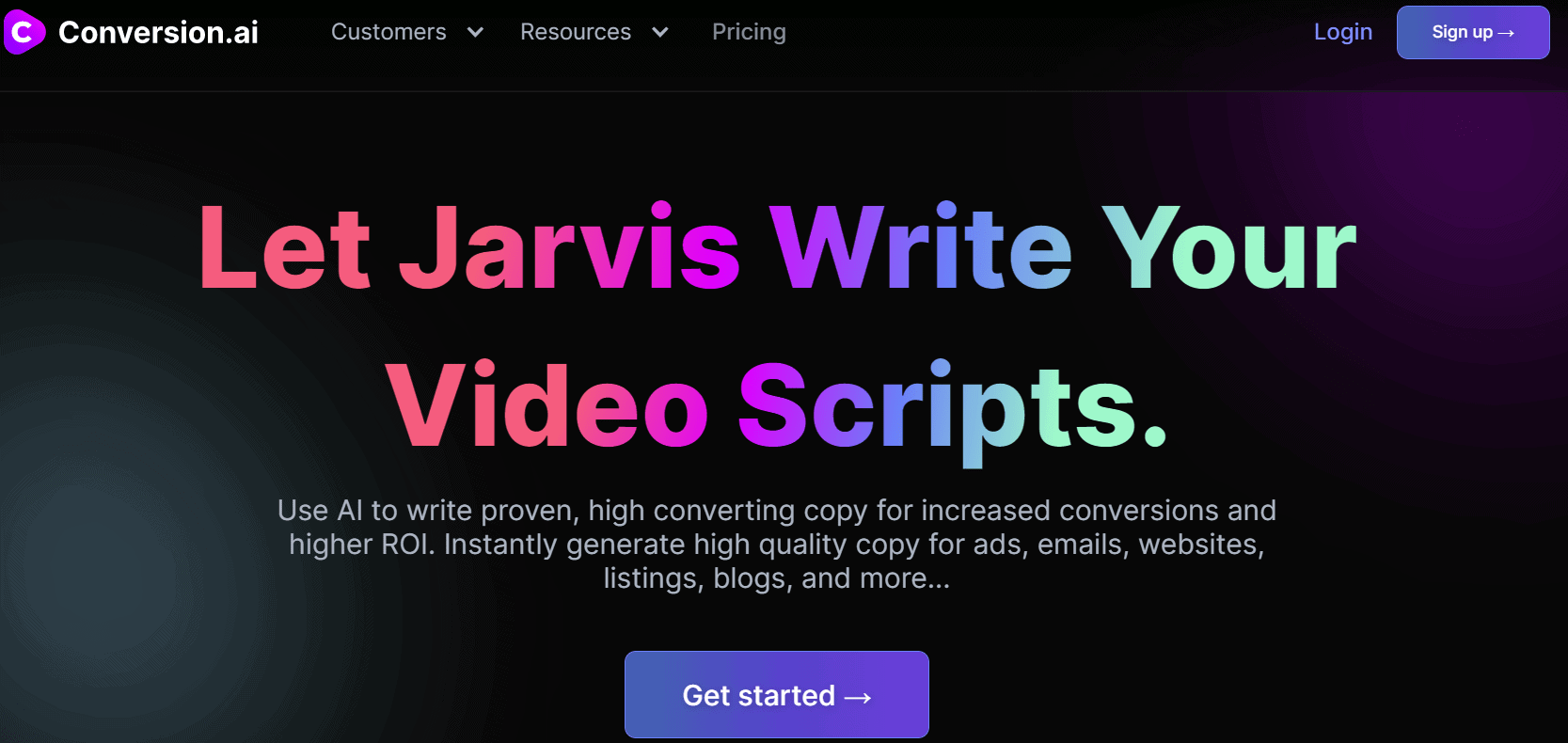 Website flippers are constantly looking for ways to save time and money, especially when it comes to content creation. However, for those of us who still work regular jobs, finding the time to produce quality content can be difficult.
Even if you can find the time, developing a writing style that is both persuasive and conversion-optimized is not an easily acquired skill, and dealing with the ever-present writer's block can also be a frequent challenge.
To deal with these challenges, many website flippers use various writing services for content creation. However, this can be expensive and also time-consuming as you go back and forth with the writing team to edit and re-edit articles to your satisfaction. 
Regardless of whether you write your own content or hire it out to content creation services, conversion.ai may prove to be a very valuable tool for your website flipping business. After all, If you could find a way to save time and money while creating persuasive and conversion-optimized content wouldn't you do that? 
What is Conversion.ai?
Conversion.ai is an artificial intelligence-powered by JARVIS that allows you to create original blog posts, product descriptions, social media posts, and more in just minutes! It uses natural language processing (NLP) technology developed by Facebook engineers that analyzes the words used in source material and then creates new text based on user inputted keywords and desired tone of voice.
Process Before Conversion.ai…
Before using conversion.ai I spent a large amount of time stuck in the planning stages of developing a blog post.
For articles I wrote myself this included:
Creating a list of blog post topics to choose from
Developing an outline with H2 subheadings
Creating a persuasive introductory paragraph that grabs the reader's attention and persuades them to read more or to take action.
Write and rewrite entire paragraphs over and over again until I feel I have created content that is somewhat persuasive and conversion-optimized.
For articles I outsourced the process before using Conversion.ai included:
Deciding on which writing service to use.
Paying them upfront
Communicating via email or zoom what I want the writers to do
Wait for the first drafts to come in
Give feedback to the writers for improvement
Review edits and accept the article or request new edits
This current process eats away at the website flippers two most scarce and valuable resources time and money. And this, I believe, is the value proposition conversion.ai offers. With conversion.ai you can now create that same high-quality blog post significantly quicker and cheaper as well.
After Conversion.ai…
Using conversion.ai has made every step of blog post creation faster and produced higher quality content than what I've been able to produce myself. To my surprise, I've also found the content to be almost on par with the content I receive from the more costly content writing services.
---
How Does Conversion.ai Work?
On the home screen, you can choose from a wide variety of templates that are specific to the project you're working on. For example, there are Facebook ads templates, YouTube video description templates, sentence expanders, and even a template to write a creative story. 
The first thing you'll want to do is select the blog category as pictured below. This will bring up templates related to creating a blog post.
Conversion.ai uses pre-built templates. Each template requires you to input some very basic information and choose a tone of voice for the output. After filling in the requested info, select how many outputs you want JARVIS to create, and within seconds you will have a high-quality copy. Keep in mind you are limited to a certain amount of words depending upon the plan you select. Here's a list of the templates I used to create an entire blog post using conversion.ai:
Blog post ideas: This template is helpful if you have a product or service you want to write about but are not sure where to begin.
Blog post outline: Use this template to create the framework/outline for your article.
AIDA framework: The AIDA framework is one of the oldest marketing frameworks ever used. JARVIS uses this framework to capture the customer's Attention, Interest, Desire and then gets them to take action.
PAS framework: The PAS framework creates content using a Problem, Agitate, Solution approach.
Blog post-intro paragraph: let's say you've completed these first two steps and have your blog topic and outline but now you also have a case of writer's block and can't get that first intro paragraph from pen to paper, just select the "Blog Post Intro Paragraph" template. 
Sentence expander: Suppose you have your blog topic, blog outline, and intro paragraph but aren't sure what to write next, just choose the "Sentence Expander" template to build on what JARVIS already wrote for the opening paragraph. It's that simple.
Content improver: This template is useful if you have a few sentences that you want to improve upon.
Next, if you have no idea what you want to write about you can select the "Blog Post Topic Ideas" template. Fill in the requested information and select how many outputs you want JARVIS to create.
Each output is just different content that JARVIS will create for you based upon the information (inputs) you enter. I usually choose 3 outputs, to begin with, and then choose my favorite output or generate more outputs until I find one I want to use.
---
How To Produce Niche Content Using Conversion.ai
Here are the basic steps I've used to create blog posts using conversion.ai. Keep in mind, this was just my initial process. There is no right or wrong way to go about creating a blog post in conversion.ai. Feel free to play around with the templates and see what you can come up with.
If you need help or ideas about how to proceed for your particular niche, the conversion.ai Facebook group is incredibly active and helpful.
Step 1: Use Blog Post Idea
To come up with a list of blog post topics I simply use the "Blog Post Idea" template below. For this template, I chose to receive 3 outputs from JARVIS. However, you can choose as many outputs as you want until you are satisfied with the results.
Step 2: Use Blog Post Outline
Next, I input the blog post title JARVIS just created for me called "How to study for the LSAT in only 3 months" into the template called "Blog Post Outline" and voila, I have a blog post outline in a matter of seconds.
Step 3: Use Product Description Template
Now I will use the "Product Description" template. I simply have to answer the prompts on the left side of the screen.
Step 4a: Use AIDA Framework Template
Now that I have a blog post topic, outline, and product description I like to input that data into the AIDA framework template. AIDA is a tried and true marketing framework that stands for Attention, Interest, Desire, and Action.
Step 4b: Use PAS Framework Template
You can also choose a different marketing framework for the product description known as PAS. PAS stands for Problem, Agitate, Solution. You can even take the output from the AIDA product description and input it into the PAS framework. Let's try that…
Final Steps: Use Blog Post Intro Paragraph Template
Now take the H2 headings you created from the "Blog Post Outline" template and use the "Blog Post Intro Paragraph" template to expand upon each subheading:
As of this writing conversion.ai currently has 38 prebuilt marketing templates that are specifically designed to make it easier to write persuasive, high converting content.
---
How To Use Conversion.AI as a Website Flipper: 3 Use-Cases
There are a few distinct use-cases for specifically website flippers. Let's touch on them.
Supplement Content on a Niche Site
If your website has 100s of articles already, you can supplement more content with AI-based tools. For example, for every 2 new articles, add 1 AI-based article. This will cut down the cost of content from real human writers.
You can publish the AI-article, wait to see how it performs, and improve later.
Start Fresh Sites With AI-Content
This is one school of thought. You can produce ALL of the content on a fresh starter site from such tools. Then, let the site age and see if it gets traction. If it does, then use an editor to improve the content for SEO and perfect readability.
The pros of this is that the cost to start a new site now just became significantly less.
The cons of this are that if your site does not get traction, you now have one more variable, i.e., AI-based content, to blame in addition to niche choice, keyword choice, and more.
Add AI-Content to Aged Domains
The Website Flip has covered the ins and outs of aged domains, however, most of the time the aged domains get brand new content. An interesting experiment would be to see what would happen if AI content was added to an aged domain with good backlinks.
Theoretically, it can start to rank for keywords and then an editor can go back to improve upon the specific articles that are ranking.
---
How Much Does Conversion.ai Cost?
This tool is currently priced for a limited time at $29/mo. This includes 20,000 words generated. If you need more words, you can pay $10 one-time for each 5,000-word increment. They also have larger plans, e.g., 35,000 words for $49/mo.
---
My Final Verdict: Is It Worth It?
It depends! Is this completely hands-off? Not really. You need to enter in various ideas, get the output, double-check it, and then post.
However, if you can train a VA to handle the content generation and posting, it can be extremely cost effective.
Will this be the future of content marketing? No! There will always be a need for expertly written content. Human touches in the content are what makes content convert and people become fans.
Conversion.ai is just another tool to add to your arsenal. Definitely worth a try!