The process of selling an online business can be quite complicated. You need to take into account many factors before you make the final decision. One of the most important factors is choosing the right brokerage.
Our research has found that in 2020 alone e-retail sales surpassed 4.2 trillion U.S. dollars worldwide. There's never been a better time to own a successful website – or, indeed, to sell one.
If your website fulfills certain criteria, one such brokerage for you might be Digital Exits.
Let's look at how.
3 Major Benefits of Digital Exits
Company founder Jock Purtle spoke to the Enterprise podcast and outlined the main benefits of using the company:
In-Depth Assessment Method
Their specialized and in-depth method assists business owners in unlocking and nurturing their company's untapped potential, while also finding suitable purchasers for them. They have an existing database of investors ready to buy your business.
Everything is handled – from start to finish
Once you give them all the information they need, their expertise and experience will handle the entire selling process for you. This enables you to concentrate on more essential things in your business.
They find the right buyer to match your business
They work hard to discover and connect the ideal buyer for each company they work with. This is in contrast to companies like Flippa who tend to do very little of the heavy lifting for the buyer or the seller.
---
What Types of Online Businesses Are Offered for Sale?
Digital Exits has clients in a variety of sectors, including e-commerce, highly profitable content sites, and SaaS websites. So, regardless of your industry, they can help you in the selling process.
It's worth noting, however, that Digital Exits exclusively deals with companies that make between $200,000 and $5,000,000 in profit per year.
If your website's profits aren't at this level yet you'll have to look for another brokerage.
---
Digital Exits Commission Fees
When the agreement is closed, Digital Exits is paid a percentage of the overall sales price of the business.
There are no upfront costs.
The commission fee isn't stated on their website, but our research has found it to be between 10% and 12%.
---
The Buying Process with Digital Exits
What Listing Information Is Provided Publicly to Everyone?
Although this information isn't available to the public on their website, we didn't stop there. We reached out to Robert from Digital Exits and he informed us that a teaser paragraph or two is public to everyone. This preview gives everyone a good overview of the online business for sale.
What Listing Information Is Provided Privately to Buyers?
The interested buyer signs an NDA and a full Confidential Information Memorandum (CIM) is emailed to them. Robert tells us he's proud of the company's CIMs because they're modern interactive webpages, versus the traditional PDF documents used by older brokerages.
What Vetting or Due Diligence Is Provided?
The team behind Digital Exits are entrepreneurs and Robert has a financial background too, so they vet the financials to make sure they make sense – the business must be a strong listing for buyers. They do not do diligence or guarantee the accuracy for liability reasons. Note: It is up to the buyer to do their own diligence.
How Is the Migration of the Business Handled?
Digital Exits advises how to transition the business and how the seller should provide any training and transition (we'll cover this in great depth below under "Sale & Post-Sale Work Is Completed").
What Post-Sale Support Is Provided?
Digital Exits are always available for advice during closing and post-sale. The company tells us that sometimes they'll be there with support in person (depending on the location) and sometimes it's virtual.
Given how easy it is to connect online in 2022, we would imagine that the vast majority of the support given is virtual – via Zoom and similar. Post sale support averages 60 – 90 days.
---
The Selling Process with Digital Exits
Account Creation
The process begins with entering the details of your website. It asks for:
The gross revenue of the website for the last 12 months
The net profit for the last 12 months
The ideal timeline for selling your business
Here's what it looked like on our first attempt:
At this stage we weren't aware that the company needed certain metrics before accepting at site. We quickly learned, however, that this level of website revenue and/or profit was too low for Digital Exits to sell.
We got this message:
So we tried entering higher revenue and profit figures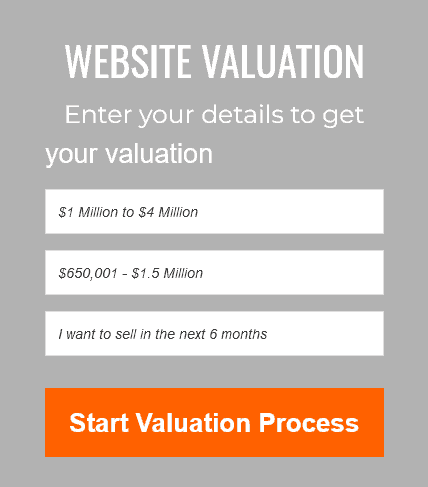 And this time we succeeded in getting the application inquiry through to the next stage for our (hypothetical) site evaluation.
It brought us to the next step, where we entered our details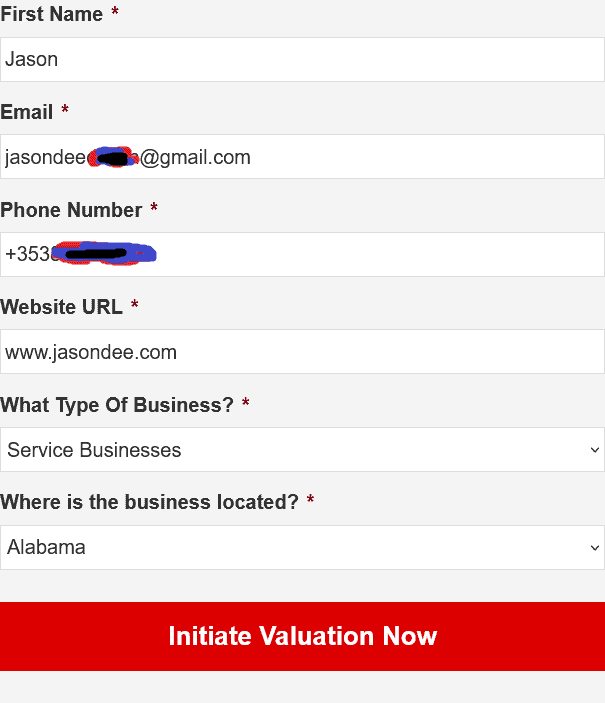 Once we did that we were told we'd get a reply within 24 hours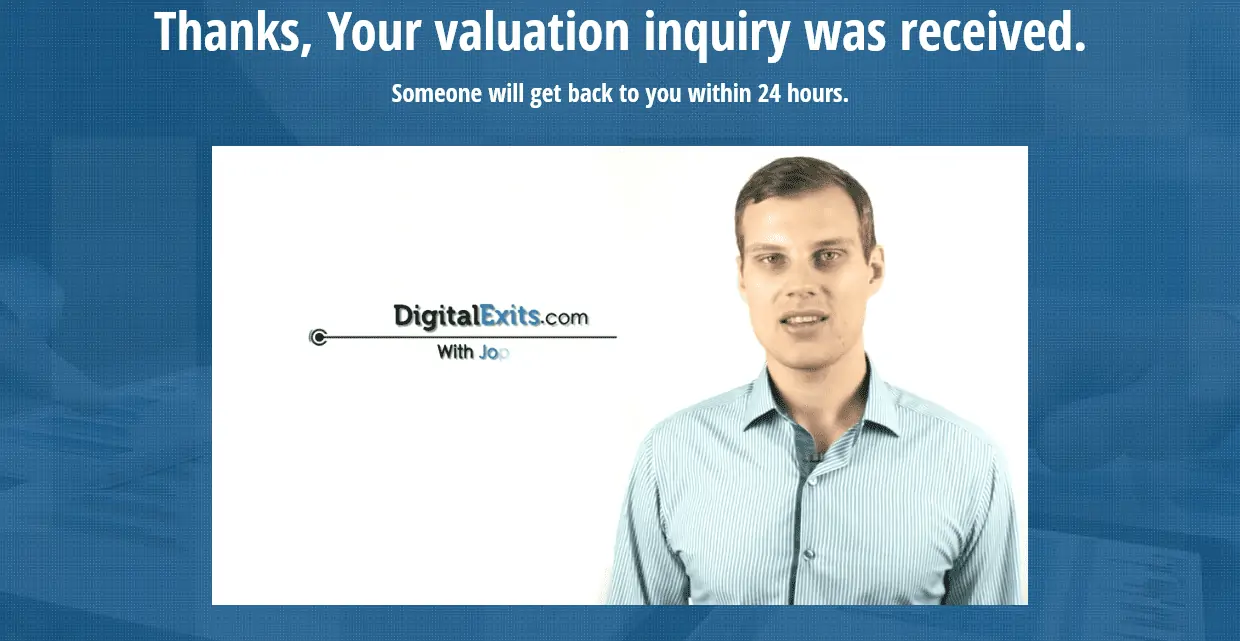 And somebody did indeed get back to us within 24 hours. In fact, it was Digital Exits partner Robert Kale himself.
It was a nice professional touch for a senior member of the company to be this hands-on with what was the very early stages of a theoretical inquiry.
After this, the previous two years' tax returns, balance sheet, most current year profit and loss statements, and any other relevant papers will be requested.
Connection to Potential Buyers
Appraisal method
Once you pass the initial revenue, profit and paperwork threshold required by Digital Exits they will arrange to call you to discuss how much they think they can sell your online business for.
The appraisal method at Digital Exits is one of the most precise and exhaustive in the business – with no stone left unturned.
It looks at eight critical elements to determine the level of risk your company poses to potential buyers:
How old is your company
Your company's niche
Your business's net profit
Your competitors in your niche
Your website's link profile
Your website's business model
The number of visitors to your website. Monthly and yearly statistics will be looked at
Trends in your industry and predicted growth
Agency agreement
If both parties are happy with the evaluation an agency agreement is drawn up to be signed by both sides.
Informational Memorandum
Digital Exits will then start developing your Informational Memorandum (think of it as a fancy prospectus). This is the document that explains – in great detail – what your online business is about.
Including:
How it operates
How it makes money
How it gets traffic
Other frequently asked questions that prospective buyers will have
The selling process
With the Informational Memorandum drawn up, your company is looking robust to potential buyers. This is where Digital Exits begins to sell your business.
It is offered for sale via:
Digital Exit's existing database of clients
Through its network of industry contacts
Through its' classified site
NDA
Anyone looking to access your Informational Memorandum will be asked to sign an NDA by the company, keeping the transaction private and confidential.
Potential buyers to your listing will see this message
Vetting & Making a Deal
Digital Exits fields any initial questions on your behalf from interested parties. They will have answers for any commonly asked questions, saving you any inconvenience in the early stages of the deal.
If the potential buyer makes an offer Digital Exits will relay it back to you, and if you're happy to accept it the process moves to a letter of intent signed by the interested purchaser of your business.
The potential buyer then has an exclusive period of time to vet your business to verify all its claims – from financials to web traffic and anything in between.
To request this exclusivity the prospective purchaser will need to pay a deposit of 10% of your listed price.
Terms of Sale Are Agreed Upon
If the buyer is happy to move forward after doing due diligence, the process moves towards the contract stage. Digital Exits looks after all the paperwork for both parties, including:
Ensuring the terms of the sale are clearly outlined
The selling price
The deal structure
There are different ways the deal can be structured when selling with Digital Exits.
Let's use an example of a hypothetical $300,000 sale in each one.
Option 1 – A cash offer
The buyer pays $300,000, receives the business and the deal is done. Nice and straightforward.
Option 2 – A Holdback
In this scenario, the buyer initially pays $250,000 and holds back $50,000 for 60-90 days.
In this two to three month period, the buyer will get training from the seller of the website. Once the buyer is happy they've received enough help, the remaining $50,000 is transferred to the seller.
Option 3 – A performance-based deal
In this example, the buyer will pay $200,000 upfront, $100,000 over 12 months, and then also pay some kind of bonus payment.
The amount of this payment is based on the performance of the website over those 12 months, or whatever period is defined in the contract.
For example: increasing the profit of the site by 20% or more over 12 months gets the seller a $50,000 bonus.
Option 4 – A financing deal
In the final example: the buyer pays $150,000 upfront and then $150,000 over 12 months at an interest rate that both sides are happy with – usually around 8%.
In this situation, the buyer is taking out a loan from the seller and – just like a bank loan – some interest is paid on the money.
Sale & Post-Sale Work Is Completed
Digital Exits uses Escrow.com for the final sale stage of the process. Escrow.com is an industry-standard digital middle man in the world of website selling.
The seller initiates the Escrow.com task and brings the buyer into the transaction
The buyer then funds the other 90% of the asking price (the other 10% being the initial deposit)
Escrow.com holds that money while the seller is transferring all the website assets to the buyer
This includes the domain name, the content, the email list (if there is one), and any other website assets
Once the buyer is happy that they've received all the assets they'll notify Escrow
Escrow then moves the funds from their bank account into the seller's bank account
Digital Exits say that this normally takes just one to two business days
Post Sale
According to Digital Exits the seller then agrees to some post-sale training and guidance for the buyer, the company mentions that – on average – this is generally for 60 to 90 days.
This is to ensure there's a positive post-sale experience for the buyer and that the seller is on hand to answer any questions that arise.
Sometimes these queries aren't thought of during due diligence and can only be seen by the buyer once they start getting properly involved with the website asset.
---
FAQs About Digital Exits
How big does your business need to be to use Digital Exits as a seller?
It needs to make at least $200k profit per year when you combine profit with any personal expenses and owner benefits (SDE). 
The overall financial gain that a single full-time owner-operator would enjoy from a firm on an annual basis is calculated as Seller's Discretionary Earnings ("SDE").
How much experience do Digital Exits have with online business sales?
Digital Exits has been in the website asset selling business for 8 years – with senior partner Robert there for 5 years of that. The partners have all had their own businesses before so are well versed in what it's like to be a company owner. 
Robert – for example – ran a successful affiliate marketing business for 7 years before joining the company.
Is Digital Exits better for buyers or sellers?
Digital Exits is a California broker so they're technically a dual agent. This means they have a duty to both parties.
The buyer needs to keep in mind they have a listing agreement with the client (the seller) but they pride themselves on being open and transparent for buyers, and they can provide advice and help them brainstorm deal structures if needed.
They do everything in their power to avoid the shady used-car-salesman tactics that some other brokers might use.
In short: they're a very strong broker for both buyers and sellers.
---
Interview with Robert Kale of Digital Exits
Robert Kale of Digital Exits spoke to Jaryd Krause on the Buying Online Businesses podcast. Robert is a partner in the business and a big part of the company's day-to-day operations.
During the 30-minute interview Robert revealed what advice he would give to first-time website buyers:
Know your criteria. Know what you want to buy before parting with any money
Don't buy something you can't afford that'll put you in debt
Have a plan. Don't just buy something to fill a void in your life or to get yourself out of a job
Make sure you have a plan to grow the business. Don't buy a website and keep it stagnant
Don't buy a website out of desperation just to have skin in the game. Robert mentions that this rarely works out well for the buyer.
---
Summary of Digital Exits: Is It Right For You?
Pros
Works with buyers and sellers all around the world and has completed over 100 transactions.
Has the experience and skills to get the best price
Works hard to connect the right website buyer to the right website seller
Has a premium buyer's network
Has very strong testimonials from customers who say that they go above and beyond to connect them to the best deal
Cons
Digital Exits has financially high requirements for them to agree to sell your site. If your online business isn't making at least $200k profit per year then you'll need to look elsewhere.
---
Takeaways
Digital Exits is an excellent platform for big players in the online business space. However, it's not a marketplace for beginners or those with a website making less than $200k in annual profit.
Flippa or Motion Invest would be a better fit for smaller sites (keep in mind to carefully vet the deals on Flippa as there are red flags and scams to watch out for).
Due to their extensive vetting process, Digital Exits have built up a strong reputation for selling high-end websites where both sides come out winners.
In one year alone the company sold 35 million dollars worth of internet enterprises, with an average purchase price of $3.1 million.
Digital Exits is growing in this sector and should be considered by owners of premium websites who want to be matched with the right buyer.
See their closed deals here for a better idea of what they sell and they can be contacted for more information here.
Remember; if you're ever in doubt about buying a website, we can help with our battle-tested Due Diligence Dashboard – check out EasyDiligence.io.