Empire Flippers is a popular website broker and marketplace with over 1,600 completed deals and over $310 million in total sales.
Empire Flippers' value proposition is that they only allow the highest quality websites on their marketplace and they make the buying and selling process easy by taking care of everything from start to finish.
Some downsides are that the websites are priced at a premium and they take a relatively high commission of 15% for their high level of service.
This review explains the main benefits and drawbacks of using Empire Flippers to buy or sell niche content websites.
Let's get into it!
---
Live Analysis of Empire Flippers Marketplace
DealFeed.io tracks in real-time each website for sale that hits the Empire Flippers marketplace. Here we break down the data for sites that are currently available for sale and that have sold in the past. These are the live statistics as of Q2 2022.
Live Websites For Sale
Number of listings live: 132
Total sale price: $179,832,407
Average multiple: 43.22
Within the live website listings, 22 are monetized with affiliate marketing (e.g., Amazon, ShareASale) and 20 with display advertisements (e.g., Mediavine, AdThrive, Ezoic). Many listings are monetized with both strategies.
DealFeed.io Signals: Our algorithms have flagged 73 listings that have been sitting on the market for greater than 3-months, 65 listings that have had a recent sale valuation decrease, and 32 listings that have had a reduction in their listing multiple.
Sold Listings
These statistics have been calculated since the start of the marketplace.
Number of listings sold: 1822
Total sale price: $428,102,297
Average multiple: 31.29
---
5 Major Benefits of Empire Flippers
1. Websites are Vetted
New listings must pass the Empire Flippers strict vetting process before going live on the marketplace (they reject 88% of businesses that apply to be listed). This filters out low-quality websites that don't meet Empire Flippers' high requirements and ensures the traffic and earnings data can be trusted.
2. Buyers Verify Funds Available to Access Full Listing Data
In order to view the full listing data for a website such as the URL and Google Analytics data, buyers need to provide proof of funds available to purchase the website. This protects the buyer from people looking to copy the website or enter the niche as new competition.
3. A High Level of Service Is Included
Empire Flippers aims to make the process of buying or selling easy and their team takes care of many aspects of the process such as calculating the valuation, preparing a profit and loss statement (P&L), mediating conference calls, providing legal documentation, handling escrow, and migrating the website and included assets. Their team is very experienced, having completed the sale process for over a thousand online businesses over several years.
4. Guaranteed Income (During Inspection Period)
You are protected from outright scams with Empire Flippers because they verify the accuracy of earnings and they guarantee that the website will earn at least 50% of the stated daily revenue during the first 14 days or the sale can be canceled or renegotiated.
5. Hands-Off Website Investing with Empire Flippers Capital
For accredited investors who want to invest in websites without having to run the websites themselves, Empire Flippers Capital may be a good option to consider. Investors can invest in part of a portfolio of websites that is managed by an experienced portfolio manager and investors receive quarterly distributions.
Check out the detailed overview of EF Capital's investment fund.
---
5 Major Drawbacks of Empire Flippers
1. Websites are typically priced at $100,000 or more
The average sale price on the Empire Flippers marketplace was $269,000 in 2020. While there are a few content websites that are listed for under $100,000, a majority of listings are more expensive which makes most deals out of the price range of some investors (especially new website investors).
2. Highest Sale Multiples in the Industry
Websites listed on the Empire Flippers marketplace have an average multiple of 43x for the trailing twelve months (TTM) with some websites listed for as much as 55 times monthly earnings.
In 2022, Amazon Associates websites had an average multiple of 40.5x, and display ad websites had an average multiple of 34.6x.
If you are buying a website, this means you will be paying a premium compared to an open marketplace like Flippa that provides no vetting and fewer services.
3. Sellers Are Professional Operators Rather Than Hobbyists
Sellers on Empire Flippers tend to be experienced operators and investors who have already implemented many of the easy wins or low-hanging fruit. Some listings were previously purchased from the Empire Flippers marketplace, improved, and then relisted.
4. Competition with Professional Investors
Empire Flippers works with private equity firms, family offices, and high net worth individuals so you will compete for deals with professional investors with deep pockets.

Empire Flippers also has an investment fund called Empire Flippers Capital that buys websites listed on the Empire Flippers marketplace.
5. High Sales Commissions
Because they provide a high level of service such as a dedicated team that performs website migrations, their sales commission is relatively high at 15%.
For buyers, this may inflate the price because the seller has to sell for more to make up for Empire Flippers' cut.
---
Empire Flippers vs Flippa vs Investors.Club
Empire Flippers is similar to marketplaces like Flippa and Investors.Club, with a few key differences.
| | Empire Flippers | Flippa | Investors Club |
| --- | --- | --- | --- |
| Sales | $310 million | $375 million | n/a |
| Commissions | < 15% | < 10% | 5% |
| Listing Fee | $0 | $49 | $0 |
| Live Listings | 120+ | 5000+ | 40+ |
| Exclusivity | 60 days | While listing is live | 45 days |
| Vetting | Yes | No | Yes |
| Pricing | Fixed price | eBay style auction | Fixed price |
---
What Types of Websites are Offered?
Empire Flippers primarily sells content websites and e-commerce websites, although they also sell all other types of online businesses as well.
According to their 2021 State of the Industry Report the breakdown of sales for 2021 were:
153 content websites (51%)
114 eCommerce businesses (38%)
31 other businesses (10%)
The average sales multiples for the trailing 12 months were:
40.5x for Amazon Associates
34.6x for display advertising
Websites must earn at least $500 per month over a six-month period to be listed on the marketplace. They don't allow sites from certain niches such as adult, gambling, and payday loans.
The lowest-priced listings for content websites are around $30,000 and several listings are priced in the 7 figures.
New listings go live on the marketplace every Monday morning at 10:00 AM EST.
---
How Much Does Empire Flippers Cost?
It is free to create an account with Empire Flippers to view listings on the marketplace.
It is also free to list your website on their marketplace.
The sales commission rate is as follows:
15% for sale price up to $700,000
8% for sale price between $700,001 – $5,000,000
2.5% for sale price over $5,000,000
---
What Listing Information is Provided?
To view the full listing information, the buyer must provide proof of their liquid funds available. Once funds are verified, Empire Flippers grants the prospective buyer with a limited number of "Unlocks" to reveal the full listing information. Additional "Unlocks" can be requested via the live chat, email, or by scheduling a call.
When the listing is locked, the listing provides the following information:
Website age
Monthly gross revenue
Monthly profit
Pricing period (period used to calculate the valuation)
Revenue sources (e.g. Ezoic display ads, Amazon Associates)
Assets included in the sale
General niche
Monthly page views
Monthly unique users
Amount of time seller spends on the website per week
Reason for sale
Whether a PBN (private blog network) was used
Platform used for the website (e.g. WordPress)
When fully unlocked, the listing provides the following additional information:
URL
Google Analytics data (including read access)
Social media accounts
Number of pages
Total inbound links (via Ahrefs)
Frequently asked questions answered by the seller
The profit & loss statement in Google Sheets
For some listings, there is a seller audio interview available on YouTube which reveals information like the reasons for selling, challenges the seller had, and what the seller would do to improve the website.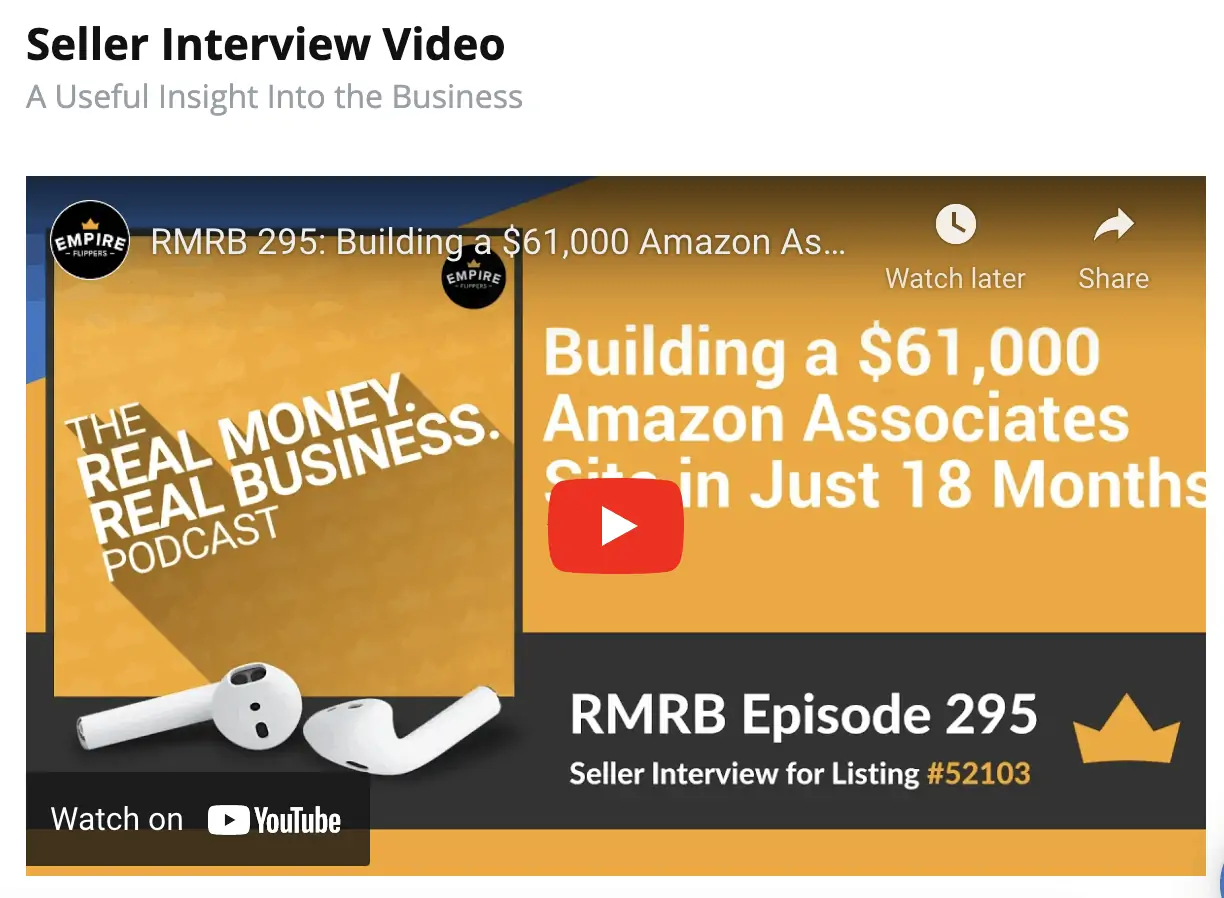 ---
What Vetting or Due Diligence is Provided for Buyers?
Empire Flippers vets all websites using an extensive process that typically takes 1-4 weeks. They are selective in the websites and reject approximately 88% of businesses that apply to be listed.
The vetting process includes:
Verifying the identity of the seller
Verifying that revenue is real and accurate
Evaluating the traffic data
Empire Flippers does not provide due diligence which would include evaluating the content quality, backlink quality, and competitors in the niche.
---
What Communication Methods are Available With Sellers?
Interested buyers can send private questions to the seller through the Empire Flippers website.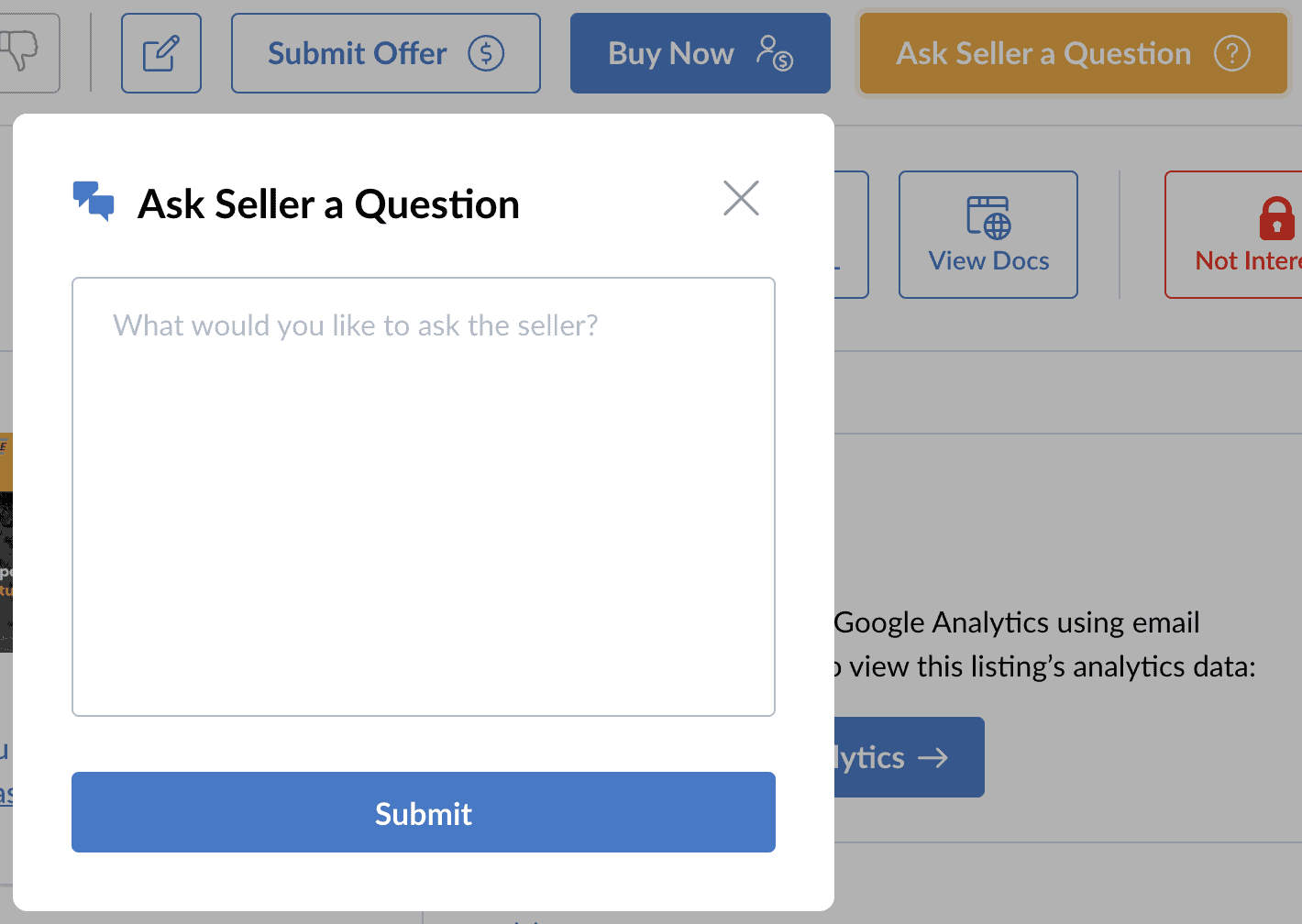 If the listing is over $100,000, buyers can schedule a conference call with the seller and a Empire Flippers team member. The Empire Flippers team member will mediate the call and answer questions about the buying process.
The conference call can help you get to know the seller and it provides the opportunity to ask important questions about the website.
---
How Does the Buying Process Work?
Buyers can use "Buy Now" to place a hold the listing with a 10% non-refundable down payment. Once the remaining funds have been received via wire transfer, Empire Flippers will start the migration process.

Buyers can also submit an offer for less than the list price. If the offer is "pre-accepted" by the seller, then the offer is circulated to other interested buyers for 24 hours to check if anyone is willing to make a better offer of at least 10% more.
If two buyers send wire transfers at the same time, the winner will be the one that is received first by Empire Flippers. To avoid losing the "wire race" you can deposit funds into your Empire Flippers account as a credit that can be used immediately.
---
How is Website Migration Handled?
Empire Flippers' team takes care of the website transfer process so the buyer and seller only have to provide their login credentials.
They also take care of swapping out the Amazon Associates links so that sales are attributed to the buyer's Amazon Associates account.
If there are any other assets like social media accounts, then these assets are transferred to the buyer as well.
Empire Flippers requires that the website be set up exactly as before, including using the same hosting company or other services. After the inspection period is complete, the buyer is free to change the website and services.
---
How Long is the Inspection Period?
The 14-day inspection period provides some safety for the buyer as the website must earn at least 50% of stated revenue or the buyer has the option to cancel the sale or renegotiate the deal.

Also, if the stated revenue is above the 50% threshold and there are no "blatant misrepresentations", the buyer must proceed with the deal.
---
What Post-Sale Support is Offered?
Sellers typically agree to 1 month of post-sale support via Skype, phone, or email although the seller may agree to a longer period if requested.
---
5 Services For Selling Your Site On Empire Flippers
1. Website Valuation Estimate Tool
Potential sellers can use the free valuation tool to get an estimate of how much their website could sell for on Empire Flippers marketplace. If you use this tool, Empire Flippers may call and email you to ask if you are interested in selling your website.
2. Free "Exit Planning" Call
If you are interested in selling your website, you can schedule a free call with one of the Empire Flippers Seller Advisors. They will review your website, point out any common pitfalls to selling, and create a plan of action for getting your website ready for sale.
3. Free Profit & Loss Statement Preparation
A service that Empire Flippers offers to sellers is to prepare a P&L statement that breaks down the revenue and expenses of your website. The P&L also includes "Add Back" expenses which are discretionary expenses that weren't technically needed.
4. Free Migration of Website and Assets
To facilitate the selling process, Empire Flippers has a dedicated team with experience migrating hundreds of websites to a new owner.
5. Free Escrow Service
Empire Flippers will hold the funds that are wired to them and transfer the funds to the seller once the inspection period is complete.

They also collect payments from the buyer when an earn-out has been negotiated.
---
Frequently Asked Questions
Where is Empire Flippers based?
Empire Flippers is a distributed company and employees can work from anywhere in the world. Based on their past job postings, employees are located in multiple continents including Asia, Europe, and South America.
Is Empire Flippers legit?
Yes, Empire Flippers is legit. They are one of the best brokers in the online business industry.
---
Summary of Empire Flippers
Empire Flippers is the largest full-service broker of quality content websites that are vetted, priced at a premium, and packaged with free services like escrow and done-for-you website migration.
Pros
Only vetted, high quality websites appear on the marketplace so you don't have to waste time filtering out low quality websites.
All major aspects of the buying and selling process are taken care of by the Empire Flippers staff.
Website URL hidden from potential copycats.
Detailed P&L statement that breaks down all expenses (including discretionary expenses).
Cons
Websites are typically listed at $100,000 and up.
Websites are priced at a premium with high multiples compared to other brokers.
The 15% commission rate is higher than other brokers.
There are less growth opportunities compared to less polished websites sold on Flippa.
The best sites are sold quickly due to lots of competition from over 200,000 active users, private equity firms, family offices, high net-worth investors, and Empire Flippers' own portfolio funds (this is a pro for sellers).
---
Wrap Up
Empire Flippers is an excellent source for finding high-quality websites for sale for experienced website investors with a lot of capital available.
For sellers, Empire Flippers has a high success rate at selling high-earning websites at the highest possible price compared to other brokers.