A solid social media account can be a powerful tool for branding and marketing. A good social media account has an active and responsive community fired up by the topic or niche that brought them together.
Sometimes it makes sense to buy or sell a social media account depending on where you are with your business and how goals have changed and evolved.
There is a thriving market for buying/selling social media accounts, but it's important to know what the best platforms are.
Let's dig in!
Case Study: 54,000 Member Group Purchased for $2,500
The Website Flip acquired a Facebook group for $2,500 that included 54,000 members. The price per member came out to $0.046.
We found this group by outreaching to group administrators. This was not through a typical marketplace but it can act as a metric for negotiations when going through marketplaces.
Here are statistics of the Facebook group: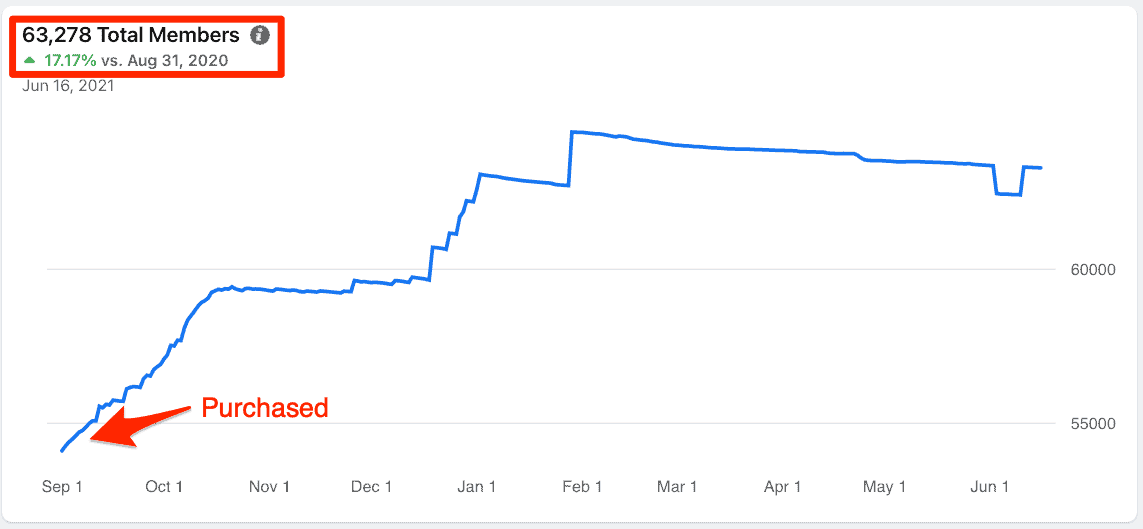 We bought this group for a multitude of reasons:
New customers that are likely to use our products
Ability to drive social traffic back to our website
Increase our website's valuation
These are all excellent reasons to think about acquiring social accounts.
---
Best Marketplaces to Buy & Sell Social Media Accounts
Listing a social media profile on a marketplace isn't hard, but like everything else, it pays to know where the best platforms are.
The top exchanges will have the highest number of potential buyers, the most stringent vetting processes, and a reliable escrow service that can hold your money while the transaction is in motion.
FameSwap Review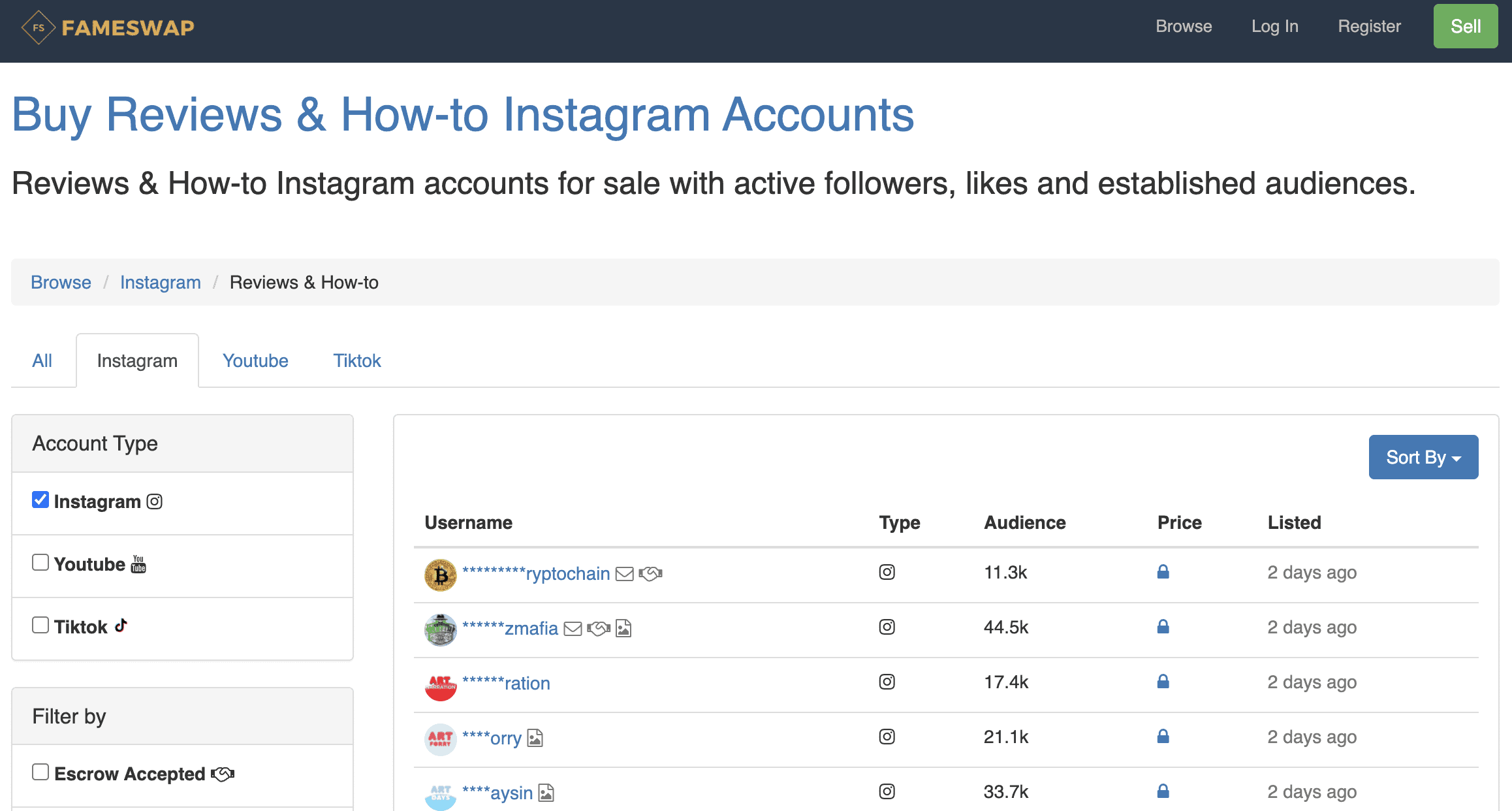 Types of accounts: Instagram, Youtube, TikTok
Total number of accounts: 6,298
Founded: 2013
Being the first to market comes with a set of unique benefits, such as the ability to establish a strong brand presence and customer loyalty before your competition. FameSwap has that first-mover advantage; in operation since 2013 (three years before TikTok was created), FameSwap has thousands of accounts for sale with around half a billion potential audience members at any one point in time.
Buying or selling accounts on FameSwap is simple. Potential buyers will identify which types of accounts they want, communicate with the seller on a price, and then use FameSwap's native escrow service to complete the transaction.
Full encryption is included, as is a secure messaging platform and total inspection of the account by the buyer after money is deposited in escrow.
Pros:
Largest Online Marketplace for Social Media Accounts
Full Encryption and Payment Security
Around the Clock Technical Support
Dispute Resolution Services
Cons:
Zero Phone Support
Higher Transaction Fees than Other Marketplaces
Flippa Review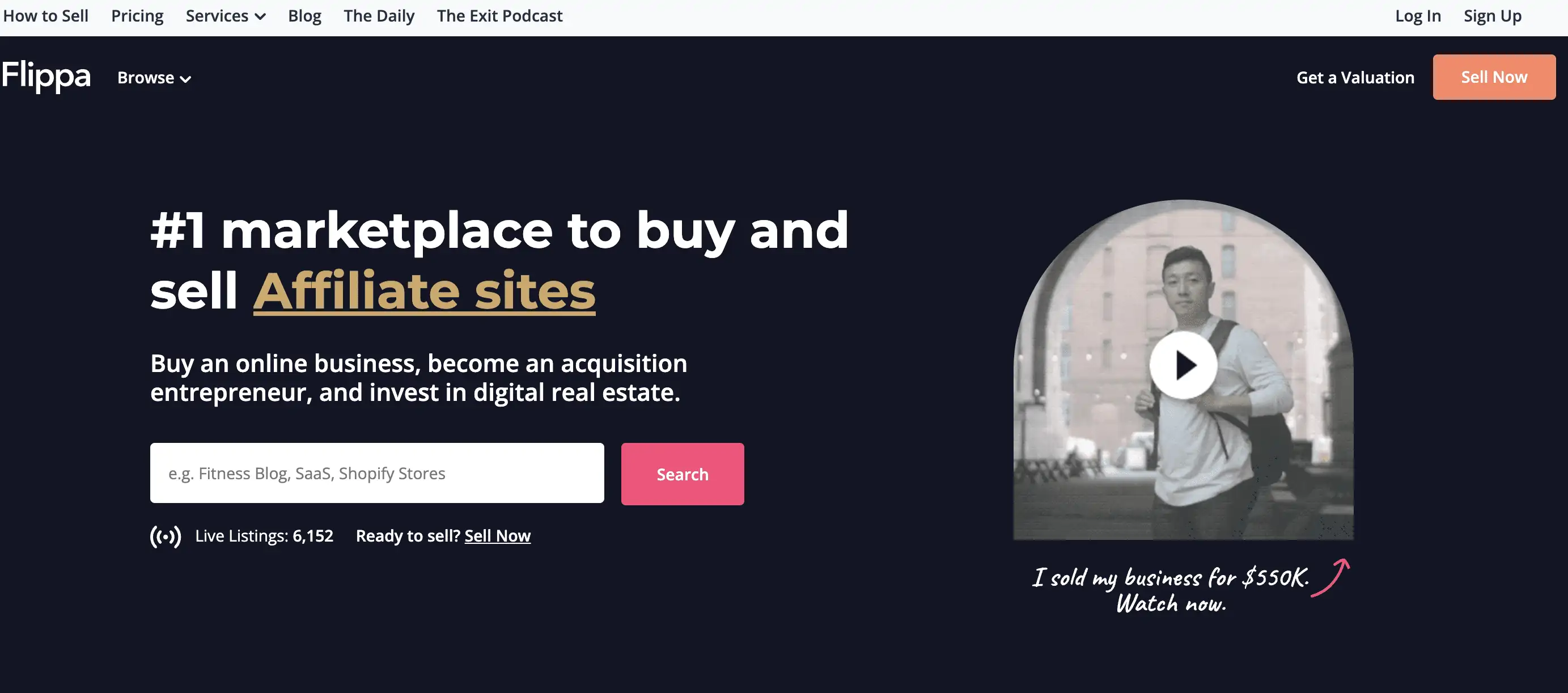 Types of accounts: Business social media accounts on Twitter, Facebook, YouTube, Instagram attached to a website sale
Total number of accounts: Estimates of over 2,500 attached to sites/online businesses for sale
Founded: 2009
Flippa focuses much more on niche websites and online businesses, but many of these listings include business social media accounts that can be worth as much as what they're bundled with. Those social media accounts might even be more valuable for the right buyers and situations.
Flippa is one of the largest unvetted online marketplaces in the world. While not having a special buy/sell section for social media accounts means finding a deal here requires more digging, which also increases your chances of finding a diamond in the rough that has flown under the radar of other investors.
Pros:
Good potential for finding a highly undervalued asset overlooked by others
Social media accounts come with websites or businesses that could add extra value
Renowned reputation means a lot of new listings every week
Cons:
Social media accounts are typically not sold separately from websites or other online businesses
Lack of upfront vetting means extra work is required of the buyer
Time-consuming if your main goal is looking for a good social media account
SocialTradia Review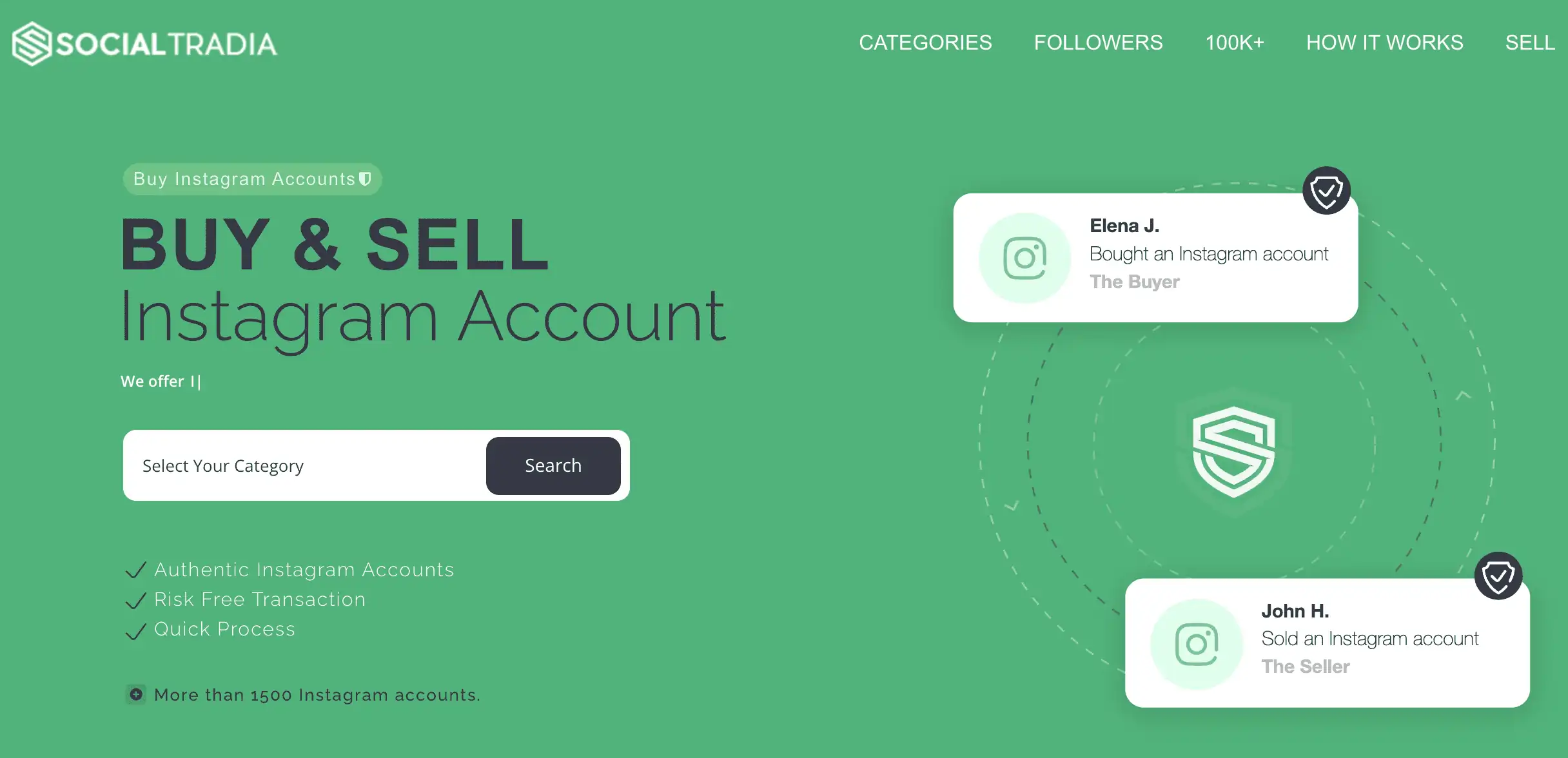 Types of accounts: Instagram accounts
Total number of accounts: Over 3600
Founded: 2016
SocialTradia saw a vast market need for online brokers who focused specifically on social media and social media accounts. They bet heavily that Instagram would be the big social media for brands and influencers alike, making it their specialty.
SocialTradia is a place where existing Instagram accounts can be bought or sold from dozens of niches. Follower size varies from as few as 2K followers to over 100k. Full support throughout the buying process is excellent.
Pros:
Can search by niche, social media company, or number of followers
Narrow focus lets buyers quickly know if they have what's needed or not
Outstanding selection of Instagram accounts
Excellent responsive customer support
Cons:
Instagram-only focus limits upside
Some niches are much more highly represented than others
Swapd Review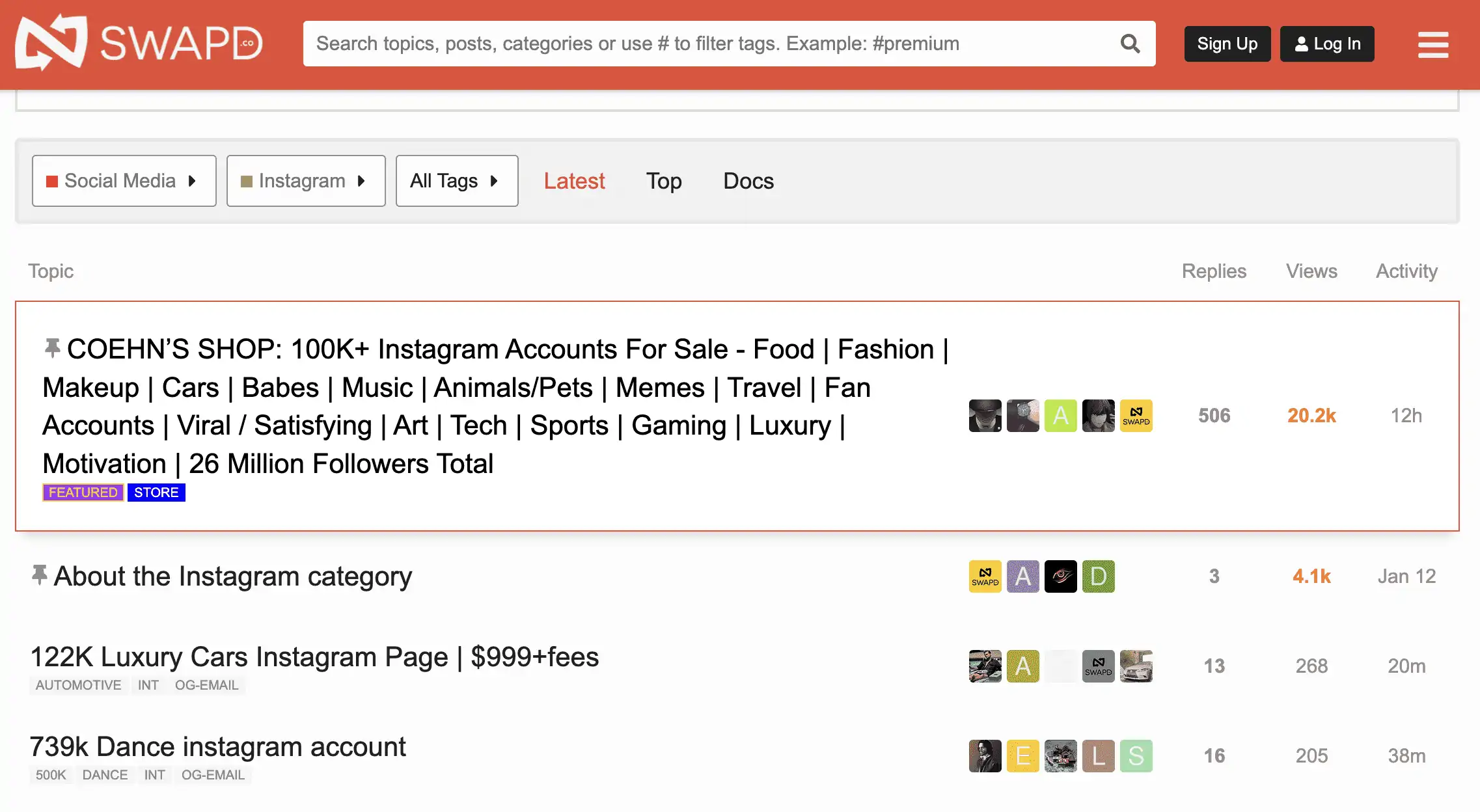 Types of accounts: YouTube, Facebook, Instagram, TikTok
Total number of accounts: Hundreds of active forum listings
Founded: 2012
Swapd was founded with the idea of vetting members upfront to create a business forum where the buying, selling, and exchanging of social media accounts happens. It doesn't cost money to become a member, but individuals are checked and verified to ensure the membership forums are full of legitimate buyers and sellers.
This isn't a full-on auction setup or conventional marketplace, but the marketplace forum threads offer plenty of options for buyers looking for social media accounts.
YouTube, Facebook Groups, and Instagram appear to consist of most marketplace listings.
Pros:
Excellent reviews & high level of trust
Filtering membership upfront helps raise the quality of the forums and marketplace
High value accounts from multiple social media sites commonly available
Cons:
Filtering system isn't very good when searching for something specific
Need to get approved to get access
Sale support and escrow system not as clearly explained
Toofame Review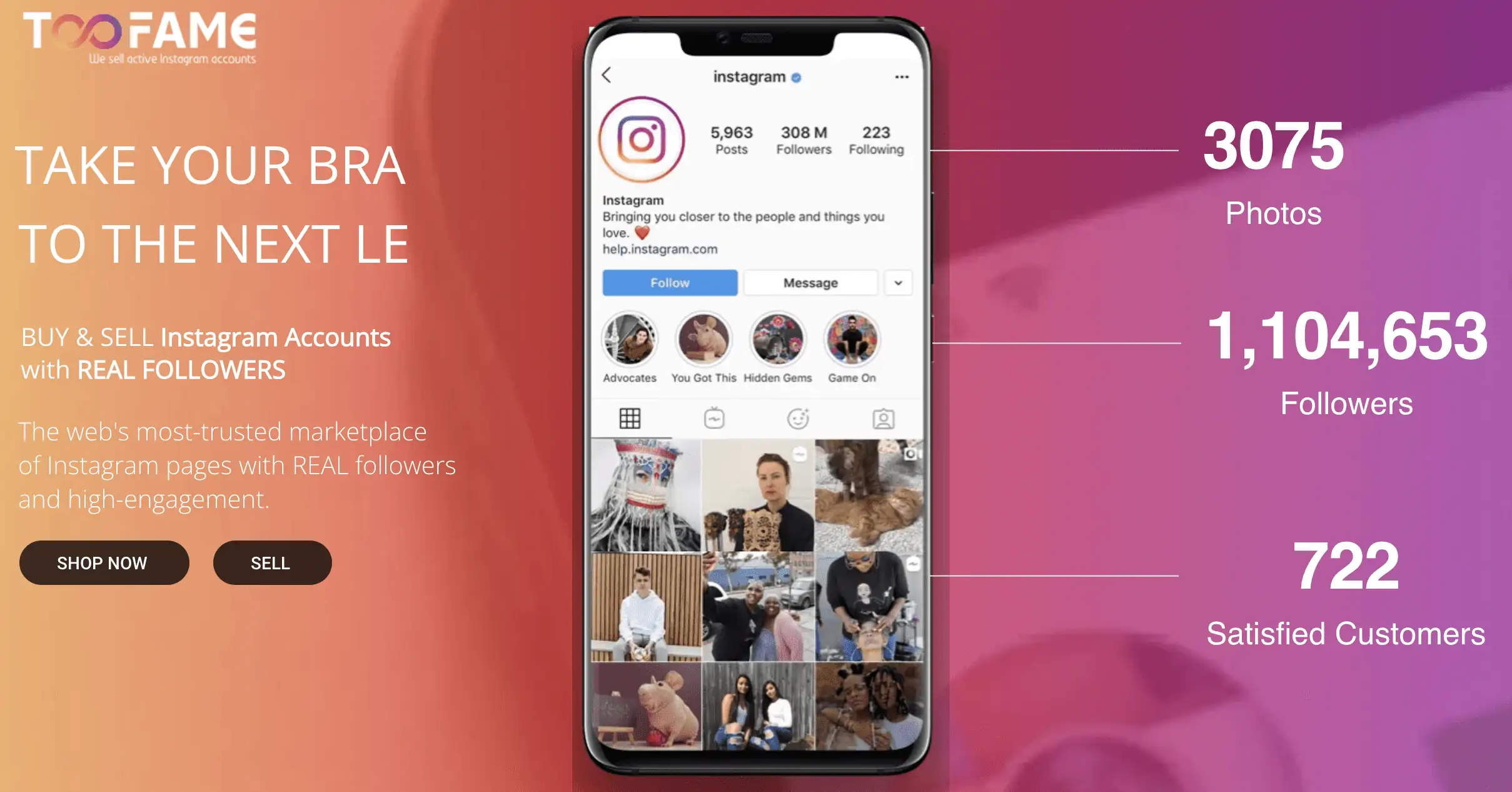 Types of accounts: Instagram
Total number of accounts: 100+
Founded: 2014
Toofame focuses on niche Instagram accounts that have an active and engaged user base. There are no accounts with 100K followers but no interaction here. The Instagram accounts offered for sale might be slightly smaller on average but the activity level on each is very high, which makes them more valuable.
They even offer a one-week money-back guarantee, something that is unheard of in the social media brokerage world.
Pros:
Excellent display of multiple pictures per account that gives visual feel for account
Very good search function
Rare 7-day money back guarantee
Some potentially undervalued deals among older listings set to 50% off
Cons:
Only focuses on Instagram accounts
Toofame handles the transaction via credit card or PayPal, which will scare off some who prefer to use Escrow.com
Accs-Market Review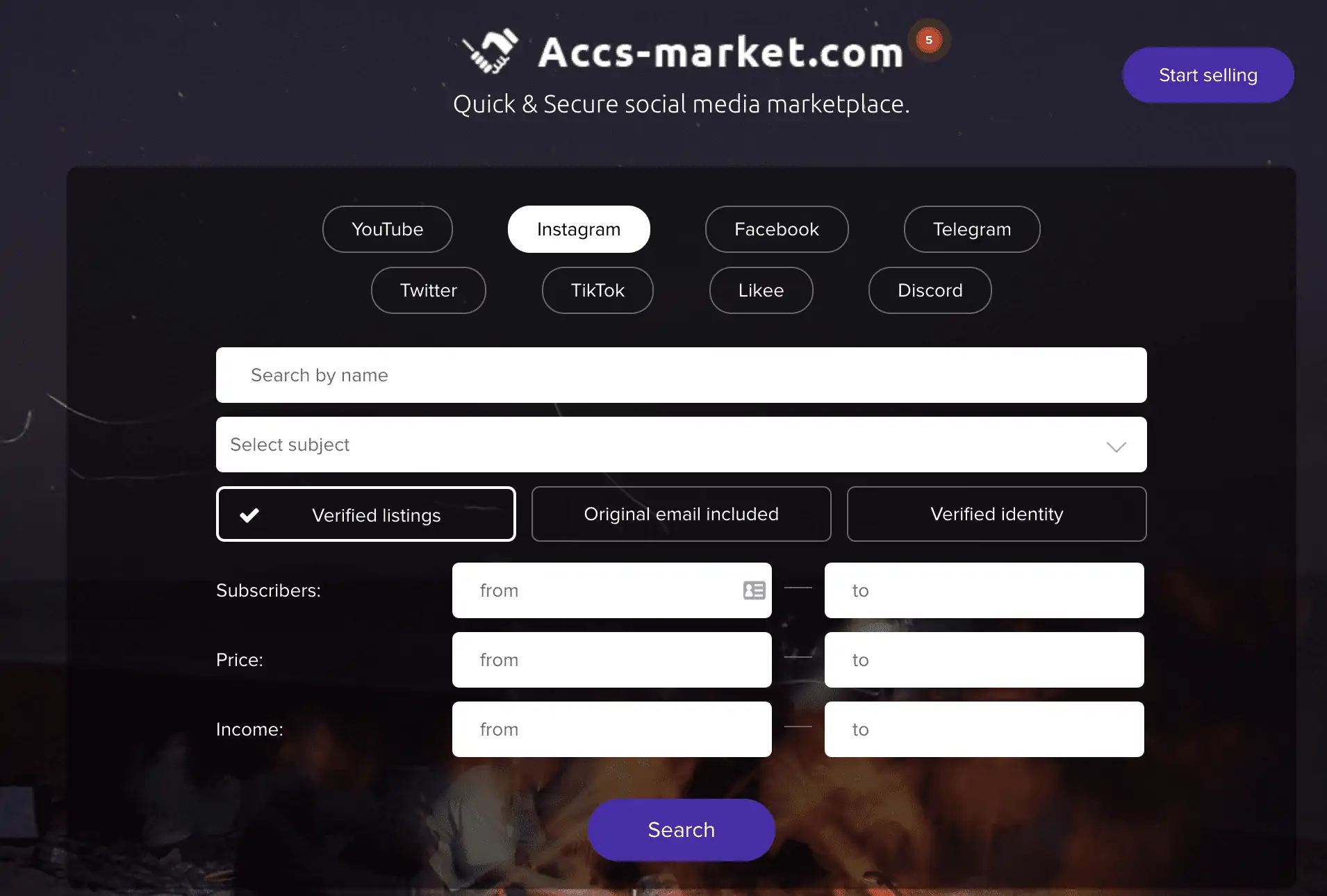 Types of accounts: Instagram, Facebook, YouTube, Twitter, TikTok, Discord, Telegram
Total number of accounts: Approximately 100
Founded: 2013
ACCS-Market has multiple listings from a wide array of social media platforms. That variety can lead to some interesting opportunities not available on other marketplaces that focus on Instagram or just on YouTube.
The site promises mediation and escrow protection, though there are some mixed reviews on those services. It's important to be wary of the potential bad, as well. This brokerage has a large number of negative reviews, especially from 2020-2021, as can be seen on TrustPilot here.
The most recent huge slew of reviews that knock the bad reviews off the top two pages look a lot like a bought reputation management package. Use the filters to look at the reviews and make your own judgements.
The majority of reviews are positive, but it's always important to do proper due diligence.
Pros:
Listings from a wide array of social media platforms
Some very competitively priced listings
Offerings from a variety of niches
Cons:
Some serious concerns about Escrow and issues with scammers
A lot of small listings – fewer middle to large ones to pick from
Quality of listings can vary greatly
EpicNPC Review

Types of accounts: All social media accounts, mostly gaming focused
Total number of accounts: Hundreds
Founded: 2012
EpicNPC was around in the form of gaming guides since 2010 but the modern form of account trading and social media account buying and selling in their current forum form came in 2012. 
The main focus started as players selling their MMO gaming accounts. This is still a major part of EpicNPC, and most of the social media accounts being sold are going to be gaming related.
This is a niche seller, but it's one with a sterling reputation for investors looking for something in that space.
Pros:
Stunning number (and history) of positive reviews
Excellent social media
Offers refund protection if you get scammed despite their Middleman protections
Long trusted source with over a decade-long track record
Cons:
Mostly gaming focused
Separating gaming character accounts from actual social media accounts for sale can take time
Not a lot to choose from outside of gaming-related topics
ViralAccounts Review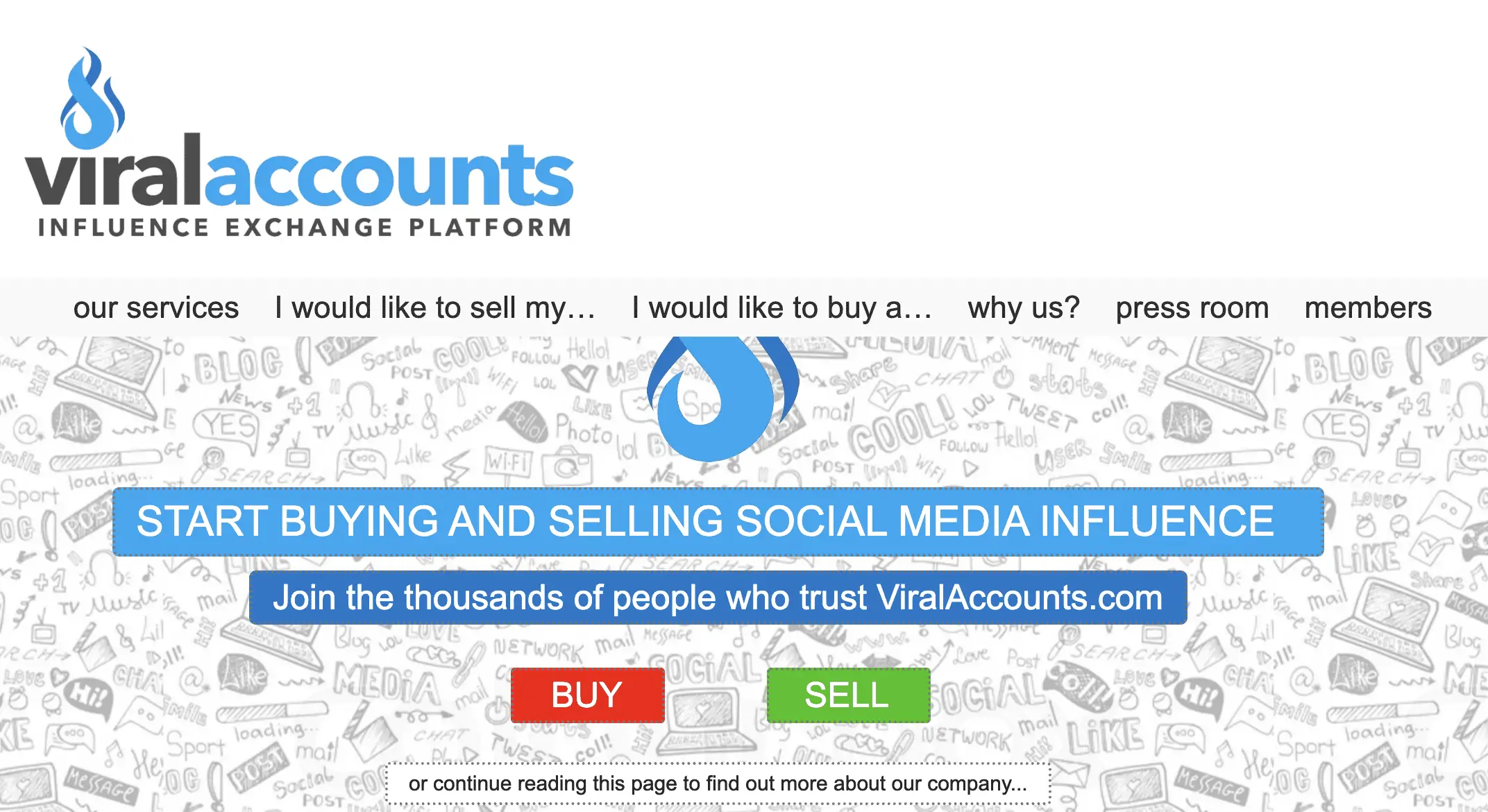 Types of accounts: Facebook, Instagram, YouTube, Twitter, Tumblr
Total number of accounts: Unknown
Founded: 2010
ViralAccounts focuses on anonymity for buyers and taking the information they provide to create the best matches with social media accounts brought to their brokerage for selling. Unlike many of the other brokers on this list they offer not only social media accounts but websites and online businesses.
The buying process is done by submitting information and being added to a buyer's list. Instead of having an open marketplace, they contact you when something that meets your needs is entrusted to ViralAccounts for selling.
Pros:
Match potential buyers with on-sale properties that match their needs
Wide array of social media profiles accepted for sale
Over a decade of experience selling online assets
Cons:
No public marketplace to scan for deals
Not a lot of transparency about how the process works
No guarantee of a response from brokers, or a timetable on when a good fit could be acquired
---
Alternative: Custom Outreach to Account Owners
Many times the best way to acquire an active social media community that fits with your website or online business plans is good old-fashioned private outreach. Many owners of social media accounts might be willing to sell but don't know their accounts are valuable or that selling accounts are even a thing.
Reaching out is a great way to gauge any interest in selling the account.
That's one way to get ahead of competing investors while getting the perfect fit for your current online business.
This also allows you to target accounts you know you're interested in and do so at scale. Direct negotiations can lead to some great deals and more control over terms and conditions.
---
FAQs about Buying and Selling Social Accounts
Several major questions come up about buying and selling social accounts.
Can I sell my Instagram account?
It is against Instagram's terms and conditions to sell or transfer an Instagram account to another.
However, as this Vox article explains, this still happens all the time and is widely common practice with non-personal accounts.
How do I find Facebook groups to buy?
The best way to find Facebook groups is to message group admins and see if they are willing to sell. This way, you can shortlist the exact groups you want to buy and can vet how active the group is. Another alternative is to be active on the different marketplaces that sell social media accounts.
How much does a Facebook group cost?
The cost of a single Facebook member in a group is $0.046. Therefore, a group with 10,000 members would equate to $460.
---
Actionable Takeaways
The correct social media accounts can bring active users, potential buyers of your products, and be a significant part of growing an online business. When looking at social media accounts for sale that can boost your bottom line results, remember to keep a few important points in mind.
Different brokers might be your best option, depending on what type of social media account you're attempting to acquire
How active the members of the social media account are is crucial
Marketplaces, forums, and private outreach are all great options to buy accounts
Make sure to have mediation or escrow in place before any transaction
Keep these in mind when looking to buy a social media account, and you will be able to focus on the best options for you.