Motion Invest is a broker that lists content websites for sale. They primarily cater to websites valued at less than $20,000, which cater to the beginner investor market.
Motion Invest vets each deal (but do your own due diligence as well) by reviewing the earnings, traffic sources, backlinks, and more.
In this write-up, Charles Sipe, who is both part of The Website Flip team and someone who also bought a site from Motion Invest, will be chiming in with his experience. Charles covers the following:
His thoughts about Motion Invest
Raw dataset of sites for sale from January to April 2021
Comparison of top brokers
Common questions
Let's get into it!
---
Motion Invest Review: At A Glance
Motion Invest is a popular website marketplace launched in late 2019 where people can buy or sell profitable content websites. The stated goal of Motion Invest was to fill a gap in the market by offering vetted content sites that are less expensive and earn around $200 to $2,000 per month.
Who is Behind Motion Invest?
Spencer Haws and Jon Gillham are two well-known individuals who are co-founders of the Motion Invest marketplace. Spencer Haws is the most well-known partner due to the popularity of his website and podcast Niche Pursuits.
Spencer also showcases successful case studies of Motion Invest website buyers on his podcast and YouTube channel. Jon Gillham blogs at Website Income and is also the co-founder of the content agency Content Refined.
The CEO (and a co-founder) of Motion Invest is Kelley Van Boxmeer. She handles the day-to-day of this marketplace.
---
Download: Raw Data on Sites for Sale on Motion Invest
I reviewed 88 websites offered for sale on Motion Invest in 2021 (Jan 1st to April 30). Here's the data:
Average Starting Price: $28,500
Median Starting Price: $10,970
Average Monthly Profit: $700
Median Monthly Profit: $300
Cheapest website listed: $1,000 earning $27/mo average
Most expensive site listed: $250,000 earning $6,786/mo average
Check out the raw Google Sheet showcasing all deals on the Motion Invest platform up until April 30, 2021. This will give you a sense of the type of sites, multiples, revenue, profits, backlinks, and more. Note that URLs were not included to ensure anonymity for the buyers and sellers of the sites.
Make sure to check out the follow-up article where we analyzed what happened to these sites 6-months later.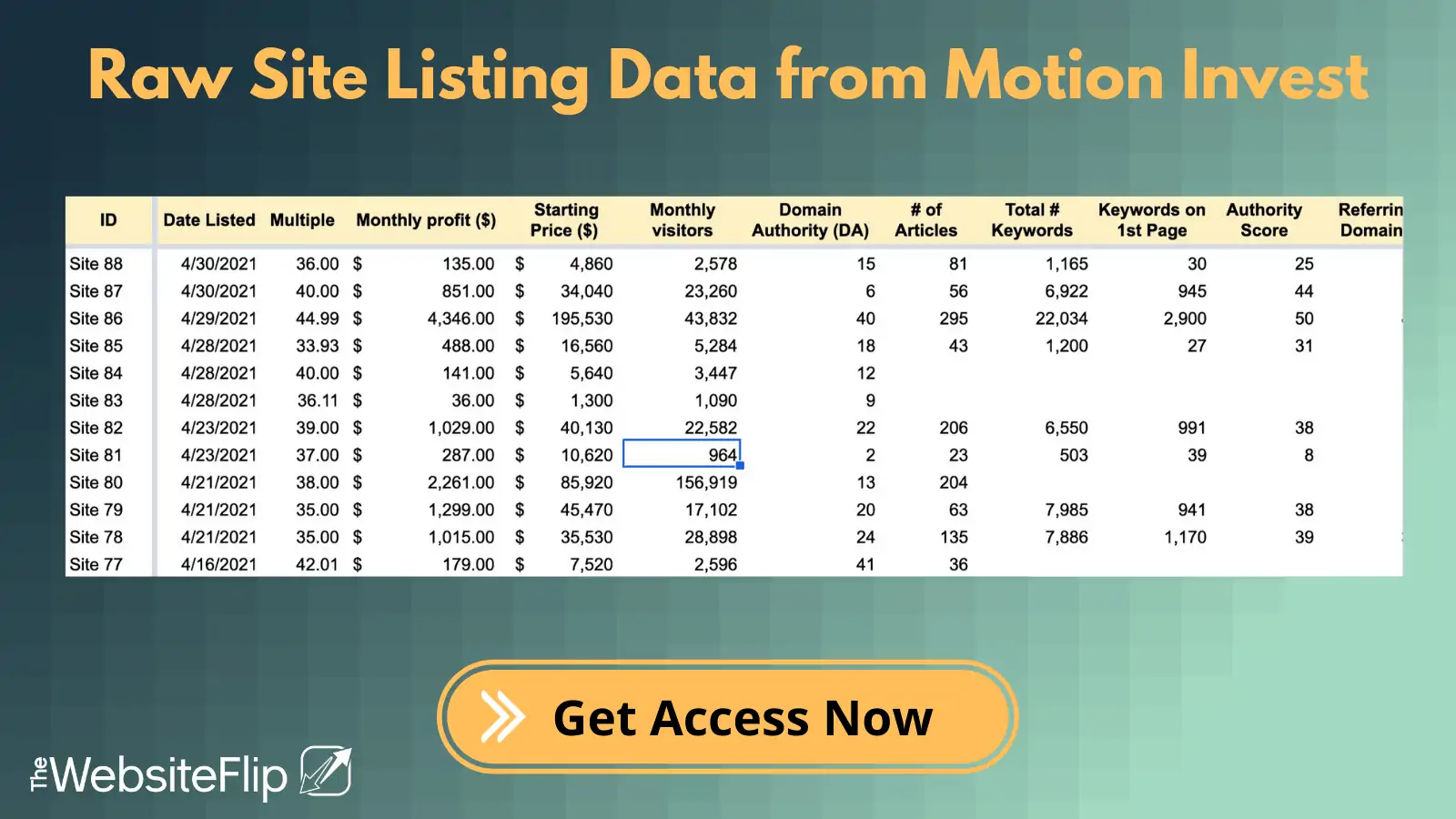 ---
What data points are provided for each deal?
Motion Invest provides good data standardization on their listing pages and the same data points are provided for each website offered.

At the top of the listing page, they highlight the "Quick Stats" which include:
Profit per month
Visitors per month
Domain Authority
Articles posted
Income multiple (e.g., 35x)
Importantly, they provide screenshots and a monthly breakdown of the users and earnings. This data is well-formatted in tables with the monthly numbers. The screenshots from Google Analytics and the affiliate program or ad display network, provide evidence of the claimed traffic and earnings.

They also provide some useful keyword data from SEMRush and link data from Ahrefs. The keyword data includes:
The number of total keywords
The number of keywords ranking on the first page
The backlink data includes:
The total number of referring domains
The total number of do-follow referring domains
You can also download an Excel file with all the links exported from Ahrefs which is very helpful when evaluating the quality of the links.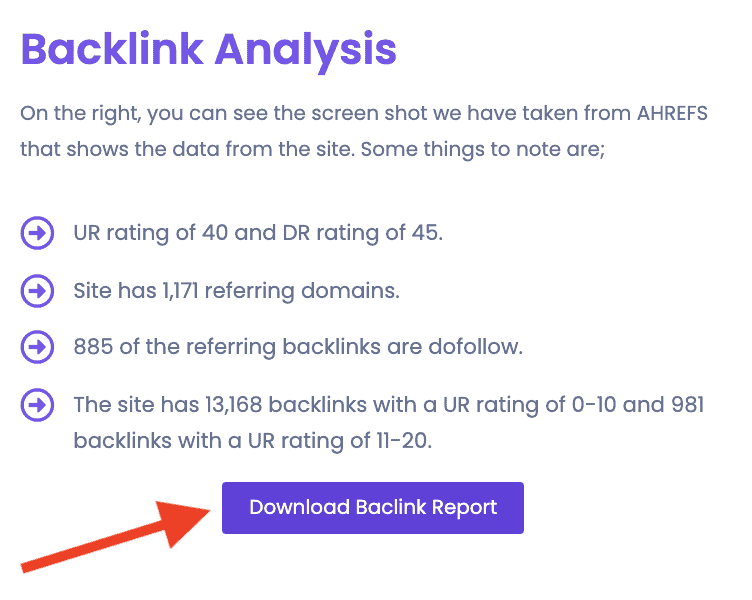 There is also a brief Q&A section near the bottom of the listing page. The answers are very short but there are some important questions answered like whether PBNs were used and whether the content was outsourced.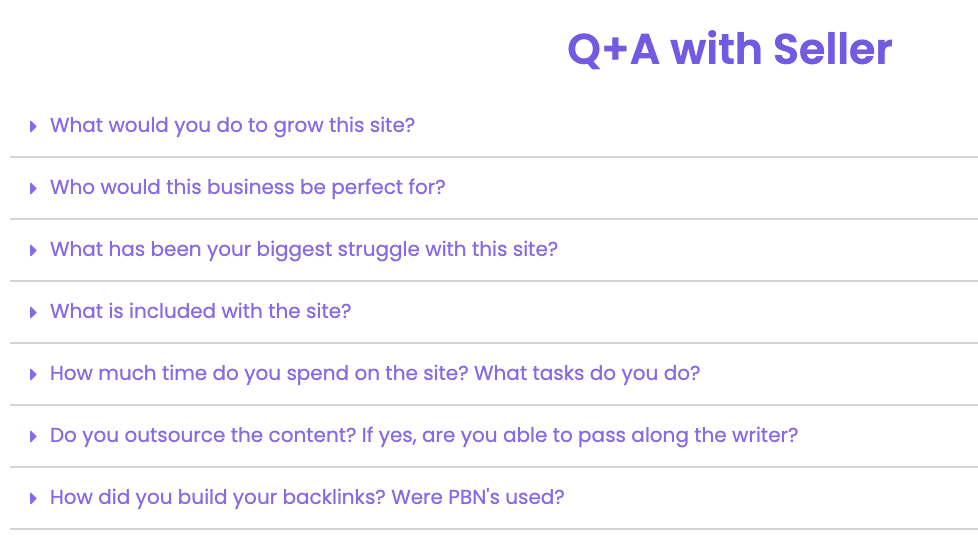 ---
How Does Motion Invest Work?
Depending on if you are buying or selling a site, the process is different. Let's break it down.
How to Buy a Website on Motion Invest
If you find a site that you want to purchase, here is the process:
Submit the $1,000 non-refundable down payment
Get access to Google Analytics, and ask any questions to the broker/seller
Once you have done your due diligence, submit a final offer
If offer is accepted, you need to deposit funds to Motion Invest
Transfer process begins
Once transfer is done, funds are released to the seller
Deal is complete!
Note that Motion Invest is serious when they say the fee is non-refundable. If you decide to back out, you will NOT get this money back. This deters any time wasters.
Also, note that their bank is in Canada. I had to initiate an international wire transfer from the United States and I had to call my bank to confirm that I had authorized the transfer.
They also have both parties sign a standard purchase agreement contract which can include specific items that were negotiated. My contract included a one-year non-compete agreement.
How to Sell a Website on Motion Invest
If you're ready to sell your website, here's the process:
Fill out their website valuation form here
Wait for their team to reach out to you
Discuss their brokerage fee and prices; usually 15-20% are the commission fees
Provide Motion Invest with a detailed P&L, earnings screenshots, and earnings videos
They will vet these details and perform due diligence
They will get you a proper valuation
If accepted, they will then put together the listing page
They will send out an email to their list
Once a buyer makes a deposit, Motion Invest team will field questions
If a buyer accepts, then the transfer process will begin
The process is no different than most brokers. It is streamlined.
---
Flippa vs Empire Flippers vs Motion Invest Comparison
Here is a summary of each website broker:
| | Motion Invest | Flippa | Empire Flippers |
| --- | --- | --- | --- |
| Success Fee | 15-20% | 5-10% | 2-15% |
| Typical Price Range | <$20,000 | All prices | >$50,000 |
| Vetting | Yes | Only if You Pay | Yes |
| URL Revealed | Yes | Yes | Only upon request |
| Site Migration | Yes | No | Yes |
| Pricing Model | Dutch auction | Auction Similar to eBay | Fixed Price |
For a more detailed look, check out the roundup article on all of the top website brokers for online businesses.
Deals are "Vetted"
Motion Invest and Empire Flippers conduct some vetting and verification of traffic and earnings. Motion Invest and Empire Flippers also assist with site migration.
At a high level, Flippa is similar to eBay for websites with almost no service and essentially no vetting (they do some verification that sellers are who they say they are by reviewing a selfie photo and driver's license or passport).
Less "Easy Win" Deals
One advantage of Flippa is that the sellers may be hobbyists who put a lot of effort into their writing and their website may be under-monetized, whereas sellers on Motion Invest and Empire Flippers are typically more experienced niche site operators.
Adjusted Sale Prices
One unique aspect of the Motion Invest marketplace is that they use a dutch auction where the initial price decreases over time until the website is sold or it reaches the reserve price. Buyers can also submit a specific offer but MI says they typically don't review offers for the first 48 hours after a site is listed on the marketplace.
Public URL
Unlike some marketplaces (e.g., Empire Flippers) the URL of the website is revealed publicly on Motion Invest while it is available for sale. This increases the risk of copycats but it is more convenient for potential site buyers.
Only Content Sites
Unlike other marketplaces like Flippa and Empire Flippers, MI only offers content sites and no drop shipping or eCommerce sites. The websites are usually monetized by Amazon's affiliate program, Ezoic, or both. Some sites may use other ad display networks (e.g., Mediavine, AdThrive) or specific affiliate programs but these sites are in the minority.
---
Common Questions about Motion Invest
Here is a list of questions and answers that website buyers have.
Are Motion Invest deals vetted?
According to the website:
"All our sites have been vetted by people who have been in the space buying websites and selling sites personally for many years, so when you buy a site you know you are buying something that won't crash a few weeks after purchase."
In my opinion, it is a good idea to do your own due diligence and not rely on the vetting by Motion Invest because they are not a neutral party. Motion Invest receives a substantial 20% fee from the seller when a website is sold on their marketplace.
What does Motion Invest's vetting process look like?
According to an interview on the Niche Pursuits Podcast with Jon Gillham, Jon said that their vetting process takes 1-5 days and includes:
Verifying domain ownership
Verifying income with Loom video screencasts
Verifying traffic by comparing Google Analytics with SEMRush
Checking backlinks
Checking for copied content with Copyscape
Checking images for copyright issues
Motion Invest verifies the earnings and traffic by providing multiple screenshots of Google Analytics and income reports from Amazon Affiliates, display networks, or other affiliate programs. Keep in mind that it is possible for someone to manipulate traffic and earnings in various ways such as sending bot traffic to a website.
You should definitely look for potential issues in the website such as toxic links, low-quality content, or a recent decline in traffic and earnings.
Does Motion Invest pre-purchase the sites before listing?
An important note is that when Motion Invest launched in 2019 they stated that all sites offered would be purchased by Motion Invest. This gave confidence to prospective buyers because they could assume the websites offered must be of high quality if MI is willing to purchase them.
This has since changed and now Motion Invest doesn't directly purchase all sites from sellers. It allows sellers to offer their website on the marketplace and charges a 20% success fee for sites sold for less than $20,000 and a 15% success rate for sites sold for more than $20,000.
There is no clear indication provided for which sites are owned by Motion Invest and which are not.
Does Motion Invest handle website migration?
Yes, their team will help you set up the site on your host if you need help.
After I initiated the wire transfer, Motion Invest connected me via Skype with a web developer from India whose Skype profile said "freelancer". He emailed me the backup files for the WordPress site and told me to restore the backup on my hosting. He offered to help if I had any trouble.
Since I wasn't familiar with setting up a WordPress site from backup files, I decided instead to sign up for the same hosting company as the owner (Kinsta) and have them transfer the website to my new hosting account.
I did not know that the freelancer could handle the site transfer for me to any host. If I had known this, I would have considered having them migrate the site for me because Kinsta hosting is great but very expensive (about $1 per 1,000 visitors).
Additionally, Motion Invest will switch out the Amazon tracking for the entire site if the Amazon API was used. If the Amazon tracking was added manually, they will switch tracking codes on the top 20 pages.
Does Motion Invest use L6M, L3M, or other average metrics?
Some websites offered on Motion Invest have had a recent decline in traffic and earnings but the multiple includes the months before the decline.
Example #1
One example is an outdoor niche site that started out at a 44x multiple for a price of over $50,000. The average monthly earnings over the past 12 months were stated as more than $1,100 per month, however, the traffic has been declining significantly according to Ahrefs and it currently has just two keywords ranked #1 in Google (according to Ahrefs)! In the most recent month, it earned less than $100. Even if the niche is highly seasonal, this seems like a very risky website to buy for $50,000.
Example #2
On a recent website listing, the site for sale was priced based on the last 3 months' earnings although there is traffic and earnings data for the past 12 months. In this instance, the site's traffic and earnings declined significantly over the last 3 months, so the price reflected this decline. This was well handled by Motion Invest.
---
Is Motion Invest Legit?
Mushfiq here. Thanks Charles for the awesome Motion Invest review. Here is my personal recommendation below.
Motion Invest should be in your arsenal of places to find websites for sale. I always keep an eye on all brokers, marketplaces, groups, and more for deal flow.
They are NOT perfect in their due diligence or website valuation process. I've caught issues, such as:
No mention that the site is built on an aged domain, or has redirects from aged domains
Different averages used (i.e., L6M vs L12M vs L3M) when convenient
With all things investments, you need to do your own research. A broker's job is to bring forth a deal for sale. They will not catch everything, or bring forth deals that match your website investment criteria.
If you are looking for a site under $20,000 that has earnings vetted, Motion Invest is your best bet. The only other option is Flippa, which does not provide any vetted deals. If you are a newcomer in this space, Flippa should not be your go-to.