Aged and expired domains are undoubtedly increasing in popularity more and more in the SEO industry. They offer so many advantages over a fresh domain – but, unless you're an intermediate to expert level SEO veteran, it's probably not a good idea to source one on your own and expect great results.
Marketplaces like SerpDomains are boutique but growing and headed up by a seasoned SEO expert, Ivan Brblić. Since 2016 he's sold 4,600+ aged domains with an estimated $2.1 million+ a month earned by clients and customers.
Let's take an in-depth look at SerpDomains, reasons why you should consider it as a marketplace and – later – we chat to Ivan about his thoughts on the industry
BATTLE-TESTED RECOMMENDATIONS
🔥 SerpDomains – Premium Aged Domains
If you are looking for vetted aged domains, make sure to join SerpDomains. I've purchased domains from this marketplace as 301 redirects and to build out authority sites. New members get 10% OFF using code PREMIUM10. Check out SerpDomains!
What Is SerpDomains?
SerpDomains is a brand owned by SerpDomains LLC that offers a marketplace for vetted, quality aged domains. Its LinkedIn profile mentions that it was established in 2016 and Ivan Brblić is the founder and CEO. He tells us there's a whole team behind the success of the company and it's not just a one-man show.
In Ivan's words: "SerpDomains is an aged domains marketplace where anyone can join for free and find the desired niche domain/s. Our clients mostly use aged domains to start a new project in the desired niche or use an expired domain for 301 redirect to an existing project"
---
What Makes an Expired Domain a Smart Purchase?
Backlinks
Backlinks from websites with a better backlink profile than yours can give Google the confidence it needs to rank your site on the SERP
Websites with strong backlink profiles can rank higher in search results because Google considers them to be more trustworthy
As a result, purchasing an expired domain that has a high backlink profile might offer your website an advantage over sites built on fresh domains
Age
An older website is typically considered more established by Google.
A good expired domain will – generally – be out of the Google Sandbox
One caveat to this is that a fresh website on a new domain with a more robust backlink profile and better SEO can still outrank and out perform an aged website. Your mileage may vary.
Time
It takes a long time to do SEO and create backlinks – new websites rarely begin to rank well immediately
A great expired domain speeds up the process and gives you back time you can spend on other aspects of your website
Compare this to building traction on a fresh domain – which can take up to 18 months – and you can see why savvy content website builders are using the power of expired and aged domains
They can be used as part of a 301 re-direct strategy
Google themselves have said they have no issues with 301 re-directs. It's important however to keep 301 re-directs of aged domains in the same niche as the site you are pointing it to.
A good idea: re-directing a well vetted, aged domain in the coffee niche to your coffee content site
A bad idea; re-directing a shark hunting aged domain to a popcorn machine content site
Things to keep in mind with 301 re-directs:
A keyword-rich anchor text pointing to your new site will help a lot more than old branded anchor text
If the aged domain you are re-directing had a penalty on for dodgy link building, cloaking, spamming, etc., it might be carried over to your main site.
As always, carry out as much due diligence as you can on Ahrefs or similar.
Traffic
Some (not all) expired domains will have existing traffic you can build on. Strong organic traffic indicates that Google's algorithm likes the site and considers it authoritative in its field.
Additionally: look for traffic that is on a sharp downward trend as an indication that a site has been penalized by a Google algorithm update. The simplest way to do this is to use Ahrefs, SEMRush, or similar.
---
5 Things to Check Before Buying An Expired Domain
1. Domain Authority/Domain Rating
You should check the domain authority/domain rating of any prospective expired domains you're interested in buying – but it absolutely shouldn't be the only metrics you check, because both can be faked.
Google usually considers websites with a high DA/DR to be important and trustworthy websites. Think Forbes, BBC.com and similar. The exception to this rule is if a website has artificially pumped its' DA/DR – which is something a lot of Link Farms and PBNs do. Dig deep into the metrics of the domain and don't just take the DA/DR at face value.
2. Spam
Check to see whether the domain has been used for spam. Signs of a spammy site are easy to spot: including keyword stuffing, duplicate material, hacked content, and AI-generated gibberish.
Checking the backlink profile history is another approach to see if a site was used for spamming. Backlinks from zero authority sites, spammy anchor text profiles, and unrelated backlinks all point to the domain being used for spam.
3. Common sense
Take a good long look at the domain in Archive.org (formerly Way Back Machine) by checking the domain in its previous form. At any stage was it re-purposed for something completely off niche like a Casino site?
Or in any of the snapshots does it look like it was a very general site covering a very broad range of topics? This is an early sign that it was a Link Farm or PBN at one stage and warrants further investigation.
PBNs and backlink farms frequently post basic material in a variety of areas on one site, such as:
Business
Marketing
Health
Education
Finance
4. Quality of the content
Have a read of some of the content of the domain's previous articles on Archive.org. Does it flow well? Do the articles look like they were written by a human or were they AI generated?
It's also worth your time to paste some of the domain's previous articles into Grammarly. What you're looking for in the content is a Grammarly overall score of at least 80/100.
5. Miscellaneous
You should check: organic traffic history, Google Indexing, trademarks, any Google Adwords bans, trust and citation flow, and more when analyzing an expired domain.
If you need a helping hand, buy a respected aged domain course
If all of the above sounds like a lot of knowledge you need to know when buying aged/expired domains – that's because it is! If there's one part of SEO I would spend money on for a course it would be in learning as much about aged and expired domains as possible before buying one.
A lot of information about SEO and content site-building can be learned through strong YouTube channels like Authority Hackers and Matt Diggity – but buying an aged or expired domain is a different beast entirely.
I believe no one relatively new – or even at an intermediate level – to SEO should spend thousands of dollars on an expired/aged domain without first doing a course on aged domains.
---
SerpDomains Inventory Quality & Quantity
SerpDomains focuses on the quality of domains they sell and not the quantity. The inventory periodically varies from 100 to 200 high-quality and premium aged domains in dozens of evergreen and highly profitable/money making niches.
Spam & Penalty Free
After checking specific metrics they can determine with 100% accuracy if the domains they're selling are spam-free and manual penalty-free.
Ivan: "For the record, we never acquired a penalized domain so far and this won't change".
Original Content Recovered
They don't recover the domain's original content because it's often copyrighted.
Ivan: "Some clients are recovering old content for a short time to recover traffic if possible, but adding new and optimized content is a must".
---
SerpDomains Signup Process
Signing up is very easy, with instant access to their marketplace once you fill in some basic details.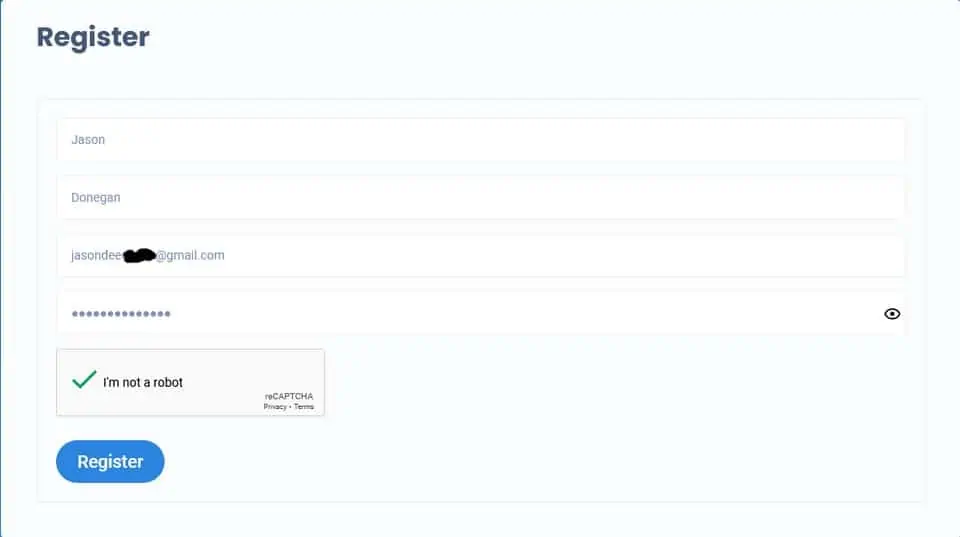 Once you click on the link to your registered email you'll get access to their marketplace. User experience is quite smooth and it has an intuitive outlay. Metrics shown for each domain include:
The age of the website
The Google Index status of the site
Domain Authority
Page Authority
The amount of referring domains
Total backlinks
The domain's language (on the day we checked the marketplace, all were in English)
How many live referring domains there are
Direct links to the domain's Archive.org snapshot
Price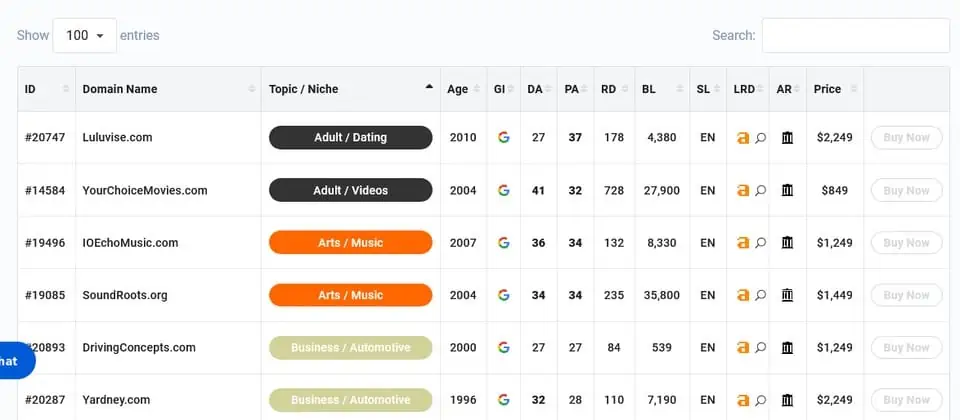 Further clicking on these metrics reveals more useful statistics about the domain. Take this aged domain in the lucrative Adult/Dating niche for example.

Clicking on "LRD" (Live Referring Domains) on this domain showed me that the site is receiving links from a wish list of companies that would give any online business a very strong start. It rarely gets better than this for links:
---
How Often Is The Inventory Updated?
The domain inventory is updated every single time they acquire a domain.
Ivan: "In general, I'd say the inventory is updated weekly.
---
What Payment Methods Are Accepted?
They accept credit and debit cards (VISA, VISA Debit, MasterCard, Discover, JCB, American Express) and PayPal. They also offer payment options through Payoneer, ACH, or wire transfers for larger payments.
---
What Is The Domain Transfer Process?
The majority of domains are ready for immediate domain transfer after purchase, and the domain transfer instructions will be sent to your SerpDomains registered email.
However, certain names from the marketplace may still be in the process of being transferred to SerpDomains' ownership account before being pushed to your registrar account. Especially those purchased within the last 72 hours.
Domain push will take a little longer in this situation.
---
Interview with Site Founder, Ivan Brblić
Ivan was kind enough to answer a series of questions we sent over to him. Check out his thought process below.
How did you get interested in domain investing?
Domains were around me from the beginning of stepping into the digital world back in 2012. I've started soaking in information about the internet, SEO, and website monetization processes. Shortly after, I started to apply what I learned and decided to start monetizing websites in the EU market.
This involved PBN strategies and was my first serious contact with expired domains and domain vetting. Through a few years of doing SEO and building 1000+ domains for PBNs there was a lot of vetting and I realized that I loved doing it.
Around 2017 I was switching more and more to domains and started to sell domains too, not just personally using them. Finally, in 2018 I decided to sell all assets I had and focus on domain investing, and launched SerpDomains online.
However, for me SerpDomains didn't start in 2018, it really started 10 years ago. The whole learning and practical experience in those early days led to SerpDomains and what it is now.
What precisely are aged domains, and why are they so valuable?
Simply said, aged domains are abandoned digital real estate. The main value is in existing and aged backlinks. From an SEO perspective, aged domains are already authoritative and ready to get monetized without building the authority from scratch.
What is it about strong domain names that make them such a valuable digital asset?
The stronger an aged domain is, the higher are chances that the monetization process would be faster and easier, which is the point when using aged domains. But we've seen that even not-so-strong domains perform with great results.
You must understand that an aged domain is one part of SEO, off-page. On the other side, there is an on-page, which is an indispensable part.
What are the platforms you use for purchasing and selling domain names?
It's funny that you ask where we purchase domains. It's a business secret.
However, we are selling domains on SerpDomains, and in partnership with AlphaInvestors and HumanProofDesigns, we offer aged domains as packages that include in-depth keyword research, premium SEO-optimized content, complete website build-out, 12 months of free hosting, and access to two (not public) courses focusing on SEO and e-mail marketing.
What exactly is a Domain Drop and how important is it in your industry?
A domain dropping gives a chance to others to acquire a domain and that's why it's important in domaining.
How has domain investment evolved for you and Serp Domains?
There weren't any significant changes apart from domain market prices going up which is normal. Markets are constantly changing so you must accept it and adapt.
How does your company make sure an aged domain has a robust backlink profile?
We are checking aged domains and metrics through various tools and afterward, we decide is a domain fit for our marketplace and customers' needs.
What are the dangers of purchasing a domain that has a bad backlink profile?
Well, if a domain has a bad backlink profile, you don't purchase it.
What has changed about your average customer over time?
When you are increasing the quality of the service, at the same time the quality of customers is increasing too.
What variables influence how you price your aged domains for sale?
We use domain metrics to determine should we start doing due diligence on a specific domain. After domain inspection, there are a few factors we use to determine a price such as domain age, referring domains, backlinks, a niche, domain name, previous/current traffic, our market purchase price, etc.
It's also important to mention that there's no price template because each domain is unique and it's priced as is for a justified reason.
Do your customers use an aged domain for 301 redirects to their existing projects?
Absolutely yes. 301 redirects are an important and strong strategy if you want to seriously compete on the market and rank higher with Google.
What does the future hold for domain investment?
Domains are the backbone of the internet and domain investing will grow together with prices themselves. That's inevitable.
What does the team of SerpDomains look like?
I'm the founder and CEO but there's a whole team behind it which is important to mention – it's not just a one man company.
What would you say the top 3 benefits of SerpDomains are?
The benefits are trust, quality, and the help SerpDomains is offering. We are just a link in the moneymaking wheel which provides our customers products that will help them to achieve their goals, to start and scale their online business.
What is one thing the company can improve on?
I'd always choose "quality" when I'm asked this question because you can always improve it.
---
Wrapping Up – How Good Is SerpDomains?
It's a strong, boutique aged/expired marketplace with an experienced, helpful, and personable owner. It's free to sign up and Ivan is just an email away if you need any advice or further information on a domain.
In some cases, he'll also offer you strategy and guidance on which direction you should take the domain, what DNS changes need to be made and if the domain is the right fit for your niche.
On the site, there are case studies showing just how successful some of their domains have been. In one example a customer built a gaming site to over 90k page views a month and an income of $3,500/mo on average.
Here's a screenshot of the gaming domain with all the metrics going in the right direction.
There are no downsides to signing up to Serp.Domains – it's free to register and you can browse the marketplaces within minutes of landing on the website. There's a nice, varied selection of domains both in niche and pricing. They also offer a refund if a domain you purchased is manually penalized by Google – this isn't something I've seen on other marketplaces and it's a nice touch.
Aged domains are absolutely the magic dust all smart SEOs are using right now and SerpDomains are a strong addition to have in your arsenal. If you need to contact them with any other questions you can reach out to them here.