As a niche website creator, investor, and operator, WP Rocket is part of the go-to technology stack I use on all of my sites.
Caching is critical to ensure fast load times, and to conform to Core Web Vitals.
In this review, I break down my thoughts with WP Rocket.
---
What is WP Rocket?
WP Rocket is one of the most popular WordPress caching plugins available today. It is among the top-rated plugins for optimization and speed enhancement.
Launched in 2013, WP Rocket has helped optimize over 1.5 million websites on behalf of 200,000+ happy customers.
The team at WP Rocket believes in a simple approach to speeding up websites; their product includes everything it needs and nothing it doesn't need.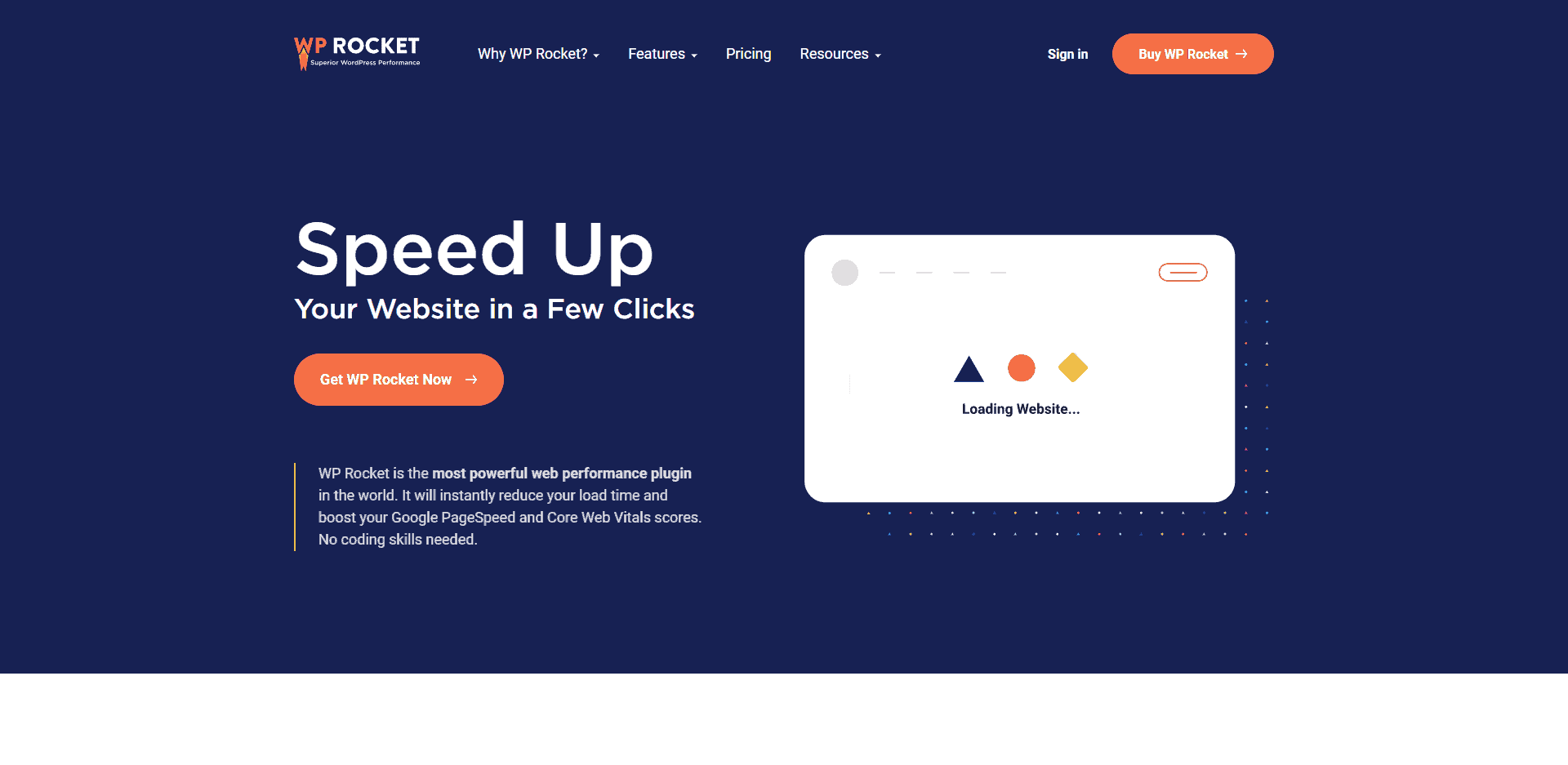 ---
Main Benefits of WP Rocket
This is a simple but powerful plugin, so while there are only a few benefits, they offer a lot of merit.
The major benefit of this plugin is:
Better on-page experience for visitors
Less load time means more traffic, clicks, and sales – and ultimately more income for your business.
WP Rocket uses a content delivery network (CDN) to speed up WordPress websites. It also reduces page load time, increases site performance, eliminates render-blocking JavaScript and CSS in above the fold content, enables HTML minification for text resources (gzip), and more.
WP Rocket is one of the faster solutions available on the market. Instead of letting any old caching plugin do the work, WP Rocket combines a global CDN with its proprietary code base for advanced delivery and optimization techniques that no other caching plugin can match.
---
8 Key Features of WP Rocket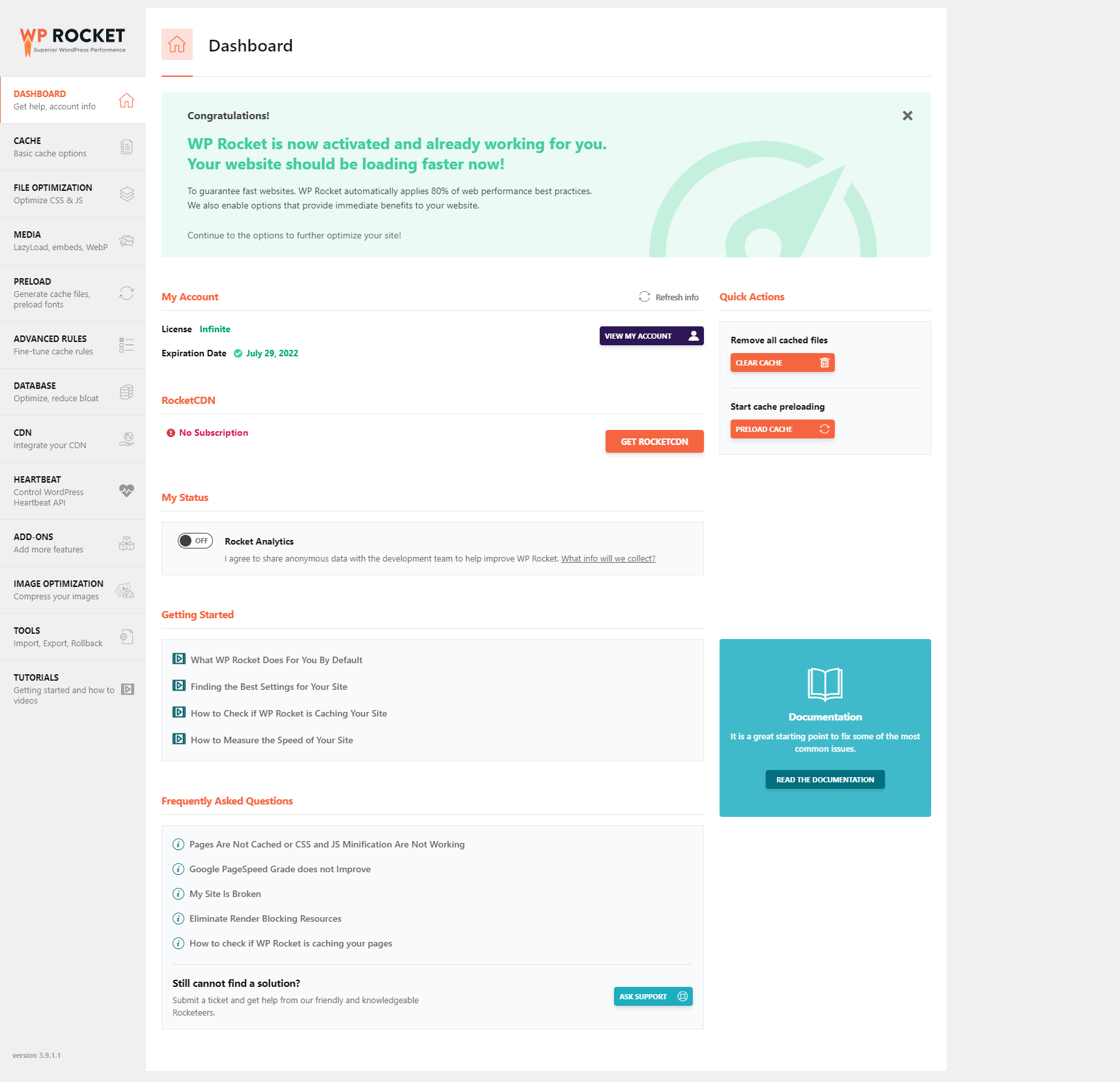 This plugin comes with a number of powerful features baked into its simple interface. When you activate WP Rocket on your website, it automatically gets to work in the background, optimizing and speeding everything up.
Here are the features WP Rocket uses to accomplish better load times:
Page Caching
WP Rocket caches each page individually so that only necessary resources are loaded for each unique visitor. This is great for improving your load speed and reducing page weight. It's especially helpful if a lot of people are accessing your site simultaneously, as it will only load the resources needed at that time.
Browser Caching
Browser caching is a form of caching that stores static pages in the visitor's device memory, rather than serving them from the disk (or database). Caching static pages can improve server response time and reduce load on the web server.
Gzip Compression
Gzip compression is used to reduce the size of HTML, JavaScript and CSS files. WP Rocket integrates with your server so that it can automatically serve compressed versions of these resources, which are then decompressed in the browser.
Cache Preloading
Cache preloading is a technique that allows WP Rocket to precache resources like JavaScript and CSS files, images, and other media. This means visitors don't have to wait for the resources to load the first time they visit your website – everything's ready to go when they show up.
eCommerce Optimization
While it's important to have a fast-loading eCommerce site, you don't want to cache certain pages such as checkout pages due to potential interference.
WP Rocket can easily exclude these types of pages from its caching, speeding up the majority of your site while ensuring that mission-critical pages remain completely functional.
Excellent Compatibility
With WP Rocket you rarely have to worry about compatibility issues with other plugins and themes. WP Rocket works seamlessly with most popular WordPress players, and the dev team will work on any unlikely issues that do turn up.
Content Delivery Network
WP Rocket can integrate with any major CDN you happen to use, but it also includes its own CDN in case you don't currently have one.
A CDN is a network of servers that serves your content across the globe, reducing load times and improving performance in distant locations.
The CDN even has a cache in it – so if it detects revisions to any resources on your site, they'll be automatically updated for all users without you needing to do anything.
Comprehensive Support
WP Rocket comes complete with detailed documentation where you can read more about how to optimize your website for speed. It also has an active Facebook group where you can get advice from developers and other experienced users.
---
How to Test WP Rocket's Speed Optimization
There are a number of sites you can use to test your page load speed. I recommend running a few tests both before and after installing WP Rocket so you can see the difference it makes.
The top four tools for testing website speed are:
Google Pagespeed Insights
GTMetrix
WebPageTest.org
Pingdom Tools
Here's a look at the scores of two sites I own on GTmetrix. Notice all the green? They score excellent across the board, and it's largely thanks to WP Rocket.
You don't have to use all of them, but for best results I recommend using at least two of the above testing tools.
Here's how you can determine if your site is running faster with WP Rocket installed:
Before installing the plugin, test your homepage, a category page, and a long-form blog post with lots of images using two of the tools listed above.
Take screenshots and/or notes about your results, paying close attention to any problem areas.
Install and configure WP Rocket.
Re-test the same three pages with the same three tools, and then look at the results side by side.
In all likelihood, you'll see a significant improvement!
Here are my two websites again, tested by Google Page Speed Insights, both of which use WP Rocket and have great load times.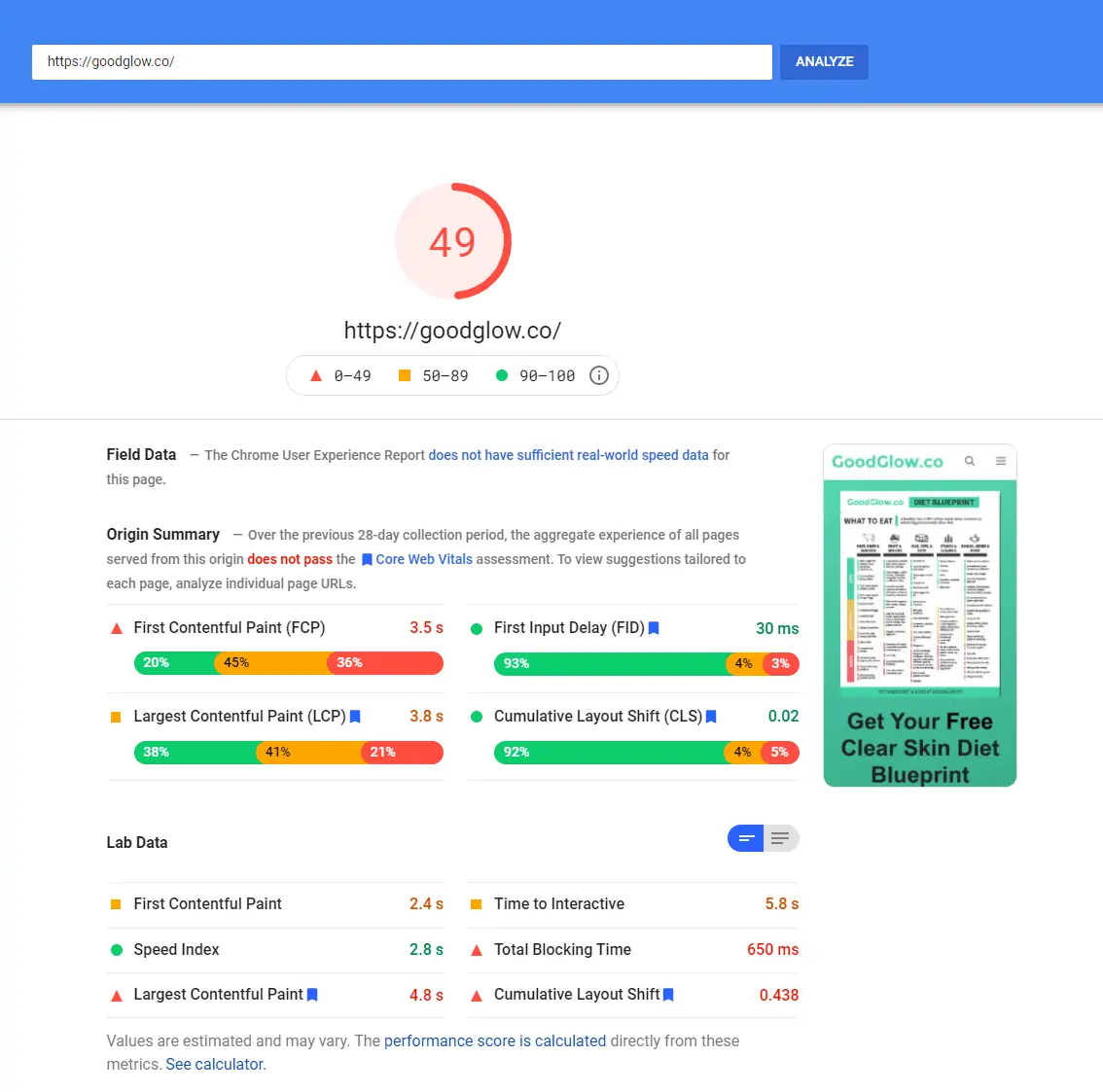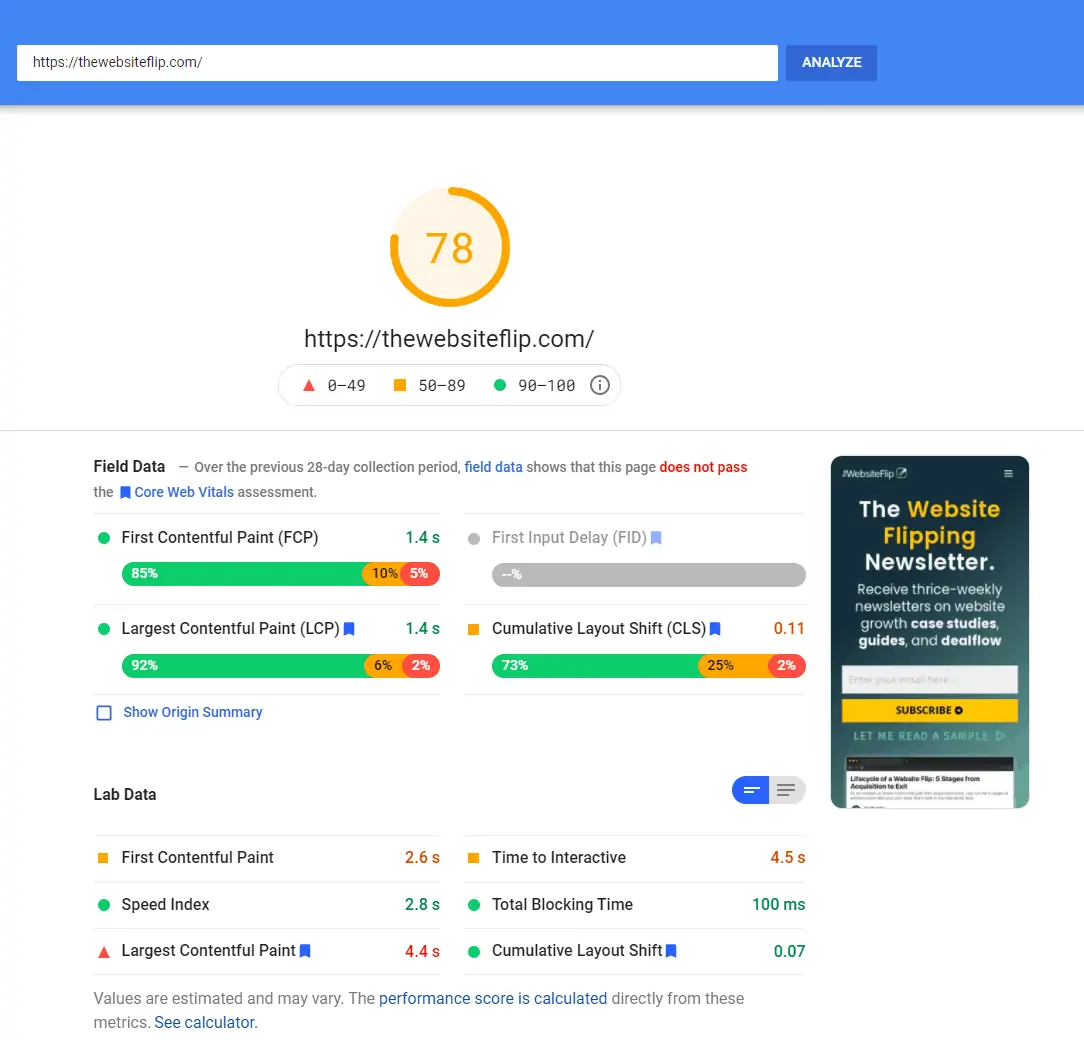 ---
How to Use WP Rocket – Step by Step Tutorial
WP Rocket doesn't require much heavy lifting on the part of the user, but let's go through how to use it step-by-step just in case.
Purchase and download WP Rocket. This plugin does not have a free or freemium version in the WordPress repository, so you'll need to purchase and download it from the WP Rocket website.
Go to Plugins > Add New in WordPress admin, and then click on "Upload Plugin". This will open a local browsing window where you can select and upload the plugin.
Install and activate WP Rocket.
That's enough to make a difference! There are a number of settings you can configure, and I recommend following WP Rocket's own training for this.


---
WP Rocket Pricing
Like most WordPress plugins, WP Rocket is available in multiple different plans to suit the number of sites you want to use it on. All of the plans are payable only on a yearly basis, but the prices are quite reasonable.
Single
The single-site license is good for one year of support and updates on one website. This is perfect for bloggers, business owners, and anyone who wants to try the plugin out. Currently it costs $49.
Plus
The plus license provides one year of support and updates for up to three websites. This is a great option for people with 2-3 sites such as serial bloggers and small-scale web developers. At this time it costs $99 per month.
Infinite
The infinite plan gives you by far the best value; for $249 you can use WP Rocket on an infinite number of websites! This is a good choice for agencies, freelancers, and anyone who wants to speed up the sites they build for clients.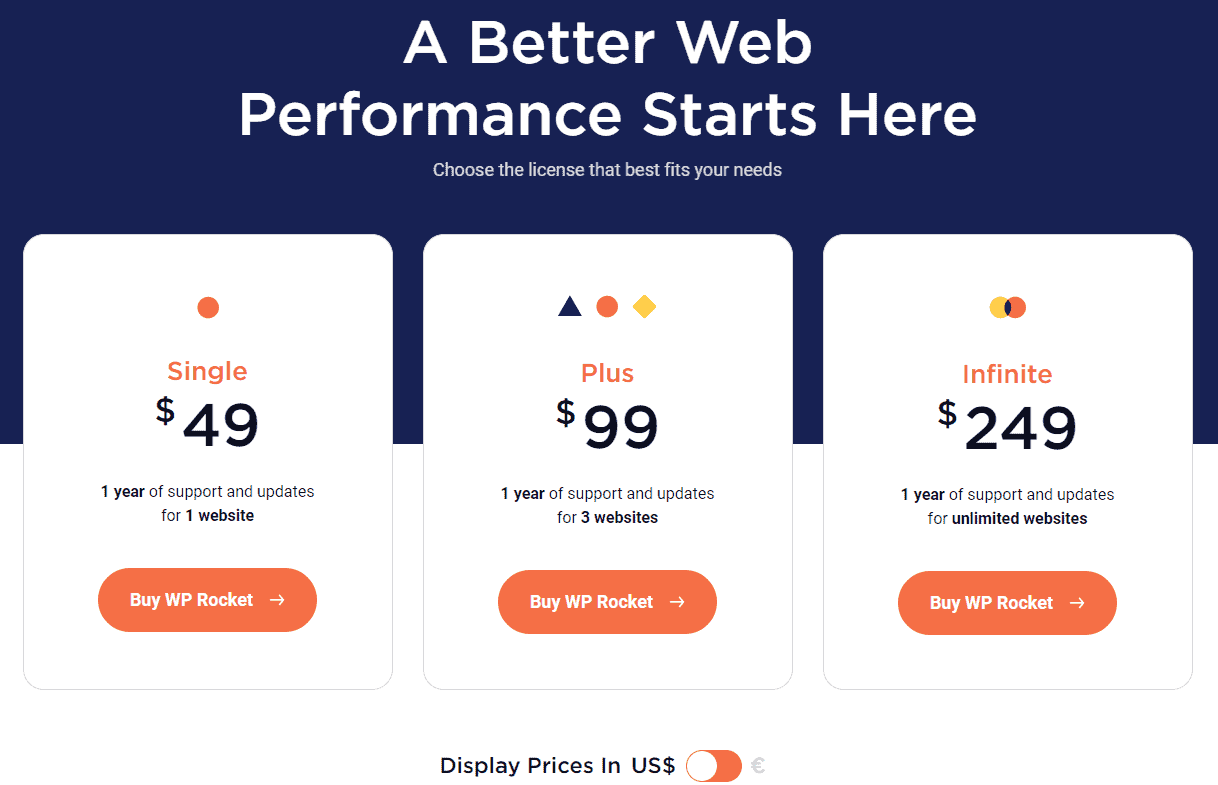 ---
My Analysis of WP Rocket: We Have Liftoff!
WP Rocket is a fantastic plugin that has helped many marketers and developers create high-performing websites. It's also been great for driving more sales with less work, which is something every business owner can appreciate. If you're looking to improve your site speed or increase conversions, WP Rocket should be at the top of your list!
With reasonable pricing and premium support, WP Rocket is a great way to kickstart your site's performance. During this WP Rocket review, I discussed some excellent features that make the pricing justifiable.
This is hands down one of the best optimization plugins on the market as far as page load speeds go – I recommend trying it out if you need a faster WordPress website