Welcome to Week 13! Today's Authority Business Blueprints will feature a brokered listing by The Website Flip on Flippa, and domains from Niche Website Builders, and ODYS.
Don't forget to check out my selection of "Too Good To Be True Sites" at the end, where I review an aged domain that's been repurposed the wrong way and will crash soon.
Let's get into the growth blueprints!
Type: Content Site
Niche: Music
Source: Flippa (see listing)
Revenue: $2,770/mo over last 6 months via Amazon Associates, ShareASale, Clickbank, and digital course affiliate sales
AHREFS:
Google Analytics: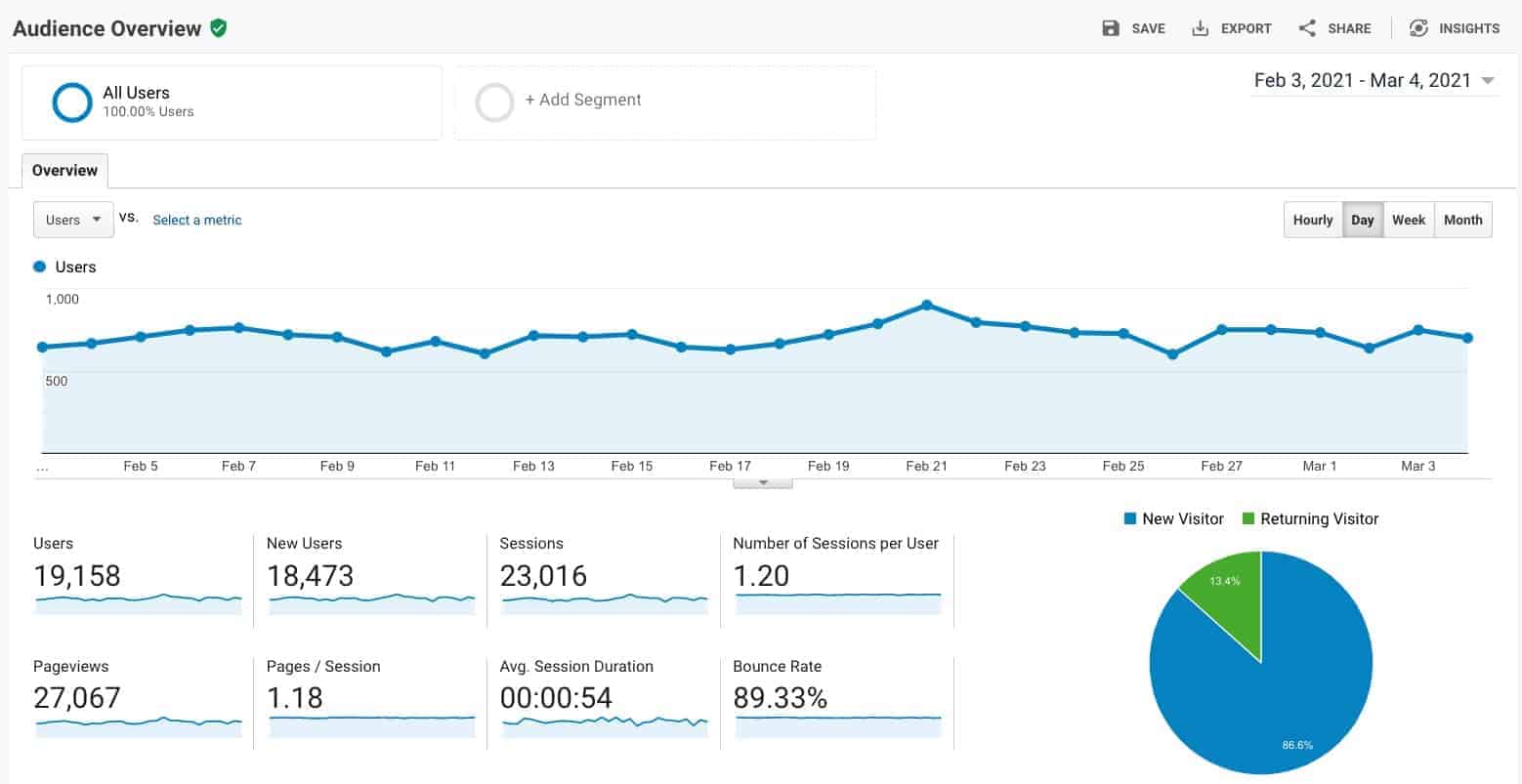 Growth Blueprint
Pros:
Aged website since 2000
Multiple revenue streams
Revenue streams range from physical and digital products
Diversified traffic to top pages – the top page only receives 10% of the overall traffic
Here are the easy wins in order of importance:
Improve the website design: a redesign of the website will lead to higher conversions. We recommend GeneratePress or Astra theme.
Add comparison tables: buying guide articles have no comparison tables. Adding these will increase revenue significantly
Add affiliate links to images: this will increase CTR and revenues
Add Display Ads: Add Monumetric or Ezoic ads to increase earnings immediately. The site receives ~30,000 page views per month which will result in a minimum of $450/month at a $15 RPM.
Perform Off-Page SEO:

The website is aged with many high-quality links to the homepage. Adding links to guides, and info articles will boost rankings.

Try Other Affiliate Programs: There are multiple affiliate programs in this niche that seller did not test.
Implement Pinterest Strategy: Seller never focused on social media but this niche has a large presence on Pinterest. Developing this as an alternate traffic source would be valuable.
Launch your own digital products: The site makes $1,000+ from course affiliate sales. This is proof of the concept that launching digital products will work.
Re-launch e-commerce brand: add an e-commerce strategy via dropship or holding inventory
Takeaway
This is an interesting website that is aged and in a die hard hobby niche. There are numerous physical and digital products in this niche. Digital products, which this site is promoting, includes training course to e-books.
The website has a TON of easy wins to increase revenues by at least $2,000 per month. Display ads are missing which based on current traffic would be $450/mo. CRO improvements to the high-traffic pages would increase earnings significantly.
The site is poised for growth and also a branded domain to start selling your own products either digital or physical (e.g., dropship).
---
Type: Expired Domain
Niche: Fashion
Source: Niche Website Builders
Age: 2009 (12 years)
Listed Price:
This is a package deal for the domain, site build, and content:
Domain: $1,950
Site Build + 100K words of content: $6,495
Total: $8,445
AHREFS:
Backlinks: This domain has notable backlinks from The Guardian, Entertainment Television, Woman's Day, Hollywood Life, Junebug Weddings, Cafe Mom and more.
Site History:
PoshGirlBoutique.com was an e-commerce store in the fashion niche offering dresses, swimsuits, purses, lingerie, shoes and even some men's fashion.
This is a snapshot of the past site:
Growth Blueprint
This is the first fashion-focused aged domain that I've covered. This niche would do well with not only organic traffic but social via Pinterest and Instagram.
I would do the following:
Write "listicle" articles (e.g., Top 50 dresses…). These will generate social traffic, and backlinks over time
Write buying guides for women's fashion related products
Write informative articles on women's fashion
Monetization can be done right off the bat via Amazon Associates. Note that clothing is in the 4% category, traditional beauty products in the 3%, and luxury beauty in the 10% category. Targeting luxury beauty products will be lucrative here.
Other affiliate programs can be Lulu's, Cupshe, etc. Most of these can be found via ShareASale affiliate network. These pay out good commissions and convert well.
Note: I had a site in this niche (now sold) that was receiving traffic from Pinterest and was monetized by Lulus, Cupshe, and some other smaller brands. It is a lucrative niche.
---
Type: Aged Domain
Niche: Alcohol
Source: ODYS.Global
Age: 2001 (20 years old)
Listed Price: $2,290
AHREFS:
Backlinks: The site has notable backlinks from USA Today, Better Business Bureau, Draft Mag, Alcohol Professor, Beer Pal, Restaurants.com, The Marriot and more.
Site History:
Since 2001, NimbusBeer.com was home to the 17,000-square-foot Nimbus Brewing Company located in Arizona and founded in 1996. They closed down in 2018 because they over-extended their growth plans without enough capital to keep operating.
They were known as Arizona's largest Microbrewery serving 7 different classic ales. Their brewery also featured a restaurant and bar where people could eat lunches and dinners while sampling each beer.
Here is a snapshot of the past site:
Growth Blueprint
The brewing niche is lucrative and has a die-hard group of followers. I recently brokered a deal in this niche and saw first hand the upsides available.
This is what I would do:
Write informative articles on brewing beer, techniques, tips, etc.
Write buying guide and individual reviews of different brewing items needed, beer, etc.
Write reviews of monthly subscription packages for beer products
Develop e-books and other such digital products in this niche
A newsletter in this niche would do well
Any of the brewing products can be monetized by Amazon Associates. The monthly subscription packages would be monetized direct or through a network (e.g., BeerDrop via ShareASale).
This is a lucrative and growing niche that's not going anywhere anytime soon.
---
Type: Expired Domain
Niche: Astrology
Source: ODYS.Global
Age: 1995 (26 years old)
Listed Price: $7,530
AHREFS:
Backlinks: This domain has notable backlinks from The Washington Post, University of Michigan, Carnegie Mellon University, Washington State University. Self Growth, ibiblio, and more.
Site History:
AccessNewAge.com was a spiritual website that focused on astrology involving tarot cards, zodiac signs, and moon tables. It featured various practices on esoteric, spiritual, and metaphysical fields, including mysticism.
The site began in the mid-'90s and lasted all the way until the end of 2020. They kept the original theme when they created the site over 20 years ago.
Here is a snapshot of the past site:
Growth Blueprint
The astrology niche can be monetized primarily via display advertisements and digital products. This is what I would do:
Write informative articles on different zodiacs for specific situations (e.g., life, work, relationships)
Write informative articles on other topics like tarot cards, astrology, etc.
A weekly newsletter sharing insights into these topics would be interesting to this audience
There are many digital products in this niche. For example, digital products by Anna Kovach on Clickbank, and a psychic service by Kasamba.
This is a good niche to enter if you want to diversify away from physical product commissions (e.g., via Amazon) to digital.
---
🙅‍♂️ "Too Good To Be True" Sites
AgernRestaurant.com: This is an example of an aged domain that used to be a restaurant, which has been repurposed with random buying guide content in unrelated topics. It would be OK for this domain to add food, kitchen products, recipes, etc., related content but this owner added fitness-related guides. It is has done well due to it's domain rating at 45 and attempting to rank for low-competition keywords. However, it's only a matter of time before this site crashes. Do not buy this site. Buyer beware!
---
Wrap Up
These blueprints lay-out the high-level strategies to accelerate your ROI after the acquisition. Of course, the real effort is putting all of this into practice.
Make sure to review the "Too Good To Be True" and "Other Quality Site" sections. Doing as much due diligence as possible will ensure you hone your skillsets in finding good deals and opportunities in the future.