Best Faceless YouTube Course
Learn exactly how to start and grow a faceless YouTube channel that can earn six-figures.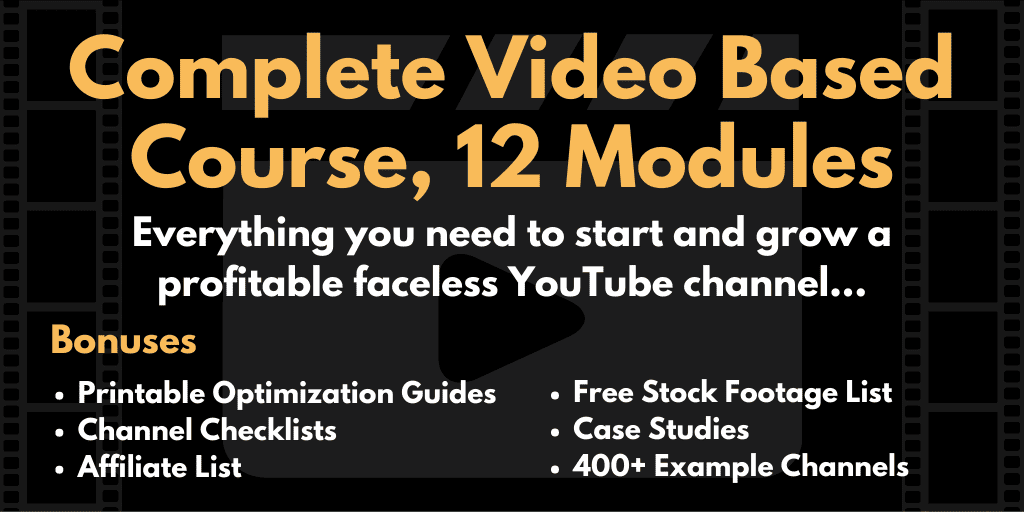 What's in the course?
This is a detailed course that will teach you step by step how to start and grow a faceless YouTube channel or even a personal channel.
Why You Need It?
If you have struggled getting success on YouTube and want to learn how to build a real business to six-figures and more, this is the course for you.
Why This Over Others?
There are other YouTube courses on the market and some are quite good. The problem is almost all cost $500 or more. Our course is less than $100!
What's Covered In The YouTube Course?
This course explains exactly how to build a faceless YouTube channel with growth and monetizartion strategies. No fluff. Actionable content guaranteed.
How to choose the right niche for you
Types of faceless YouTube channels
Which YouTube niches pay the most
How to verify the profitability of a niche
Secrets to properly optimize your channel for success
How to write an optimized channel description
How to make sure to get advanced features enabled
Learn how to create channel art that will stand out
The secret rule to uploading YouTube videos
Best tool to use for keyword research
What makes a viral video go viral
Every way to make money on YouTube
The science of going viral on YouTube
How to properly outsource to scale and grow
How to use ChatGPT to create videos
The course is organized into 12 modules.
4 Reasons To Get The Course Right Now
Lock in the price while it lasts. Lifetime access.
Instant access to 12+ video lessons
You could spend countless hours trying to learn how to actually succeed on YouTube or you can access this course and start with actionable steps today.
Best Pricing
Other YouTube courses on this topic or way overpriced and most cost $500 or more. Get our course for less than $150 for a limited time.
For beginners and experts
This course will help beginners understand the core concepts of starting faceless YouTube channels. For experts, it provides advanced strategies for growing and optimizing an existing channel.
Free updates on newly added lessons
Stay up-to-date with new lessons, case studies, and teardowns that get added.
See What Our Fans Are Saying
Mushfiq provides awesome information and excellent help in the programs! I have purchased several of his courses and programs because each is so good.
My websites (and my income) are improving because of the great work he has put together. I'm glad to find The Website Flip and can not adequately express all my thanks for the help provided. Also thanks Mushfiq for the personalized help too!
– Patricia Vaughn
Source: Trustpilot
The Website Flip is a treasure trove of valuable information. It's the first thing I read in the morning.
I appreciate how Mushfiq gives all the necessary resources and more. He breaks down his strategies from beginning to end so you can make sense of how they work and can easily apply them. The research he does is thorough and his recommendations open me up to ideas I didn't think of before.
– Jeff
Source: Trustpilot
I have bought 2 courses. The content Mushfiq produces is beyond amazing.
I have consumed all the top Affiliate marketing courses out there (AffiliateLab, Authority Hackers, Income School), and I would rate Mushfiq's content at par with them.
Mushfiq particularly shines at creating 'to the point' content and delivers an hour's value in 5 minutes. That's where his content really shines.
– Omar Khan
Source: Trustpilot
A Word From The Creator
Hey, Mushfiq here! I have been buying, growing, and selling online businesse since 2008. I've sold over 215+ websites with multiple six-figure exits.
I organized and created this course to share insights into how to build faceless YouTube channels that generate cash flow. Faceless channels can be excellent assets as they do not require your personality and face to be attached to the channel.
This makes the YouTube channel an asset that can be sold. Now you can enjoy the cash flow while building an asset worth 6-figures or more to flip
My expertise has been recognized by the top websites, podcasts, and YouTube channels in the industry. Here's a selection of them: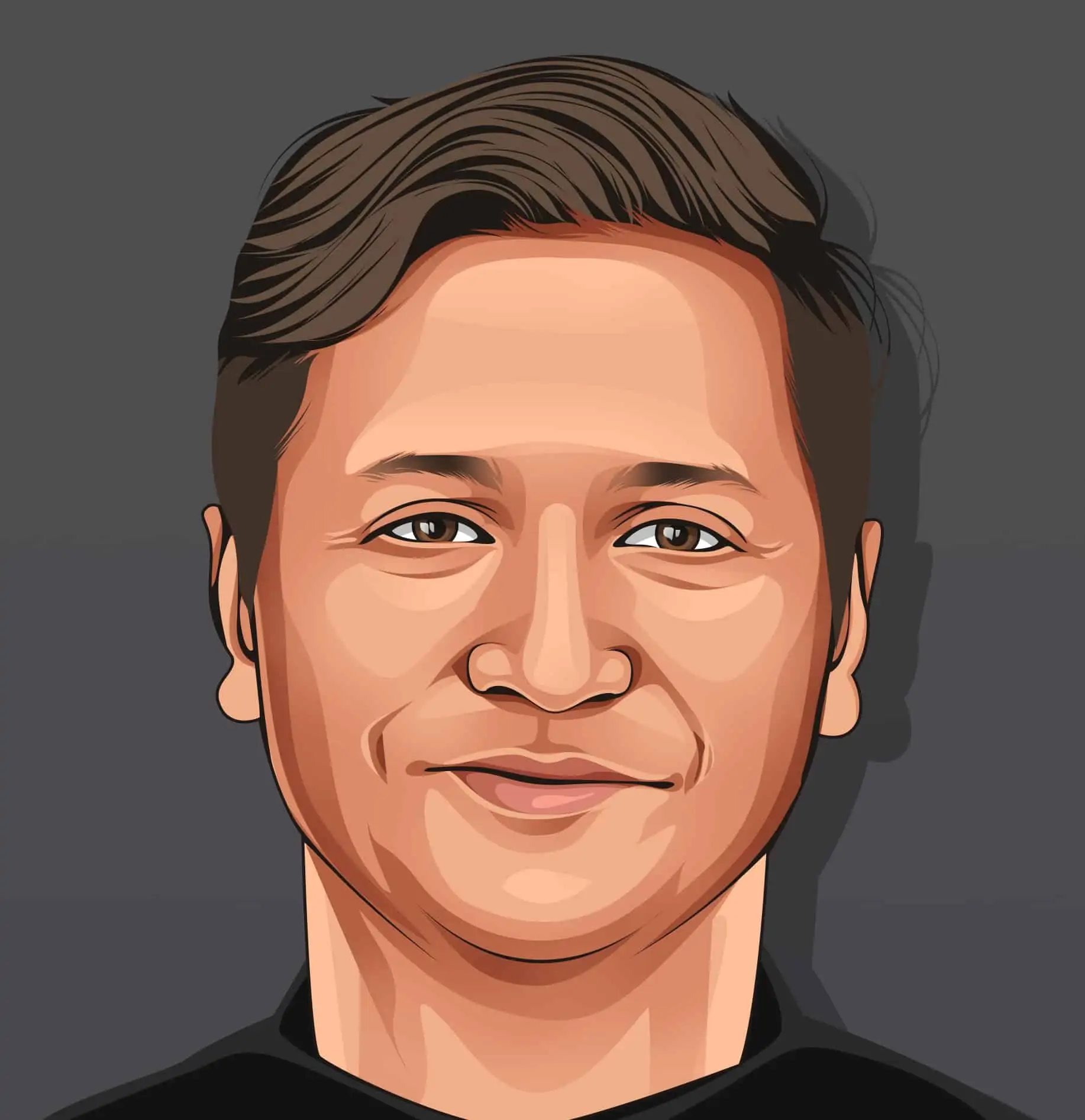 Get The Faceless Youtube Course
Tap into multiple years of expertise.
Video-based course
Printable optimization guides
Case studies
400+ example channels that are faceless
Lifetime updates
Guaranteed to give value of 100% money back
$99 $79, one time.
Frequently Asked Questions
Can I view sample lessons before buying the course?
Sure! Here is a video you can watch:
Who is this course for?
This course is designed for anyone who wants to learn how to create and grow a profitable YouTube channel. No matter what your level, if you're just beginning or have been on YouTube for years, this course can help you take your business to the next level.
How is the course structured?
The course has 12 video-based modules with each module teaching you what you need to know at that time. By the time you're done with all 12 modules, you should know everything you need to start a grow a profitable YouTube channel.
What's the format of the course?
The course has 12 video-based modules. The bonuses are delivered in downloadable PDF format so you can print them if you wish.
What if I fall behind?
A common concern many people have when signing up for a course is that they will run out of time or fall behind.
That is not possible with this course because it is self-paced. You can finish it in a few days, or take your time with it. Whether it takes days, weeks, or months, it does not matter. You will always have access to the course.
How do I get access and what happens after I sign up?
This course is completely online-based.
Once payment is made, you will be instantly enrolled in the course platform and can start learning right away.
Isn't everything in this course online for free already?
You can find some of the material we offer in this course online. However, it will take you a lot of time to search for the material and even then, you will not have the in-depth content you will receive in this course and it's all in one location! You don't need to spend time trying to find it.
Is YouTube too competitive?
Many people think that YouTube is too competitive and it's not possible to make any real money. Is this true? NO! In fact, YouTube is growing faster than ever and more people are using YouTube everyday to search for content.
In fact, competition is not a bad thing on YouTube. If you're in a competitive niche this means people are looking for that type of material. The more competitive the niche the better chance you have to get into the suggested feeds of popular channels which can cause your videos to grow exponentially.
I have another question…
No problem! Use the chatbox on the bottom right of the page or send an email to contact@thewebsiteflip.com