Build 6-Figure Newsletters From Scratch…
Learn how to build an email list and newsletter that generates 6-figures in annual profits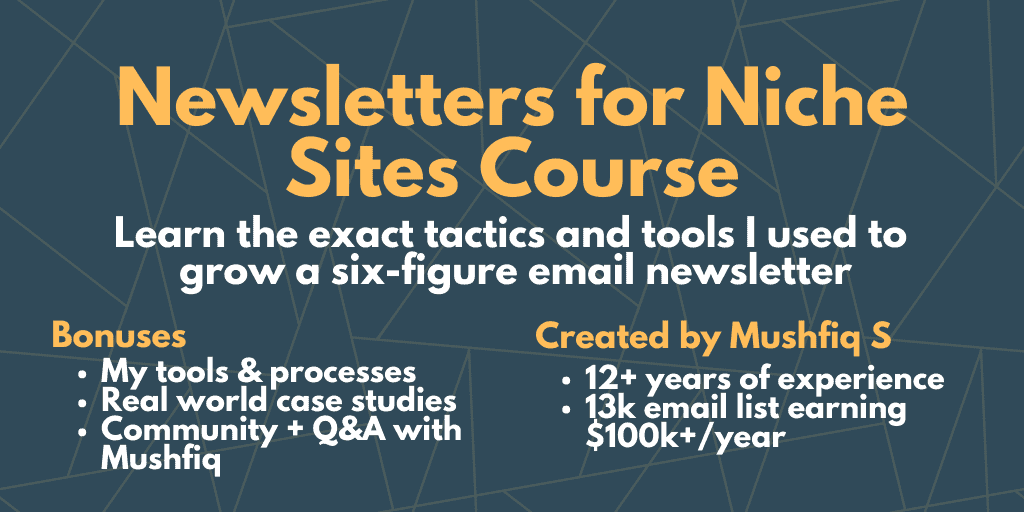 Course Bonus: Membership to The Website Flip Club Facebook group where you can ask The Website Flip team questions about email newsletters and get help from the community.
What's in the course?
Detailed videos covering the best tactics for growing an email list, increasing engagement, selling sponsorships, and much more
Includes real-life case studies, where I cover the actual tactics I used and the results
Why do I need it?
Email newsletters are one of the best ways to monetize a content site
I'll teach you the important tactics and tools that I use for my own newsletters
You will get a deep dive into the concepts, processes, and mindset to grow a profitable email newsletter
How do I get it?
This is a video-based course with 18+ video lessons
Get access to the video course for one-time payment: Full access
What's Covered In The Newsletter Course?
This course is 14+ years of experience boiled down into actionable and organized videos. No fluff. Actionable content guaranteed.
The benefits of building a list of engaged subscribers
How to convert your website visitors into email subscribers
How to deliver consistent value so subscribers look forward to your emails
Different types of content to publish in a newsletter
The essential tools I use to run my email newsletters
How to create a welcome sequence to increase engagement
Tactics to maximize your open rates
Tactics to minimize your unsubscribe rate
Breakdown of real-life successful email newsletters
Reasons The Website Flip Newsletter is successful (and things that failed)
My strategies for selling sponsorships in my newsletter
How to acquire newsletters and optimize them (coming soon)
Bonus #1: Access to The Website Flip Facebook community to ask questions about email newsletters
Bonus #2: Lifetime access with ongoing course updates and results from future projects
The course is organized into 5 modules. There are 18 lessons total.
6 Reasons To Get The Course Right Now
Lock in the price while it lasts. Lifetime access.
Instant access to 18+ video lessons
You could spend countless hours learning about newsletters from non-expert sources, or you can access this actionable and organized course today.
Learn the keys to Successful Newsletters
Get exclusive access to breakdowns of successful newsletters including the keys to the success of The Website Flip newsletter.
Made specifically for content websites
Every course lesson is fine-tuned to help you learn how to start, grow, and monetize your email newsletter.
For beginners and experts
This course will help beginners understand the core concepts of starting a profitable newsletter. For experts, it provides advanced strategies for growing and optimizing an existing newsletter.
Free updates on newly added lessons
Stay up-to-date with new lessons, case studies, and teardowns that get added.
100% money-back guarantee
Not satisfied? We will refund your purchase in full. No questions asked.
See What Our Fans Are Saying
Mushfiq provides awesome information and excellent help in the programs! I have purchased several of his courses and programs because each is so good.
My websites (and my income) are improving because of the great work he has put together. I'm glad to find The Website Flip and can not adequately express all my thanks for the help provided. Also thanks Mushfiq for the personalized help too!
– Patricia Vaughn
Source: Trustpilot
The Website Flip is a treasure trove of valuable information. It's the first thing I read in the morning.
I appreciate how Mushfiq gives all the necessary resources and more. He breaks down his strategies from beginning to end so you can make sense of how they work and can easily apply them. The research he does is thorough and his recommendations open me up to ideas I didn't think of before.
– Jeff
Source: Trustpilot
I have bought 2 courses. The content Mushfiq produces is beyond amazing.
I have consumed all the top Affiliate marketing courses out there (AffiliateLab, Authority Hackers, Income School), and I would rate Mushfiq's content at par with them.
Mushfiq particularly shines at creating 'to the point' content and delivers an hour's value in 5 minutes. That's where his content really shines.
– Omar Khan
Source: Trustpilot
The Full Course Syllabus
This course will help you master newsletters for niche sites. Here's how…
Introduction
17 mins
| | |
| --- | --- |
| Newsletter vs email campaigns | 5:20 |
| Benefits of newsletters | 5:04 |
| Issues with newsletters | 4:15 |
| The business model | 3:00 |
Newsletter Breakdowns
12 mins
| | |
| --- | --- |
| Morning Brew | 4:42 |
| Lenny's Newsletter | 4:19 |
| The Website Flip Newsletter | 3:25 |
Newsletter Setup
25 mins
| | |
| --- | --- |
| Choosing an ESP | 3:07 |
| Ways to compile a newsletter | 4:03 |
| Newletter Glue review | 7:49 |
| Email opt-in forms | 5:31 |
| Optin Monster review | 4:51 |
Newsletter Sponsorship
| | |
| --- | --- |
| Strategies to find sponsors | 5:15 |
Case Study: The Website Flip
24 mins
| | |
| --- | --- |
| Reasons for success | 4:02 |
| Welcome email sequence | 5:32 |
| Current newsletter structure | 6:16 |
| Subscriber growth and stats | 3:29 |
| Ad placements and media kit | 5:21 |
A Word From The Creator
Hey, Mushfiq here! I have been buying, growing, and selling content websites since 2008. I've sold over 215+ websites with multiple six-figure exits.
I organized and created this course to share insights into how I use newsletters to earn significant revenue for niche sites. I've been building newsletters for the last several years and have built/sold multiple 6 figure profit-generating websites with newsletters.
This course is my years of experience summarized into actionable lessons. I teach you the basics of newsletters, how to start one, strategies for growing your subscribers, and how to monetize your newsletter.
My expertise has been recognized by the top websites, podcasts, and YouTube channels in the industry. Here's a selection of them: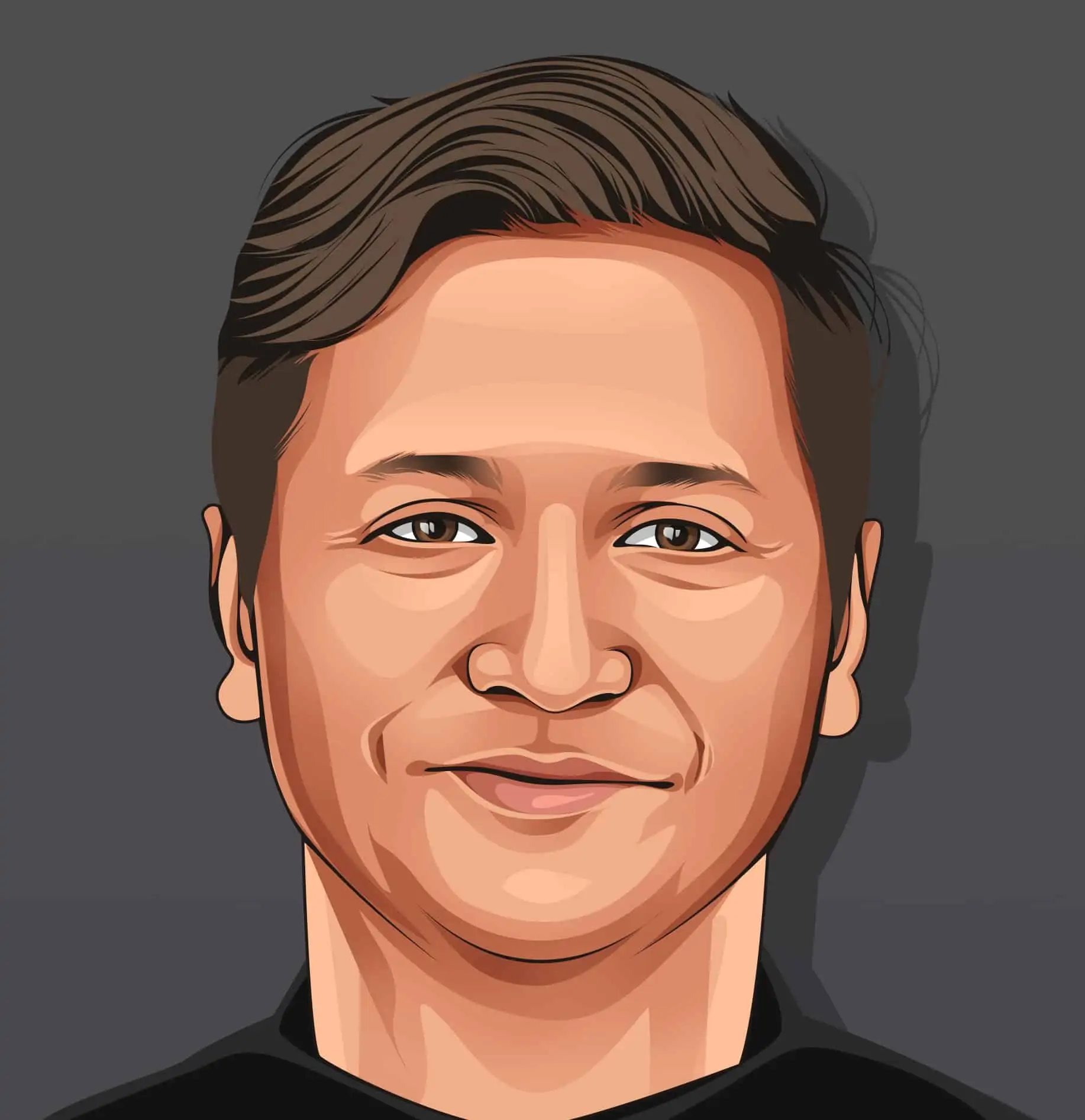 Lifetime Access – $100 OFF!
Get The Course on Niche Site Newsletters
Tap into multiple years of expertise in building successful email newsletters.
How I use email newsletters to earn 6 figure revenues per year
18 video lessons sharing the specific tactics and tools I use
Bonus: breakdowns of successful email newsletters
Bonus: case study of my new newsletter started from scratch
Bonus: access to Website Flip Club Facebook group
Lifetime updates
Guaranteed to give value of 100% money back
$290 $190, one time.
Frequently Asked Questions
Can I view sample lessons before buying the course?
Sure! Here is a selection of two lessons out of 18 total for you to preview.
Benefits of Newsletter [5:04]
The Business Model [3:00]
Who is this course for?
This course is both for beginners and experts.
For beginners, the course will walk you through the key concepts all the way to starting a newsletter using the tools I recommend. You will learn the terminology, types of content to create, how to get website visitors to subscribe, and more.
For experts, this course explains my advanced strategies for growing a newsletter, finding sponsors, increasing subscriber engagement, and more.
How is the course structured?
This is a deep-dive course into the world of email newsletters. The included topics are:
Module 1 [The Introduction]: an intro into the basics of email newsletters
Module 2 [Newsletter Breakdowns]: teardown reviews of successful email newsletters
Module 3 [Newsletter Setup]: deep-dive into the tools and process for starting a newsletter
Module 4 [Newsletter Sponsorship]: strategies for finding sponsors
Module 5 [Case Study: The Website Flip]: tactics used to grow a newsletter to 6-figures
Module 6 [Case Study: Naperville.com]: (coming soon)
Module 7 [Acquiring Newsletters]: (coming soon)
The course has been designed such that you could theoretically start at any module. However, it's in your best interest to go sequentially.
What's the format of the course?
The course consists of video recordings walking you through the concepts with examples and case studies. In addition, some lessons include a combination of video plus written content.
What if I fall behind?
A common concern many people have when signing up for a course is that they will run out of time or fall behind.
That is not possible with this course because it is self-paced. You can finish it in a few days, or take your time with it. Whether it takes days, weeks, or months, it does not matter. You will always have access to the course.
I don't know anything about email newsletters, is this for me?
Yes! This is the getting started course on email newsletters. It's designed to take someone who has limited knowledge to understand the intricacies of building out profitable email newsletters for niche websites.
If you are brand new, you will get value.
How do I get access and what happens after I sign up?
This course is completely online-based.
Once payment is made, you will be instantly enrolled in the course platform and can start learning right away.
Isn't everything in this course online for free already?
This is a fully comprehensive course teaching you the real ins and outs of building email newsletters.
You won't find anything as comprehensive on YouTube, or blogs. While you may learn things here and there online for free, but it won't provide you with the full picture.
Do I get discounts on your other products?
Yes! Inside the course, there are exclusive discounts to EasyWins.io, a database of 120+ strategies to 10X your site's growth, EasyDiligence.io, a due diligence dashboard and database of questions, the Aged Domain Course, and The Course on Website Flipping.
These products are not necessary to be successful but they do help in the journey.
I have another question…
No problem! Use the chatbox on the bottom right of the page or send an email to contact@thewebsiteflip.com