Who wouldn't love an aged domain with pre-existing backlinks from powerful websites? Welcome to the world of aged domains. ODYS Global is a vetted marketplace to buy quality aged domains. I've acquired several domains from them that have grown to earn significant revenues.
In this review, I will be briefly covering how Odys Global works and briefly what aged domains are. These are the topics that are covered:
Odys Global review, and how to use

Case Studies: authority niche sites on an aged domain

Where to buy aged domains?
What kind of sites to build on aged domains?
Let's get into it!
---
ODYS Global Review: Picking The Perfect Aged Domain
Since I exclusively only use ODYS nowadays, I will explain how I conduct my due diligence on a domain from their marketplace.
ODYS.global Interface
Upon logging in, you are greeted with a user interface where you can filter domains, or just check out the most recent ones added. Here is a snapshot of their interface below: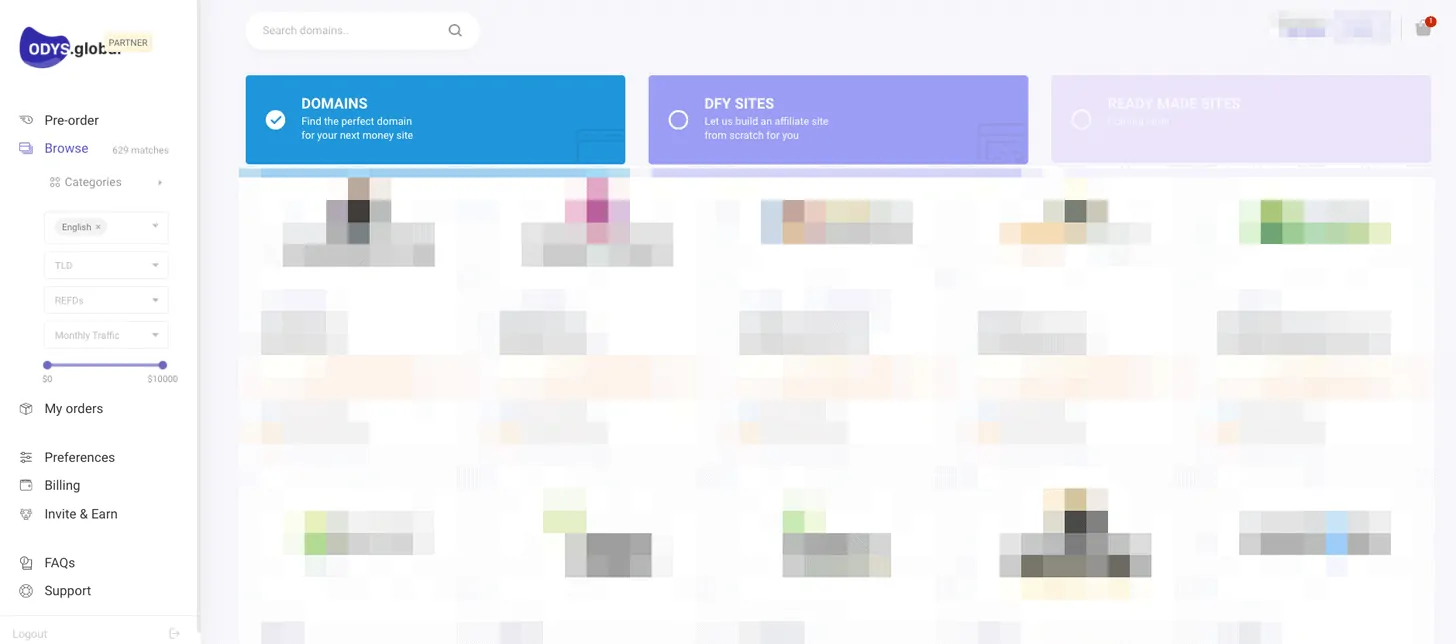 From there, you can click on any domain and check out the details they provide.
The process of buying a domain is simple:
You deposit funds
You pick the domain by adding to the cart
You do the check out process
A customer service agent will reach out to you asking where you would like the domain pushed or transferred
They will hand over the domain to your account (plus ensure you get the logo as well that was created for the domain)
That's it. Fairly quick and the whole process takes no more than 24 hours if you are doing a domain push, and slightly longer if a transfer.
Now, let's get to the analysis.
Selection of Quality Domains on ODYS Global
I compiled a list of available domains (without sharing the URLs) on the marketplace. Check it out:
| Niche | Age | DR | Referring Domains | Price |
| --- | --- | --- | --- | --- |
| Running | 8 years old | 21 | 85 | $1,590 |
| Coffee | 6 years old | 16 | 71 | $2,340 |
| Food | 9 years old | 16 | 119 | $1,490 |
| Tattoo | 12 years old | 20 | 1357 | $4,770 |
| Crypto | 3 years old | 29 | 240 | $3,500 |
| Fitness | 7 years old | 12 | 45 | $1,170 |
---
Choosing an Aged Domain from ODYS Global: A Case Study
In this section, I will go through the step-by-step process of picking a domain from ODYS and how I do due diligence. For a more detailed write-up, read the aged domain due diligence guide.
Quick Aged Domain Due Diligence Process
This is the high-level process I use.
Find the right domain in the marketplace
Check AHREFs Metrics
Check Referring Domains
Check Backlinks and relevance to the site you want to build
Check Best By Links Pages
Check Archive.org website history
Check Google index with "site" operator
Check Trademarks
I use AHREFS to do my basic research on a domain. After I've finalized the domain using these 8 steps, I use SEMRUSH and Majestic to ensure the metrics are still good. I use the free versions of SEMRUSH and Majestic, and the paid version of AHREFS.
Let's get into the case study of picking a domain.
1. Find the right domain in the marketplace
This one caught my attention immediately. It's a domain that sounded good and makes sense as a parenting blog ("mommy blog").
However, this is just the first piece and the easiest: finding a domain that resonates with your target audience.
If you click on ParentsOnDemand.com in the user interface, you will see the following page below. This view lays out exactly what the site was about in the past, the different backlinks that were pointing to it, and various important metrics.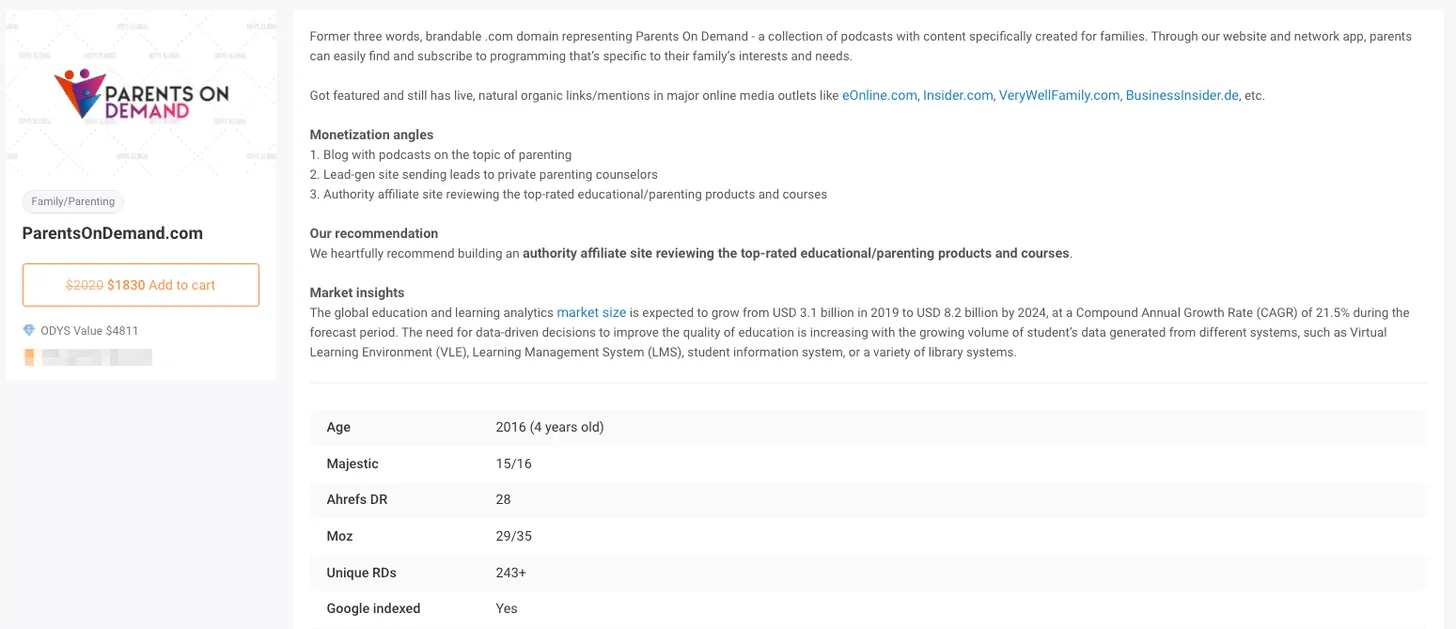 2. Check AHREFS Metrics
Next, if I like the domain from a glance within ODYS, I then plug in the domain into AHREFS (if you do not have AHREFs, you can use SEMRUSH or Majestic as well).
I take a glance at the metrics such as Domain Rating (DR of 28), Number of Referring Domains (245), Number of Backlinks (2,640). As a bonus, AHREFs is still seeing some organic traffic to the site which is a good thing.
As a quick metrics review, the site looks good, and so I continue on to the next steps.
3. Check Referring Domains
Next, I immediately jump over to the Referring Domains option in AHREFs, and then sort the table by DR to see what are the high DR domains linking to our domain.
We can see below there are some quality sites, such as Insider.com, VeryWellFamily, BusinessInsider.com, and more. This is a good sign that the previous owners of the domain did a good job outreaching, and/or building a brand/business.
4. Check Backlinks and relevance to the site you want to build
The most important factor is domain relevance to the site you are planning to build.
The way I check relevance is twofold: backlinks and Archive.org for what the site was about previously. Let's look at backlinks.
I go over the top 100 or so backlinks to ensure the site is the right fit.
For this site, it's clear that it was a podcast of some sort in the parenting niche. Specifically, seems they were a podcast aggregator.
If you were to move ahead with this, I would create a page "Best Parenting Podcasts" article. Redirect all of the podcast-related backlinks to that one page to take advantage of the relevance, and then build out subpages doing product reviews.
5. Check Best By Links Pages
Next, I want to know a few things about the inner pages:
Is their link dispersion across many pages or all concentrated to a few pages?
Which pages have the majority of backlinks?
These are all important questions. I do not want a site with ~80% or more backlinks to one page.
So after using AHREF's Best Pages By Links option, you get the following for the domain below. You can see there are referring domains dispersed to many pages of the site; that's great!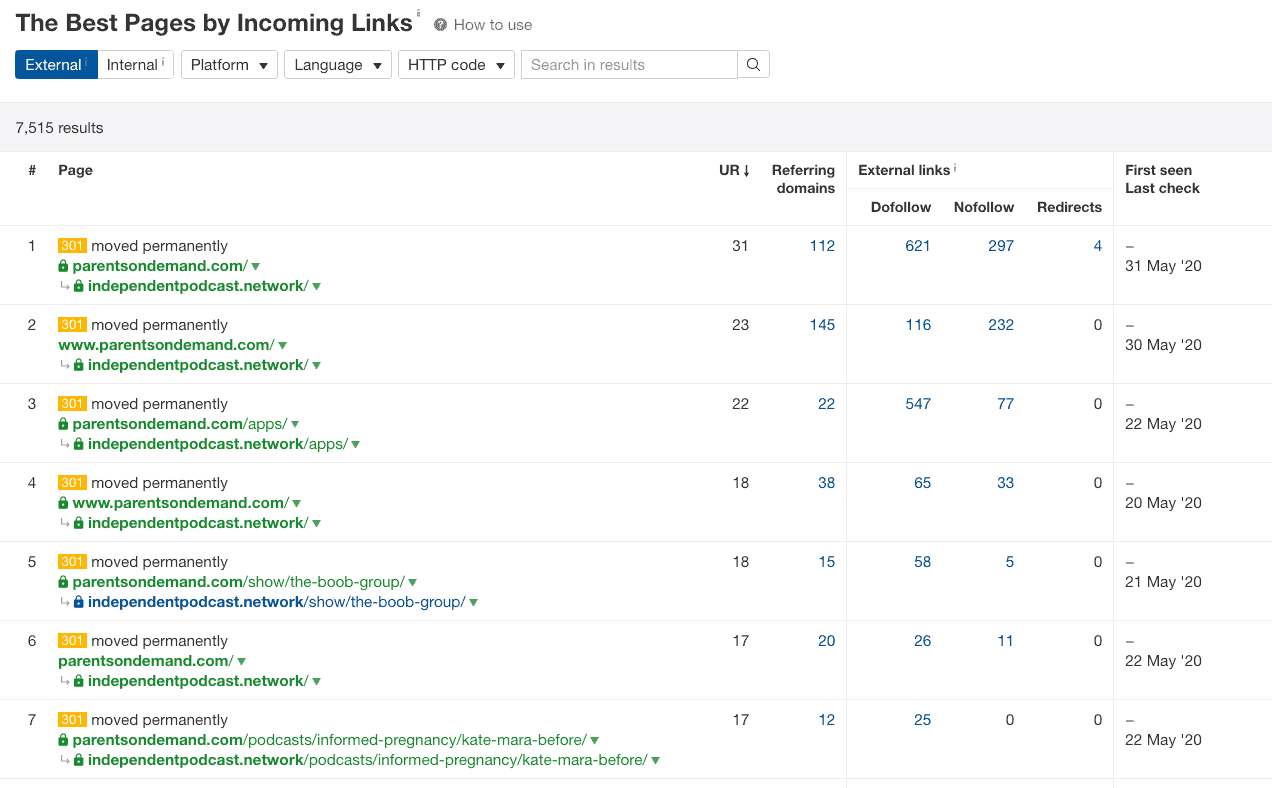 The domain had a 301 redirect to IndependentPodcast.network. Most likely, the owners changed over to a different domain, did the 301 for a while, and then forgot to renew the domain thus leading to expiration.
6. Check Archive.org (Wayback Machine) history
Backlinks are one thing, but what the site was about in the past is more important. Did the site have the same content throughout its life? Did someone build a completely random site on it at some point and then change it? You want consistency here.
It's OK if the site design changes from year to year but the topic should be the same. This ensures site relevance. For example, you do not want a parenting site discussing podcasts, and parenting tips, and then all of a sudden change into a medical blog educating about baby health. But it's OK if once in a while the previous owners discussed baby health. Diversity in relevance is just as important as relevance to the topic. Again, this is an "art", not a science.
Looking at Archive history, we find the screen below. The black lines show how many "snapshots" the Archive Wayback machine has on the site. You can check them all out by clicking on them. Here is one snapshot of the site: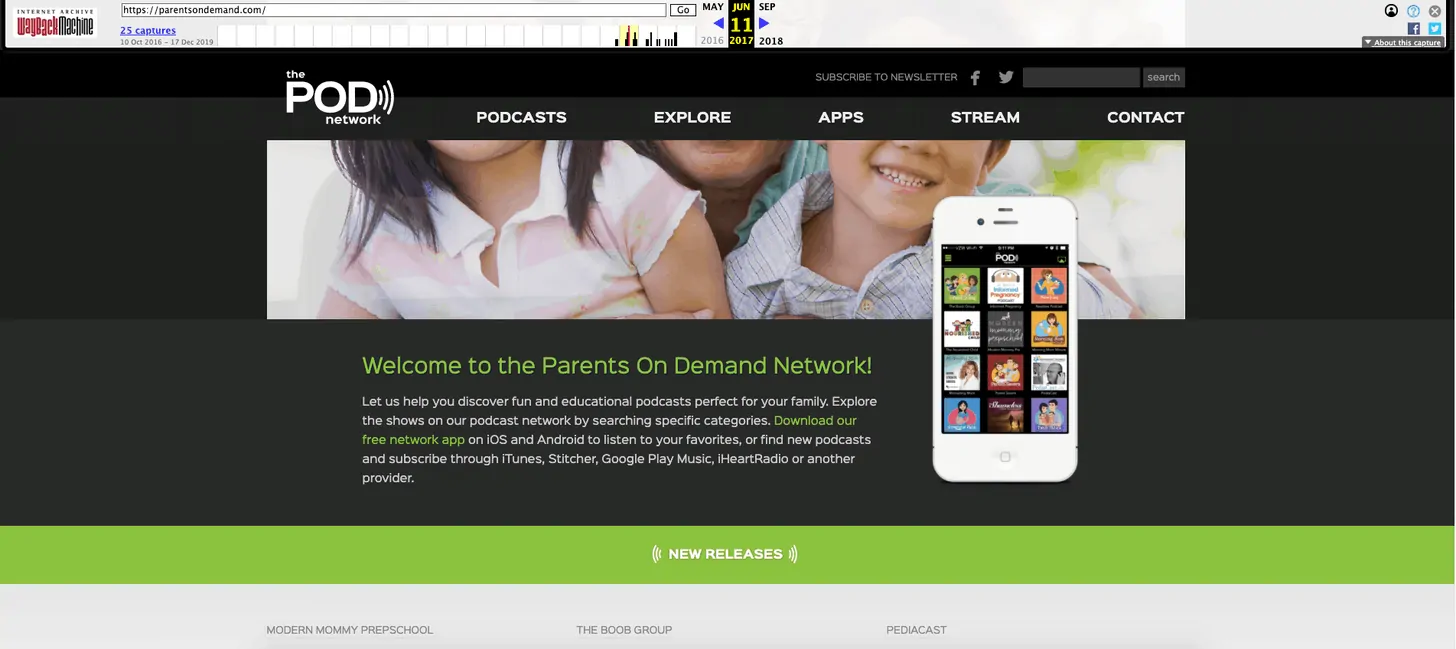 Wayback machine allows you to browse through the site, click links, and check everything. At this stage, I analyze the site and check if relevance is there.
If I see a random site within the Wayback archives, I immediately stop my search and go onto the next domain.
7. Check Google index with "site:" operator
Is the domain still indexed?
Utilize the "site" operator in Google Search: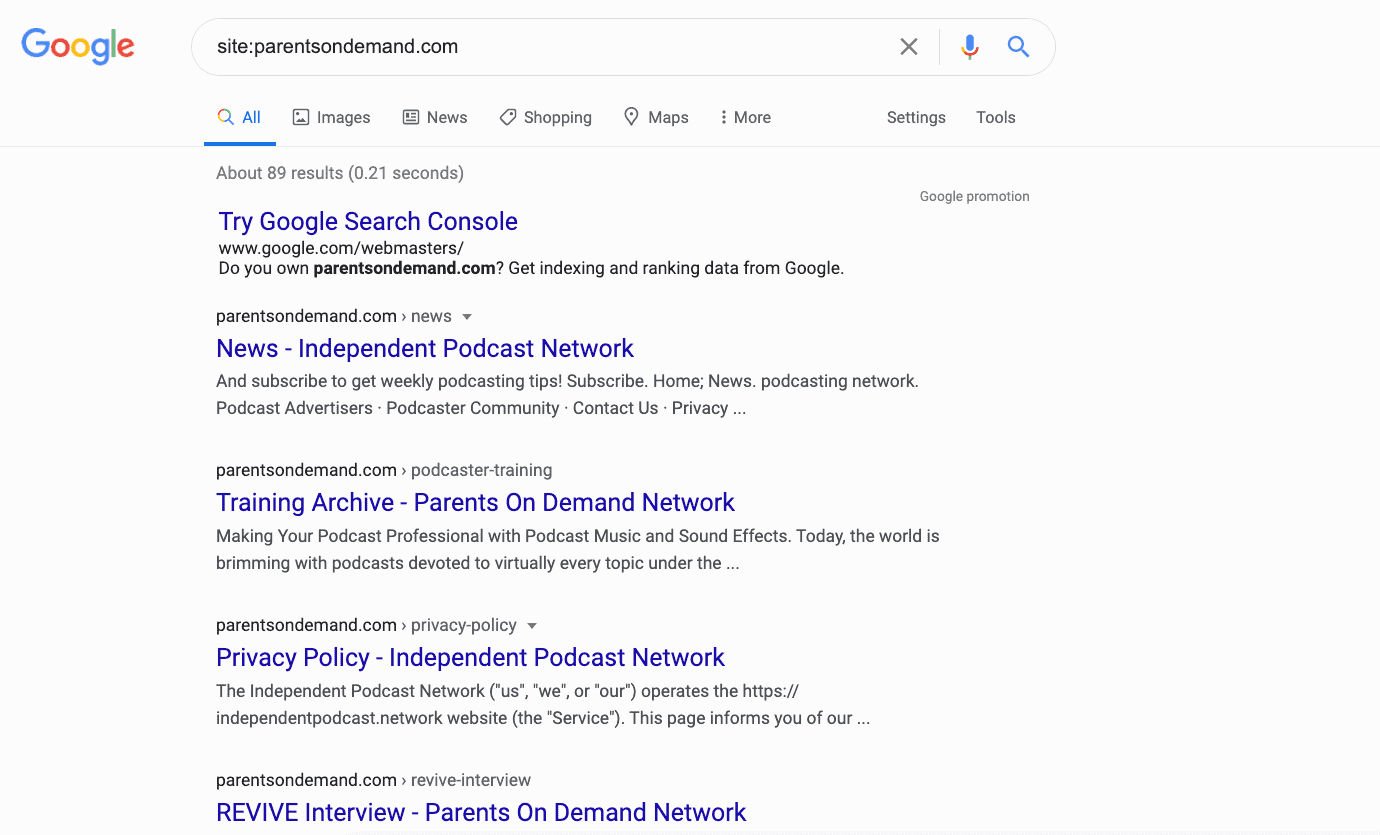 You can see that many of the pages are still indexed. This is great news. This means the site does not have a clear manual penalty. You can also get an idea of site relevance by looking at what Google has kept indexed.
If you do not find any pages indexed, this could mean two things:
The domain expired a LONG time ago and thus things have dropped off the index over time naturally, or
The site is penalized
For #1, the way to check if the site will index again is to set up a simple WordPress site with a few relevant articles. If the site gets indexed, then you are good to go. Odys does this by default on all of its domains giving you confidence that the site can get indexed.
8. Check Trademarks
This is very important. You do not want to spend your time and money building a site later to realize the original owners or those who hold a trademark are going to sue you for trademark rights or ask to take down the site.
You can use the US Patent and Trademark Office (USPTO's) online tool to search for trademarks.
Search your domain name with and without spaces, abbreviations, etc. There are plenty of resources online to learn more about this:
For more details on domain trademarks, check out this write-up.
Last Steps
After these 8 steps are followed, I ask myself a few questions:
Is the name of the domain ideal for the niche?
Can this domain handle side niches within the overarching main niche?
Does the name lend to building out a social presence?
These are more "gut" feeling questions. The last thing you want is to be stuck with a very niche-specific domain if you were thinking of building an authority site. Don't go too broad, but also do not go to niche.
That's it. If all these data-backed steps check out and my "gut" test checks out, I move forward with the purchase.
---
2 Aged Domain Case Studies
1. B2B Niche
Using the above tactics, I purchased an aged domain in the B2B niche monetized by CPA affiliate programs from Odys. Here are the high-level attributes of this domain:
AHREFs DR of 31
391 referring domains
Domain was not indexed when purchased
It was a SaaS tool in the past
I bought the domain, put up a website with 15 articles, performed the 301 redirects, and then let it sit. Usually, I expect 1-2 months before I see any traction, but not in this case. I saw traffic within a few days.
Here is the Google Analytics graph:
The traffic took off instantly. Here are some reasons why I think this happened:
Topically relevant content was added
Domain was not sitting "dormant" for too long
Even though the domain was not indexed when purchased, it still worked out. The traffic is growing daily and I am continuing to add content.
The revenue can be seen below: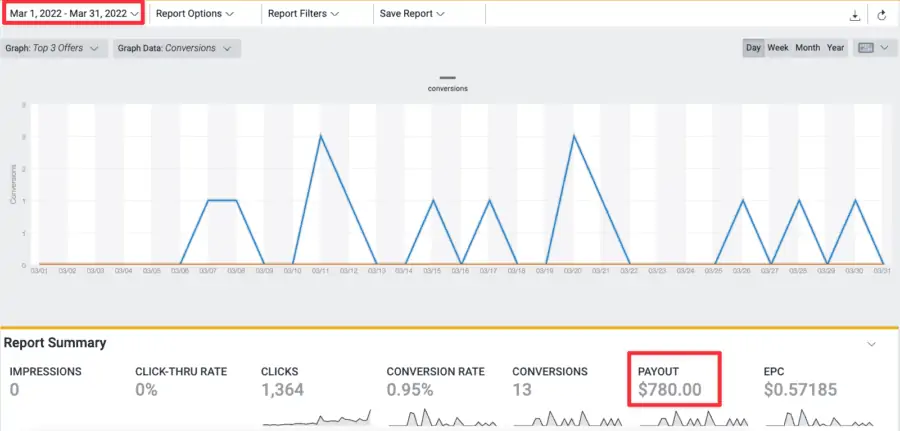 The breakdown was as follows:
February: $180
March: $780
Here is what I plan to do to grow the site:
Continue adding 5,000-10,000 words of content monthly
Perform on-page SEO on each article
2. Renewable Energy Niche (Nov 2021)
I purchased an aged domain from ODYS.global in a highly competitive niche, renewable energy. Here are the stats from when I purchased the domain:
AHREFs DR of 42
200 referring domains
I've added 31 articles equating to 94,000 words to the website since purchase. Here is the Google Analytics traffic:
My plans to monetize this website are as follows:
Lead generation for energy companies
Email newsletter in the energy niche
Amazon affiliate
Display advertisements
The plan is as follows:
Continue adding 5,000-10,000 words of content monthly
Perform on-page SEO on each article
Start monetizing the existing traffic
---
Where To Buy Aged Domains?
There are a TON of places to buy aged domains. You can sift through actual marketplaces like GoDaddy Auctions (or other such auctions), use aggregator services like ExpiredDomains.net, or use services that find quality domains for you. I highly prefer the latter: services.
If you know what you are looking for, and have the time to actively participate in auctions, you can use GoDaddy Auctions and aggregation services to hone down the perfect domain. In most cases, you can get a killer deal. However, for me at least, I've tried this and it takes way too much time!
After trying many done-for-you-services over the years, Odys is my go-to.
---
What Kind of Sites to Build on Aged Domains?
You can do three things with aged domains:
Build an authority site
301 Redirect the domain (page-by-page or the entire domain) to an existing site
Build a PBN to then link to your main sites
I highly recommend #1. If you are building niche sites from scratch, then there is no reason not to start on an aged domain. Why not get the head start with quality backlinks?
Yes, it costs more upfront to buy an aged domain, but if you are building on a fresh domain, you will eventually need to build backlinks that can drive up costs significantly via guest posting, link exchanges, niche edits, etc. without any guarantees that it will work.
Needless to say, you won't be able to "buy" links from NY Times, Forbes, CNN, etc. but you can find an aged domain with such links that you can rebuild on.
---
Wrap Up
I hope this review about ODYS global was helpful.
If you are interested in exploring domains on ODYS, you can sign up for their marketplace. ODYS is giving away $100 for every user that registers