This week we analyze a 15-year-old curly hair niche site, CurlCentric.com, which generates 254,000 traffic per month (Ahrefs estimate).
One interesting aspect of this site is that the founder doesn't look like someone with experience in the hair care niche due to his lack of hair. However, he was still able to show expertise and create a popular resource focused on serving this specific audience.
Hair care is a popular niche with an annual U.S. revenue of over $13 billion in 2023 and tons of search volume from people seeking information about products and advice. There are many examples of sites in the hair niche that achieved high traffic numbers by providing hairstyle ideas and product recommendations for people who want to improve their appearance.
This is what we cover in this report:
Website overview
Major highlights
Competitor overview
Easy wins to increase revenue and/or traffic
Actionable takeaways you can apply
Let's get into it!
---
---
✅ Website Overview & Highlights
The website has had very strong organic growth over the last couple of years peaking at 347,000 traffic before a moderate decline to the current traffic level.
After 15 years they have built up a strong link profile with over 7,900 referring domains.
According to the homepage, the site was started in 2008. It started with a narrow focus on women's black natural hair care and expanded over time to more general hair topics.
The website has a simple minimal design that is heavy on text and images. This site uses the Bamboo child theme of the Trellis theme by Mediavine.
The homepage may have too much text above the fold, compared to the alternative of having a hero image that communicates the value of the site in a headline (like on YouProbablyNeedAHaircut.com).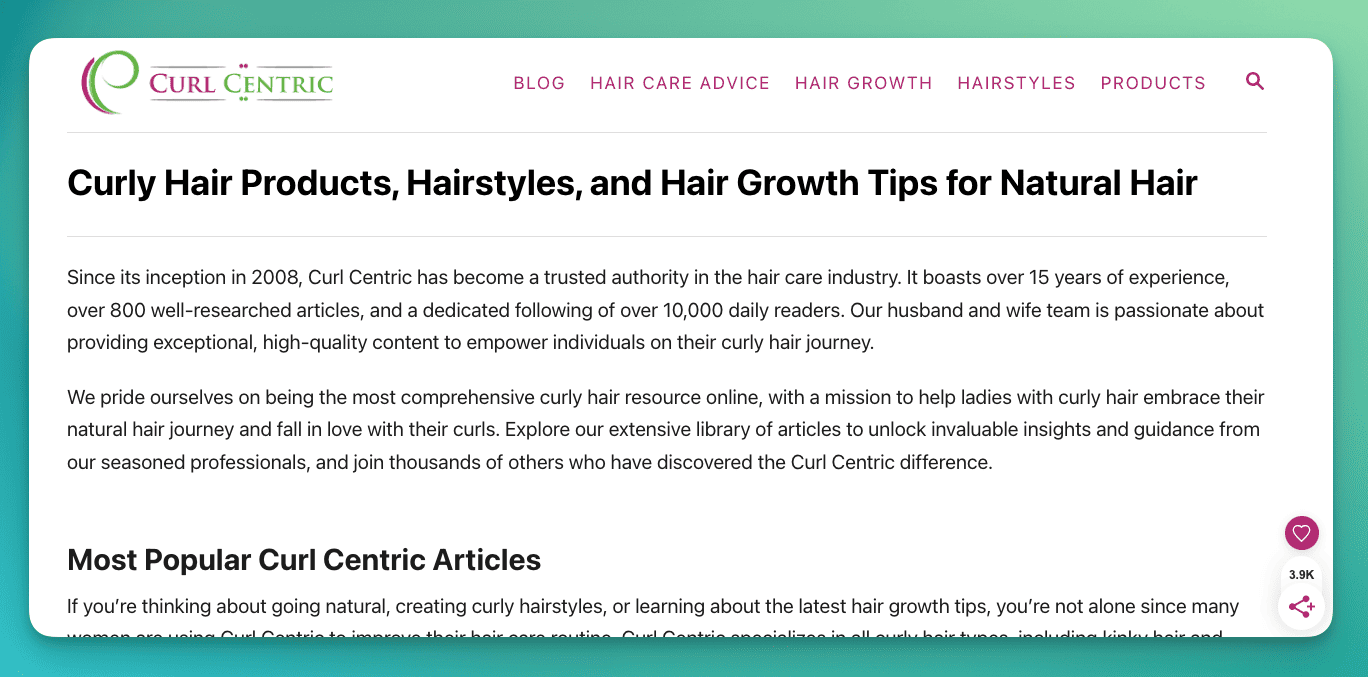 The site does a good job of conveying trust to the audience even though the author bio at the end of many articles shows a photo of the founder who does not have long curly hair (he is a male with short hair).
They make up for this fact by having a strong about page that explains the founder's experience and expertise in the niche. They also added many trust signals to the site such as a phone number, address, a "Featured In" box, and their Better Business Bureau badge.
Highlights
Over 1,000 pages of well-written content on a specific niche (mainly curly hairstyles)
7,900 referring domains including several high authority links
Pinterest account with 30k followers and 1.3 monthly views
Why is this site winning?
Strong topical authority from focusing on providing information for a specific audience (people with curly hair).
In-depth and informative reviews of haircare products with original photos
Links from several high authority sites like Vice, Glam.com, USA Today, and Essence.com
Top 3 Competitors
Here are similar competitors targeting many of the same keywords.
YouProbablyNeedAHaircut.com – A similar site covering a wider range of hair-related topics and hair products (375k traffic Ahrefs).
LippieHippie.com – A site about hairstyles and hair products with (45k traffic Ahrefs).
HairSpies.com – Another general hairstyle and hair product site (16.9k traffic Ahrefs)
Let's get into the easy wins to grow this specific website.
---
🔥 5 Easy Wins To Grow This Website
There are opportunities to significantly grow this brand. I break down the following easy wins:
Use the sidebar for sticky affiliate offers
Create listicles using Instagram photos
Look for alternative affiliate partnerships to replace Amazon
Replace featured image with comparison table on buying guide articles
Find gaps in your content that competitors are already ranking for
Let's get into it!
➡️ Win #1: Use Sidebar for Sticky Affiliate Widget with CTA
With its large audience, this site can utilize the sidebar to feature affiliate product widgets with a clear call to action.
This can be more effective if the sidebar widget is sticky so it follows the visitor as they scroll down articles.
Currently, the sidebar only shows a list of recent articles and recommended articles followed by a lot of whitespace.
On The Website Flip we use sticky affiliate offers widgets on the sidebar of articles to promote relevant affiliate offers.
➡️ Win #2: Create Listicles Using Instagram Photos
Some sites in the hairstyle niche have used the content strategy of publishing listicles of the top X hairstyles to generate millions of pageviews.
One example of a site doing incredibly well with this strategy is Hair Advisor (HAdviser.com). It is generating 3.8 million organic traffic (Ahrefs) from only around 530 pages. It also has a Pinterest account with over 10 million monthly views which probably leads to several hundred thousand website visits per month.
The content strategy is to create listicles like "50 Cute and Feminine Short Curly Hairstyles for Women" using many images found on Pinterest. They give the credit to the image creators by linking to the Instagram account.
They also have a static Pinterest "Save" button on every photo. When someone sees this Pin on Pinterest, there is a link that takes them to the listicle article on HAdviser.com instead of Instagram.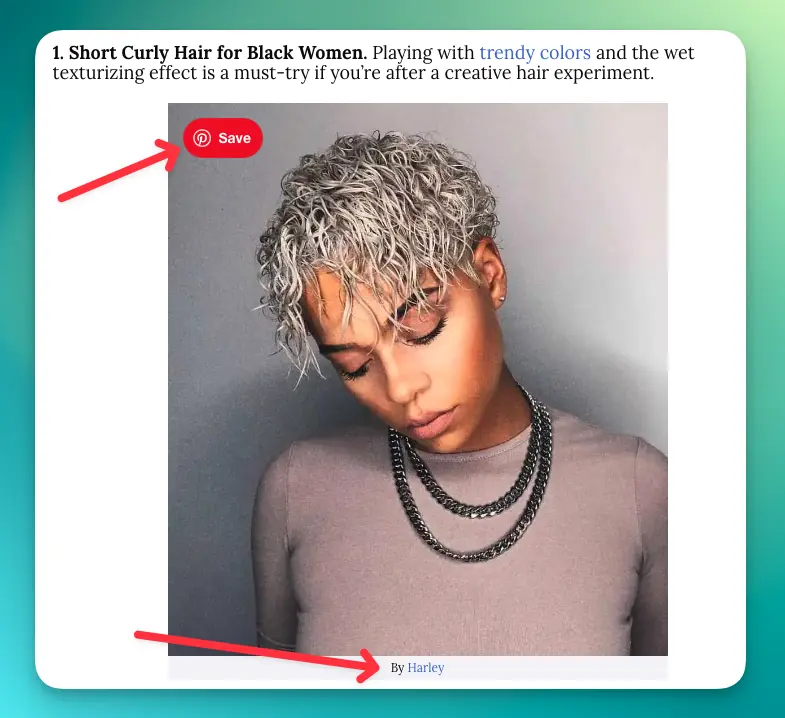 Tony Hill recently shared how he used this strategy to grow his site to over 1 million pageviews per month in an interview on The Authority Hacker podcast titled "Ultimate New Pinterest Strategy".
➡️ Win #3: Look for Alternative Affiliate Partnerships to Replace Amazon
Amazon Associates offers a 3% commission for beauty products sold via affiliate links.
This site may be able to earn more from its buying guide pages by promoting alternative affiliate programs.
Some ways to find these alternative affiliate programs include reviewing affiliate links of competitors or contacting top brands directly.
It's best to find alternative affiliate programs that have a significantly higher commission rate than Amazon to make up for the high conversion rate that Amazon provides.
Additionally, you can add popups to promote alternative affiliate products. Popups with affiliate links are not allowed with the Amazon Associate program.
➡️ Win #4: Replace Large Featured Image with Comparison Table on Buying Guide Articles
On buying guide articles like "The Best Gel for Curly Hair", conversion rates can be improved by moving the comparison table above the fold so visitors see it when they first land on the page.
By removing the large featured image at the top, the user can see the top recommended products right away in a comparison table. Then the article can go into detail about each recommended product.
BestReviews.com is a good example of a buying guide with a comparison table above the fold. Since BestReviews.com uses Google Ads to get traffic, it needs a high conversion rate to make their ad campaign profitable.
➡️ Win #5: Find Gaps in Your Content That Competitors are Already Ranking For
One top competitor in this niche, YouProbablyNeedAHaircut.com, has a similar number of pages but about 100k more traffic according to Ahrefs.
One way to grow traffic is to find low-competition keywords that are already generating traffic for competitors and then cover those topics. A great way to find these is through Ahref's Content Gap tool.
It can also be beneficial to make a list of the buying guide or reviews that competitors have published. There may be many buying guides or product reviews that could be added to generate additional traffic with a high revenue per visitor.
---
👉 Actionable Takeaways
Here are actionable takeaways that you can apply to your niche website today:
Utilize the sidebar with a sticky affiliate widget to increase affiliate clicks.
In some niches, curating listicle articles featuring Instagram photos can generate a huge number of monthly pageviews.
In niches with low Amazon commission rates, look for alternative affiliate programs that can increase revenue without increasing traffic.
On commercial pages or buying guides, remove the featured image to make better use of the space above the fold.