In this teardown, we analyze a 9-year-old luxury lifestyle website, LuxuryColumnist.com. This site receives 240,000+ visits per month (Ahrefs estimate).
The owners of this site have done an excellent job publishing travel guides and product reviews with first-hand experience and many original photos. They have traveled to 49 countries and frequently visit high-end restaurants and hotels to document their experiences.
The luxury niche is an interesting niche because the products can cost thousands of dollars and the audience has a high income. Less traffic is needed to reach four or five figures per month because of the high commissions that are possible for luxury travel experiences and luxury products.
This is what I cover in this report:
Website overview
Major highlights
Competitor overview
Easy wins to increase revenue and/or traffic
Actionable takeaways you can apply
Let's get into it!
---
---
✅ Website Overview & Highlights
Ahrefs shows rapid growth over the past 2 years with organic traffic increasing from 8k in May 2021 to 242k in 2023.
Ahrefs also shows an excellent link profile with over 6k referring domains.
The site had a temporary organic traffic decline in July 2021 after a huge traffic spike and has been trending upward ever since.
LuxuryColumnist.com was started in 2014 by Suze and Paul, a couple living in London who enjoy travel, fashion, and chocolate (their second site focuses on chocolate).
The site uses several features of the Grow Me tool by Mediavine like a "filmstrip" of recommended articles in the header, an email signup box, and bookmarks for visitors logged in to Grow Me.

A high percentage of articles are in the listicle format such as "26 Most Expensive Clothing Brands In The World". These listicle articles perform very well with some articles receiving several thousand visits per month.
The site has some off-topic articles that aren't necessarily luxury topics like "13 Best Jamaican Food Recipes" and "15 Romantic Valentine's Day Rhymes".
It uses large font (24 px) with good line spacing and large headings. This helps make the content easy to read and also makes the content longer. Since the content takes up more space, more advertisements can be displayed which increases ad revenue.
The site design looks good but there is room for improvement to make visitors feel like they are visiting a top-tier publication that is trusted to give recommendations about luxury products.
The site uses the fast and clean Astra WordPress theme which has a minimal design layout. A redesigned logo and site layout that highlights their professional-quality photos can create a more premium experience which would be appropriate for a luxury magazine site.

Highlights
Over 6k referring domains
Over 600 well-written articles
Pinterest account with 47k followers and 1.7M monthly views
Instagram account with 181k followers and high engagement
Why is this site winning?
Large link profile including links from high authority websites like Tasting Table, The Street, and Eater.com
Lots of useful listicles about luxury topics that rank very well on Google
Articles share first-hand experiences with many hotels and restaurants
Lots of great original photography of places and experiences
Top 3 Competitors
Here are similar competitors targeting many of the same keywords.
WealthyGorilla.com – A site focusing on the net worth of celebrities and listicles of the most expensive items (1.2 million traffic)
Luxatic.com – Another luxury lifestyle site with many listicle articles (285k traffic)
TheLuxuryTravelExpert.com – A site focusing on the best luxury hotels in many different locations (315k traffic)
Let's get into the easy wins to grow this specific website.
---
🔥 5 Easy Wins To Grow This Website
There are opportunities to significantly grow this brand. I break down the following easy wins:
Leverage original photos to build more links
Add more buying guide articles about luxury products
Add strong CTAs for travel recommendations
Improve the site's focus on luxury topics
Answer common questions about prices of expensive products (with data)
Let's get into it!
➡️ Win #1: Leverage Original Photos to Build More Links
This site has many professional-quality original photos of travel destinations all over the world.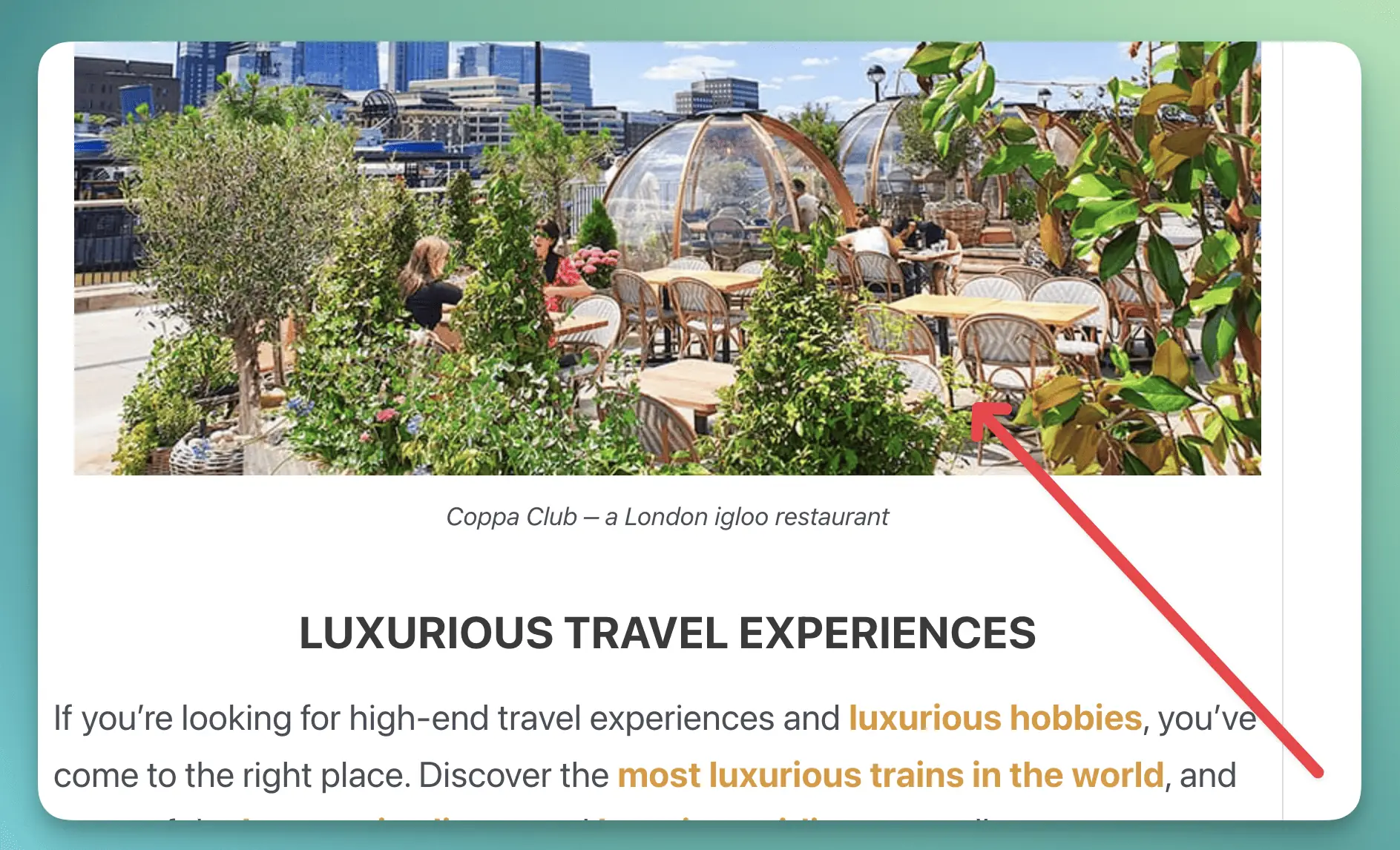 The owners can leverage these image assets to acquire many more links if they are willing to let people use the photos with attribution.
One easy way to earn links with original photos is to add a caption to images that grant anyone permission to use the image with attribution under the Creative Commons license.
Another way to generate more links is to submit photos to Unsplash, one of the most popular free stock photo sites.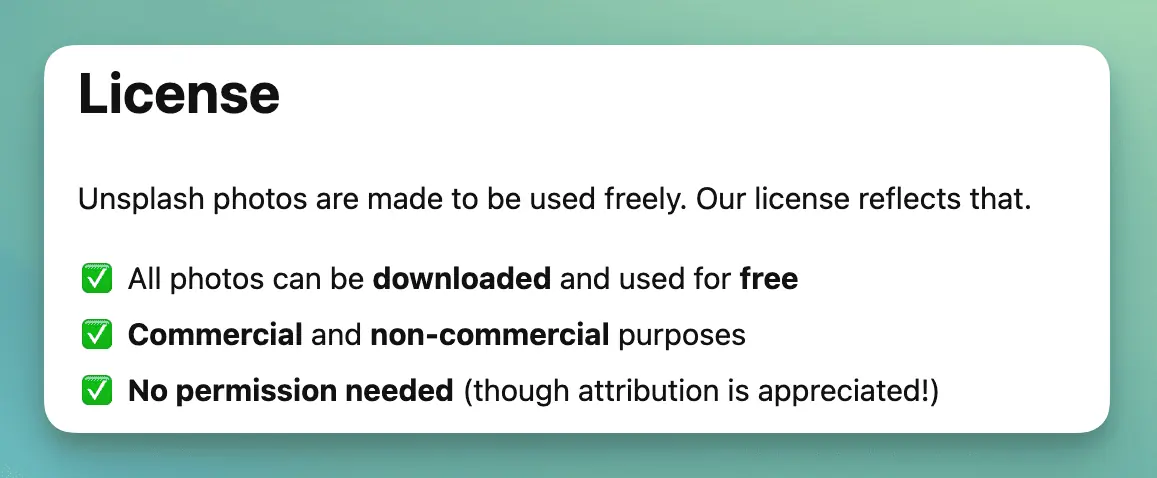 Google Image Search can be checked to see if anyone is using the photos on their site. Many site owners are willing to add a link to the source of an image they use if you send them a polite email request.
A good example of using Unsplash to build links is Tower Paddle Boards which gets millions of photo views and thousands of downloads on their Unsplash account. As a result, they have a constant flow of new link prospects to reach out to.
Some other image-sharing platforms with built-in Creative Commons licensing are Flickr, 500px, and Wikimedia Commons.
➡️ Win #2: Add More Buying Guides Articles About Luxury Products
The site has done a great job of creating high-traffic listicle articles of the best luxury products like "Best Luxury Beachwear Brands" and "Top Luxury Handbag Brands".
This site can leverage its link authority and high rankings for luxury topics by creating more buying guides about specific luxury products like "Best Luxury Handbags for [Type of Person]" or "Best Luxury Beachwear for [Type of Person]".
They can add relevant affiliate links on buying guides to online retailers like Nordstrom and also work directly with luxury brands through affiliate programs or sponsorships.
Jimmy Choo is an example of a luxury fashion brand that sells shoes, handbags, and clothes and offers an 8% commission on sales.
Related to buying guides, the site could publish luxury hotel guides for various cities and add travel booking affiliate links such as Booking.com.

A good example of this is the article "Top 10 Most Insanely Beautiful Luxury Hotels in Thailand" by TheLuxuryTravelExpert.com which gets an estimated 10k organic traffic per month. Variations of this topic can be created for hundreds of countries and cities.
➡️ Win #3: Add Stronger CTAs for Travel Recommendations
There are many well-written articles about specific travel destinations and travel listicle articles like "14 Best Hotels With Private Hot Tubs" and "14 Best Luxury Honeymoon Destinations in the World".
This site can increase monthly revenue by adding stronger calls to action to both commercial and informational articles. Luxury Columnist currently uses text links, which can be easily missed by visitors who are quickly scanning the page.
The text color of affiliate links also blends in with the rest of the site because it uses the same color as regular links.
More visual CTAs that attract the eye like comparison tables, product boxes, buttons, or popups would increase the click-through rate for affiliate links.
A good example is the site NinaOutAndAbout.ca by Nina Clapperton who reported $27,648 income from 202K pageviews ($0.13 per pageview) in a recent month.
Nina achieves a high revenue per visitor by using multiple types of calls-to-action throughout her articles like comparison tables with her top recommendations.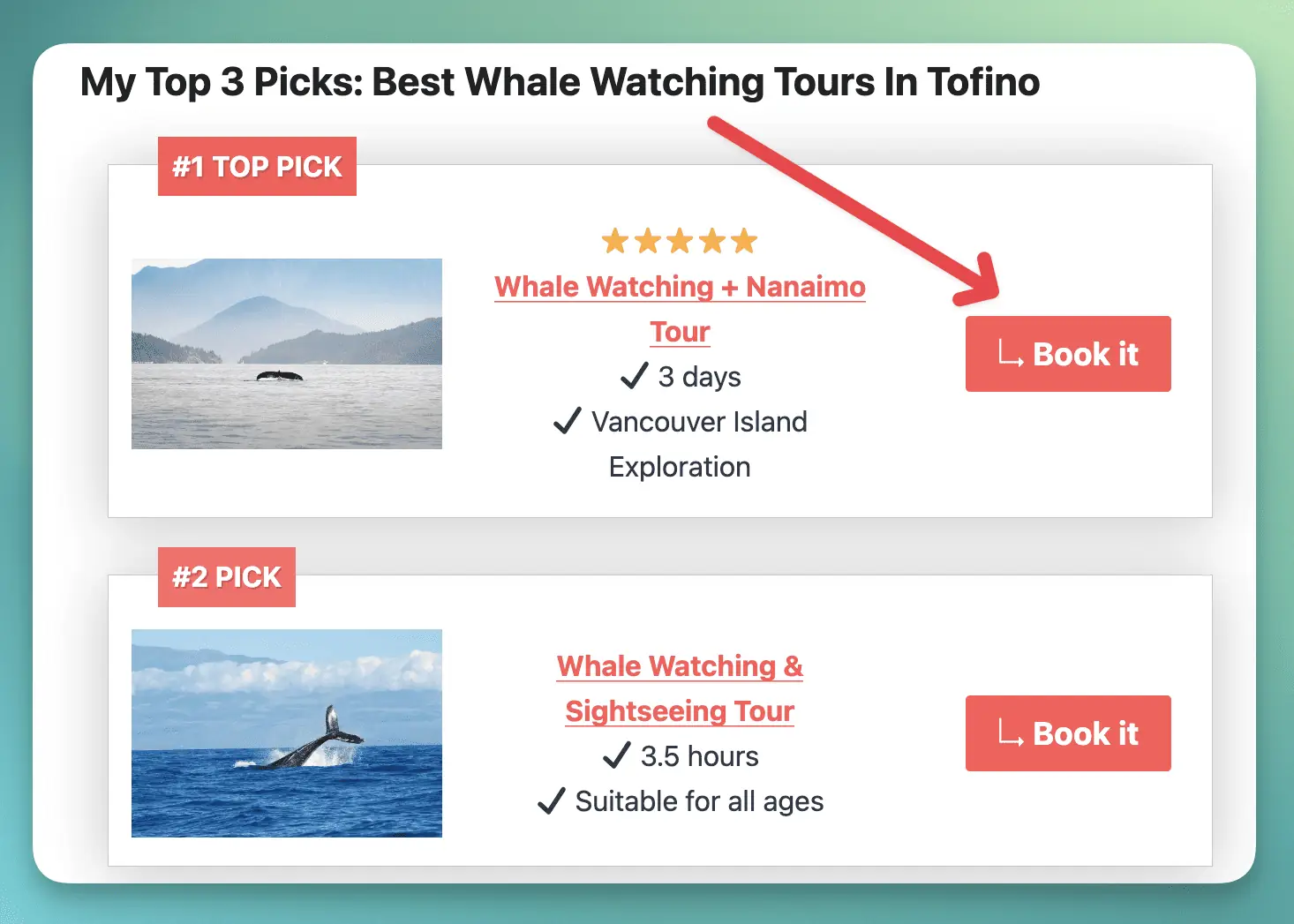 She also adds bright orange call-to-action buttons in travel listicle articles like "15 Best Hotels in Toronto with Private Hot Tubs (2023)".
Affiliate links with strong CTAs could also be added to relevant informational articles where it makes sense.
➡️ Win #4: Improve the Site's Focus on Luxury Topics
This site attempts to cover many loosely related topics, including fashion, travel, food, famous painters, quotes, Instagram captions, and more.
We have found that sites with strong Google rankings tend to have a narrow focus on a small number of related topics (unless they have very high link authority like Forbes).
A good example in this niche is TheLuxuryTravelExpert.com which has a strong focus on the best luxury hotels in different cities and countries and ranks very well for these keywords. Having many articles about the topic of luxury hotels helps Google's algorithm determine that the site is an authority on the topic.
It also is more efficient to produce content on a single topic than multiple topics because there is less research time required. Additionally, the related articles can link to each other with relevant keywords in the anchor text, which will help improve the SEO of these pages.
While we wouldn't delete off-topic articles that are receiving good traffic, we would focus on a short list of topics in the future.
One option that could work well is to move the off-topic content to a new site that is entirely focused on the topic (e.g. quotes, Instagram captions) and then 301 redirect the old URLs to the new site's URLs. We have seen this strategy work very well with one spin-off site growing to over 100k traffic.
➡️ Win #5: Answer Common Questions About Prices of Expensive Products (With Data)
Many people are curious about the prices of expensive products like luxury vacations, high-end restaurants, and luxury fashion products.
One content type that is already performing very well on this site is listicles about the "Most Expensive X in the World". They have covered the most expensive fish, hobbies, buildings, car brands, clothing brands, and many more.
We recommend publishing more content like this about different luxury products.
Additionally, data-driven articles that provide prices of expensive products could perform very well and attract a lot of organic links to help grow the site's SEO authority.
In the past, we have covered how statistics pages are a great way to earn passive links from journalists and content creators looking for data to cite in their articles.
Informational pages about the actual price of luxury products could work similarly well. Some examples could be "How much does a luxury cruise cost?" and "How much does it cost to rent a yacht?"
To make the data more easily accessible to potential linkers, it is a good practice to highlight the main data points with quote boxes or graphics.
---
👉 Actionable Takeaways
Here are actionable takeaways that you can apply to your niche website today:
License existing content assets like professional photos to acquire links with low effort.
Replace text CTAs with visual CTAs to increase click-through-rate on affiliate links.
Avoid covering too many unrelated topics within a niche because it is often less efficient and effective compared to a narrowly focused site.
Create data-driven articles about the prices of products in the niche to attract natural links, similar to statistics pages.