I analyze a 4-year-old authority travel website, TravelSafe-Abroad.com. The site receives 310,000+ pageviews per month (Ahrefs estimate).
This site is an interesting blend of educational and commercial content. It was established in 2018 using an expired domain name that formerly belonged to a travel insurance company. As always, we identify a few areas that could be improved in order to achieve easy revenue wins.
This is what I cover in this report:
Website overview
Major highlights
Why is the site "winning"?
Competitor overview
Easy wins
How much is this website worth (valuation)
Actionable takeaways you can apply
Let's get into it!
---
---
✅ Website Overview & Highlights
Over the past 12 months, the website has experienced explosive growth, increasing from 150,000 monthly visits to 310,000 today.
Additionally, the site boasts more than 5,300 referring domains, of which 2,000 sites link to the site with a do-follow backlink.
The website's domain has been in use since 2000, with two prior versions serving as websites for international travel insurance.
The domain remained inactive after 2007 until the current owner acquired it four years ago.
The website design is a bit outdated (in my opinion), and the homepage needs to be improved since it is not consistent with the image of an organization that writes about safe travel practices.
Highlights
More than 7,000 pages and posts published
Revenue is split between display ads and numerous affiliate deals
Great backlink profile with links from sites like LATimes, DailyHive, WorldNomads, and much more
Why is this site "winning"?
Extreme topical authority covering every major city in the world
Built on hyper-relevant expired domain registered 23 years ago
Programmatic SEO content lending to quick deployment of content plus topical authority
Top 3 Competitors
TravellersWorldwide.com – a similar site with tremendous growth, 1.2M traffic according to Ahrefs, great content
ExpatArrivals.com – everything related to ex-pats, interesting shoulder niche for future content, 180K+ traffic according to Ahrefs
WorldNomads.com – 200K+ traffic according to Ahrefs, a decade-old authoritative site with more than 15K referring domains.
Let's get into the easy wins to grow this specific website.
---
🔥 4 Easy Wins To Grow This Website
There are opportunities to significantly grow this brand. I break down the following easy wins:
Enhance buying guides
Connect existing programmatic content with listicles
Replace hotel/booking affiliate links
Add different types of content
Let's get into it!
➡️ Win #1: Enhance Buying Guides
The affiliate content lacks proper organization and could benefit from improved calls-to-action.
It is noteworthy that the majority of buying guides are not ranking well. Here is a selection of articles:
The reason for not ranking can be attributed to poorly structured articles and the owner's attempt to rank for "unattainable" keywords such as "best hiking boots. This is how I would improve.
💰 Restructure buying guides
At present, the majority of buying guides comprise a list of products with brief reviews.
Here is an example where upon loading a guide, the first thing shown is a comparison table:
This is the proper structure for buying guide content:
Introduction
Comparison Table
Top X Reviews

Review 1
Review 2
Review [N]

Buying Guide
FAQs
Verdict
Also, the content quality for buying guides needs to be TOP notch. Upon reading some of the guides, it's rehashed content from Amazon listings. This will not fly in 2023. An effort needs to be put into doing a thorough review (ideally hands-on) of products discussed in the buying guides. Quality > quantity.
💰 Improve existing CTA's
The existing comparison table (see below image) can be improved. It is not necessary to include more than 5 products; the focus should be on the top 3 products ranked. I suggest replacing the rating column with a list of three key advantages of each product via a bullet list.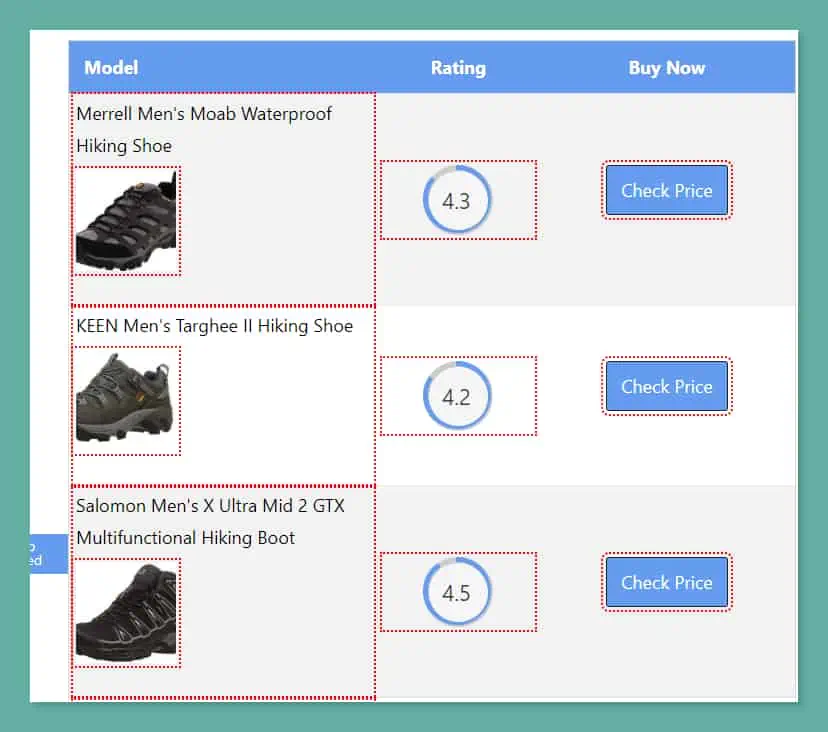 Additionally, I also recommend altering the color of the button to a contrasting hue to the main site's colors that will grab the visitor's attention.
When choosing colors for call-to-action buttons on a website, it is generally recommended to use bright, attention-grabbing colors that stand out from the surrounding content. Some effective options for this site include typical red, the opposite color to the main color (5583c7), or Amazon like orange.
➡️ Win #2: Connect existing programmatic data with listicles
The website utilizes programmatic SEO. A simple and effective strategy would be to automatically incorporate data from the dedicated city pages into every listicle article where the city is referenced.
This allows the owner to easily incorporate automated content into listicles helping Google see the content is up-to-date compared to competitor listicles.
I would also add new programmatic content using filters based on
continent,
country,
coastal/mountain locations,
size,
and other relevant criteria sourced from city pages
➡️ Win #3: Replace hotel/booking affiliate links
At present, the website employs hotel booking affiliates via iframes and native ads sourced directly from booking providers such as Kayak and Priceline.
Replacing the current hotel booking affiliates with customized call-to-action buttons and manually sourced affiliate links can lead to improved results, ultimately boosting revenue from this source.
The elements that should be added to the pages are:
Product boxes showcasing hotels
Contextual links placed within existing content
Comparison table of top hotels, services, etc in the city
These alone can significantly increase revenues. An IFrame with hotel offers is outdated.
➡️ Win #4: Add more content
Some new content ideas for this site would be:
Develop a section focused on travel for specific demographics, such as solo travelers, expats, families, or retirees
Go opposite with your content; write a list of the most dangerous places that you should avoid
Develop a silo dedicated to adventure travel, featuring articles and guides focused on activities like hiking, rock climbing, and scuba diving. Internal link buying guides (e.g., best hiking boots) into these new articles.
Incorporate new programmatic content such as "Is Drinking Water Safe in [XYZ] City"
---
💰 How Much Is this Website Worth?
Here are the assumptions I am making:
310,000 pageviews/mo according to Ahrefs
Primarily monetized by display ads
Based on the site's current traffic and the average RPM in the industry, we estimate that the site earns between $8,000 and $10,000 per month from display ads alone.
From my experience, the affiliate content (hotel affiliate, Amazon) would not perform too well on this site as-is. Therefore, that revenue is negligible. It has potential but is just not optimized as of now.
I would value the site in the range of 37-40X, resulting in a final price of around $296,000 to $400,000.
---
👉 Actionable Takeaways
Here are actionable takeaways that you can apply to your niche website today:
By improving the site's affiliate content, you will be able to diversify your revenue streams and make the site more appealing to potential buyers. Any buyer would pay a premium for multiple revenue streams.
Leverage existing data in your content. It does not need to be programmatic at first. Just collect data, present it in an easy-to-read fashion, and integrate it within existing content. You can invest in automation later.
Affiliate offers need to be visually appealing. You are asking the reader to click (as opposed to display ads where they view) and thus it needs to have enticing copywriting, visual CTAs, and be well-integrated within the content.