After reviewing and publishing thousands of pages of content since 2008, I have put together a checklist of the most important elements when evaluating content quality for niche sites.
Referencing this checklist can help you evaluate whether your outsourced articles are sufficient in quality or whether they need improvements.
You can also use this checklist to evaluate the overall content quality of a niche site that you are interested in purchasing from a seller.
In this guide we cover:
A checklist of 10 key questions for evaluating content quality
8 additional content quality factors to consider
Let's get into it!
---
---
What Does Google Consider "Quality Content"?
With over 90% of search engine market share, Google is the most important judge of whether your content is "high quality" or not.
Therefore, we should publish content with the characteristics of "high quality" content that Google emphasizes in its documentation, statements from spokespeople, and the Search Quality Rater Guidelines.
Google has emphasized the idea of publishing "quality content" for many years, but what does quality content mean to Google?

Some of the most important elements of content quality from Google's perspective are:
Unique and original
Satisfying amount of accurate information
Comprehensiveness or completeness
Clear communication
Expertise, authoritativeness, and trust (EAT)
Google discourages certain characteristics in content and labels them as web spam or low quality. These characteristics include:
Auto generated content (but programmatic SEO sites with unique content still do well)
Scraped or copied content
Thin content pages that add no value to the user
Keyword stuffing
Spammy user-generated content
Here are 10 of the most important elements to check when evaluating the content quality of a page.
---
1. Does it Match the Searcher's Intent?
Google wants to provide the most relevant results to users. Without matching the searcher's intent, a page has a low chance of ranking highly for a specific keyword phrase.
Your article should answer the searcher's main question, ideally at the beginning of the article.
It's helpful to cover related questions in the middle or end of the article with related keywords in the subheadings or in a FAQs section.

To make it easier for the reader to find the answer they are looking for, you can include a table of contents with jump links to each subheading.
It also helps to match the content type that Google has identified as being ideal for the search intent. For example, if all the top pages are listicles, then producing content in the same format usually gives you the best chance to rank highly.
---
2. Is There a Narrow Focus on the Topic?
The article should focus on the main topic and not cover irrelevant, tangential, or unnecessary subtopics that inflate word count without adding value or useful information. A narrow focus on the topic helps increase the relevancy of a page.
Unnecessary content that dilutes the focus of the article should be avoided. Some examples are:
A history of the topic
A personal story about the topic
Somewhat related subtopics that should be on a separate page
A lengthy introduction or conclusion
Based on your judgment and experience in the niche, it may or may not make sense to include content on related topics if it will help the reader and doesn't overly dilute the focus of the article.
---
3. Is the Topic Covered Completely and Comprehensively?
The article should cover the most important aspects of the topic that a typical searcher would expect to find. Google states in its SEO Starter Guide that publishers should avoid "providing insufficient content for the purpose of the page."
An appropriate amount of completeness or comprehensiveness is one of the characteristics that Google trains its human quality raters to look for when testing the effectiveness of its algorithm.
Having too little content for a specific topic could be viewed by Google as low quality. According to the Search Rater's Guidelines, an encyclopedia article about World War II with just a few paragraphs has an "unsatisfying amount" of content and would be considered low quality.
---
4. Does it Include Important Keywords?
To rank well in Google, the article content should include at least a couple of natural mentions of the target keyword.
The Google SEO documentation says to think about the words people would use to search and "make sure that your site actually includes those words within it".
It also helps to include related keywords naturally in the article. This will improve rankings for secondary keywords and also help Google's algorithms to understand what the article is about.
Avoid keyword stuffing by adding keywords excessively and unnaturally to the article. Google discourages this and it can hurt rankings.
You can use MarketMuse or SurferSEO to find the keywords that are included by the other pages that are ranked highly in Google. MarketMuse allows 15 free queries per month on their free plan (requires a business email address).

---
5. Is Content Factually Correct and Well Researched?
Your content should be based on good research with factually correct information that is sourced from authoritative and trustworthy sources.
Providing "merely commonly-known information that would be of little benefit" is considered by Google to be a characteristic of low quality (section 6.7 of the Search Quality Rater Guidelines).
Require writers to link to the source of any specific facts or statistics to make it easier for the reader to trust the accuracy of the information provided. Writers can also provide you with a list of references used so you know which sources were used during research.
The amount of time and effort that writers put into research can vary. The best writers are willing to conduct adequate research and consistently add valuable information beyond commonly known facts.
---
6. Are There Grammar and Spelling Errors?
Google's John Mueller said that poor spelling and grammar can impact how Google evaluates the quality of content on a site.
The Search Rater Guidelines state that too many spelling and grammar errors make the content look unprofessional and help to justify a low quality rating.
The Grammarly score provides a useful metric for estimating the writing quality based on the number of grammar and spelling issues found. You can check the Grammarly score for an article by pasting the text into the free version of the Grammarly web app.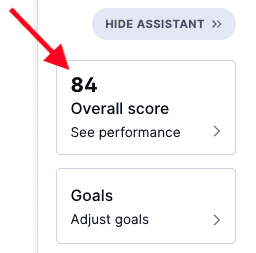 ---
7. Is There Duplicate Content or Plagiarism?
Google wants content to be unique and original and discourages "scraped content". Any copying by writers needs to be detected as soon as possible. Not only can it be costly to pay for unusable content that has been copied, but it also creates the risk of legal consequences from copyright infringement.
I recommend using Copyscape Premium to check whether an article has duplicate content. It costs 3 cents for the first 200 words and 1 cent per additional 100 words.
Grammarly can also check your text for plagiarism against billions of webpages with their paid plan (a free trial is available).
You can also do spot checks by copying a string of words or a sentence from the article and searching for the string in Google with quotation marks.
Also watch out for close rewriting, where an article is copied with slight changes. Google calls this "copied with minimal alteration" and considers this copied content that warrants the lowest quality rating.
---
8. Is There Any Fluff Content?
Writers who work on a per word basis are incentivized to write words as quickly as possible.
If you find that a writer is adding too many unnecessary filler words or unhelpful sentences that don't add any value, it is usually best to get rid of them quickly.
Some examples of fluff to watch out for include:
Unnecessary sentences that are not useful for the purpose of the article
Sentences are longer than they need to be
Filler words that make sentences less concise
Off topic information
Irrelevant details or trivia
Commonly known or obvious information
Personal stories or opinions
Repeating information
---
9. Is There Any AI-Generated Content?
Google discourages and penalizes automatically generated content and John Mueller has said that AI-generated content falls under this category. I have seen several large AI generated content sites get penalized and lose over 90% of their organic traffic.
With the increase in AI content tools like Jasper AI or Copy.ai, some writers may be tempted to use AI-generated tools to write articles faster.

When outsourcing articles, this is something to be aware of. In some cases, you may be fine with a writer using AI tools if they are properly editing and fact-checking any AI-generated content.
---
10. Are There Sufficient EAT Signals (Expertise, Authoritativeness, Trust)?
Adding information about an expert author can help increase the perceived expertise, authoritativeness, and trust of the article. Google places a strong emphasis on the importance of EAT when evaluating content quality and is especially important in YMYL niches ("Your Money, Your Life").
Danny Sullivan from Google stated on Twitter that they "use a variety of signals as a proxy to tell if content seems to match E-A-T as humans would assess it."
Some ways to increase the EAT of content include:
Receiving links from highly authoritative sites (e.g. Forbes, NY Times)
Adding an author bio to the article that explains the author's experience and expertise in the subject
Getting original quotes from experts in the field (like a journalist would)
Linking the author bio to the about us page with more information about the author's expertise and credentials
Adding contact information (phone number, business email address)
Adding author schema markup to articles
Forbes adds Q&A with experts to some of their buying guides to improve EAT of these articles.
---
Other Items to Consider
According to John Mueller from Google, quality content includes more than just the text on a page. Here are 8 additional items to consider:
Would someone link to the article as a natural reference?
Are paragraphs short to allow for easy scanning and good readability (no large walls of text)?
Are there good descriptive headings to help the reader scan and find the information they seek?
Is the reading grade level appropriate for the audience?
Is the writing engaging and interesting enough to keep the reader from bouncing?
Are there relevant images to complement the text content?
Are there very distracting ads that make it difficult to view the main content (e.g., difficult to close popup ads)?
Does the page load quickly enough to provide a good user experience?
---
---
Wrap Up
Understanding and implementing the most important elements of quality content that are valued by Google will give you an advantage over competitors in your niche. Again, this topic is very subjective. My understanding of "quality" will differ from yours and from Google.
Refer to this checklist to ensure that your outsourced content contains the important elements that will help train Google's algorithms to evaluate your content favorably.