We analyzed a database of 1,193 websites that use Mediavine display ads for monetization. In this Mediavine review, we share the raw data, metrics, popular niches, expert insights, and overall impressions about the ad network.
Mediavine is one of the top display advertising networks, and sites that get accepted are usually of high quality. Learning from these sites can reveal insights into what's working today.
To run this analysis, we collected data of the 1,193 websites through AHREFs, Google Search API, and manual labor from our team. We then performed the data crunching in Google Sheets.
Here is what's covered in this report:
Google Sheet with all raw data
Index pages, backlinks, domain rating findings from 1,193 websites
Notable out-of-the-box niches
Aged domain examples
Review of Mediavine
Let's get into it.
---
Summary of 3 Key Findings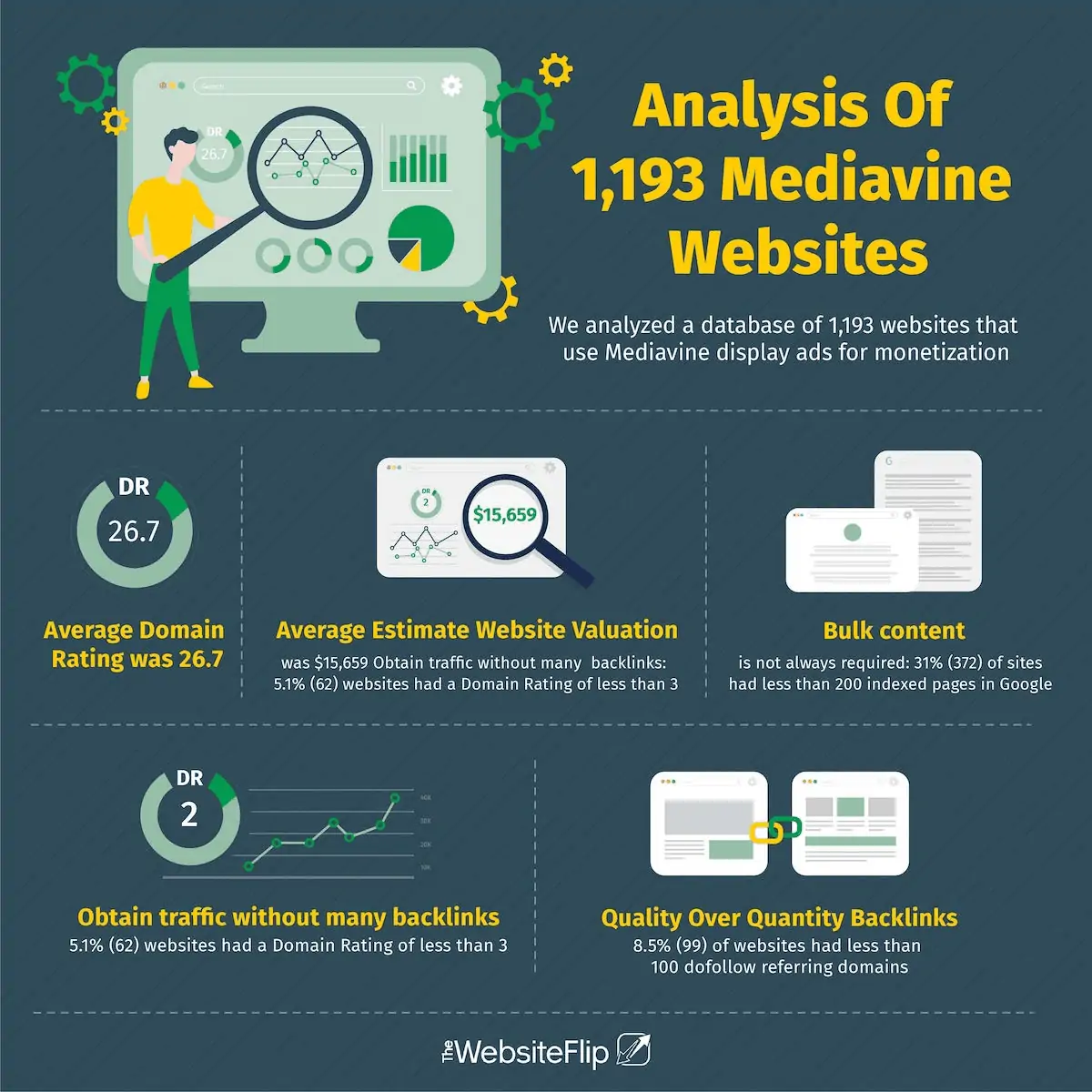 Here is the bottom-line-up-front:
Obtain traffic without many backlinks: 5.1% (62) websites had a AHREFs DR of less than 3
Quality over quantity backlinks: 8.5% (99) of websites had less than 100 dofollow referring domains
Bulk content is not always required: 26% (310) of sites had less than 200 indexed pages in Google
This data shows that by finding the right niche (low competition, abundance of keywords), you can generate significant traffic (as the 5.1% of websites did in our sample size).
Also, quality content always beats bulk content which is shown by a significant 31% of sites with less than 200 pages in Google.
---
View The Raw Mediavine Data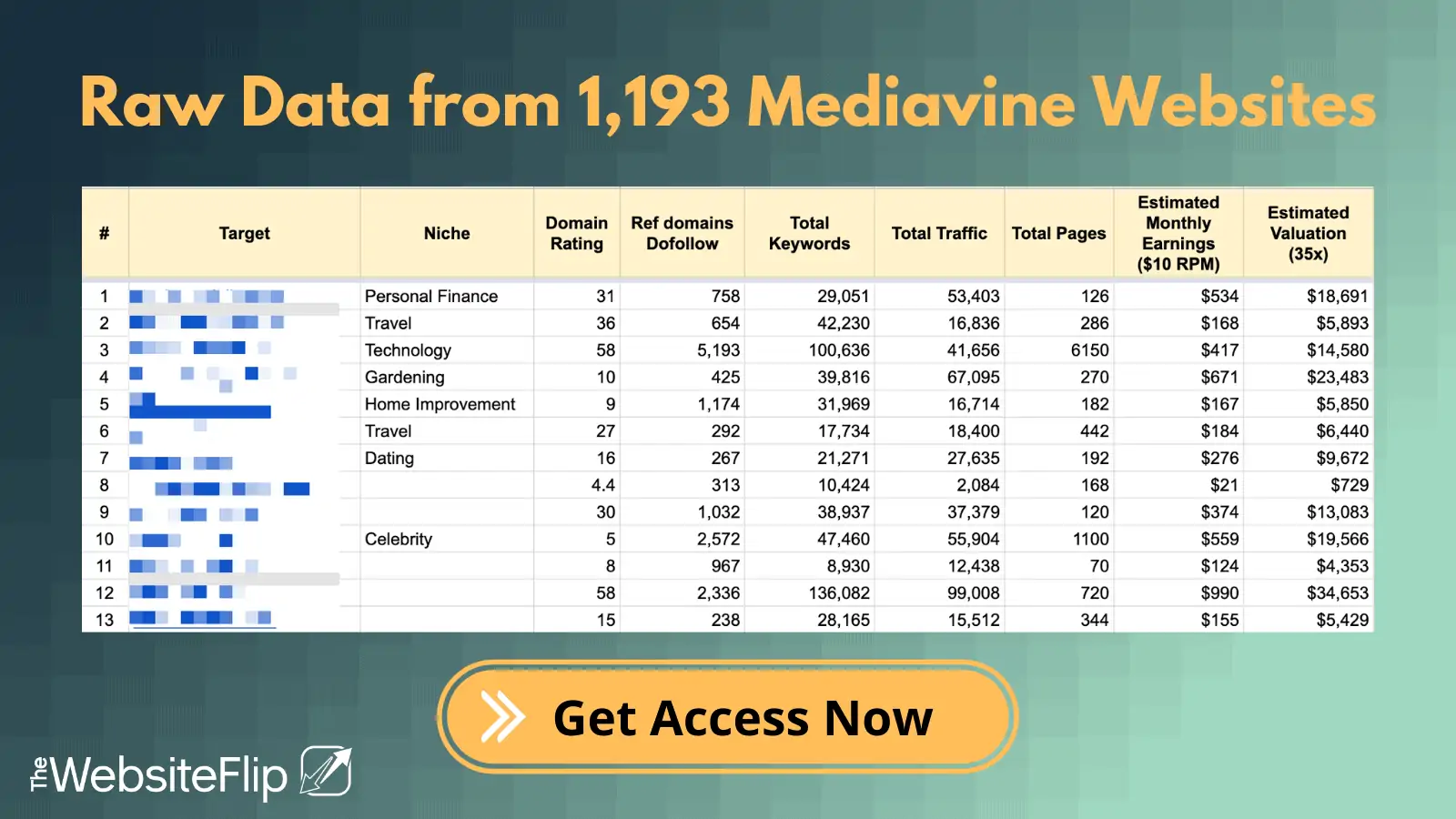 If you would like access to a Google Sheet with a breakdown of all of the data, check it out below:
---
Overall Data Insights from Mediavine Approved Websites
| | |
| --- | --- |
| Number of Sites | 1,193 |
| Average Traffic | 44,740 |
| Median Traffic | 22,253 |
| Average Keywords | 47,217 |
| Median Keywords | 26,467 |
| Average Indexed Pages | 2,811 |
| Median Indexed Pages | 343 |
The median AHREFs traffic of the Mediavine sites was 22,253. The traffic estimates provided by AHREFs are typically significantly lower than the actual organic traffic.
Some websites in our sample had less than 5,000 AHREFs traffic. These websites probably receive a high percentage of traffic from social media sources such as Pinterest or Instagram rather than Google search traffic.
Indexed Pages Insights: 26% of Sites with Less than 200 Pages
We found the number of indexed pages for each site by using the "site:" search operator and collected the data using the Google Search API.
Here's a chart that summarizes the findings: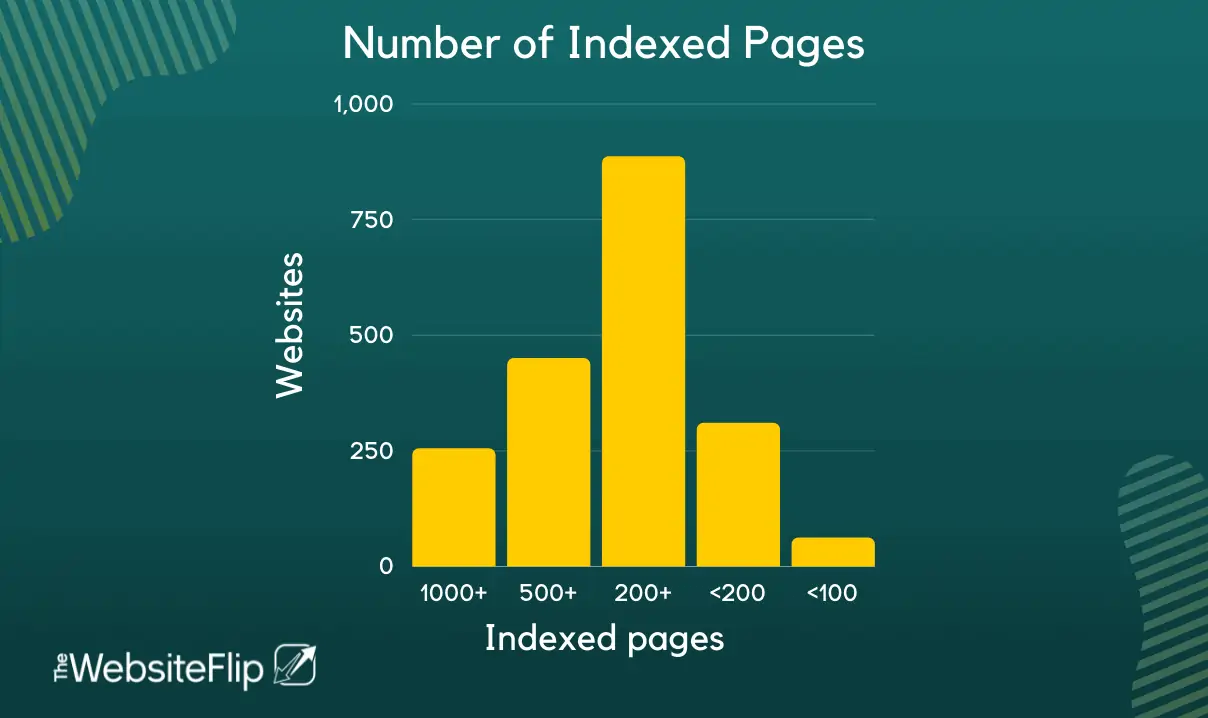 This is not a perfectly accurate count of the number of each website's pages, but a good estimate. The number of pages may be inflated by auto-generated pages like category pages.
The median number of indexed pages in our sample was 343. However, there were many examples of websites with much fewer indexed pages on their website.
Here is a summary:
310 websites had less than 200 indexed pages
62 websites had less than 100 indexed pages
255 websites in our sample had more than 1,000 indexed pages
450 websites in our sample had more than 500 indexed pages
886 websites in our sample had more than 200 indexed pages
Backlink Referring Domain Insights: 46% had 1,000+ Dofollow Domains
The median website in our sample had a relatively high number of dofollow referring domains at 861. The median website had a fairly strong domain rating of 26.

However, there are many websites that are able to get accepted to Mediavine with a much lower number of dofollow referring domains and a low domain rating.
Here are the findings:
65 websites from the sample had less than 100 dofollow referring domains.
34 websites from the sample had less than 50 dofollow referring domains.
550 websites from the sample had over 1,000 dofollow referring domains.
781 websites from the sample had over 500 dofollow referring domains.
1032 websites from the sample had over 200 dofollow referring domains.
Here is a chart showcasing these results:
AHREFs Domain Rating Insights: Average DR of 26.7
The average domain rating of our sample size was 26.7 with a median of 26.
Here are the findings:
228 websites from the sample had a Domain Rating less than 10.
118 websites from the sample had a Domain Rating greater than 50.
460 websites from the sample had a Domain Rating greater than 30.
953 websites from the sample had a Domain Rating greater than 10.
Estimated Earnings Insights
| | |
| --- | --- |
| Avg Monthly Earnings($10 RPM) | $447 |
| Median Monthly Earnings($10 RPM) | $223 |
| Avg Valuation | $15,659 |
| Median Valuation | $7,788 |
We estimated the monthly earnings of each site based on AHREFs traffic and a conservative $10 RPM (revenue per thousand impressions). We also estimated website valuations based on 35 times monthly earnings (according to DealFeed the current average multiple is around 35.24x).
Since AHREFs typically underestimate traffic and the actual RPM is likely higher, the actual monthly earnings are likely significantly higher.
However, this is a good method to roughly estimate monthly earnings to identify niche opportunities from websites with high earnings from a low number of referring domains or a low number of pages.
3 Aged Domain Examples
We found a handful of Mediavine websites in our sample that were built on an aged domain or expired domain.
One example is a website for a popular pizza restaurant that was converted to an informational website about pizza that has an AHREFs traffic estimate of 94,660 per month with about 195 pages.
The website of a former NFL player started publishing lots of sporting good reviews and grew to over 200,000 traffic according to AHREFs with just 300 dofollow referring domains and Domain Rating of 16.
A website that was previously about a Miami bar appears to have been acquired and the new owner has published content about audio equipment reviews and IT certifications. This website was previously listed for sale at Motion Invest.
4 Notable Niches from Mediavine Website Samples
When reviewing Mediavine member websites you can discover some interesting niches that you may not have thought about and maybe less competitive than popular niches like food and travel. Some interesting niches that we discovered from the sample include:
1. Astrology
Astrology is a booming niche with millions of people checking astrology websites daily. The keyword "zodiac signs" has 2.7 million monthly searches according to Ahrefs.
2. Activities for Kids
One website from our sample that provides kids activity ideas had traffic of over 3.5 million according to AHREFs with a DR of 39 (20,628 dofollow referring domains).
Another website that focused on "things to do with teens in [city]" had 40,000 traffic with a DR of just 1.1 and 56 dofollow referring domains.
3. 3D Printing
The Google trend for "3D printing" increased significantly in 2013 and has been stable since then while the technology continues to improve. This is also a high ticket item so affiliate earnings can be high.
4. Things in Order (like books)
A website about books in chronological order (e.g., "Harry Potter books in order") has over 500,000 monthly traffic with a domain rating of 39 and 1600 dofollow referring domains. There may be an opportunity to cover other niches related to the chronological order of things.
Other Notable Niches
Other Interesting niches that may be a good opportunity to explore include:
Rock finding
Pest control
Motivational quotes or success quotes
Things to do in a specific state
---
A Look Into Mediavine: Our Review
Mediavine's Requirements For Approval
Mediavine is a premium ad network and is selective with the websites they approve.
Mediavine's main requirements are:
50,000 sessions in the previous 30 days according to Google Analytics
Good standing with Google AdSense
Original content in a lifestyle niche
"Long-form, engaging content"
Popular Niches for Mediavine Websites
Mediavine approved websites generally cover lifestyle-related niches. The most common niches found in our sample include:
Pets
Food & Beverage
Travel
Health & Fitness
Home Decor
Home Improvement
Automotive
Personal Finance
Mediavine's WordPress Theme
Mediavine offers its own WordPress theme called Trellis for anyone to use at a cost of $149 annually or $14.95 per month.

The Trellis theme was built to provide website owners with a fast-loading theme that passes Google's Core Web Vitals. It also has optimized ad placements that can increase earnings from display ads.
Mediavine's Video Ads
Mediavine provides a "Universal Media Player" that will play short video ads next to your content and offers an opportunity to boost earnings. Mediavine says that publishers without video who enabled the Universal Media Player saw an average 34% increase in RPM.
Growth Scouter, a successful publisher who shares his journey on YouTube, reported a 23.5% increase in earnings after adding video ads to his Mediavine website.
Once added, the Mediavine analytics reports the impressions, revenue, and CPM (cost per mille) for the Universal Player.
Mediavine's Facebook Group
Similar to AdThrive and Ezoic, Mediavine has an exclusive Facebook group where members can ask questions to the community and share effective tactics for publishing content that generates lots of traffic.
Mediavine vs AdThrive
AdThrive is another popular premium ad network that is similar to Mediavine but they require 100,000 monthly pageviews. AdThrive will allow additional websites to be added with at least 30,000 monthly pageviews.

Jon Dykstra from Fat Stacks uses AdThrive on his websites and highly recommends it for maximizing revenue. According to his August 2021 income report, he earned a $29.32 RPS (revenue per 1,000 sessions) on his largest site for total revenue of $80,530 for the month.
AdThrive also offers a guarantee that they will increase your RPM by at least 20% if you switch from another network.
Mediavine vs Ezoic
Ezoic is an ad network that allows most content websites to join and they don't have a minimum traffic requirement. Earnings from Ezoic are typically lower than premium ad networks like Mediavine and AdThrive.
Popular Types of Content
We found the following types of content that were common in our sample:
Listicles
How to
Answer to a question
Product reviews
Recipes
Popular Title Formats
You can learn a lot about effective title formats and keywords to target by reviewing the top pages of successful websites in AHREFs.
Some common title formats from our sample include:
7 Ways to Tell if X
How to X
7 Best X for Y
X Not Working (How to Fix)
Best X in [City]
How to Reheat X
Best Gifts for X
X in [State]
X Near Me
Complete List of X
History of X
X vs Y – What's the Difference?
X in order
7 Best X Alternatives
7 Best Sites Like X
---
Final Takeaways
A website that has been accepted to Mediavine has had at least 50,000 pageviews in a 30 day period and provides many learning opportunities like niche opportunities, content strategy, and link-building tactics.
One of the best ways to shortcut your website building process is to find out what is working well for other successful content publishers. You can then implement proven tactics and strategies to reach your goals faster.