This week we analyze an 8-year-old astrophotography niche site, AstroBackyard.com. The site receives 210,000+ pageviews per month (Ahrefs estimate).
The owner of this brand has done a great job of building a comprehensive resource for people who are getting started in astrophotography and looking for the proper gear that is needed for this hobby.
In this teardown we look at what things the site creator has done effectively and areas that can be improved to take this brand to the next level.
This is what I cover in this report:
Website overview
Major highlights
Competitor overview
Easy wins to increase revenue and/or traffic
Actionable takeaways you can apply
Let's get into it!
---
---
✅ Website Overview & Highlights
The website has had strong growth in organic traffic over the last couple of years, increasing from 47k traffic in September 2021 to 210k traffic in September 2023.
The traffic has trended upward since the site was started with no significant drops from Google updates.
AstroBackyard.com was started around 2016 by amateur astrophotographer Trevor Jones. He previously worked as a marketing director but is now able to work full-time on the site and YouTube channel.
Trevor has done a tremendous job of building a diverse media business with a strong presence across multiple platforms including Google, YouTube, Instagram, Twitter, and Pinterest. As a result, AstroBackyard has grown into a well-known brand with an estimated 700 monthly Google searches for the brand name.
He also does a great job of establishing credibility on buying guides by stating his experience using the actual products. While experience with products is not always necessary, this helps differentiate it from other review sites.
The website design is simple but professional enough to gain the reader's trust. It uses the Kadence WordPress theme which has a good reputation for page speed optimization.
Highlights
Strong YouTube presence with 300 videos and 454k subscribers
Pinterest account with 148k followers and 1.1 million monthly views
Strong link profile with 5,500 referring domains
Why is this site winning?
The content demonstrates strong subject matter expertise
The author shows real-life experience with the products and takes original photos
Strong links from sites like The Verge, Science.org, Slate.com, and Gizmodo
A memorable and descriptive domain name with 700 monthly brand searches (Ahrefs)
Top 3 Competitors
Here are similar competitors targeting many of the same keywords:
SkyAtNightMagazine.com – The website for the largest astronomy print magazine in the UK (104k organic traffic Ahrefs).
NinePlanets.org – One of the first astronomy sites on the Internet that has been repurposed into a niche site with buying guides (147k organic traffic Ahrefs).
Galactic-Hunter.com – A similar site to AstroBackyard that offers a bundle of courses on astrophotography (15k organic traffic Ahrefs).
Let's get into the easy wins to grow this specific website.
---
🔥 5 Easy Wins To Grow This Website
There are opportunities to significantly grow this brand. I break down the following easy wins:
Add affiliate links to images
Create courses on astrophotography or promote an affiliate
Utilize the sidebar with a sticky affiliate widget
Add more email signup CTAs to build the email list
License photos for passive link building
Let's get into it!
➡️ Win #1: Add Affiliate Links to Images
Many of the original images on this site are currently linking to the image file or are static images with no link.
Here is one example:
The owner can instead add an image link to the associated affiliate product since people who click on an image are highly interested in the product.
A call to action button could be added when the visitor's cursor hovers on an image. Alternatively, a CTA button or a text link can be added below images with text like "Learn more about X" or "Check Today's Price".
Another approach could be to add an affiliate product box below the photo with information about specifications and features.
➡️ Win #2: Create Courses on Astrophotography or Promote an Affiliate
Astrophotography is a good niche to create a course in because it is a hobby that has a lot of technical knowledge and requires a lot of education. Many beginners are looking for a course that teaches them exactly how to get started and a community of people with an interest in astrophotography.
While Trevor does have a downloadable guide on image processing for $39 there is an opportunity to significantly increase revenue from his large engaged audience of hundreds of thousands of people per month who consume the content on his website and YouTube channel.
A course could also offer access to a valuable community where members can connect with other aspiring astrophotographers and help each other.
Galactic Hunter has a smaller audience but offers several astrophotography courses to its visitors and a course bundle for $579. They also have an affiliate program that pays $50 per referral (there may be better paying affiliates available).
➡️ Win #3: Utilize the Sidebar With a Sticky Affiliate Widget
The sidebar for articles is currently empty and this valuable real estate can be better utilized with calls to action.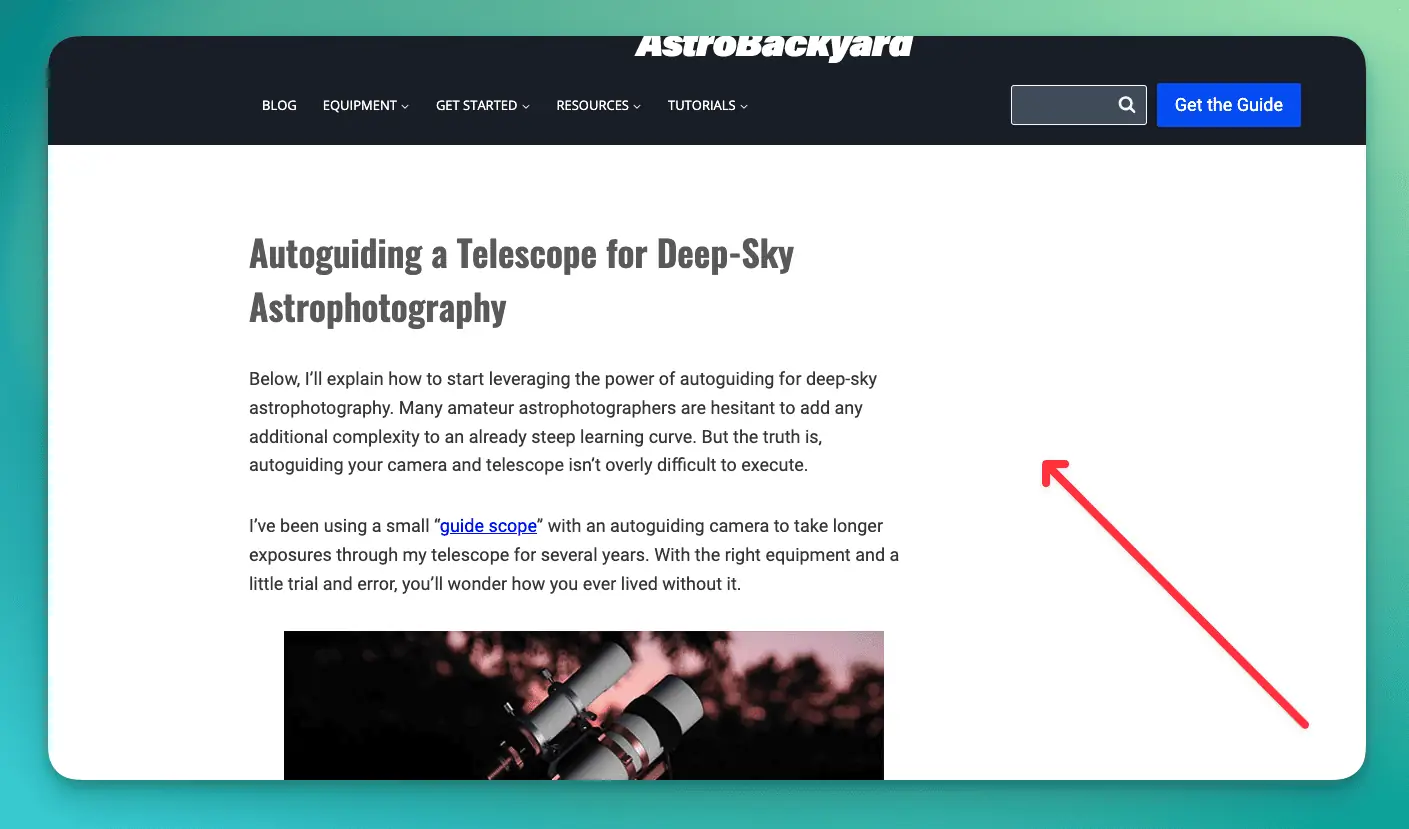 A good use for the sidebar space is a sticky widget with a call to action that links to the most profitable affiliate product.
Additionally, this space can be used to grow the email list with an email signup form.
It can also be used to increase trust signals for new visitors with a bio section about the author's experience and a "Featured On" box with logos of top media sites that have mentioned AstroBackyard.
➡️ Win #4: Add More Email Signup CTAs to Build the Email List
We found one email signup call to action that was almost hidden at the end of the homepage and when we signed up we didn't receive any emails.
Building an email list in this niche with many passionate hobbyists with high disposable income could add another valuable source of revenue through sponsorships and affiliate links. It could also send additional traffic to articles and YouTube videos that are promoted in the email newsletter.
The site could offer a free astrophotography guide as an incentive for readers to sign up for the email list. A good example of this approach is the sidebar email CTA on Succulents and Sunshine.
The site could also add a popup with an email signup call to action, one of the best ways to quickly grow an email list. With hundreds of thousands of monthly visitors, a large engaged email list can be built fairly easily.
When we signed up for the email newsletter we did not receive a welcome email. We recommend creating a welcome sequence of emails for new subscribers that educates them on the best resources on the site and YouTube channel.
➡️ Win #5: License Photos for Passive Link Building
Since this site focuses on space photography, there are many shareworthy astronomy photos like pictures of the Orion Nebula and the California Nebula. They also have many useful infographics like a diagram of a Dobsonian telescope.
Trevor already shares many of these professional quality images on Instagram where they can be embedded on any site.
While the site already has 5,500 referring domains, he can leverage his existing photo library to generate many more links by licensing the images under Creative Commons. He can also state that the images are free to share with attribution in the photo captions.
Site owners love to use beautiful astronomy images for many different topics from camping to astrology. By allowing other sites to use these images the owner can increase brand awareness and often receive a link back to the source.
Free photos can be promoted on sites like Pexels which has an estimated 33 million visitors per month according to Similar Web. Flickr gets an estimated 54 million visitors per month and allows visitors to search for photos with a Creative Commons license.
Pexels has its own license that states attribution is not required but appreciated. You can always contact sites that use your photos and politely ask for a link.
---
👉 Actionable Takeaways
Here are actionable takeaways that you can apply to your niche website today:
Taking original product photos is not required, but can help differentiate you from other review sites.
Although it is a lot of work, creating courses can be one of the most profitable activities for site owners in some niches.
Make sure to utilize valuable sidebar real estate for calls to action for your best affiliate product or offer.
Don't overlook the value of an email newsletter in niches with a valuable audience (like passionate hobbyists).
A library of professional images is a valuable asset for acquiring links less expensively than other methods.