Making your "niche" site into a true "authority" site requires improving the About Us page. Such a page will not add more profit to your bottom line, but it will provide necessary information to other sites that want to link to you, brands that want to partner with you, and help Google understand your expertise, authority, and trustworthiness (EAT).
It only takes a few minutes but many niche site owners don't put in the time to work on it.
In this write-up, I go over:
Why is an about page important
6 must-have elements to include
2 out-of-the-box elements that are optional
Let's get into it!
---
Why Does Google EAT Matter?
EAT stands for Expertise, Authority, Trust, and is a major metric that Google uses to determine website rankings. What type of expertise does the writer have on this topic? Why should readers believe them?
Google has stated that not only is EAT an important metric for ranking some sites above others, but it is one that is likely to increase in importance over time.
Here are some resources to read up on:
---
Why Does An About Page Help Google EAT?
An about page is an easy way to give visitors (and potentially Google) a feel for your expertise on the topic of the site.
What information are you more likely to trust: weight loss advice from a site with an about page talking about being a nutritionist and personal trainer, or an about page with a generic bio that doesn't say anything specific?
A good about page lets a webmaster talk about the history of the site, the reason or purpose behind it, any credentials or experiences that build trust or expertise.
This is the chance to show Google that the site author or authors should be considered trustworthy authorities in the topic. It's the first information Google gets on who the authors are and how the information they present should be treated in the search results.
---
6 Elements to Include in an About Page
An about page should never be seen as a throwaway page. This is a chance to build a rock solid page not only for Google and their bots but also for any readers who do research or potentially want to know more.
1. Website History and Purpose
If the website has a long history this is the time to talk about it. When this mixes with years of personal or educational experience, even better! Giving a direct purpose lets Google know what's important.
Take a look at this example:

A concise direct statement of purpose that has a summarized goal bolded at the end. That's not only good formatting for reading but it helps Google know "This part is important."
What if the individual has tons of experience but the website hasn't been around as long? If the website is based on an old newsletter, or a job/career that someone has had for decades, that experience still matters and can be parlayed into a site history.
Case in point for using history of the practice to the brand of the website: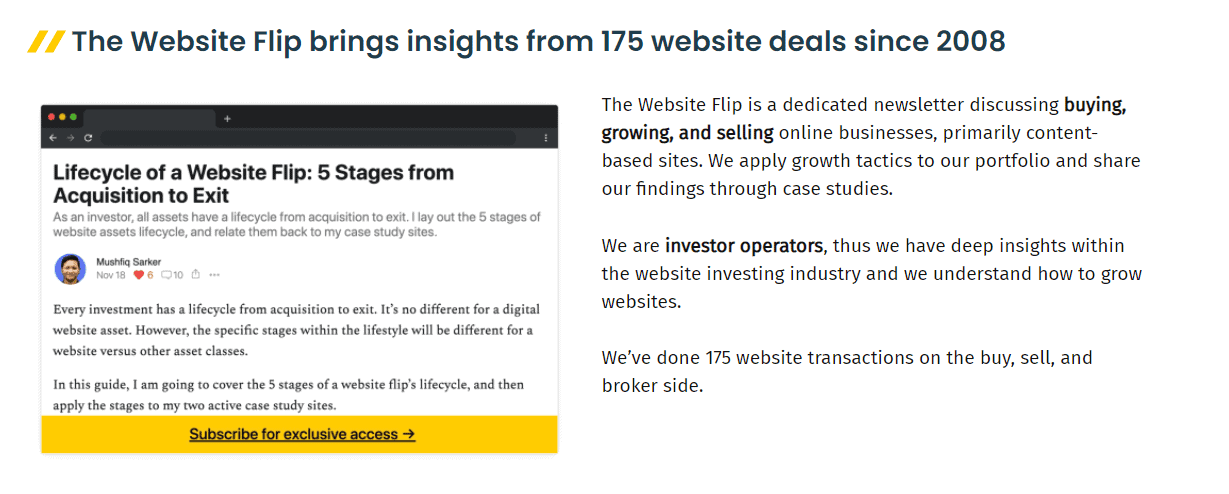 I always make sure the website history and purpose are covered.
2. About the Editor and/or Owner
Who is the name behind the articles? There are niche sites that have an About Page that don't show a picture or give a detailed bio, but these are fighting an uphill battle.
A good bio gives information on the person, credentials, and pictures or images give the indication of trustworthiness because the site owner isn't hiding.
This is also another opportunity to put forward relevant credentials to build trustworthiness and authority.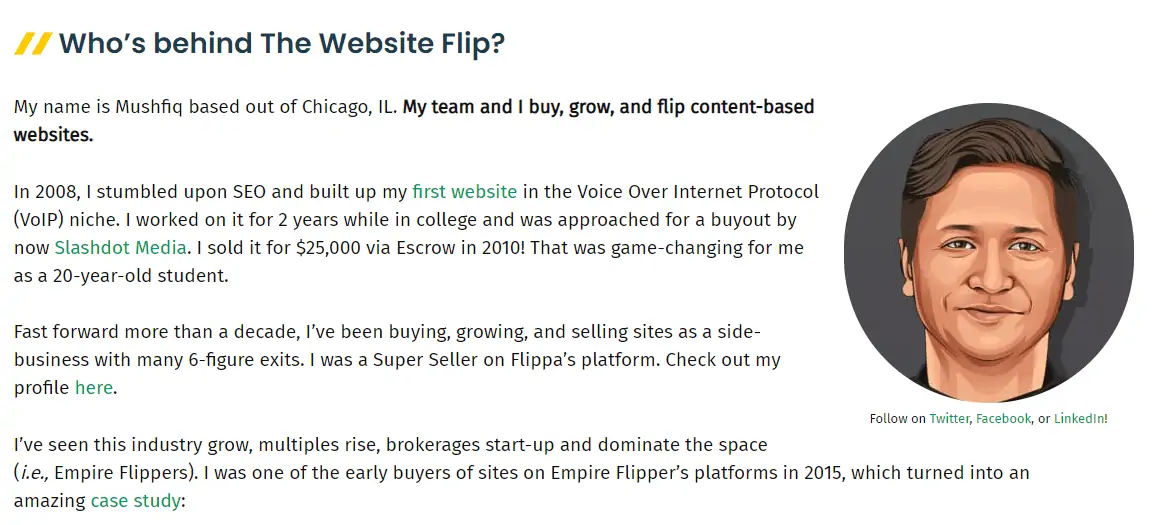 This bio gives life information, ties it into the topic of the website and why readers should trust this person, as well as showing a strong knowledge of that space. This even has a link to a case study, pulling readers right into the site with useful knowledge and information.
3. About Authors
Having multiple authors doesn't have to be negative. In fact, when done correctly having a team of authors or editors can be a strong point as long as the bios have pictures to show real people and relevant information about the topic on hand whether it is education, business experience, or professional credentials.
One example looks like this: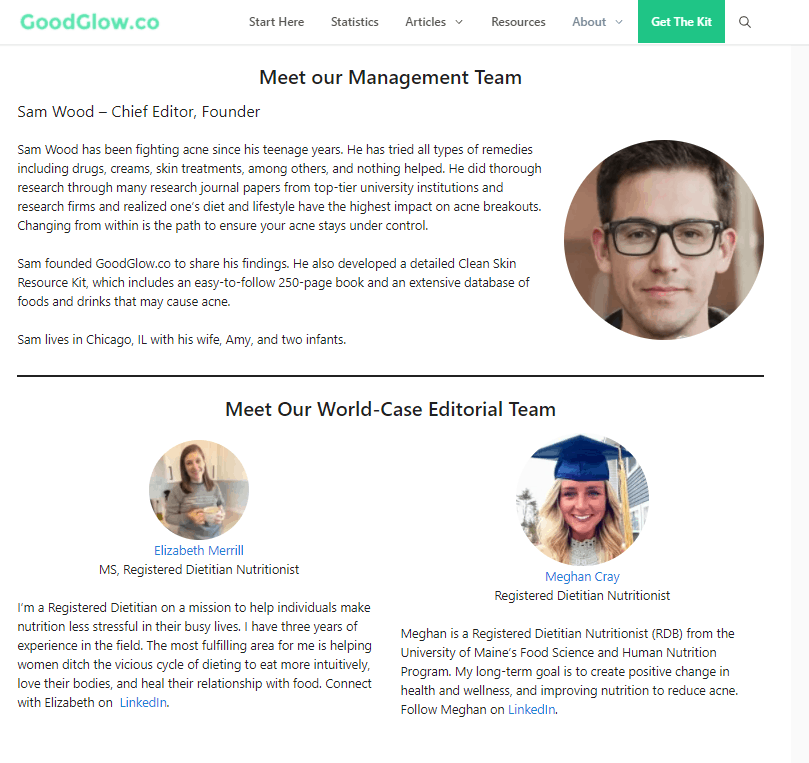 A small team that has its credentials clearly laid out to show expertise. If a site has guest posts or contributions, this can be a plus when those authors are authorities in the field and come from sites that have already earned the trust and show expertise in the eyes of Google.
Case in point:
These guests are not only recognized names in the field, but they have listed areas of expertise and links to sites where they have built up their online reputations. This is how a site takes something often seen as a potential SEO problem with Google and turns it around into a strength instead.
4. Press/Media Contacts
Having a specific email or contact information for press inquiries is a great trust indicator. It tells Google there's a serious organization behind the website that must be worthy of coverage since
These don't have to be complex. The following screenshot is a perfect example.
Social media profile links and press contact all in one place and a simple design like this fits unobtrusively right in the middle of the page.
5. In The Press or As Featured On Section
Obviously being featured in major news outlets or authority sites in the field is important to earn EAT with Google. While Google pays attention to where a name or website name occurs elsewhere on the web, it's important to connect those back to the site.
If I have major press features for a site, I definitely brag those up to bring that high level of trust not just for Google but also for readers.
This doesn't have to be multiple paragraphs or a boring set of bullet points. A nice visual of logos can do it.
6. Social Media Profile Links
Having active social media profiles demonstrates that a site is far less likely to be a fly-by-night operation. SEO specialists have a thousand different opinions on social proof, but to some extent, social proof is a part of SEO whether directly or indirectly.
---
2 Out-of-the-Box Tactics You Can Try
These two tactics won't be appropriate for every business, but there are good potential out-of-the-box tactics that can further the EAT on the right websites.
1. Add a Google Map Embed With Physical Address
If there's an office, an actual business, or any location attached to the site, having a physical address that can be shown on Google Maps is a great way to more firmly commit to Google's mind that the site is a reliable brand with a real business behind it.
2. Add a Phone Number
A phone number is a major trust indicator. Whether this goes to you, an office or a call answering service depends on the setup of the business and the goals, but it is a viable way to increase the EAT on an About Page.
---
Actionable Next Steps
Too many websites put one non-descriptive paragraph down on the about page. This is a missed opportunity.
Here is what I recommend you to do immediately:
Add 3-4 sentences on the history and the vision of the website
Add a few sentences, a bio image, and credentials of the main editor/writer of the site
Add social media links, and create a unique email (e.g., press@thewebsiteflip.com)
Add a contact form to the page
These are extremely quick to do but can be game-changing in your ability to attract backlinks, and repeat visitors.
Try it today!